Former Accor CIO: Hapi is the platform I was looking for
By Jordan Hollander
Last updated October 28, 2022
9 min read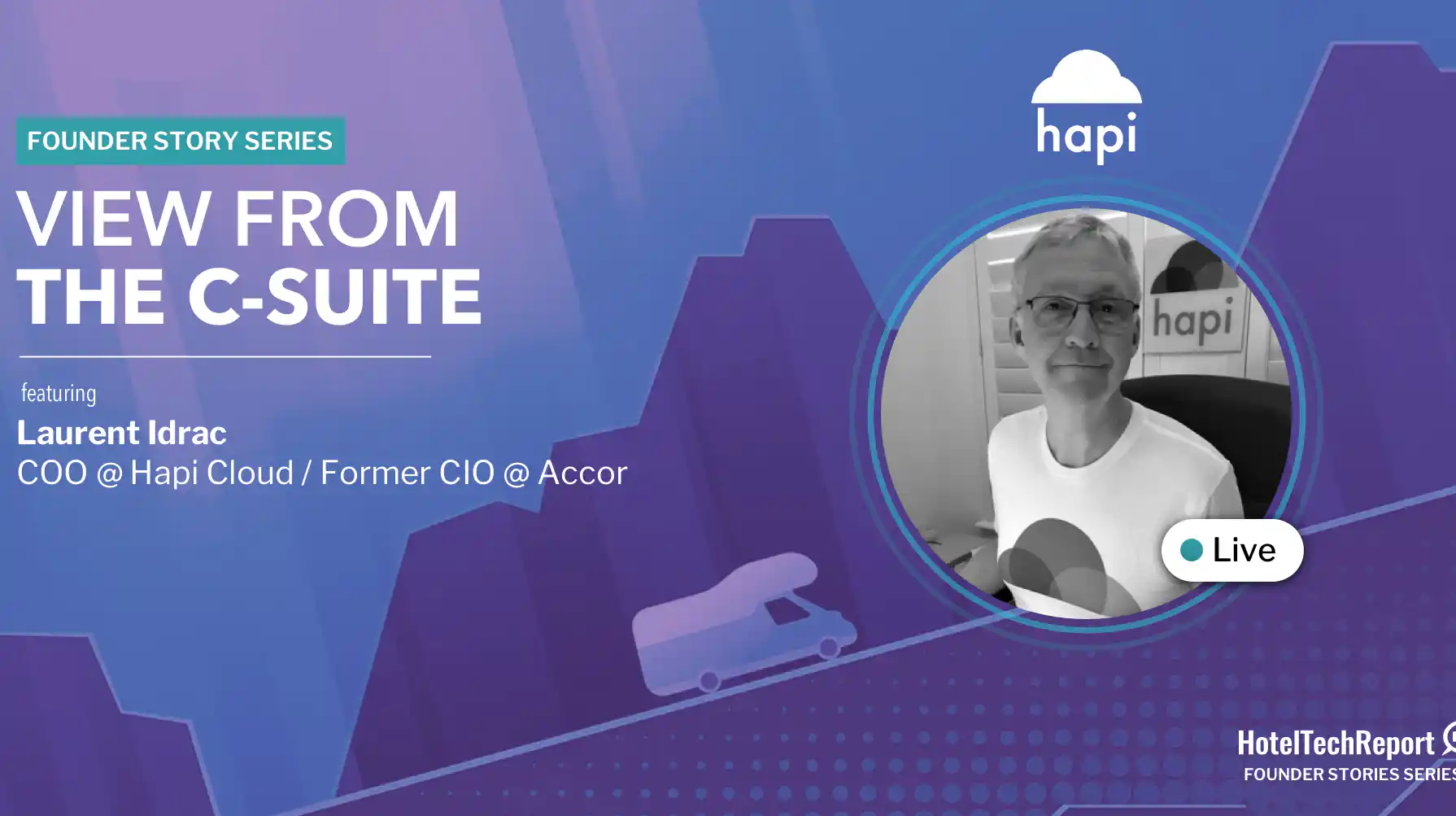 It's no secret that hotel technology (and technology in general) changes quickly.  Computing power generally doubles every two years as a result of increases in the number of transistors a microchip can contain - this is what is referred to in the technology world as Moore's Law.  As processing power increases, innovations that were previously unthinkable quickly become mainstream.
This trend impacts hotel tech and our personal tech usage just the same.  3G wireless enabled the smartphone era and without it the iPhone would have never been possible.  4G and LTE enabled us to seamlessly stream content to our mobile devices without WiFi in the same way that battery advancements have helped our devices run more powerful applications.  Snapchat, for example, quite literally couldn't have existed 10 years ago. 5G will put even LTE to shame. A 5G-enabled smartphone can download the content of an entire DVD (~5GB) in as little as four seconds.  5G will enable services and technologies that are unimaginable to present day consumers.
"Stone Age. Bronze Age. Iron Age. We define entire epics of humanity by the technology they use." Reid Hastings, Netflix CEO
Given the speed of technological change, it's important for hoteliers to be on the cutting edge.  Being on the cutting edge doesn't necessarily mean always being the first to try that shiny new guest experience startup.  To be on the cutting edge, hotels need a foundational infrastructure to adapt quickly as new trends develop. Each individual technology has the power to be transformative but what matters most is setting up your underlying hotel business to quickly disrupt itself before someone else does.
"After many years working in technology as a hotelier, I believe that what matters most is a proper open architecture to remain relevant and agile." Laurent Idrac, former Accor CIO
Nobody knows this better than Laurent Idrac, the former Accor CIO who was at the helm when the company invested $250M into digital transformation initiatives. Laurent believes that in order to succeed in hospitality, owners and operators need to embrace two simple principles:
(1) Stay connected to every facet of your operation
(2) Make sure that you can quickly adapt to new trends as they arise
Corporate hoteliers often lose their connection to on property operations and even managers can get removed from how their employees live and work on a day-to-day basis.  During his time as CIO at Accor, Laurent made it a priority to work on property for at least 1-week per year shadowing every role within his hotels. This helped him stay in touch with what was happening on the ground and then develop a technology strategy to solve real world business problems that his team was experiencing.
During his tenure as Accor's CIO, Laurent became frustrated with the lack of interoperability between systems.  He'd want to try a new technology platform only to learn that it didn't properly integrate with the core hospitality ecosystem.  This integration problem was such a huge pain point for Laurent as a CIO that when he heard about a company successfully solving the problem - he knew he had to be a part of their journey.
"Hapi is the platform I was looking for when I was a hotelier. It allows hoteliers to innovate faster and improve security and data compliance (GDPR, etc.) by centralizing the flows of hospitality data needed to deliver great guest experience.  Rather than following a pattern of point to point integrations, hotel companies can integrate their systems to the Hapi cloud and connect their internal or partner systems to a normalized stream of data, be it reservations, profiles or more." Laurent Idrac, former Accor CIO
Laurent left the comfort of his successful c-suite career to join rocketship integrations startup Hapi founded by Luis Segredo and Nikolai Balba. Segredo was previously the founder of Mtech, the creator of HotSOS that was acquired by Newmarket and is now owned by Amadeus.  Balba had similarly founded Libra on Demand which he sold to Newmarket and Libra is now part of Amadeus sales and catering. The combination of these three dynamic leaders has formed the hotel tech dream team.  
Laurent has lead technology at one of the largest hotel companies in the world and needless to say there are few people better equipped to solve this problem.  Hapi is poised to change the way hoteliers use and adopt technology. The team has made great strides since Laurent joined on board so we were fortunate to catch him on a boat cruise outside Hapi's Miami headquarters where we discussed everything from CIO war stories to his vision for the future of the industry.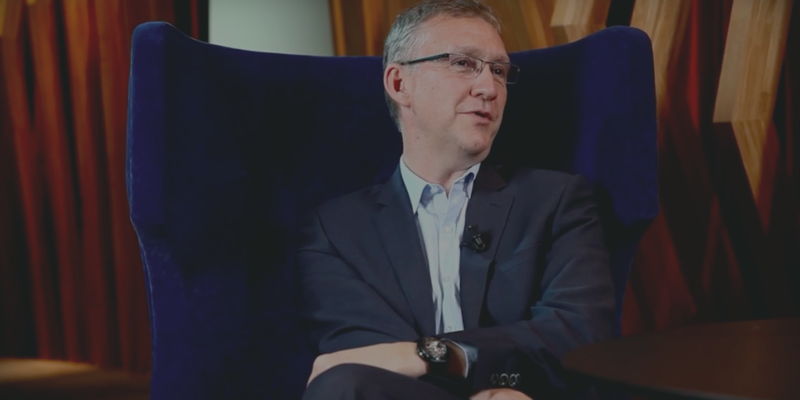 Tell us about your hospitality career before joining Hapi.
I have held many positions during my tenure at Accor in France and in the US: operations, marketing, finance, reservations, F&B, and IT. Even as Group CIO of Accor, I continued to spend time in hotels.  For instance, in July 2017, I spent a full week at the Ibis Paris Bercy Village going through different shifts each day in the restaurant, front desk, engineering, and finally in housekeeping. It is very important to remain connected to the business you are serving.
In 1983, I started as an intern in a restaurant during my college years and held many positions in an Argentinian Steakhouse. Once I graduated, I worked as a controller for almost 5 years.
I managed reservation call centers worldwide, worked on the new Accor Central Reservation System implementation and finally spent many years in IT in the US and in France. My last position was Accor Group CIO from 2012 to early 2018, and we ran a major digital transformation (~$250M) that transformed the entire company.
It's hard to dislike anything in this industry, but hotels and restaurants are historically very hierarchical organizations with close to military standard operating processes. This does not favor employee initiative to deliver the best guest experience on the spot. Luckily, this is changing. On the technology front, the employees have been neglected: poorly designed applications, too many applications to deal with…
To me, the most rewarding part of working in hotels is interacting with customers, ensuring their satisfaction, and anticipating their needs. Sharing this passion with colleagues is even more satisfying.
What was one technology that you couldn't live without in your former role in hospitality?
PMS, Fax machine, 56k modem, Palm Pilot, Blackberry, Email, Chat, iPhone, cloud… It's changing every few years. And every time, it's impressive how we can become dependent so quickly on a specific tool or device. After many years working in technology as a hotelier, I believe that what matters most is a proper open architecture to remain relevant and agile.
When did you first become interested in hotel tech?
Anything that can simplify work and improve quality interests me, and technology is the most obvious place to look at for productivity improvement. I have always been interested in technology. Before joining the hospitality industry, I interned at a computer dealer and enjoyed it a great deal. It was the early age of the IBM PC, Apple 2c & Lisa (Mac's older sister).
During my time in the Army, I was also involved in computer programming. Once I joined the hospitality industry, I had already contracted the technology "virus".
As a hotelier what was your biggest frustration with technology vendors?
Too many vendors have no real knowledge of the hospitality business. Some are great speakers but poor listeners. Some vendors should spend more time reading about our industry to make sure they are relevant. I recommend any vendor to be involved in HTNG and participate in workgroups. Regarding the solutions they are promoting, many are just creating another silo of data without integration into the hospitality ecosystem. Some may have great solutions but with poor design or performance that kills the experience.  It's really a matter of relevance. Does the vendor really understand what it takes to deliver value to the guest or associate in hospitality? Finally, hospitality is a people's business, it's a matter of building trust and delivering upon. Given the aforementioned issues, vendors need to show their understanding of the industry and ultimately deliver new insights. With this comes the trust of decision makers.
What is the most widely held misconception that hoteliers have about technology today?
Hoteliers and hotel owners have had trouble embracing the concept that technology needs to be changed to be fresh and relevant, and that it also needs to be used to its utmost.  On one hand, there may be a new shiny solution, but that does not mean that it should be deployed before making the most of what's already in place. On the other hand, I remember discussing with hotel owners not convinced of the need to upgrade their wi-fi solution that was "only" six years old. Having an open mind, pragmatism and common sense are the best way to approach technology -and this is not only true for technology-
As a hotelier, when did you first become interested in technology?
I have always been interested in technology because I have viewed technology as a means to offer a better service to the client and to improve the lives of employees. In all my jobs at Accor, I ended up being involved in every technology project that was around me.  At the beginning, it was in addition to my day job and then it became a full-time position. When I left Accor, I wanted to broaden my attention to industry-wide technology challenges.
What was the most challenging part of moving from hotels into technology?
Having hoteliers reply to your emails or returning your calls! Seriously, the most important challenge is to remain true to your values.  My experience tells me what the industry needs and how to deliver it. I have built a reputation over the years that I am not willing to jeopardize to make a buck. Joining Hapi was not an accident. I joined Hapi because I believe it is the best answer to a critical need in our industry with the best approach to move hospitality forward.
What made you want to take the leap as CIO of Accor and want to work on a startup like Hapi?
Hapi is the platform I was looking for when I was a hotelier. It allows hoteliers to innovate faster and improve security and data compliance (GDPR…) by centralizing the flows of hospitality data needed to deliver great guest experience.  Rather than following a pattern of point to point integrations, hotel companies can integrate their systems to the Hapi cloud and connect their internal or partner systems to a normalized stream of data, be it reservations, profiles or more.  
Hapi offers technology partners, through its marketplace, a way to integrate multiple PMSs (as well as various other hotel systems) with a single development effort. Hapi's marketplace enables partners to gain exposure to hotels on the platform and enables hotels to tap into other available systems that are connected to Hapi. With already 35 partners, its connectivity to multiple solutions from companies like Oracle, Infor, and Salesforce creates a great deal of potential.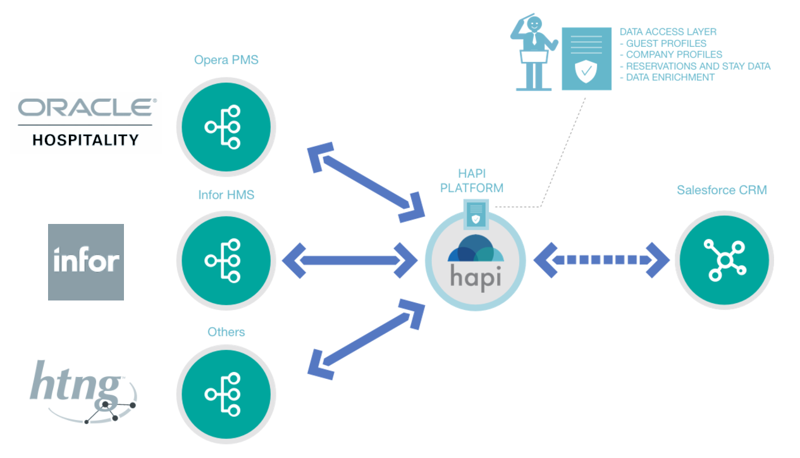 Imagine that you're going to open the hotel of your dreams tomorrow. What kind of hotel would it be?
"Zappy Hotel" will be a midscale boutique hotel, sleek and modern, 100-150 rooms. Fully integrated in its community with large common spaces for locals and travelers, local food, local art. Rooms will have great lighting but also curtains that ensure full night, presence detector to optimize energy and housekeeping. Maybe I will add a small hotel nearby, "the L'Otech hotel", with 50 rooms without any technology, all rooms will have a Faraday cage to protect guests from electronic waves, it will target electromagnetic hypersensitive guests or serve as a retreat for technology dependents who need to reconnect with real life.
What technology would you leverage at your hotel?
Hapi, of course, to be able to seamlessly integrate the various systems and deliver a truly personalized experience thanks to innovative companies -just browse Hotel Tech Report to see how many great solutions are out there.  The PMS will have to be truly intuitive and focus on welcoming the guests not fulfilling administrative tasks. Apple TVs will be in the room and a solid engagement platform like Monscierge to allow a seamless experience. I must specify that Wi-Fi will be outstanding: no password to re-enter, thanks to integration with the hotel CRM, casting capabilities with huge bandwidth. Only technology that is intuitive will be implemented.
What advice do you have for hoteliers who want to work in technology?
If your dream is technology, go for it but do not forget where you are coming from.  Capitalize on your experience and keep your service "can-do" attitude. I had IT team members who were night auditors, cook, pastry chef. It took them a long time to feel legitimate in their IT role. My advice is do not doubt yourself and be proud!
What's one book that changed the way you think about hospitality technology?
"Employees First, Customers Second: Turning Conventional Management Upside Down". We are still lacking tech solutions that serve the needs of our employees. Many hotel companies have invested a lot of money to improve "digital" customer experience but not much in helping the employee to deliver a better customer experience. Hotel companies initially fought on the same battlefield as the OTA instead of focusing on the area they have the advantage on, the in-house experience.
What is your favorite hotel in the world and why?
I love the architecture and the design of the Sofitel Chicago Water Tower, but my favorite hotel is probably the Fairmont Chateau Frontenac in Quebec city that is a major Canadian Landmark. The service is outstanding, and the place carries its 125+ years of history.
What is the most exciting technology you've seen in the hotel tech space that is not built by your own company? Why?
I'm a big fan of STAYmyway, a mobile key solution that does need not to replace the old mag-stripe locks and embeds a guest recognition solution with ID matching to increase security and avoid any chargeback dispute. It has a hotel version and a private rental offering. I like them so much I have invested in the company.
What is one thing that most people don't know about you?
My wife and I love remodeling houses, from the design to the final product. We are quite proud to present the results to our friends and family and get excited when people think there is no way we did it ourselves!