Here's Why You Need a Guest-Centric Cloud Hotel PMS
By Hotel Tech Report
Last updated January 26, 2022
7 min read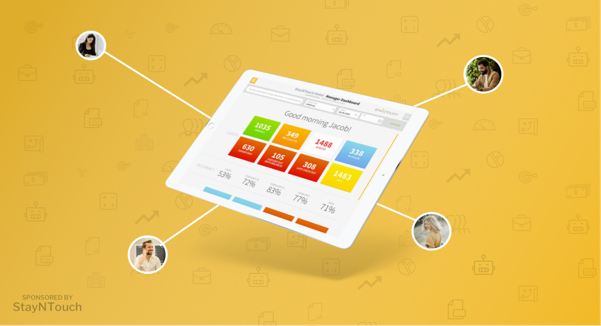 It's no secret that exciting things are happening in the world of hotel technology, but how do you know when it's time to upgrade the tech at your hotel? The hospitality market is continually changing. As your guests' preferences shift and software becomes more sophisticated, you may reach a point where your hotel's tech stack can no longer facilitate the level of service you expect for your guests.
To anticipate these changes, it's crucial that you invest in a Property Management System (PMS) that can naturally scale with your business, and seamlessly integrate with new technologies. Most importantly, your PMS should be intuitive and efficient enough to allow your staff to focus their energy where it belongs 一 delighting your guests.
In this article, we'll explore the benefits that a mobile and guest-centric PMS can bring to your hotel, like allowing your staff to manage your hotel from anywhere in the world, or giving your guests the option of a completely contactless check-in, directly from their mobile device. We'll also highlight the key elements of a guest-centric system and show how they apply to some real-world case studies.
The Hallmark Features of a Guest-Centric Cloud PMS
A guest-centric cloud property management system should embody four key goals: ease of operations, ease of access, ease of scale and connectivity, and ease of profit. In short, your PMS should be unburdened 一 it should empower your staff to deliver your ideal guest experience, not hinder them.
StayNTouch CRO, Michael Heflin suggests two great examples of a guest-centric PMS in action, "A luxury hotel can choose to greet their guests with a glass of champagne in the lobby while the staff member checks them in on a tablet or they can offer self check in at a kiosk station that's tucked away, allowing the guest to be socially distanced."
In addition to streamlining operations, a modern, cloud-based PMS can easily be accessed from anywhere on property...or the planet. Staff members can manage their hotel from any device that has an internet connection, including tablets or smartphones. Guests can also manage their reservations or check-in from their mobile devices 一 even before setting foot in the lobby.
A guest-centric PMS doesn't just provide benefits within your hotel's walls; it can facilitate connections between your hotel and a whole world of software integrations. From distribution channels like Expedia, Booking.com, and the GDS to payment processors, keyless locks, or reputation management systems, a flexible cloud PMS certainly isn't just a tool to house reservations 一 it's the glue that holds all other tools together.
"We also make it easier to profit with targeted and automated mobile upsells and features like hourly rates/day use, which make it easier to expand revenue segmentation by utilizing rooms for workspace, private dining, day spas, or any experience a hotelier can imagine. A guest-centric cloud PMS fully unburdens staff, and enables them to deliver the optimal guest experience each and every time so that hoteliers can deliver on whatever guest experience they design," says StayNTouch's Heflin.
But the benefits of a guest-centric PMS aren't limited to operations; it can also unlock increased profitability. Such a system can expand revenue streams to include day-use rooms, for example, giving hoteliers new options for private dining, spa services, and meeting or workspaces.
How to Know if Your PMS Isn't "Guest-Centric?"
Traditional property management systems are designed to be purely transactional, often charging additional fees for upgrades or add-ons. While this strategy makes short-term sense for the PMS company, it does so at their clients' expense, by forcing them to pay more for a platform that is less flexible, difficult to use, and difficult to scale.
In short, these systems aren't designed to empower hoteliers.
Michael Heflin offers practical advice for rooting out antiquated systems, "You can see a similar approach in the design of many legacy systems. Running off of a desktop terminal, they often feature a user interface which is clunky and outdated. This distracts hoteliers from their guests in two ways: First, because the UI makes it difficult to complete even simple administrative tasks, the staff member must spend more time buried in their screen to serve their guests. Second, running a PMS on a desktop on a stationary front desk prevents hoteliers from moving around and serving the guests where they are. In this sense, legacy PMS systems are literally distracting the hotelier when they try to engage with their guests, while placing physical barriers between the guest and hotel staff."
Legacy systems are clunky and slow. They distract your staff with outdated interfaces that complicate even simple tasks, so they spend more time buried in their screens and less time actually interacting with their guests. In addition, a legacy PMS running on a desktop computer literally erects a physical barrier between staff and guests. When a hotelier is confined to a centralized front desk, they can't meet their guests where they are, but instead force guests to wait in line to have their requests handled.
A mobile, guest-centric PMS, on the other hand, frees staff members to provide excellent service anywhere on property. And because the system features a colorful, intuitive user-interface, as well as advanced automation, it requires less time and attention to complete tasks.
Identifying a Guest-Centric PMS in a Sales Pitch
Many PMS platforms claim to be "best-of-breed," but they might not be truly guest-centric. To determine whether a PMS offers the functionality you need, you'll want to verify four points during the buying process:
First, if the PMS advertises itself as "cloud-based," but isn't native cloud, then that means it's just being lifted from its on-premise environment and migrated to the cloud. That isn't true cloud 一 and the software will suffer in terms of performance and reliability.

If it takes over 2 minutes for a staff member to complete a check-in, then the product isn't intuitive and isn't designed to enable a seamless check-in.

If you are not able to give your guests the option of a contactless check-in, or a chance to personalize their stay through their smartphone, or give your staff the flexibility to move beyond the front desk to service your guests, then it's not a guest-centric PMS.

Finally, if the PMS can't seamlessly connect to all of your core systems and allow you to build nuanced and dynamic guest profiles, then your system is neither connected, nor is it guest-centric.
Your PMS isn't just "another app" 一 It's the heart of your hotel's technological ecosystem, and your decision has critical implications for your guests, employees, and profitability. A great PMS is like the mission control for your hotel's operations and the core of your on-site technology, and it should put the power in your hands to deliver your version of the ideal guest experience.
The Future of Property Management Systems
The post-pandemic hospitality market will be marked with both challenge and opportunity. In the next five years, we can expect vast changes in the hospitality market.
Mr. Heflin elaborates: "In the next five years, we can expect hoteliers to fundamentally reimagine what it means to be a hotel, and capitalize on emerging markets such as co-working and extended stay. Also, offering guests self-service options will be a necessity rather than a nice to have or a trend for the moment."
In order to capitalize on these trends, however, you need a PMS with the flexibility to leverage the latest technology. StayNTouch makes it easy to scale and connect with third-party solutions with open-APIs, seamless integrations, and regular free system upgrades. As your hotel evolves, your PMS should be able to evolve with you and allow you to deliver the type of service the modern guest wants.
Exciting PMS Features to Look for
Property management systems have so many features, but what less-common functionality should you look for to add value to your property?
Hourly rates: Hourly/Day Use functionality lets hotels leverage entirely new market segments and reimagine the relationship with their guests. Although originally developed for airport hotels serving travelers experiencing extended layovers, the possibilities of hourly bookings are endless: For example it can also be used to monetize co-working programs for teleworkers, to make day spa reservations, or it can repurpose rooms to create an exclusive, socially-distanced dining experience.

Contactless check-in: Across the board, traveler preferences have shifted toward contactless services over the last year. Ideally, guests should be able to check in to their room from their smartphone or a self-service kiosk, then further customize their stay through upgrades, amenity or restaurant reservations, or monetized early check-in or late check-out.

Simplified webhooks: Webhooks are enhancements to an open-API architecture that lets them find the exact piece of data they need, in near real-time. To use the old analogy: While a traditional API would spend time combing through a haystack, a webhook would be the thread leading directly to the needle. This allows for highly nuanced and personalized integrations in close to real-time, without burdening the system's processing ability.
Hospitality Brands that Maximize their Use of Software
The "ideal guest experience" is different at every hotel, since each property is unique. That's why it's important to have a PMS that allows you to shape the guest experience to meet your goals. Let's take a look at three hotels who used StayNTouch' PMS functionality to create unique experiences:
The TWA Hotel, located at JFK Airport, serves many travelers who book hourly-rate rooms during layovers or delays. Using their PMS's hourly-rate functionality, the TWA Hotel can manage rates, operations, and reporting at the hourly level. This level of customization lets guests pay for only the hours they need; therefore, the hotel can maximize its inventory.

Mint House at 70 Pine focuses on remote professionals working in New York City's Financial District. Through their PMS, the property can sell rooms at an hourly rate, which is an attractive offer for individuals who need a place to work for a few hours or virtual businesses who need meeting space for events.

With its green, open-layout design, ZoKu Amsterdam offers both extended stay options and spaces for socializing and coworking. Zoku created a welcoming and efficient check-in process that includes both mobile check-in and self-service kiosk options, so guests can customize their arrival experience.
What to Expect When Switching to a Guest-Centric PMS
Switching to an entirely new system can be daunting, and you want to make sure the risk is worth the reward. A guest-centric cloud PMS can have a significant impact on your property - in many positive ways. For example, you'll notice faster adoption of the system by your staff. It is user-friendly and intuitive, so it takes less time to learn how to use it. A smooth check-in experience can also shave time off the check-in process and increase adoption of self check-in options, whether on a smartphone or a kiosk. A guest-centric PMS should also reduce costs; a modern system shouldn't charge extra fees for integrations, server maintenance, or updates. And another notable change should be a boost to your ROI; through automated upgrade or amenity offers, you can realize incremental revenue with little additional spend.
But above all, you can expect your new, guest-centric PMS to eliminate any distractions or roadblocks to excellent service: "Technology should be there to enable and amplify the experience a hotelier envisions and should always keep the guest at the focus of that experience," Mr. Heflin explains.
When you consider your next technology partner, keep in mind Mr. Heflin's point that, "personalized service will be more important than ever, and that makes platforms that empower personalized service that are much more critical to long term success." Ultimately, great technology, and specifically a great PMS, should facilitate exceptional service and empower hoteliers to deliver on their promise of an exceptional guest journey.
This content was created collaboratively by StayNTouch and Hotel Tech Report.