Is a Degree in Hospitality Management Really Worth it Right Now?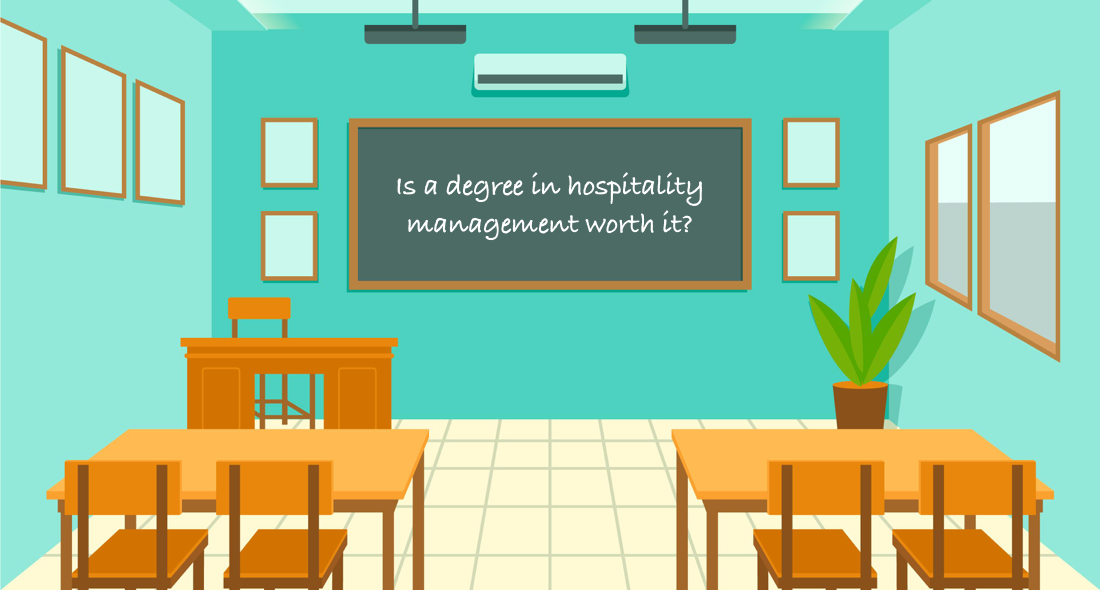 Choosing a career path is a big deal. And deciding whether or not to pursue a bachelor's degree is a major part of that career plan. So what to do during a pandemic -- especially when you've been considering getting a bachelor's degree in Hospitality Management (hotel and restaurant management)?
You'd be right to take a minute to consider whether or not pursuing a degree in hospitality is really worth it, given that hospitality has been hit especially hard by the pandemic and there are tons of low-cost online accreditations available today. There are a few key areas to explore, such as the outlook for the industry, what you'll learn, and what marketable skills you'll get from your investment in the degree. From there, you can make an educated decision about whether or not a hospitality degree is right for you.
Developing a Framework to Answer the Question
Like anything in business (or life) there is a cost and a benefit calculation you'll need to make to decide which path to pursue. The cost side of the equation includes both the direct expenses of higher education like tuition as well as the opportunity cost (i.e. how much money would you be making during those years if you went straight to work?). Hospitality and tourism management school tuition varies widely based on pedigree (reputation of the school) and location. A Bachelor of Science in International Hospitality Management from EHL costs around $206k (188 CHF) over 4 years including food and accommodation. According to NerdWallet's student loan calculator a $200,000 loan with 5% interest and a 10-year term requires $2,121.31 in monthly payments. That doesn't necessarily mean that you need to make $25,000 per year more from year 1 but you should expect that over the long run the difference in salary helps to more than offset the cost of a degree.
Let's use a stylized example to illustrate this point: you are considering whether to leave high school and go straight to becoming a hotel concierge to refine your skills and ultimately become a hotel manager. The average full-time hotel concierge or guest services manager makes from $23,000-$38,000 per year. Let's say, for simplicity, it will take you 10 years working your way up as a concierge before you can become a hotel manager without a degree. During those 10-years you would make $300,000 using an average of $30,000 per year salary. Hotel managers typically make from $61,000-$200,000 per year.
Now let's say that with a degree from EHL it would only take you 3-years as a concierge to become a hotel manager. That means in years 1-4 you spend (-) $200,000 on education. Then in years 5-7 you make $90,000. Finally in years 8-10, you make $210,000. In this scenario, you would have netted $100,000 in salary so all else equal you would be better off without the degree.
This example is designed to stylize the decision-making process, not to tell you whether or not you should get a degree. What if EHL grads make more as hotel managers than non-grads? Are there other long term benefits of a degree like the potential to move into higher-paying corporate management roles? Are there networking and alumni opportunities that must be factored in? Will you get paid real-world experience with your degree or exposure to differentiated entrepreneurship coursework that are otherwise inaccessible to those without one? Do you need the degree program to be eligible in the future for a Masters in Business Administration (MBA) and unlock even higher salaries in the future? Are there financial aid packages or scholarships available to lower your expense levels?
The first step to answering this question is plotting out what you think the future looks like and then going out to validate your hypotheses by talking to real people who work in the hospitality business. Ultimately this exercise will show you that there is no black and white answer, these calculations vary dramatically based on which segment of hospitality you aim to work in. It probably doesn't make sense to attend EHL at full tuition in order to get into foodservice or entry-level guest service roles but it may be the only way to grow into a business management role VP level or higher at brands like Marriott and Hilton.
What's The Outlook for Travel and Hospitality?
The pandemic has put industry forecasts into disarray. What had been shaping up to be another strong year in a decade-long boom of travel and tourism turned into quite the opposite. Travel has flatlined and things are changing so fast that it's hard to get a grasp on the industry's future prospects.
One of the most reliable forecast sources is STR, which tracks the health of the hospitality industry. STR's Data Insights Blog has been tracking the regional and global impact of COVID. The bad news is that STR predicts a long road ahead, with recovery back to 2019 levels not happening until 2023. That's a long way away; but as we'll see below, this long road to recovery can be an advantage to those just starting out in their careers.
The good news is that industry fundamentals remain strong. People love to travel. And, even though it's likely that business travel will be slower to return (and may forever be changed), the industry's gradual recovery provides ample opportunity for career advancement.
What Marketable Skills Will I Learn?
The value of a hospitality management degree lies not just in the future career opportunities but also and be marketable skills that you will learn. There are four core areas that a hospitality management program will cover:
Operations. First and foremost, you will learn the ins-and-outs of the business of hospitality. This includes all day-to-day aspects of hotel operations: checking guests in at the front desk, managing guest requests in the back of the house, scheduling staff,
Revenue. The business of running a hotel involves three key departments: sales, marketing, and revenue management. You'll learn how each department contributes to a property's topline revenue and bottom-line profitability. Increasingly, these departments are overlapping and so it's helpful to have a grasp across all aspects of a hotel's revenue-generating roles.
People management. One of the most important skills for any hospitality professional on the management track is people and human resources. It's a critical piece of any job in hotels because there are so many people to manage. You'll learn about what it takes to manage a workforce, including performance management, hiring and training staff to meet service standards.
Customer service. The essence of hospitality is customer service. This is the most practical skill that you will learn, as people skills will always come into handy. With the practical hands-on training of a Hospitality Management degree, you'll get
Leadership. Many college degrees struggle to include a hands-on component that teaches you real-world leadership. You can go through college for four years and end up without any practical experience. All of the best hospitality management programs include an internship component of part of the graduation requirements. This means that you will have hands-on experience in an actual business upon graduation. So even if you decide not to go into hospitality, you'll be able to translate your real work experience into conversation points for your job interviews.
What Can I Do with a Bachelors in Hospitality Management?
The most obvious career path involves a role in hospitality. Your potential path with a hospitality management degree may include roles in a few different departments, such as:
Operations: The operations of a hotel include the front desk, housekeeping, maintenance, and day-to-day management. Roles here include managing a department, such as the front-of-house or housekeeping, and culminate in a job as a general manager.
Revenue: Sales, marketing, and revenue management are responsible for generating business for the hotel. There are many roles here to consider: Revenue manager,
HR: One of the core back-office functions at a hotel is HR. This could be both at the property level and corporate level. HR managers are responsible for people operations: overseeing the hiring, firing, and performance management process so that everything is legal and according to company standards; handling employee complaints and generally being an advisor and resource to employees across the operation.
Accounting: Another core back-office function is accounting. These employees are the ones that manage the financial inflows and outflows from property (or group of properties). Most roles in this specialization require a further degree in accounting, so keep that in mind if you want to pursue a dual degree alongside hospitality management.
Business Development/Finance: Business development involves finding locations for new hotels, evaluating the financial feasibility of acquiring existing hotels, and working on the financial side of the industry. Someone with a hospitality management degree working in business development has a very unique skill-set but maybe in high demand.
Gaming: Casinos have a very unique footprint and require their own set of skills. Specializing in gaming can give you a competitive advantage in certain circumstances, especially if you're interested in working in a hotel market with a heavy gaming component, such as Las Vegas. Also, if you are interested in gaming, it makes sense to strongly consider UNLV's hospitality program!
Food and beverage: Many properties have expensive food and beverage operations. There are many aspects to manage here, from room service and catering to individual outlets, which means that F&B offers many opportunities (both in and outside of hotel-affiliated outlets).
The skills you learn from your degree in hospitality management are transferable to other areas as well. A graduate with a strong grasp of management, leadership, and operations will be well-positioned for other roles too. Some related roles to consider:
Hospitality tech: Expertise in hospitality is in especially high demand with technology companies serving the industry. You could translate your hospitality management degree into an entry-level role at one of these companies, which will put you on a career path in the technology industry.
Account manager/sales manager. Sales and account management requires a lot of soft skills that you'll learn when you get a degree in hospitality. There are also many entry-level jobs in these two fields -- especially for those with strong sales and people skills.
HR. People management is an essential part of any company. Put your organizational and operations knowledge to work, alongside your interpersonal soft skills, in HR.
Management training: Your degree is a signal that you are organized and capable of. You could also look for a role in a different industry that come on a management training track.
Hospitality consultants: There are many firms that serve hotels and Hospitality brands as contractors and independent hospitality consultants. If you wanted to tackle a broader array of challenges for multiple clients, this could be a great choice for you.
Event planning: Event planners don't necessarily have to be on staff at a conference center attached to a hotel. From independent wedding planners to corporate event specialists, you could put your hospitality knowledge to use as an event planner.
See more in our in-depth guide to hospitality careers, including job descriptions, salaries, and more.
How Do I Choose a Hospitality Management Program?
There's a lot at stake when you choose a hospitality management program. It's a major investment. A few things to consider as you evaluate programs:
Quality: First and foremost, make sure that you are going to a reputable school. A few of the most well-regarded are the Ecole Hôtelière de Lausanne, Cornell University's School of Hotel Administration, Hotelschool The Hague, and the University of Nevada's William F. Harrah College of Hotel Administration. For a full list, check out the top hotel schools in our hospitality industry guide. Each school should be evaluated for the quality of instruction and access to industry leaders. You also want teachers that are practicing experts in their field, rather than relics of an industry long gone.
Specialization: Next, look carefully at the program's class offerings. Does the program offer the courses that you need for your career path? Do you see specializations that interest you? Remember that it is not just a general education that matters; you also want to get deep dives into the most marketable skills for today's economy. Make sure that you can get the type of education you need to position yourself for success.
Network: Major part of the investment is getting access to a quality Alumni network that can help you find jobs once you graduate. It might seem far away, but you'll want to leverage the power of the university's network when you're looking for a job. And also: a career office that can connect you to the best job opportunities. Some notable alumni from the top schools:
Cornell: Andrew Tisch, head of Loews Hotels; Will Guidara, restaurateur of Eleven Madison Park and NoMad and TV personality Aida Mollenkamp.
UNLV: Marco Benvenuti, co-founder of hospitality tech company Duetto; hotel-casino mogul George Maloof; Bill Hornbuckle, president of MGM Resorts International; Celebrity Chef and Restauranteur Guy Fieri.
EHL: Daisy Soros, philanthropist; Craig Claiborne, New York Times restaurant critic; Georges Plassat, businessman.
Hotelschool: Joris Bijdendijk, Dutch celebrity chef; Marc Bolland, businessman and CEO of Marks and Spencer; Erik Tengen, founder and CEO of Oaky.
Cost: Finally, you want to make sure that the cost is worth it! Sticker shock is understandable, especially in the United States where college costs have skyrocketed. Look at the overall cost of the program tuition, as well as related cost-of-living, and measure against the income potential for your career. See next section, as this is usually a top criteria under consideration when deciding on a Hospitality Management program.
How much does a hospitality management degree cost?
Out of the criteria listed above, cost is often one of the most important ones. With the cost of fees and other non-tuition expenses, the total cost of a degree can get quite expensive. As a prospective student, you want to know that your degree will be a good investment. Here's a breakdown of the cost of the best hospitality management programs, followed by a quick calculation you can make to see your return on the investment.
Cornell School of Hospitality. Undergraduates can expect to spend $58,586 (out of state) or $58,586 (in state) per year on tuition and around $16,000 on housing and dining. For a Cornell Master in Hospitality degree, expect to spend $87,879 for tuition and around $2,500 per month for books, fees and other living expenses. There are also several scholarships and financing options for those looking to fund the program with federal and private student loans. More on Cornell Hotel School tuition, financing and scholarships here (undergrad) and here (graduate). There's also a useful financial aid calculator.
EHL. The total cost of an undergraduate degree is 197,789 Swiss francs, including housing and health insurance. That cost is less if you are a Swiss citizen or are eligible for a subsidy: "only" 112,010 Swiss francs, also including housing. There are also scholarships for international students and Swiss citizens. More on EHL's tuition and scholarships here.
Hotelschool. One of the more affordable hospitality business schools, tuition for a bachelor's is 24,300 Euros per year for non-Europeans and just 10,360 Euros for Europeans. Other expenses are variable, depending on where you decide to live while on campus. International students can also apply for the Holland Scholarship for students outside of Europe who want to do a Bachelors or Masters in the Netherlands. More on the bachelor program's costs for non-Europeans here and Europeans here.
University of Nevada. Annual undergraduate tuition costs at UNLV run $8,604 for residents and $24,258 for non-residents. Graduate tuition is $6,517 for residents and $22,171 for non-residents. Depending on whether students live with parents, on-campus or off-campus, non-tuition expenses range from $20,000 to $40,000 per year. For financing the degree, there are both federal and private loans available, as well as scholarships. More on tuition here, with this calculator to estimate total tuition and fees.
Of course, the sticker price doesn't necessarily mean that you need to pay out-of-pocket. Each program offers financial aid and scholarships, so you can take out a combination of loans and perhaps some "free" money to make the program tuition accessible to you, regardless of your personal financial situation.
To calculate the return on your investment in a hospitality management degree, you need to first determine what your career path looks like. Review the average salary of hospitality jobs in our hotel industry guide and then calculate a 10% payback rate, a reasonable expectation on repayment. And then divide it by the cost of your degree to calculate how quickly your investment will be repaid. Since the goal of getting a degree is to earn a higher salary (and thus increase your lifetime earnings over your entire career), this helps you compare one program to another. This is just a rough estimate but it is a helpful calculation!
ROI= (target role salary*.10)/cost of degree
For instance, let's say that you go to the University of Nevada as a non-resident undergrad and your target role is GM at a boutique hotel. Per our guide, the average salary of a hotel general manager is between $75,000 and $140,000. Take the midpoint of that as $100k, multiply by .10 (assuming that you use 10% of your salary to pay down loans) and divide by an estimated total cost 220,000 for a 4-year program. You get a payback period of 22 years. Of course, that doesn't include any amounts paid out of pocket, scholarships or interest costs. So you should adjust this comparative calculator accordingly, adjusting for your own interest and non-tuition costs.
So...Should I Get A Bachelor's In Hospitality Management?
Ultimately, the decision is yours. While it may seem like a tough time to go into hospitality, we are bullish on the future of travel and hospitality, especially when the time frame is three to five years out.
So now could be the perfect time to get a degree in hospitality management, as you have two major advantages being early on in your hospitality career: your salary needs are lower and you have plenty of time for the industry to recover.
You could take the time to earn your degree and really dive into a specialization that will remain competitive as the industry recovery unfolds. Then, right when you're ready to enter the workforce, you'll be well-positioned. For instance, you may want to consider focusing on revenue management and marketing, which are marketable skills regardless of industry. and then you will have more options upon graduation, so you could enter the management track and operations, revenue, or marketing.
Hotels will be doing more with less for the foreseeable future. So you just want to make yourself as competitive as possible if you choose to get a bachelor's in hospitality management. If you use your time earning a degree wisely, develop a broad base of soft skills around collaboration, communication, team building, and leadership, you'll be well-positioned to thrive!
Further Resources
Want to learn more about the hospitality industry as you decide if a bachelor's in hospitality management is right for you? Check out these resources: