The Ultimate Guide to Hotel Operations (2023)
By Jordan Hollander
Last updated February 08, 2023
14 min read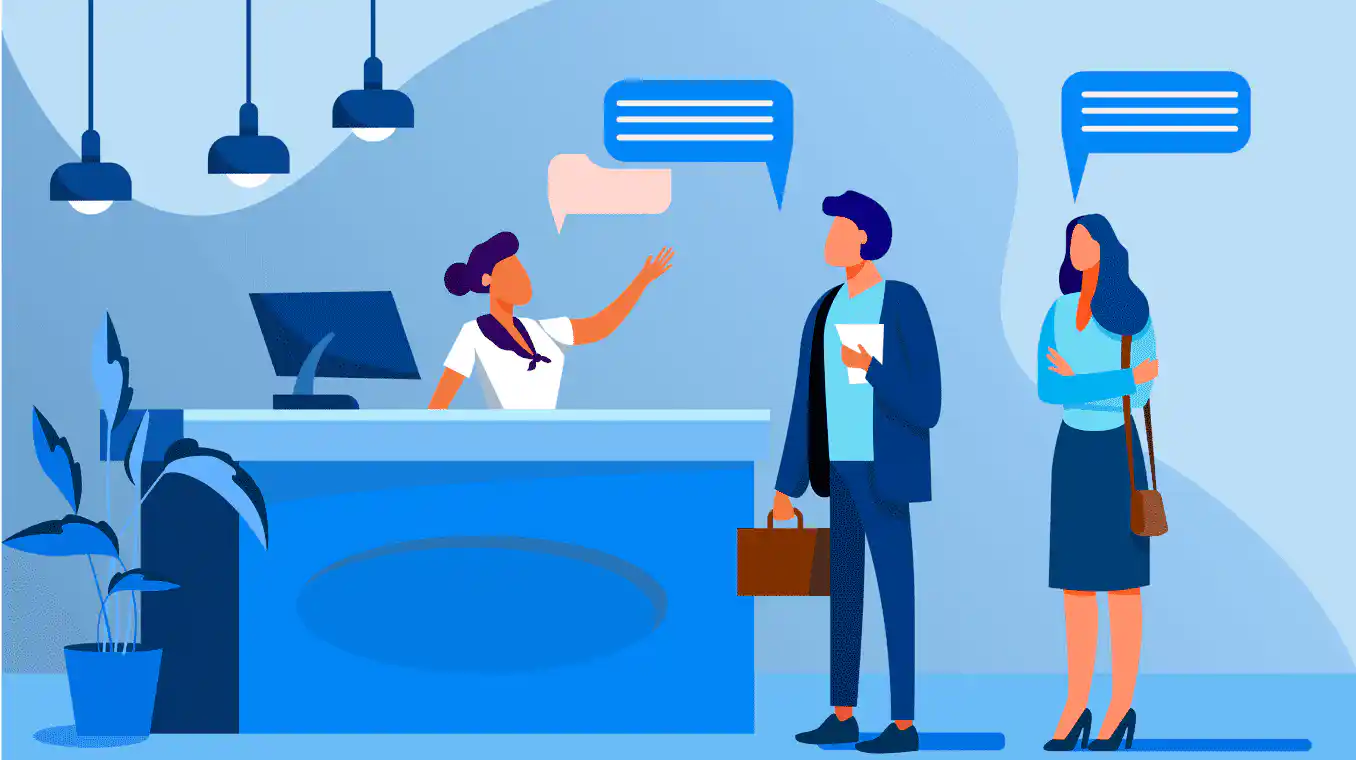 Running a hotel successfully isn't easy. Hospitality management and operations is complex, with many interlocking pieces and dependencies. Hotel managers have to be great at time management, context switching, and problem solving. In a single hour, you may go from placating an unhappy guest to cleaning guest rooms, analyzing guest service requests, handling a plumbing emergency to interviewing a front office manager candidate to reviewing the latest revenue management report.  During COVID-19 the role of a hotel operations manager and hotel staff in general has become even more complex with new health and safety guidelines.
Running a hotel property is definitely not for the faint of heart!
The complexity and importance of hotel operations is a frequent topic here at Hotel Tech Report. We sit at the intersection of hotel technology and all aspects of hospitality. We're constantly seeking to deepen our understanding about the intricacies of hotel operations; then we identify ways for technology to streamline and improve operations and create content for our community around what we've learned. 
So, whether you are new to hospitality looking to learn or a veteran operator seeking a refresher, we've compiled everything that you need to know about hotel operations into this single resource. Here, you will find the breadth and depth of content that we've created around operating a hospitality business.
Key Industry Terms & Definitions
A foundational understanding of hotel operations starts with defining key industry terms and concepts. A thorough grasp of these terms means that you can talk the talk and also know which levers you can use to improve a hotel's operations. With key terms, such as RevPar, and core concepts, such as the traits of hospitality, you'll be on your way towards building your successful hospitality career!
What is hospitality?: Hospitality. It's right there in the name -- but it's not always clear what we all mean by hospitality. In this article, we establish a shared definition of hospitality and explore what is (and isn't) hospitality to showcase how this eponymous concept is applied in the industry. With this definition, you'll have a strong grasp on both the historical background and the current ways that hospitality is practiced in the industry today.
Front of house: What's the difference between the front of the house and the back of the house? It may seem obvious but it's actually one of the most frequently searched terms when it comes to hotel operations. In this article, you'll learn about each role in both areas, along with ideas around connecting the two halves seamlessly together with low-cost technology. I
Hotel room types: Did you know that there are over 20 room types traditionally used by hotels? This can be quite confusing -- and not just for hotel guests. Hotel managers must also know how to market their rooms to guests, as room types have a direct impact on a hotel's market and price positioning.
RevPAR: The hotel industry's top metric for evaluating performance is RevPAR. The metric combines occupancy and Average Daily Rate to track a hotel's performance, as well as a helpful benchmark to compare performance against a competitive set.
Hotel amenities: Today's guests are sophisticated and spoiled with choice. That's why amenities have become a key differentiator for hotels. In this article, you'll learn the top 21 hotel amenities that improve the guest experience; with this knowledge, you can create a virtuous cycle of higher guest satisfaction and better online reviews -- a virtuous cycle for hotel management.
In-Depth Guides to Hotel Operations
It can take years to build up enough muscle memory to know just what needs to be done to optimize a hotel's operations. To accelerate that learning, we've compiled several of our in-depth guides that go into specific aspects of hotel operations. Whatever your level of experience, you'll find a guide that further explains the ins-and-outs of hotel management. 
Hotel Management: This is a complete guide to everything you need to know about hotel management companies, which are the entities that operate hotels day-to-day. You'll learn about the top hotel management companies, how owners choose hotel management companies and see which hotel management careers might be the best fit for you and your career goals.
Hospitality Consultants: It's not always practical to handle everything in-house. When considering which projects (and problems!) may benefit from external expertise, check out this comprehensive look at hospitality consultants. We identify the key areas for hospitality consultants and rank the top global hospitality consulting firms and smaller boutiques to guide your decisions.
Hotel RFP Guide: Requests for Proposals (RFPs) are a common factor of a hotel manager's life. By compiling detailed project specs into a single RFP, hotels can solicit proposals from potential vendors in a more organized (and fair) fashion. But the process can be complicated and hard to manage; this guide explains how to keep it streamlined and straightforward. 
Hotel Brand Guide: It's hard to keep up with the number of hotel brands worldwide; the major hotel companies have been launching new sub-brands, each targeting a specific audience, at breakneck pace over the past decade. Our hotel brand guide is an editorial look at each global hotel brand's offerings across the spectrum of hotel categories, from economy all the way up to luxury. 
How to Start a Hotel Business:  In a world where anyone can become a hotelier by uploading their property on Airbnb, the hotel dream is alive and thriving. Our guide walks through hotel startup costs, what it takes to start a hotel, and six steps to launching your own hotel business. We also interviewed actual hotel owners to provide that valuable on-the-ground perspective.  
Hospitality Industry Guide: This guide is designed to provide you with everything you need to know about hospitality. It covers: common hotel job roles, industry trends, terminology and conferences, the top hospitality business publications and organizations, the best hotel schools, the largest employers and continuing education and certifications to build your career.
100 Hotel Trends: Hospitality is a dynamic industry that has been undergoing a lot of change amidst significant headwinds. Our top hotel trends span the gamut, from smart rooms, going green and alternative accommodations, to technology, traveler preferences, hotel design and more.
Role-Based Tips for Optimizing Staff Operations
A hotel has staff with a variety of different jobs: housekeepers maintain rooms, front desk clerks greet guests, concierges make guests wishes come true, maintenance technicians keep things repaired and running well. And there are many others, all working diligently and collaboratively to keep the operation humming. To help you understand what it's like in each department, the guides below focus on specific roles around the hotel.  
Hotel Housekeeping Duties: Step into the housekeeping department for "a day in the life" view of what it takes to keep this essential department running at full steam. You'll learn about each role in the department, as well as the responsibilities, skills and requirements for each role.
Hotel Concierge: The concierge is actually a powerful tool for guest loyalty. Learn what a concierge does, and get ideas from a list of 35 things that your hotel's concierge can do for your guests, which can improve the guest experience and lead to better online reviews.
Hotel Housekeeping: Effective housekeeping departments rely on software to keep everyone on the same page and to make dynamic room assignments as guest check in and out. Here's what to look for in hotel housekeeping software, as well as the top vendors in the category.
Hotel Operations Strategy
Operating a hotel requires not only a lot of organization but also a good measure of strategy. It's not enough to just schedule everyone and try to keep things from falling apart. Rather, you must implement strategies that incrementally improve your operations and allow your team to be more efficient (and happier) at work. These strategies will not only improve staff satisfaction but will also trickle down to a better guest experience across your property.
Six Sigma: Originally popularized by Toyota and General Electric, "lean Six Sigma" practices make perfect strategic companions for hospitality. The focus on service optimization means that your guest (and staff) experience remains consistent, with few variations, and helps you get better with time.
Hotel Checklists: Even if you hire the best people, you won't get the best out of them if everything is disorganized. To avoid a disorganized and inconsistent experience that frustrates your good people and drives them away, use checklists. Learn about the psychology of checklists and the areas that can benefit most from them. 
Kaizen at Your Hotel: Another management strategy for your hotel is Kaizen, A Japanese management strategy that prioritises small improvements, preferably those that can be implemented in a single day. The combined effect of many daily tweaks can lead to major improvements over time. 
SWOT Analysis: By analyzing your hotel's strengths, weaknesses, opportunities and threats, you'll have a firmer grasp on your competitive positioning -- and which strategies and tactics are best for your hotel. In this article, we look at small businesses examples and walk through a SWOT analysis for a hotel.
How to Leverage Collaboration Tools in Your Hotel Business
Hotel Manager's Technology Cheatsheet: Technology has become a cornerstone of hotel operations. It's a superpowered ally, boosting daily operations while also showcasing your hotel to the world. This guide for hotel general managers is oriented around desired outcomes, such as efficiency and productivity, so you can find the right tech for your hotel. 
Hotel Operations Software: As a hotel manager, you must carefully craft tech stacks that work for you (and not the other way around). As always, that's easier said than done. This guide to hotel operations software walks you through each hotel tech category and offers key insights on what you need to look for when evaluating potential vendors.
Team Wellness and Human Resources Tips
Hotels that consistently deliver a memorable guest experience share one thing in common: a fantastic staff. As a hotel manager, one of your biggest responsibilities is nurturing a staff that cares deeply about their guests. And that requires you to care deeply about their well-being. Here are some resources on staff wellness, productivity and management to help you keep your staff operating at peak form.
AHLA 5-Star Promise: The American Hotel & Lodging Association created the Five Star Promise as part of an initiative to ensure the safety of staff and guests at member properties.  this article looks at each aspect of the Pledge and helps you understand how you may use its guidance to improve the safety of your own staff -- and the guests they serve.
Minimum Wage: Labor is always a top expense for hotels. And, in an industry that employs many hourly workers, it's fairly easy to have a gut reaction against raising the minimum wage.  However, that's not necessarily the right reaction. This article explains why a rising minimum wage is a good thing for our industry.
Stress in the Workplace: Stress is a terrible thing. Employees with high stress levels tend to call out of work more often and perform more poorly while at work. This "silent profit killer" must be tackled head on; this article outlines the effects of stress at work, reveals the causes of stress and offers clear strategies for tackling staff stressors.
Hospitality HR Tech: Hotel HR managers have a lot on their plate. In an industry with high turnover, there's always a position to fill, an interview to do, a new hire to onboard, performance reviews to file. It can be a very stressful job! But with the right technology, the job can --  dare we say it --  actually be pleasant. 
Best Hospitality Books: Standing on the shoulders of giants is a lot easier when you can read all about it! We surveyed hoteliers and industry professionals about their "must read" hospitality books. We then compiled the most popular books into a single reading list. Now relax: it's time to learn from the legends.
Cybersecurity for Hotels
As hotels gradually adopted more technology across all aspects of their operations,  they became more vulnerable to hackers and bad actors.  at the same time, the industry didn't necessarily do the best job at building layers of security that protect core systems. From guest WiFi to public lobbies and online bookings, there are many ways that hackers can exploit vulnerabilities. Read these three guides on what you need to consider when building an effective cybersecurity strategy for your hotel.
The Geopolitics of Cybersecurity: From ownership structures to global brands to international travel, the hospitality industry reaches across boundaries. This global footprint has real geopolitical considerations -- especially when it comes to data sovereignty, or where user data is stored. Here's what you need to think about, framed in a global context  around recent data breaches, corporate politics and Regional differences.
Malware in Hotels: There are so many different access points that hackers can use to gain entry to your hotel systems -- and it's not only the public Wi-Fi that leaves you open to attack. Hackers use all kinds of sophisticated ways to Pro for weaknesses and even trick your staff into sharing sensitive information. Read this article to gain clarity on  existing vulnerabilities and what you can do to minimize them.
Marriott Hack: Hackers love targeting hotels because hotels have a lot of personally identifiable information, such as credit cards and addresses. One recent data breach at Marriott  put the spotlight on the industry cyber security practices (or lack thereof). Here's what  you can learn from Marriott's unfortunate data breach.
Influential Hotel Operations Tech Trends
The hotel industry is not necessarily A first-mover when it comes to technology. Part of this is due to the inherent costs and difficulties of transitioning a 24/7 hotel operation onto a new platform, system or software. 
One of the rare benefits to the ongoing pandemic is that there is downtime to reassess and potentially restructure your hotel's technology systems. Browse through these extensive guides to see which hotel technology trends are influential and here to say -- and which ones are not living up to the hype.
Hotel Tech Trends 2022: Our eight technology trends to watch out for in 2022 still resonates in our pandemic-inflected reality. In fact, COVID is accelerating many of these trends and making them more urgent for hotels. Read this article to see how trends like cybersecurity, privacy, data, APIs, and room technology are affecting the industry.
What is an API? As one of our top trends of 2020, APIs are everywhere. These  Application Programming Interfaces enable different types of software to communicate,  which is how you are able to build a technology stack that works for your hotel without having to rely on a single vendor or make compromises on functionality. It's a nerdy (but important!) tool and this article helps explain it for even the most technologically challenged.
Cloud Computing: Arguably one of the biggest transformations in hotel technology has been the shift from on-premise hosting to cloud computing. By eliminating on-site maintenance and periodic upgrade costs, cloud computing can save money and keep hotel tech current and up to the latest standards. It can also increase speed. This article explains everything about cloud computing, all through the lens of the hospitality industry.
Payment Processing: One of the most annoying and confusing expenses for a hotel is payment processing.  There's no way of getting around it so you must get through it. We lay out, in plain English, the key terminology, as well as the top conversations when choosing a payment processor for your hotel.  
Best Hotel Software: Each year, the HTR team  recognizes the top hotel software across categories. Our 2020 list your cheatsheet for finding the most reputable, reliable and well-reviewed software for your hotel. You can browse through each category of software to see the 2020 winners, or download the comprehensive 37-page guide -- with an added visual bonus of our hotel technology market map!  
Productivity Improvement: One of the bedrock benefits of software and technology is improving the productivity of your staff.  So why is it that Otis technology doesn't seem to be improving overall productivity? We dive into the numbers and then explore three key strategies to ensure that your technology is boosting productivity as expected.
Digital Transformation: Hotel industry has been a bit of a laggard when it comes to digital transformation. Thankfully, momentum has been increasing over the past five years. This article defines the term "digital transformation" And identifies three core digital transformation strategies to try at your hotel.
Hotel Chains Shouldn't Build Tech: There are some that believe building technology in-house is the surest way to align tech solutions with a brand's needs. We take the opposite view here, showing how there is such breadth and depth of choice in today's marketplace that makes it less desirable to build your own tech.
Cloud PMS: Is your hotel's PMS holding you back? The answer is likely yes, especially if it's an older property management system that hasn't kept up with changing guest expectations. Here are four reasons that it is time for you to get rid of that ancient system and finally upgrade to a modern, cloud-based PMS.
Hotel Technology: Each year, your knowledge has an investor Mary Meeker  releases the "Internet Trends Report." It's always chock-full of interesting tidbits and insights that can be applied to travel. This year was no different. We combed through the latest report to find the relevant hotel tech trends for the years ahead.
Hotel Operations Software Reviews
Now that you have a thorough grasp on the ins-and-outs of Hotel operations, now it's time to get into the (software) weeds. We built the world's largest database of hotel technology, enriched by verified user reviews. Leaning this base of knowledge, here are some deep-dive reviews of  operations software that can make your job easier and enhance your operations in a variety of ways.
Quore Hotel Operations Software: Quore's cloud-based platform enables more efficient communications and operations management across housekeeping, engineering, and guest relations. Quore's centralized dashboard for handling guest requests, assigning tasks and collaborating with colleagues led to a 50% improvement in problem-handling score in some hotels; here's a look at how each department benefits from Quore.
Hotel Effectiveness: Maintaining control over labor costs is a critical skill for any hotel manager focused on bottom-line profitability. Hotel Effectiveness has built a system that can reduce operating costs with automated controls and instant alerts. We look at how the software can reduce labor costs up to 5% in this deep dive.
ALICE Housekeeping: ALICE, a hotel operations platform, recently added a housekeeping module. This article details exactly what this means and shows how the new housekeeping module can keep a lid on cost by boosting productivity. With the cost of cleaning a room ranging between $10 and $20 (depending on hotel category), even 50 cents' savings per room has a major impact on the bottom line.
Hotel Accounting Software: Your generalist  accounting software may not be giving you the full functionality that a specialized software can offer. Using hotel accounting software M3 as an example, this article outlines the advantages of Hotel accounting software.
Oracle OPERA PMS: As a legacy vendor, Oracle knows a thing or two about hospitality. in recent years, the company has been modernizing its products to better accommodate changing expectations. This deep dive covers the basics of OPERA, it's five most essential features, and the pros and cons of the software when compared to other options. 
Hotelogix: The Hotelogix Hotel management system has many features that put it at the center of your hotel's operation. In this review, You'll learn the benefits of selecting a single vendor for your core operations software, Hotelogix's most notable features and its the pros and cons
Cloudbeds: Cloudbeds is another hotel management system. It brings together several modules into a complete solution, from a standard PMS to a "pricing intelligence" engine for revenue management. In our analysis, we look carefully at each individual module, discuss pricing and implementation, and make a recommendation on whether Cloudbeds is the right solution for your hotel.
Monscierge: The Monscierge guest experience platform is a category of hotel operations software that puts property information at your guests' fingertips and empowers them with direct communications tools across devices. It also makes communications easy and simple for staff, who have a single place to collaborate, communicate and manage content across your property. 
Protel: Many hotel software vendors are closed platforms. This means that you are not able to connect unaffiliated tools or otherwise customize the platform to your benefit. Protel takes a different approach, offering an open platform that encourages hoteliers to tap into other vendors on its marketplace to customize as needed. Here's everything you need to know.
RMS Hospitality: The RMS Hospitality cloud is an all-in-one hotel management solution. In this deep dive analysis, you'll learn about each aspect of the platform, as well as it's notable features and pros/cons. Alongside the insights from other deep dives in this list, this analysis will help you choose the best hotel management system for your hotel.
***
What are the operations of a hotel?
Hotel operations include all activities necessary to keep a hotel running and to deliver a good guest experience. For example, the front desk is responsible for checking guests in and out, and the housekeeping department is responsible for cleaning rooms and public spaces.
What are the operational departments in a hotel?
The foundational operational departments in a hotel are the front office and housekeeping. If a hotel has a restaurant or bar, then the hotel will have a food and beverage department. Larger, full-service hotels might also have sales, finance, reservations, banquets, human resources, marketing, engineering, and security departments.
What does a hotel operations manager do?
A hotel operations manager oversees all of the operational departments at a hotel. The operations manager must ensure that the front office, housekeeping, food and beverage, and maintenance departments perform their roles sufficiently to deliver a good guest experience and meet revenue and occupancy goals.
What is hotel operational plan?
A hotel operational plan contains all of the necessary tasks and activities to run a hotel. An operational plan for a hotel should include measurable goals and the steps and resources needed to achieve them. Hotel owners might create operational plans before starting a new hotel business or when seeking to improve performance.
What is the average salary for a hotel operations manager?
The average salary for a hotel operations manager in the United States is $55,000 per year. Salaries can vary based on experience and location; the top salaries for US hotel managers are around $200,000, while the bottom 25% of hotel managers earn around $30,000 per year.
How can hotel operations be improved?
Some top strategies to improve hotel operations include investing in staff training, strategically implementing software to automate tasks and organize information, empowering employees to deliver great guest experiences, building better communication practices, studying competitor offerings, adopting contactless features, and improving partnerships with vendors and suppliers.