Hotel Painting Project: The Essentials
By Lillian Connors
Last updated June 13, 2018
2 min read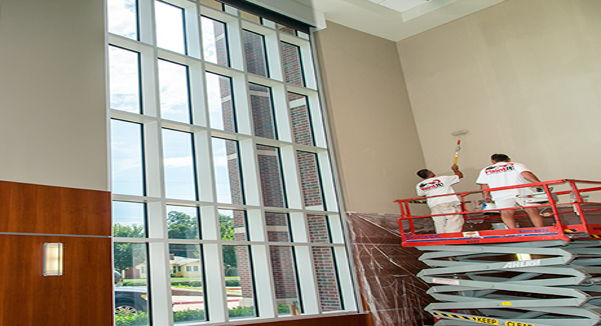 In the bustling hospitality business, there can be no sitting back, as every day off can get you behind the competition who may use your moments of carelessness to steal your guests. Managing a hotel is a 24/7 job, but still, there are challenges that need addressing on short notice, so the hotel can prosper and keep on signing guests up. One of those 'immediate' situations is the annual repainting which restores the aesthetic appeal of the interior. However, such a project requires that you close off every room at some point during the decoration and plan to minimize the length and frame of work to avoid revenue losses. Here are the essential considerations you need to follow in order to organize a painless hotel painting project.
Make a sound plan
Precise planning is a key to a smooth and seamless painting operation. Before you dial your contractors, create a work frame that details the amount of time and resources needed for the job. This work frame should also include a realistic but firm timetable, which specifies the exact date each room will be started and finished. Such a schedule allows you to plan your hotel's booking availability, offer substitutes for closed rooms and minimize the impact on the neighbourhood during the work hours.
Address the pending repairs
Use the time you have before the painting starts to identify all pending problems and imperfections around the hotel and solve them before the workers arrive. This way you avoid painting over chips and cracks in the walls, which can only make you more problems in the future. Tending to structural problems, on the other hand, will make the painting job faster and easier. If you identify a larger number of pending issues around the hotel, you might need to enlist another contractor to deal with them before the painters arrive.
Collect the bids
The time frame and overall success of the projects will ultimately depend on the skills and professionalism of your contractor, so make sure you choose wisely. Your goal should be to find a contracting firm with a multinational ISO certification which has experience in working with large projects. For example, these commercial painting pros use effective project management techniques, ensuring that your painting project is completed on time and within your budget.
Where to find professionals?
Although every reputable contacting firm has its own web presentation with customer reviews, testimonials and galleries of past works, you can also find professionals through personal referrals from friends and colleagues, or by talking to industry experts and suppliers. Make an appointment with their representative who will visit your hotel and give you a realistic estimate, which you can compare to your own plans and timetable. The contracting firm can then produce full estimates so you can compare the most favourable candidates and make the best decision.
Prepare the rooms
As the start date draws near, you should start preparing the interiors that are to be painted. Clean the surfaces, protect the fixtures, remove and store the wall art, and move the furniture out of the way. Although the painters might help you with these preparations, taking care of the small tasks beforehand will tremendously accelerate the entire process. Careful preparation allows you to avoid unnecessary damage and accidents in the rooms and hallways, as well as let the painters to stick to essential safety standards. 
Follow the safety standards
Lastly, you need to plan for and execute strict safety regulations for guests and hotel staff. This will allow you to keep your reputation as a leading hotel in your category, as well as allow your business to operate without interruptions. By knowing exactly which floor and which rooms will be painted on a certain day, you can create detours for your guests and staff, avoiding accidents and ensuring safety for all. You can even consider allocating extra staff to monitor guest movement around the working areas during the project.
While painting a hotel might look as great disruption in your schedule, with careful planning and professional contractors, the whole project can be finished quickly and smoothly. These steps will ensure that your painting is done before the guests even know where the smell of fresh paint is coming from.