Hotelogix founder to hotel industry "Artificial intelligence is not going to take your job"
By Hotel Tech Report
Last updated January 26, 2022
10 min read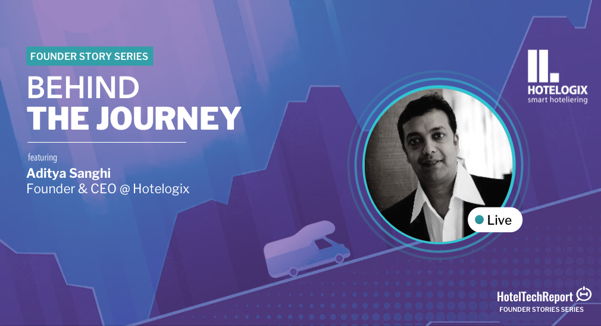 One of the biggest misconceptions that hotel workers believe is that technology and artificial intelligence will take their job. Here's a news flash - it won't. Don't believe us? Just take a look at history. From early Mesopotamia to 17th century Europe economic growth grew at a steady pace. Blacksmiths forged iron, tailors made clothes and so on. At the dawn of the industrial revolution many predicted that factories would displace this workforce and create mass unemployment. In fact, the opposite happened and factories created an entirely new economy with explosive employment and economic growth.
What we see time and time again is that game changing innovation creates growth that in turn delivers net positive jobs. Hoteliers who want to succeed in the future are advised not to focus on the jobs that technology will displace but on the jobs that it will create.
The same misconception from the Industrial Revolution resurfaced in the late 70s with the advent of spreadsheets. Analysts thought that they would lose their jobs to intelligent computing programs but found that technology actually empowered them. The top analysts of the 70s were those who were best at doing advanced calculations off hand while the top analysts of the 80s were the ones who knew how to effectively manipulate, visualize and analyze data in spreadsheets (check out this awesome history of spreadsheets).
For the hotel industry it's inevitable that automation and A.I. have been driving a more profitable business model. The trend is also leading to a new breed of top hoteliers with a different kind of skill set. In our interview with FOSSE creator Dave Berkus, he told us that the hotel general manager of the future is going to require less operational knowhow and more analytical chops.
Hoteliers believe that revenue managers will lose their jobs when artificial intelligence gets good enough. I believe that artificial intelligence is going to make revenue management an even more valuable skill because it will take more insight and analytical rigor to stand out from the competition set in a data-driven world. ~Aditya Sanghi
At the core of this change is the property management system and few have changed the game for the PMS market like Hotelogix founder and CEO Aditya Sanghi. Aditya has launched a wildly successful business in some of the toughest markets like Asia and Southeast Asia (due to language and culture differences). The product he and his team have built is so strong that it transcends these cross border discrepancies and is widely used by hoteliers around the world. Hotelogix is becoming increasingly popular in markets like Europe and the United States - a testament to the incredible company that Sanghi has built.
During this interview we learn from Aditya's unique perspective on life, hotels and business. We also talk about the future of hotel property management systems and what qualities hotel managers must focus on developing in order to succeed in the A.I. revolution.
What was your background prior to starting Hotelogix?
Hotelogix was founded by Prabhash Bhatnagar in 2008. Before Hotelogix, Prabhash used to offer web solutions' services, where he interacted closely with many hotels. That's where the idea of offering a cloud-based PMS to the mid-segment hotels germinated. I joined Prabhash as a Co-founder, as I was always interested in making a product for the global market, and Cloud PMS gave me a perfect opportunity to do so.
Before that, straight out of college, I had co-founded another product-based company, EDISPHERE with my brother Ajay Sanghi. I believe that my early exposure to creating products played a great role in shaping my entrepreneurial journey.
What made you decide to jump in and create Hotelogix?
I had a burning desire to create a product that had global reach and appeal. India was not known as a hub for products back then and I always believed that products would drive the next phase of economy for the country. I started my corporate life as an entrepreneur. I am known to be a 'happy-go-lucky' kind of person and have never feared consequences.
I think a major factor in becoming an entrepreneur is to not have a fear of failure. I come from a strong sports background, where winning and losing was part of the game. I believe that losing a battle is an integral part of winning the war, and one must enjoy the whole journey. I think I was better prepared to live the life of an entrepreneur because of my learnings from sports and my family background where 'risk taking' is normal.
There is also a certain sense of joy and contentment in creating footprints for someone to follow. Any footprints that Hotelogix can create for other companies to follow will be a huge accomplishment for me.
Changing the life of a customer is another factor that drives me. And, co-founding Hotelogix gave me a perfect opportunity to do that. I realized that the industry would soon transition to cloud PMS as the entire travel world was poised to go digital, and I took the opportunity to drive this change.
On how it started… Prabhash had shared his idea in a 'New Year Party' in December 2007 while we were sipping whisky by the fireplace, on a chilly winter night. I think my decision was taken in a couple of hours of our conversation.
All the above factors were too compelling for me to continue working in Informatica Business Solutions in Bangalore, where I last worked. I have taken some of the most critical decisions of my life in less than a couple of hours. And, I do not regret any of them.
Who was your first customer at Hotelogix?
Our first customer was in 2009, a small boutique hotel called Faros Suites from Lonian Islands, Greece. Convinced by our 'try and buy' model, they took a free trial of our PMS. Back then, we did not have any sales team and the founding team would respond to chat and email queries. After a few days of self-running trial with assistance on chat and email for concerns and clarifications, Angelo, the owner decided to go ahead with Hotelogix. Their decision to implement Hotelogix did not involve any huge financial investment, but it did involve their time and resource investment. They were moving from pen & paper to adopting our cloud solution. Such a transition is never easy.
Wow, so your first customer signed up through a trial, is that something that Hotelogix makes widely available for hotels?
Look to any industry and software buyers can try different solutions before they buy. We believe that is the future for hotels too and have made trials available to any hotelier who wants to take our software for a spin. Great hotel business starts with a powerful Cloud PMS and hoteliers should be able to see the product in action before they sign on. This is why hotels in more than 100+ countries trust Hotelogix Cloud PMS. Hotelogix is a smart solution that helps our clients stay organised and connected. If you want to simplify your operations, get more business and keep your guests happier - don't take our word for it - try Hotelogix free.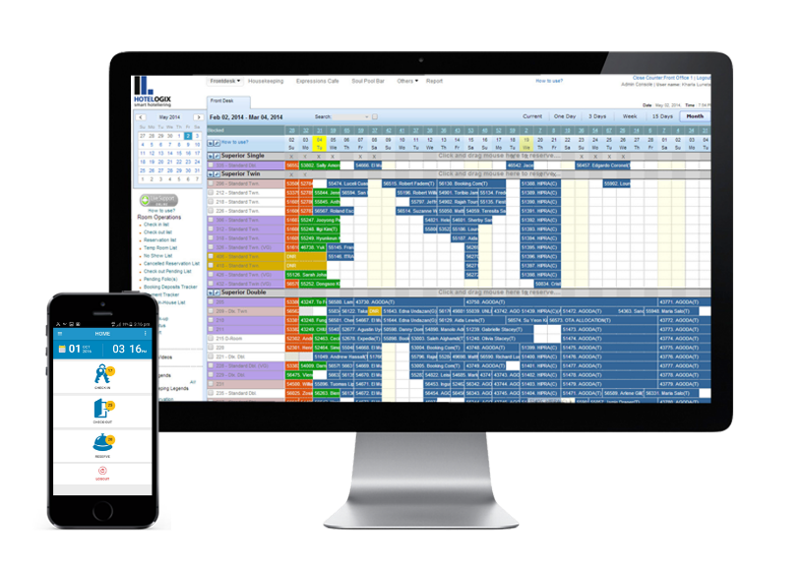 The Hotelogix dashboard is intuitive and easy to learn for new staff
Who is one mentor that has really helped you scale the business?
That would be Shekhar Kirani, from Accel Partners (our investors). He is also on our board for quite a few years now.
Shekhar has taught us that it is ok to make mistakes, fail and move on fast. The day and age is not suited for over analysing things to take decisions. He also taught us to how to think like a funded company, and the switch that needs to be made from the 'boot strapped' mind-set.
Here are a few more things that we have learned from him –
On hiring – If you need one sales person, hire three. Choose the best person for the job without losing time. If more than one of them turn out to be good, it is never considered as a bad investment.
On our website that is expected to generate demand – The first fold of your home page is for humans, and rest is for Google. Look at your website from that perspective. Don't overly spend time trying to beautify what pleases the human eye but has no bearing on Google.
On any process, like mailers to be sent once a form fill is done on the website - Just copy the follow up mails from some service that is successful and don't waste time recreating it.
On focus: Shekhar has also worked closely with us to bring in lot of focus in the way we think of the road ahead. This helps us choose the next two battles to win, rather than going all out and not winning anything.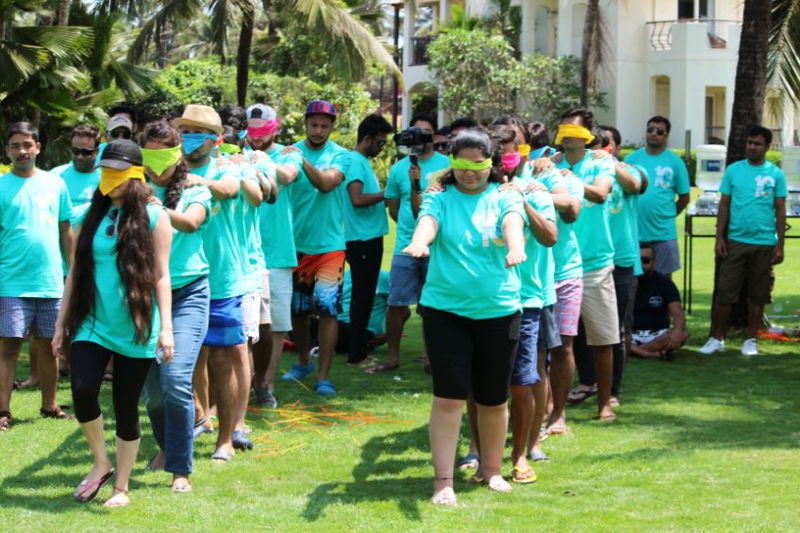 Hotelogix team building exercise
What's one commonly held belief that most hoteliers believe to be true in your niche that actually is false?
For example: Hoteliers believe that revenue managers will lose their jobs when artificial intelligence gets good enough. I believe that artificial intelligence is going to make revenue management an even more valuable skill because it will take more insight and analytical rigor to stand out from the competition set in a data-driven world.
Hoteliers are used to looking at PMS as a cost centre of the hotel. With the maturity of Cloud PMS, the paradigm has changed. A PMS should not be considered as cost, but as a system that will help them grow revenues and business.
Also, for most hoteliers, deciding on PMS is an operational decision whereas I feel it should be more of a strategic decision.
What's the most surprising thing you've learned about scaling technology into hotels?
The most important thing that I have learned is the difference between products for a vertical vs. horizontal industry. When you are looking at a vertical industry like hospitality, you can't ensure a frictionless scale-up unless you understand the behaviour of even the housekeeping staff. It requires going deeper into the domain and environment.
Another great learning is to choose the battles to fight. 'Is this the right time to solve this problem?' is one question to be answered. Gut feeling is important but scaling up needs data backing. Instinct should get things on the table for consideration, but one needs to get to data points to decide on it.
Thirdly, support is the most critical aspect of serving a hotel. Even if the product is not evolving and innovating as quickly, one must spend disproportionate time trying to understand how you can be more effective in your support.
Is there a company that has been a particularly good partner for you?
Yes. We have been partnering with several third-party solution providers to help hotels leverage the power of cloud technology. Some of them have been quite important to us. They are -
Vertical Booking Channel Manager - The integration we did with Vertical Booking was first-of-its-kind back then. It was a complete two-way integration to support very critical aspects of OTA distribution like contract allotment vs free sale. Vertical Booking also stood alongside as a robust solution and the integrated offering is still what our customers enjoy. This was the first channel manager integration with Hotelogix and our customers saw instant benefits in terms of nullifying double bookings, getting more OTA bookings, increasing revenue and many more.
TripAdvisor Review Express - Review Collection automation, and ability to influence reputation from Hotelogix PMS was the perfect thing to happen. Hotelogix was mainly a solution positioned for independent hotels and we have always believed that reviews are a great leveller between independent hotels and brands. Our customers saw how Hotelogix and Review Express integration seamlessly improved their TripAdvisor ratings, that benefitted them in terms of better ARR and more bookings.
Where do you see Hotelogix in 5 years?
5 years from now, I imagine Hotelogix to be a word that is synonymous with Cloud PMS. Hotelogix will be more like an Operating System for hotels, providing various services on top of its PMS platform.
We will be a product that is associated with simplicity that drives great customer value. We will be known as a catalyst to this change of bringing about automation to the mid and small sized hotels, and driving the change from on-premise to cloud-based systems for running operations.
More objectively, Hotelogix will be the largest Cloud PMS in the South Asia and Southeast Asia markets and will be in the top 3 leading products in developed geographies like the North American market.
How will the property management system and overall hotel management software space change in the next 5-10 years?
Today, Hotelogix is mainly serving semi-service and limited-service independent and group properties like Hotels, Resorts, Apart Hotels, B&Bs, Hostels and more.
You will see specialized product offerings for these different property types. You will also see Hotelogix becoming a key player in anything that needs booking of a room/desk like corporate housing and co-working spaces.
Hotelogix as a brand will become a 'Gold Standard' in the industry and will be adopted by hotel management institutes to train their students on PMS.
Hotelogix will be that self-serving platform that a hotel business can get up and running within no time – where he can quickly subscribe, adopt and benefit from the solution. This means a lot more smaller hotels will be able to avail of our solution without having to go through adoption challenges that come with a new PMS.
Hotelogix is highly passionate about small to mid-sized hotel businesses. For a very long time, this segment didn't have access to great technology as service providers across the globe concentrated on the five starred community, like Opera and Travelclick.
Things are changing now. Tech providers are focusing on this segment as adoption of technology lagged in this sector. The popularity of this segment has also been purely driven by market dynamics, where travelers are now choosing to stay in independents and smaller properties.
So, it's time to focus on enhancing the guest experience for such properties. The community should look at creating more services/products that are geared towards the guest. Treating them like 5-star guests by leveraging AI driven technology can be used to serve and monetize better.
What are some of Hotelogix's recent product innovations that hoteliers should be aware of?
Hotelogix has released its Developer platform. Using this, third parties can develop apps on Hotelogix. Our firm belief is that hotel brands will become more like consumer tech businesses (like Amazon), and each one of them would have technology at the forefront to drive their brand strategy. This would mean, giving them the flexibility to develop apps that are not necessarily provided by us or any vendor, but are customised to their needs. We have toyed with this approach and it has been adopted by a couple of customers. I think this is the 'Uber' effect that 'PMSs' can provide to brands.
Additionally, we would like to promote our Mobile Developer Platform and see if the industry feels it is of value to them.
What advice do you have for hotel tech entrepreneurs?
It's a fantastic industry to be in as long as you can empathize with hotels and their guest experience. Hoteliers and hospitality professionals are a very interesting bunch of people. They have many anecdotes to share as they deal with people from all walks of life.
Sometimes, entrepreneurs looking to get into the hotel tech space need to be ready to wait it out, if they believe their product will bring value to hoteliers. Like, in the case of Hotelogix, we were clearly ahead of time when we released our Cloud PMS way back in 2009. But now, the environment is great and cloud PMS has emerged as one of the hottest pieces of hospitality technology.
Make technology such that it can be seamlessly adopted. A hotel already deals with so many challenges that adoption of something new can become a bigger challenge. Generally, people in operations are the users of technology and your product needs to fit seamlessly in their lives.