Net Zero Emissions: A Guide to Smart Buildings & Operations
By Jordan Hollander
Last updated October 28, 2022
5 min read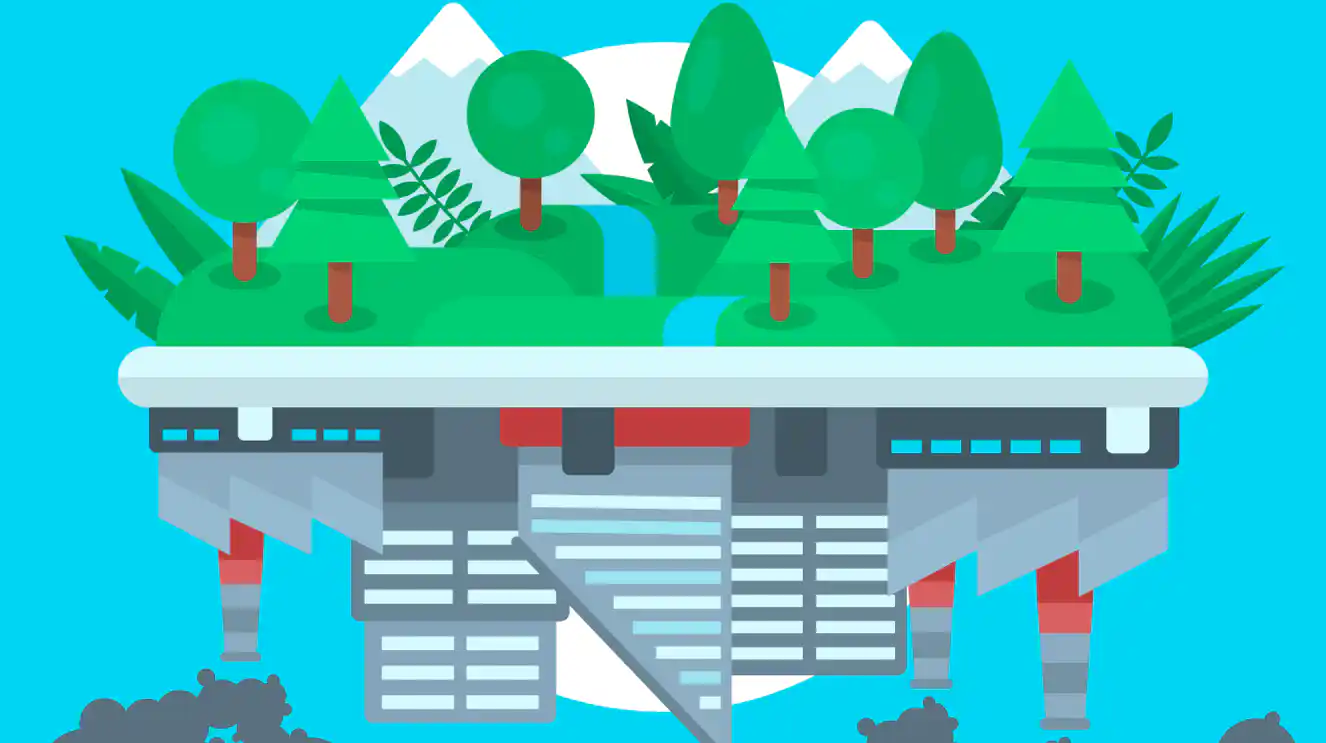 Curious about sustainability and how the hotel industry can reverse the trajectory of climate change and global warming? It's no secret that the travel industry is one of the biggest sources of greenhouse gas emissions and carbon emissions - think of all those trains, planes, cars and ships. While hotels aren't necessarily the biggest contributors, travelers who stay in our hotels are which it's why it's important that we do our part to make emissions reductions through energy efficiency, recycling and other initiatives on property starting with the initial development of our buildings.
Perhaps you've heard the phrase "net zero targets" or the "Paris agreement" or maybe you're new to the conversation about reducing emissions. As traveler preferences shift toward eco-friendly hotel options, and as the climate crisis becomes more urgent, hoteliers like you should start to investigate solutions for a more sustainable future for your property. Net zero is one framework for prioritizing and quantifying your environmental impact, and, in this article, we'll explain how net zero is relevant and important for hotels around the world. By the end of the page, you'll be able to begin formulating a plan for your own hotel to achieve net zero emissions.
What is Net Zero?
Before diving any further into our guide to net zero for hotels, let's first define what exactly "net zero" means. According to the Environmental Protection Agency, net zero is the point of equilibrium when a building consumes the same amount of energy that it produces. For instance, if a building has solar panels on the roof, the solar panels could generate the same amount of power that the building uses to power its operating systems, so the building has "net zero" energy consumption. Net zero principles also include minimizing the amount of solid waste that ends up in landfills and using water in a responsible way.
Why is Net Zero Important?
Travel today is inherently detrimental to the environment, especially when you consider the massive amount of carbon dioxide emitted on each airplane flight. Hotels are the second-largest producers of greenhouse gases in the tourism sector, after transportation. If we want to continue to work in and enjoy the travel industry as we know it, we must find a more sustainable path forward. While hoteliers can't do much about the airlines' carbon footprint, we can do our part to implement sustainable practices in our properties.
But net zero isn't just important for the future of the travel industry; sustainability can also be a revenue driver and a way to stand out from the competition. Numerous studies show that travelers are increasingly searching for more sustainable options while they travel. According to Booking.com's 2021 Sustainability Report, 81% of survey respondents say they want to book sustainable accommodations, and 61% say the pandemic has influenced them to travel more sustainably in the future. In order to meet this demand for eco-friendly places to stay, global hotel companies have made strides to operate in a greener fashion. Iberostar Hotels & Resorts, for example, recently announced a commitment to become carbon-neutral by the year 2050. Because of the demand and urgency for sustainability travel, net zero hotels can also generate significant publicity, as we'll see later in this article, which can further drive revenue growth.
Breaking Down the Net Zero Methodology for Hotels
We've established what net zero is and why it's important for hoteliers, so now we can dig deeper into net zero in the context of hotels. How can a hotel achieve net zero? Where do you even begin? Let's break down the components of the Net Zero Methodology for Hotels, as defined by the Sustainability Hospitality Alliance. This methodology was developed by several hospitality organizations with input from many top hotel companies, like Four Seasons, Hilton, and Marriott. If you're serious about bringing the net zero framework to your hotel, then the SHA's detailed handbook is an excellent resource for you and your team.
The Net Zero Methodology for Hotels is comprised of five elements:
Define your baseline: Like any goal, you need to figure out your starting point before you can set a target. In this case, your baseline is a typical year of operations at your hotel. The SHA recommends choosing a somewhat recent year during which you had high occupancy (therefore, high energy use) and perhaps before you made any major strides toward sustainability. This way, you can demonstrate the maximum progress. 
Determine your emissions sources: A typical hotel has many sources of emissions. Lighting, heating, and cooling are big ones, but so is laundry, transportation, food and beverage, and your supply chain. Once you've established all the emissions sources at your hotel, the next step is to figure out who is responsible for each one: the building owner, the operator, or any vendors you work with. You can then prioritize each emissions source based on the potential impact of reducing it and how easily you can quantify it. For instance, purchased electricity is usually a high priority emissions source. You can easily quantify the electricity that your hotel uses (your utility company can share this data too), and the impact of reducing your reliance on purchased electricity is large.
Set milestones: The industry-wide target year for achieving net zero is 2050, but that doesn't mean you can go from an unsustainable operation to a net-zero one overnight. You'll need to pass many milestones along the way. Some best practices for setting milestones is to define a target for each emissions source (electricity, laundry) and a target for every 5 years (2025, 2030, 2035, etc.). These milestones will hold you accountable as you make progress toward the big goal of net zero by 2050. To begin, here's the high-level plan that the SHA recommends:

By 2025: Commit to a plan and be able to quantify your progress
By 2030: Use renewable energy and/or carbon offsets
By 2035: Make your value chain sustainable
By 2040: Close in on net zero emissions
By 2050: Achieve true net zero

Quantify and report your emissions: You can't unlock net zero at your hotel without one key component: measuring your impact. When quantifying your emissions and producing an annual report, a few resources can be helpful. The GHG Protocol Corporate Accounting and Reporting Standard and the ISO 14064-1:2018 Organizational Level Quantification and Reporting of GHG Emissions and Removals contain standards for time periods, data hierarchy, metrics, measurements, and more. If you're reporting on several hotels as a management company or brand, then you'll want to show the stats for each individual hotel as well as a portfolio roll-up.
Consider your place in the value chain: Your hotel doesn't exist in a vacuum, so your environmental impact also affects the environmental impact of your vendors, suppliers, and partner businesses. Each link in the value chain plays a role: your hotel brand or franchisor, your lender, your guests, any intermediaries like travel agents and OTAs, travel media, and suppliers of goods and services.
Net Zero Hotel Examples
If the net zero methodology seems overwhelming, you might be asking yourself how any hotel could possibly achieve it - even by 2050. In fact, a few hotels can actually say they are net zero today. The room2 Chiswick, which opened in December 2021 in West London, was built with net zero in mind from the beginning. The building uses no fossil fuels solely relying on clean energy like ground source heat pumps and solar panels to generate all the electricity needed to operate its building systems. It has a plant-filled "green roof" and unique in-room recycling bins that help the hotel avoid sending any waste to the landfill. But the hotel doesn't stop there; two "lab rooms" are designed to study guest behavior and quantify energy usage so the hotel can continue iterating on its net zero strategies.
A net zero hotel also opened recently in the US: The Hotel Marcel in New Haven, CT, which is part of the Tapestry Collection by Hilton, opened in spring 2022 and is expected to be the first certified "Passive House" hotel in the country. The Hotel Marcel, which occupies a former office building, is fully powered by electricity produced by renewables, and the property offers eco-friendly amenities that guests will surely appreciate, like Tesla superchargers and a restaurant that features local produce and biodynamic wines.
There's no better time to start defining a plan to prioritize sustainability at your hotel. In fact, it's becoming critical, as both owners and guests are becoming more aware that sustainability isn't just an optional, nice-to-have tagline. Phasing out your tiny toiletry bottles isn't enough; it's time to make a plan to achieve net zero emissions at your hotel.
Every Hotel Operator Must Do Their Part
While you make think of Net Zero as something that the United Nations should be focusing on, the private sector is critical to the success of climate action initiatives. Our Ozone has the capabilities to repair itself from the holes that our methane and global emissions have punctured. All we have to do is give the Ozone a break so it can heal itself which will cool global temperatures. While ultimately we'll want to find ways for negative emissions getting to net zero is a bold and audacious goal that is worth fighting for. Whether you're a hotel in California's wine country that's been ravaged by fires or the stunning Sri Lankan coast devastated by Tsunamis - heatwaves and global climate volatility effect your tourism business in the near-term so it's important to remember that climate policy and decarbonization to meet emission targets are important for driving even short to medium term business results.