102 Essential Travel Apps For Every Type of Traveler in 2023
By Jordan Hollander
Last updated November 02, 2022
23 min read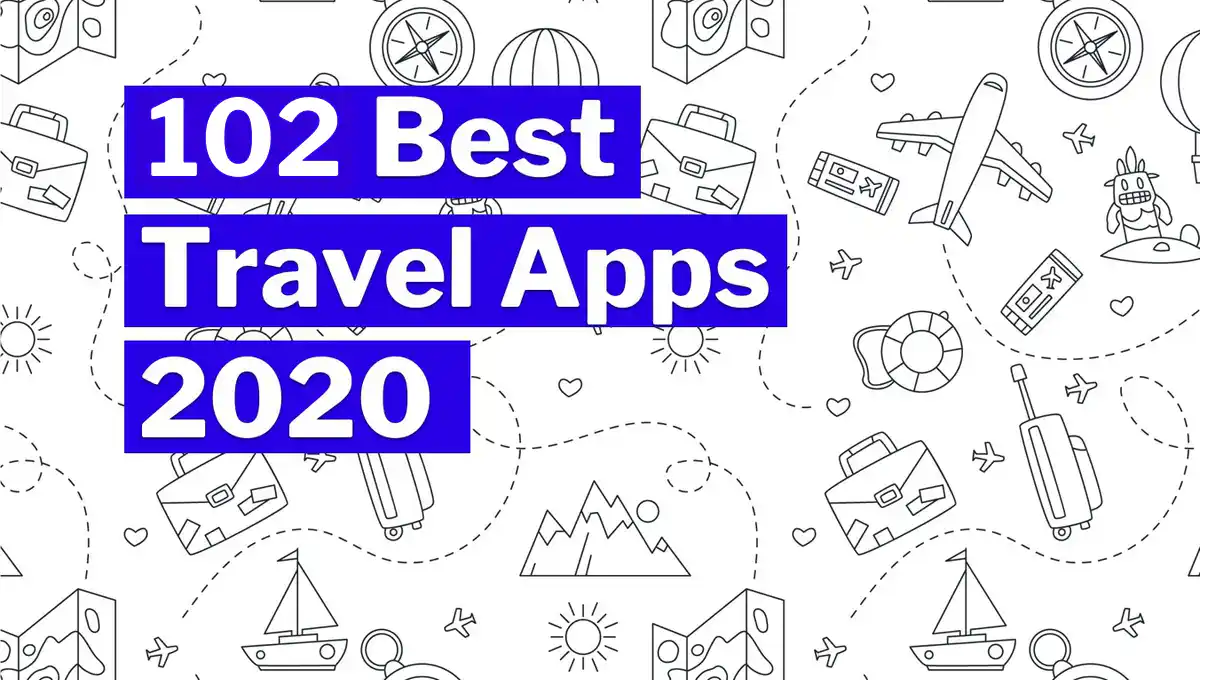 There are few things that no traveler should leave home without: a passport, a few essentials, and a phone equipped with the best apps to help you make the most out of your trip. Whether you're looking for the best dim-sum in a new city or trying to find your way from the airport to a business meeting, these apps are critical to traveling in style and ease.
The following 100 apps can help you navigate a new transportation system, meet fellow travelers, translate a menu, and everything in between. This guide breaks down the most essential apps into five key categories: 
Read on for the most essential apps for traveling in 2020.
Apps for Meeting People
Sometime in the 90s the concept of pen pals went from cute to creepy.  In our hyper connected world it's hard to meet honest people online at a distance which can lead to loneliness when travelling solo.  Adventuring with people from other parts of the world is still totally doable and arguably easier than ever with apps that let you connect with locals in real-time.  AirBnB famously launched its experiences platform to do just that without doing more than pulling out your smartphone. 
Here are a few apps that connect travelers and locals through eating, touring, hosting, and more. 
1. EatWith: Share a meal with a local.
EatWith offers a way to meet people through food. From cooking classes to home-cooked meals hosted in people's homes, EatWith is connecting travelers while showcasing the culinary delights of a destination. Get EatWith for iOS and Android. 
2. Backpackr: Meet like-minded travelers all over the globe.
Backpackr is a social networking app for travelers that operates kind of like one big group chat. You can find people or social events using hashtags, checking out different channels, or posting a question in the Common Room. Get Backpackr for iOS and Android. 
3. Tinder: Yes, it's more than just a hookup site – Tinder is a great way to meet people while traveling!
Tinder is infamous as a dating app, but it's also a good way to meet people in a new city. Just specify in your bio what you're looking for and the app does the heavy lifting to find people near you.
4. Couchsurfing: Find a local host and stay for cheap.
The Couchsurfing app connects travelers with people who have free space in their house and are willing to let you stay. Couchsurfing has grown to be a large community, and even if you prefer to stay in a hotel, there are plenty of free events to try. Get Couchsurfing for iOS and Android.
5. Meetup: RSVP to events all over the world.
Meetup is an events hosting platform that helps you find social events where you can meet like-minded people. Explore groups and make new friends based on shared hobbies or professional networking events. Get Meetup for iOS and Android.
6. Withlocals: Private tours and more hosted the local experts.
Withlocals offers an easy way to meet someone from the area and have a private tour customized to your preferences. The app designs experiences that take you off the beaten path and show you an insider's view of the city. Get Withlocals for iOS and Android.
7. Showaround: Learn about a destination on a local tour.
Showaround is very similar to Withlocals. Browse listings of people in the area who will charge a small fee to show you their favorite side of the city. Get Showaround for iOS and Android.
8. FlipTheTrip: Search for a travel companion by destination.
FlipTheTrip reconsiders how to connect with locals and other travelers: instead of waiting to arrive to meet people, search for fellow travelers and locals ahead of time so you can meet people as soon as you land. Learn more on their website.
9. SoloTraveller: Traveling alone doesn't mean you have to be lonely. 
SoloTraveller connects people traveling on their own to share a meal, meet up for an event, or just head out to explore the city. For business travelers constantly on the road, this can be a good way to connect with others during your downtime. Get SoloTraveller for iOS and Android.
10. BonAppetour: Similar to EatWith, this app connects travelers over a shared food experience.
BonAppetour can help you meet others over one of the best parts of traveling – the food! Find a friend around a shared culinary event, such as a dinner party, cooking class, barbeque, or picnic. Get BonAppeTour for iOS. 
11. Travello: An app for all types of travelers to connect.
Travello is a social network built for all different types of travelers: digital nomads, backpackers, solo travelers, and even locals seeking to connect with people from all over. Travel deals that pop-up in the app further incentivize users to stay active. Get Travello for iOS and Android.
12. Tourlina: A social travel app built for women. 
Tourlina is an app for women travelers who want to meet others – but might feel concerned for their safety. Members can enter their trip information, including the destination and dates, and find other women who are traveling at the same time. Get Tourlina for iOS and Android. 
13. Patook: Strictly friends-only swiping. 
Patook is a social network that may look a whole lot like a dating app – but it's strictly platonic. Login to find friends near you without the risk of getting creepy DMs or sending mixed messages while traveling. Get Patook for iOS and Android. 
14. Bumble BFF: Expand your social circle with a new feature of this popular dating app. 
BumbleBFF makes it easy to meet people in your area by capturing the platform's technology to connect friends, not dates. Swipe based on what you're looking for: a workout friend, travel buddy, or sports team, for instance. Bumble also has a business feature if you're looking to network professionally while you travel. Get Bumble for iOS and Android.
Local Area Information Apps
These apps help you get around, find cultural attractions, and learn local customs fast. 
15. XE Currency Converter: The gold standard in currency conversion.
The XE Currency Converter app offers live currency rates, which you can save for even when you're offline. All figures are mid-market rates that you can use to compare with exchange places nearby to make sure you're getting the best deal. Get XE Currency Converter for iOS and Android.
16. GlobeTips: Tip appropriately in 200+ countries.
The GlobeTips app is simple but crucial. Figure out what tip you should leave based on a local culture and traditions. Not only that, it will also help you split a check, round up the calculation results, and exclude sales tax for you. Get GlobeTips for iOS. 
17. Google Maps: One app that does almost everything.
Google Maps is absolutely essential for visiting a new city. Not only will it give you directions (including walking, driving, public transportation, ride-hailing services and more), but it will also tell you how crowded the subway might be, peak hours at a museum, help you make restaurant reservations, let you save your favorite spots, and write reviews for other travelers. Get the Google Maps app for iOS and Android.
18. Culture Trip: Search for nearby attractions, shopping, hidden gems, and more.
The Culture Trip app curates collections of attractions, restaurants, and more for destinations all over the world. Whether you're looking for a list of the best workspaces in Budapest or a guide to ordering sushi in Osaka, this app has everything you need to navigate like a pro. Get the Culture Trip app for iOS and Android.
19. Triposo: 50,000 destinations in your pocket.
Triposo's app delivers downloadable city guides and offline maps so you can explore a city without data or Wifi. Use the app to research what to see and do, read about the city's history, review safety tips, and check the current weather forecast. Get Triposo for iOS and Android.
20. Smart Traveler: A safety app for US travelers.
If COVID-19 has taught us anything, it's that you can never be too prepared. Smart Traveler is an app by the US State Department that tells you safety information for wherever you are going: what visas and vaccines you will need, as well as where the local embassy or consulate is located. Get Smart Traveler for iOS and Android.
21. AllTrails: Get maps for over 100,000 hiking trails.
The AllTrails app takes exploration to a new level. The app shows bike, hike, ride and running trails that you can filter by length, rating, and difficulty. It will even tell you if a trail is dog or kid-friendly. Get AllTrails for iOS and Android.
22. Flush: Find your nearest public bathroom and avoid emergencies.
The Flush Toilet Finder app is great for when you're exploring a new city and need to find your nearest public restroom. When you're traveling with kids or planning a full day out, this app can come in handy. Get Flush for iOS and Android.
23. Citymapper: Live mass transit information.
The Citymapper app can route you through the fastest way to get from point A to point B using public transportation, with routes updated live throughout the day. Find the fastest, easiest way to get around major cities in the U.S., Canada, Asia, Australia, Europe, and Latin America. Get Citymapper for iOS and Android.
24. Dayuse: Use a hotel's amenities for the day.
The Dayuse app shows you hotels that offer rooms to use by the day. Book for a short layover or book a room and make use of the hotel's pool, spa, gym or sauna during your abbreviated stay. Rooms are marked down by as much as 75% for a one to 10 hour stay. Get the Dayuse app for iOS and Android.
25. Rick Steves Audio Europe: Listen to audio tours of Europe's most historic sites.
These apps offer a digital library of Rick Steves' extensive walking tours. This history expert will tell you all about Europe's popular attractions and include his recommendations for where to eat and what to see off the beaten path. Get Rick Steves Audio Europe for iOS and Android.
26. Viator: Find tours and day trips with this app.
Some destinations aren't intuitive, which is where Viator can help. Explore a new city on a day trip or tour – Viator recommends all kinds of experiences, from kayaking trips to week-long treks. Read traveller reviews before you book so you know what you're getting. Get Viator for iOS and Android.
27. RunGo: Sightsee and get fit at the same time.
The RunGo app lets runners share their favorite routes for others to follow. It's a great way to explore a new city while getting your heart rate up. It also tracks your run stats, like heart rate, elevation change, pace, and more. Get RunGo for iOS and Android.
28. Nearify: Find local events and shows nearby.
The Nearify all lets you browse what's going on around you: concerts, comedy shows, drinking experiences, open mic nights and more. Browse what's happening to learn more about a city, or head to your nearest event to meet other people. Get Nearify for Android and iOS. 
29. Musement: Book tickets to attractions in 350 destinations worldwide.
Musement is your guide to neighborhoods, restaurants, local attractions and more in 350 destinations and 25 of the world's biggest cities. Use the Musement app to book tickets to museums and big attractions and skip the line when you get there. Get Musement for Android and iOS.
30. Spotted by Locals: Know what to see based on recommendations from locals.
Spotted by Locals is curated attractions suggested by those who know the city best: the residents who live nearby. Use the app to browse city guides made up of insider tips by locals in 81 cities. Get Spotted by Locals for Android and iOS.
31. Bike Citizens: Explore the city on your own two wheels.
The Bike Citizens app, like RunGo, is a way for bikers to explore the city with different routes mapped out. Select the fastest route from A to B, or the most scenic route, depending on your travel plans. The app will highlight points of interest along the way: restaurants, ATMs, museums, and more, using voice guidance to keep you safe. Get Bike Citizens for iOS and Android.
32. Lonely Planet: Reliable travel advice from the experts.
Lonely Planet offers guides to more than 38 cities, complete with vetted recommendations and advice for getting around. Recommendations are easy to filter and backed by Lonely Planet's expertise. Get Lonely Planet for iOS and Android.
Translation Apps
Travelling before the iPhone was a pain in the you know what.  Figuring out how much to pay, where to go and even where to stay was insanely difficult.  Layer on top of that the challenge of not being able to ask for help without a private translator in many regions.  Translating apps like Duolingo have made travelers and locals more fluent in each others languages with dozens of other super cool mobile apps filling in everything else to make sure nothing gets lost in translation.
These translation apps can help you navigate a new city, read a menu, speak to a stranger, and start learning a new language while on-the-go.
33. iTranslate: One of the top-rated translation apps in the world.
iTranslate has more than 350,000 ratings on iTunes and Google Play, many of which give this translation app four stars and up. The free, basic app offers a phrasebook with predefined, useful phrases in more than 100 languages. Get iTranslate for iOS or Android.
34. Google Translate: Free, flexible, and full of cool features.
The Google Translate app offers 108 languages (59 with offline access). There are lots of variations for how you can translate through the app: draw text or characters, type, scan a page, or speak into the app for instant translation. Get Google Translate for iOS and Android.
35. TripLingo: Pick up phrases that make you sound like a local.
TripLingo goes beyond simple translation to offer a phrase book, tips on local customs, a wifi dialer, culture notes, travel tools, and more. The app's voice translator instantly translates your voice into another language; it will also translate a response back into English. Get TripLingo for iOS or Android.
36. SayHi: Translate your voice into 90 languages.
SayHi is a translation app owned by Amazon that aims to make having a conversation in another language as straightforward as possible. The simple interface makes it easy to record your voice in one language, and play it back in another. It also includes dialects if you're traveling far afield. Get it for iOS and Android.
37. Papago: An app that specializes in translating Asian languages.
Papago is especially useful for trips to Asia, as it is able to translate between English and Korean, Japanese, Chinese (simplified/traditional), Indonesian, Vietnamese and Thai, as well as Russian, German, Italian and Spanish. Translations are available for voice and text. Get it for iOS and Android.
38. Microsoft Translator: A great translation app for business travelers.
Microsoft's Translator app is well equipped for business meetings, as it can translate multi-person conversations with as many as 100 people at a time speaking in different languages. A split-screen feature allows you to read a phrase that someone sitting across from you has spoken aloud. Get the Microsoft Translator app for iOS or Android.
39. Waygo: Translate to and from English, Chinese, Japanese, and Korean.
The Waygo app specializes in translating between just four languages, but it is able to do so entirely offline – a huge help if you're traveling without data. It's an award-winning app that also uses minimal disk space to translate from menus, signs, and more. Get the Waygo app for iOS and Android.
40. iTranslate Voice: An Editor's Choice app that translates audio into more than 40 languages.
iTranslate Voice gets rave reviews for being easy to use. The app, like SayHi, records your voice in one language and plays it back in another. You can also connect two devices for an easy back-and-forth conversation with someone in another language. Get the iTranslate Voice app for iOS.
41. Speak and Translate: A paid app that gives you access to less common languages.
The Speak and Translate app offers access to a ton of different languages –  117 languages for text and 54 languages for voice. It's only available for Apple devices, but as a result will sync across your devices and save your translation history no matter what you're using. Get it for iOS.
42. SpanishDict Translator: Spanish to English (and back) with grammar tips included.
SpanishDict Translator is, as the name suggests, an app that translates between English and Spanish. It also offers grammatical rules and best practices, helping users know when to use ser v. estar, for instance. It can also conjugate some verbs and find the right idiom for you. Get the SpanishDict Translator app for iOS and Android. 
43. Arabic Dictionary and Translator: A combination dictionary/translator app that provides a range of English/Arabic tools.
The Arabic Dictionary and Translator app is a great hybrid learning and instant translation tool. The translation feature uses Google, Microsoft, Yandex Translate, Baidu Translate, and others to suggest how to say a phrase. The dictionary feature looks up certain words, lets you save them for the future, create flashcards, and make headway in learning Arabic. Get the Arabic Dictionary and Translator app for iOS and Android
44. Pleco: A handy app for translating Mandarin and Cantonese.
Pleco specializes in translating Mandarin and Cantonese. Look up unknown Chinese words using your device's camera, or tap-lookup words in a still image. The app will also read handwriting and can translate audio recordings. Get the Pleco app for iOS and Android.
45. Duolingo: Learn a language while on-the-go. 
Duolingo is a crowd-favorite for learning and practicing a language. Exercises are designed for speakers of all levels, from total beginners to advanced learners. It also offers lessons in some more niche languages, like Norwegian, Swahili, and Klingon. Get the Duolingo app for iOS and Android. 
46. Babbel: An app that gamifies learning a language.
Babbel's free version offers 40 classes featuring native speakers saying words to help you say the words properly. Take lessons in 13 different languages by going through exercises designed to help you learn a phrase – and remember it. Get the Babbel app for iOS and Android.
47. Busuu: Learn a language with help from a social network of native speakers. 
Busuu is an app that adds a community component to the experience of learning a language. Travelers can connect with native speakers listed on the app to get feedback on their pronunciation, grammar, and more. Get Busuu for iOS and Android. 
48. Memrise: Visual learners will love this app's UX.
Memrise is a great way to learn a language for travelers who are visual learners. Videos, images, and memes show language learners how to speak conversationally in14+ different languages. There are also courses in history, art, science, trivia, and more. Get the Memrise app for iOS and Android.
49. MosaLingua: "Flashcards on steroids."
MosaLingua offers different language learning apps for each language, including Spanish, French, Italian, German, and Russian. Their approach is designed to activate both audio and visual memory. Browse MosaLingua apps for Android and iOS. 
50. (How to) Pronounce: Learn how to pronounce foreign words like a pro.
(How to) Pronounce is an app that does exactly what it sounds like: tells you how to pronounce words in a different language. If you're trying to order at a restaurant, and can't speak the language, simply type in the words you want to say and hear them spoken back to you. Get (How to) Pronounce for iOS.
51. Drops: Habit-building to help you learn a language. 
The Drops app gives you five minutes of learning a language everyday. These short lessons are meant to help you focus and develop a language habit over time. Word games are available in over 40 languages. Get the Drops app for iOS and Android.
52. Pimsleur: Tested and proven over decades of teaching.
If you want a really deep dive into learning a language, Pimsleur is a great app to try. The Pimsleur method of learning a language has been around since the 1960s. There are tons of online courses in addition to the app; the app simply asks that users commit 30 minutes a day to listening to audio and practicing on-the-go. Get Pimsleur for iOS and Android.
Apps for Finding Food & Beverage
One of the best parts of travel? Experiencing the culture through an amazing meal or once-in-a-lifetime night out at a bar. Here are some ways to find that perfect dish or cocktail.
53. OpenRice: Yelp, for Asia.
The OpenRice app has been called "the Yelp of Asia." It offers restaurant listings with ratings, menus, booking numbers, and more in Hong Kong, Malaysia, Indonesia, Singapore, Thailand, and the Philippines. Get OpenRice for Android and iOS.
54. TheFork: Restaurant reservations at your fingertips.
TheFork makes restaurant recommendations in 4,000 cities within 11 countries, mostly in Europe. The app's popularity comes through its discounts: sometimes up to 50% off your meal just for making a reservation through TheFork. Get TheFork for iOS and Android.
55. Happy Cow: Vegan and vegetarian eating made easy.
For those with dietary restrictions, the Happy Cow is a godsend app. The app lists over 100,000 restaurants in nearly 200 countries to find vegan, vegetarian, and gluten-free offerings. There are reviews as well as recipes using local ingredients. Get Happy Cow for iOS and Android.
56. TripAdvisor: Harness the power of the crowd.
TripAdvisor is a reliably good source of recommendations from fellow travelers. The app covers more than restaurants – hotels, attractions, tours, and more are all rated – but restaurant reviews often include up-to-date menus, hours, and more. Get TripAdvisor for iOS and Android.
57. Yelp: Use the dollar sign ratings to stick to your budget.
Like TripAdvisor, Yelp is for more than restaurant recommendations. Travelers can use this app to scan restaurants based on budget, location, cuisine, and area. Get Yelp for iOS and Android.
58. Zomato: Yelp alternative outside the U.S.
Zomato is a very popular restaurant review platform outside of the US. Reviewers make an extra effort to include photos of menus and dishes. Zomato sometimes partners with delivery services, so if you're hanging out at the hotel, you can get takeaway or delivery. Get Zomato for iOS and Android.
59. Eatigo: Search restaurants in themed categories
Eatigo offers restaurant listings in Thailand, South Korea, Singapore, Malaysia, Hong Kong, India, the Philippines, and Indonesia. Sort by categories like "Date Night," "Hotel Buffets," "Sushi Mania," or "Wine Bars." Take advantage of timed discounts to find a meal that fits your budget. Get Eatigo for iOS and Android.
60. Seafood Watch: Vet the sustainability of your seafood. 
For those traveling in the US, check if a restaurant is ocean-friendly with Seafood Watch. You can search for a particular type of seafood, view sushi listing, and learn more about sustainable seafood. Get Seafood Watch for iOS and Android.
61. LocalEats: No chains allowed.
Support local while you travel with LocalEats' list of best restaurants owned by residents of the city. You can filter by cuisine, price, and use GPS to find one near you while supporting the local economy. Get LocalEats for iOS and Android.
62. Drizly: Alcohol delivery to your accommodation.
Drizly offers alcohol delivery throughout the US. If you're at the perfect restaurant – but it's BYOB – Drizly can drop off some wine. Or, if you're lounging at the pool and the hotel doesn't have a bar, just tap Drizly and have all the ingredients you need sent over. Get Drizly for iOS and Android.
63. Chefs Feed: Dining recommendations from professional chefs
ChefsFeed asks for professional chefs, like Marcus Samuelsson and Momofuku Milk Bar's Christina Tosi to curate their favorite dining destinations in popular cities. Find out where to eat the very best meals all over the US, as well as what dishes to order. Get ChefsFeed for iOS and Android.
64. OpenTable: Reservations only.
OpenTable is for booking restaurant reservations with ease. Choose the size of your party, a date, and a time and see what's available nearby or at your favorite restaurant. Get OpenTable for iOS and Android.
65. Untappd: A home for beer lovers. 
Untappd lets you log the bars and breweries you've visited and rate beers you drink so that when you get home, you can find that perfect craft beer at your local bottle store. Get Untappd for iOS and Android.
66. DrinkAdvisor: Tripadvisor for party animals.
DrinkAdvisor offers peer reviews for local bars and clubs, helping travelers figure out where to spend a night out by searching by criteria like "wine bar" or "dance floor." Create wishlists and see cocktail recipes to start the night out right. Get DrinkAdvisor for Android.
67. Zagat: The gold standard in restaurant reviews 
Zagat is one of the biggest names in the restaurant review biz. Its app is continually updated with reviews of more than 30,000 restaurants around the world. Reviews are reliable and come from trusted experts. Get the Zagat app for iOS and Android.
68. The Infatuation: Most innovative restaurant finder app.
The Infatuation is newer to the scene than Zagat or even Yelp but it's taken the restaurant industry by storm.  The app is by far one of the most intuitive and reliable but does offer less coverage than its competitors as it's more focused on creating content and proprietary rankings.  If you're in a major city like New York or Los Angeles, look no further than the Infatuation.  Get The Infatuation app for iOS and Android.
69. The Happiest Hour: Find food and drink special in Aus and New Zealand
The Happiest Hour works across New Zealand and Australia to find you food and drink specials while you travel. Get The Happiest Hour for iOS. 

Transportation Apps
Get around by plane, train, and automobile with these handy transportation apps. 
70. Hopper: Great deals on flights.
Hopper finds the best deals on flights (and hotels). Put in flight route and the app will tell you when to expect a price drop or spike to help you get the best deal possible. The app claims to predict prices with 95% accuracy up to one year in advance. Get Hopper on iOS and Android.
71. LoungeBuddy: Get access to airport lounges without a first-class ticket.
LoungeBuddy offers a way to find and pay for time in an airport lounge without flying premium. Put in your credit card information and find the rates and availability of lounges nearby. The app will alert you if there are free lounges and also let you pay through their system. Get LoungeBuddy for iOS.
72. AirHelp: Compensation for delayed or canceled flights.
US and EU laws provide compensation in some instances when flights are delayed or canceled – but the process is complicated. That's where the AirHelp app comes in. Enter your flight information and details about the problem, and the company takes care of the rest. Get AirHelp for iOS and Android. 
73. Skyscanner: Search millions of flights from over 1,200 sources
Budget-conscious travelers will love Skyscanner – find cheap flights with one of the most powerful search tools out there. See the cheapest days or months to fly to your destination and get notifications if the price changes. Get Skyscanner for iOS and Android. 
74. TripIt: Organize your travel plans in one place.
TripIt puts your itinerary together for you. Just forward your hotel, restaurant, flight, and car rental confirmation emails to the service, and the app will display your master itinerary in one place. Get TripIt for iOS and Android.
75. Kiwi: More than just booking flights.
Kiwi is known for booking flights, but the app does more – book a hotel, car rental, and activities and tours. You can also see helpful information about airports, such as lounge locations, ATMs, and luggage storage. Get Kiwi for iOS and Android.
76. Roadtrippers: Map out your next roadtrip.
Roadtrippers is perfect for COVID-19 era travel. The app plans a driving route for you with hotels and activities along the way. Find interesting attractions and can't-miss landmarks that you can stop off and see as you go. Get Roadtrippers for iOS and Android.
77. Priority Pass: Access 1300+ airport lounges
Become a member of the Priority Pass program and the app will give you access to lounges at airports around the world. Just enter the airport name or code and see what lounges or restaurants that you have access to, including photos, hours, amenities and more. Get Priority Pass for iOS and Android. 
78. FlightAware: Keep track of your tight connection.
Travelers can use the FlightAware app to get live updates on flights – delays, cancellations, gate changes, and more. It's worth downloading for any trips where you have a tight connection or if you're traveling through a region experiencing difficult weather. Get FlightAware for iOS and Android.
79. Timeshifter: Adjust to time zones and avoid jet lag.
The Timeshifter uses neuroscience research to help you start adjusting to a different time zone while you're still in-flight. The app considers your age, gender, and sleep patterns as well as you trip plans to start providing steps you can take to adjust your body to a new time zone. Get Timeshifter for iOS and Android.
80. SkyGuru: Prepare for turbulence with weather predictions.
The SkyGuru app was designed by pilots to help nervous fliers know what to expect before getting on the plane. The app offers weather and turbulence forecasts for your specific flight route. Of course, anything can happen, but it's nice to have a little warning. Get SkyGuru for iOS and Android.
81. Uber: Ride-hailing around the world.
Uber is in more than 80 countries, and it's a great app to have if you don't speak the language, aren't carrying cash, or don't know where you're going. Not into Uber, or traveling in a country where Uber doesn't operate? Try Lyft, Grab, Cabify, Bolt, Careem, or Gett instead. Get Uber for  iOS and Android. 
82. Drive Weather: Know the road condition before you drive.
Many of us will be traveling by car or by train for the holidays this year, in lieu of taking a flight. Drive Weather is an app that helps road travelers avoid the worst weather. Get radar views and routes with rain, freezing rain, ice, and snow icons that tell you when there are slippery roads ahead. Get DriveWeather for iOS and Android.
83. Waze: Crowdsourced traffic so you get the best route.
The Waze map app lets users submit data to alert other drivers of traffic jams, roadblocks, police, accidents and more. It's a great app for finding the best route throughout your travel – and find you the lowest price on gas along the way. Get Waze for iOS and Android.
84. Rome2rio: Find the best way to get between cities.
The Rome2rio app lets you compare different transportation costs: train, plane, bus, ferry and car. Figure out what is the cheapest or fastest way to get between different destinations and book tickets through the app. Get Rome2rio for iOS and Android.
85. App in the Air: A virtual personal travel assistant.
This app ranked on Apple's best app's list and also gets Oprah's seal of approval. App in the Air will store your itinerary, boarding pass, and frequent flier programs, and also keep track of boarding and landing times and airport wait times for check-in, security, and customs. Get App in the Air for iOS and Android.
86. GasBuddy: Save on petrol.
GasBuddy searches for the best gas prices near you. In addition to finding you cheap gas, the app will also offer an outage tracker during natural disasters, a trip cost calculator, and search filters like brand, location, available restrooms, and more. Get GasBuddy for iOS and Android.
87. SOAR: For nervous fliers.
SOAR is a course developed by therapist and former pilot Captain Tom Bunn. The SOAR app offers tips and resources to help nervous fliers get through a flight, with fact-based plane info to help you calm down. Get SOAR for iOS and Android. 
88. RV Parks and Campgrounds: 40,000 stop-offs on the open road.
RV Parks and Campgrounds offers great camping spots for those hitting the road. You can view RV parks and campgrounds based on ratings, with amenities listed. Photos show you what to expect ahead of time. Get RV Parks & Campgrounds for iOS and Android.
Apps for Hotels and Accomodations
Book a last minute stay, browse by neighborhood, and find great deals on these hotel and accommodation apps.
89. Airbnb: Stay with local hosts. 
Airbnb is one of the most popular platforms for booking accommodation. "Hosts" – sometimes small or boutique hotels – offer rooms or entire places for rent. The app also offers "Experiences" to help you explore a different side of a destination. Get Airbnb for iOS and Android. 
90: Expedia: Discounts on hotels, car rentals, and packages. 
Expedia's app gives you the entire Expedia booking experience, plus rewards. Earn double Expedia Rewards points each time you book a hotel, car rental, flight or package through the app. Get Expedia for iOS and Android. 
91. Booking.com: The highest-rated travel app.
Booking.com offers an all-in-one app experience. Explore the 27 million hotels, vacation rentals, homes, apartments, and other unique places to stay on the app, read guest reviews, and filter listings by price, review score, amenities, and more. Get the Booking.com app for iOS and Android. 
92. Hotels.com: Great discounts and filters to find the right room for you.
Hotels.com's app has easy-to-use filters to help you find exactly what it is you're looking for ina hotel room. People love the "Deals for Tonight" feature that offers big discounts on last-minute bookings. Another feature, "Your Secret Price" can offer savings up to 50%. Get the Hotels.com app for iOS and Android. 
93. Kayak: Metasearching all other travel apps in seconds.
Kayak is mostly known for flight deals, but the platform is owned by Booking.com, making the app a great place to turn when you need a deal on a hotel. Participate in Booking.com's membership program through the Kayak app and use it to manage every aspect of your trip. Get the Kayak app for iOS and Android. 
94. Hotel Tonight: Last-minute hotel deals.
Hotel Tonight does what the name implies: shows you short-term deals on top hotels in a certain city so you can book something last minute. Find deals for a hotel tonight, next week, or up to 100 days in advance. Get Hotel Tonight for iOS and Android. 
95. Marriott Bonvoy: Use Marriott's mobile check-in and earn points.
Marriott Bonvoy offers the lowest rate on the brand's properties worldwide, as well as the ability to earn points through their rewards program. The app also has a mobile check-in feature and Mobile Key, plus chat and messaging features that allow you to coordinate room service and more with the on-site hotel team. Get the Marriott app for iOS and Android. 
96. Hilton Honors: An easier way to travel.
Like Marriott Bonvoy, the Hilton Honors app offers nifty features to make your stay better. Choose your own room from those available on the hotel's floor plan. Keyless entry uses your device to unlock the door. And, you can skip the lines at check-in by using the app's mobile check-in process. Get Hilton Honors for iOS and Android. 
97. World of Hyatt: Member-centric features to elevate your stay.
The World of Hyatt app has been recently redesigned to make the Hyatt experience that much better. The app offers mobile check-in and keyless entry, as well as access to meditation and mindfulness curated from Headspace. Keep track of rewards and manage amenities – like access to a room's Chromecast – from one easy dashboard. Get World of Hyatt for iOS and Android.
98. AccorHotels Accor All: A range of hospitality brands in one app.
Accor All gives you access to the Accor brand's thousands of properties. Through this app, you can book a hotel, a boutique hotel, a 7-star establishment, a youth hostel or even a villa or apartment in over 111 countries. Get Accor All for iOS and Android. 
99. HotelsCombined: A powerful search tool that aggregates the best rates.
The HotelsCombined app lets you compare rates and find hotel deals from Booking.com, Expedia, Hotels.com, Agoda and other travel sites in one simple search. See what properties are trending and find the best rates for vacation rentals, apartments, resorts, and hotels. Get HotelsCombined for iOS and Android.
100. IHG: Book from 10 IHG brands in one app.
IHG's ten brands – including Holiday Inn and Intercontinental – all offer rooms on the app. Sign up through the loyalty program and the app will give you member-specific rates and discounts. Get the IHG app for iOS and Android. 
101. Splitty Travel: Smart technology to get you the best deal.
Splitty Travel is an app that offers hotel deals by combining several rate plans to a single reservation. Choose your destination and Splitty's technology combines different reservation types to build the cheapest deal for the hotel you want. Get Splitty Travel for Android.
102. DayPass: Book a day at a luxury property and enjoy its amenities.
The DayPass app offers day passes to hotel & resorts, health clubs and spas. Enjoy luxury pools, all-inclusive resorts, beach clubs, gyms, and spas for the day. You can book and pay through the app. Get DayPass for iOS and Android.
The travel landscape is always changing, and we're excited to see what new apps are in development. Today's travelers are more tech-savvy than ever, and apps like Splitty and Timeshifter show that technology is adapting to keep up. What are your favorite travel apps? Are there any that we missed?