Tripadvisor: Competitors and Alternatives
By Adrienne Fors
Last updated May 27, 2020
4 min read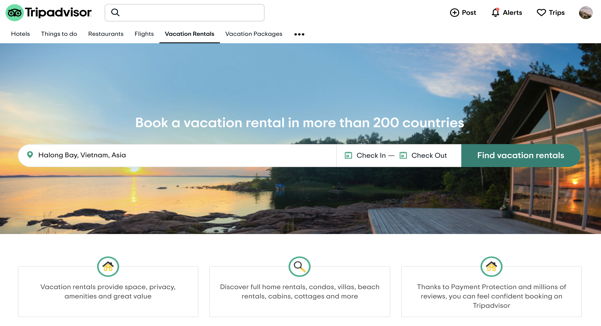 Did you know you can list your short-term rental property on Tripadvisor? The website is famous for its user-generated reviews, but it also allows travelers to book hotels, vacation rentals, restaurant reservations, attraction tickets, and more. The review portion of Tripadvisor's business is still the site's main feature, but the Tripadvisor Rentals component can be a good addition to your online distribution strategy. When you list your property on Tripadvisor Rentals, it gets distributed automatically to sister sites like FlipKey, HouseTrip, and Holiday Lettings.
This article will explore Tripadvisor Rentals' strengths and weaknesses against its three closest competitors: Airbnb, Vrbo/HomeAway, and Booking.com. By the end of the article, you'll be able to make well informed decisions about which distribution channels to use for your vacation rental.
Tripadvisor vs. Airbnb
If you're reading this article, then you probably already know that Airbnb is a major listing site for vacation rentals. With nearly 10 times more listings than the Tripadvisor/FlipKey family and 74 monthly visitors, it's definitely popular among property owners and travelers. But that doesn't mean that Airbnb is the right channel for every property owner.
Tripadvisor is a bit more selective about which properties it lists; the site only accepts "entire place" properties, which are homes or apartments with no spaces shared among other guests. Airbnb lists shared spaces, such as private bedrooms within homes, so that's one reason why the site has so many listings. Property owners who want less competition in the search results might want to go with Tripadvisor, but owners who want access to a larger audience of potential guests will have more success on Airbnb.
Tripadvisor Rentals and Airbnb both charge the same commission (3%), but the guest booking fee can be slightly higher on Tripadvisor. A higher booking fee can present a disadvantage since guests who shop around might be able to find your property for a better price on a different site.
Airbnb can also offer access to guests that you may not find on Tripadvisor, like business travelers. If you operate a traditional vacation home in a quintessential vacation market, like Panama City Beach, then Tripadvisor can attract those guests. But for properties in urban areas who want to attract business travelers or longer-term renters, Airbnb can deliver results. The Airbnb for Work program allows you to highlight business traveler-friendly amenities which help you stand out in the search results.
Tripadvisor vs. Vrbo
Tripadvisor/FlipKey and Vrbo/HomeAway are pretty evenly matched, though Tripadvisor/FlipKey is on a smaller scale. Both companies are actually portfolios of longtime vacation rental brands; Vrbo and HomeAway have been around for decades, and their portfolio includes several other sister brands on which properties are automatically listed. Vrbo and HomeAway are owned by the same parent company, the Expedia Group. Both companies also have loyal followings of leisure travelers, particularly families who want the space and privacy of an entire home.
One point of differentiation is commission; Tripadvisor charges 3% while Vrbo charges 5% or a $499 annual fee. While a 2% doesn't sound like much, it can add up to hundreds or thousands of dollars over the course of your vacation rental business, and you're probably interested in saving whatever expenses you can.
While Tripadvisor will deliver less traffic to your listing than Vrbo/HomeAway will, it doesn't hurt to list on both sites because you'll only get more exposure.
Tripadvisor Rentals vs. Booking.com
What's not to love about a distribution channel that gets 411 million hits per month? Booking.com can certainly put your property in front of more eyeballs than Tripadvisor Rentals and FlipKey can, but that doesn't mean the site is a perfect fit for every vacation rental.
Booking.com offers plenty of upsides; in addition to a lot of traffic, the site has a helpful community forum, tons of educational resources, and a feature-packed owner dashboard (the Extranet) that brings market data and trends to your fingertips. But all of those things come at a price - 15%, to be exact. Booking.com's 15% commission is significantly higher than Tripadvisor's 3%, so vacation rental owners who can only accept a certain number of bookings per year would probably prefer to pay 3% rather than 15% of that limited amount of revenue.
In addition, Booking.com's operational model was designed for hotels, and while the site is constantly making updates, it's not always intuitive for vacation rental owners and managers. The payment and payout process is a little more complicated, and all bookings are automatically confirmed compared to Tripadvisor's, which lets property owners turn off instant bookings if they wish to do so. While the owner portion of Booking.com can be a bit trickier, guests love Booking.com because the site charges no booking fees, compared to up to fees of up to 16% on Tripadvisor.
Despite the cost, Booking.com can be a great distribution channel for savvy property owners who are serious about growing their businesses. If you're considering Booking.com over Tripadvisor, it certainly doesn't hurt to try it, and you can always take your property off the site if things aren't working out.
For property owners and managers eager to expand their online presence, Tripadvisor Rentals probably isn't going to get the job done alone. We recommend listing on at least one more site to get the best results. Traditional vacation rentals, like homes and villas, can find success on Vrbo/HomeAway, while urban apartments and shared spaces will have better luck on Airbnb or Booking.com. Want to get as much exposure as possible? Then list your property on all four. Just don't forget to synchronize your calendars!
More helpful content and tips for TripAdvisor Rentals (Flipkey) Hosts:
Listing on FlipKey (everything you need to know)
Contacting FlipKey Support