What to Look for When Buying Walkie Talkies for Your Business
By Hotel Tech Report
Last updated October 28, 2022
5 min read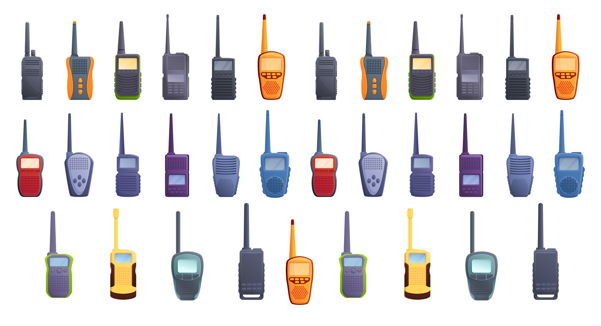 Curious about how walkie-talkies can add value to your hospitality business? Roger that! Communication can make or break the guest experience, so your hotel or restaurant must have good communication tools in order to delight guests. While new, high-tech devices and apps might grab your attention, this article will explain how an old-school technology, the humble walkie-talkie or two-way radio, might actually be the best solution for your business. In fact, 60% of hospitality businesses surveyed by Motorola said that two-way radios were their primary method of internal voice communication. With a seamless communication protocol in place, your hotel and restaurant can focus on delivering a great guest experience.
In this article, we'll explore when and why hospitality businesses use walkie-talkies, and we'll introduce you to several of the most popular models - and some unique alternatives. By the end of this article, you'll be able to make more educated decisions about your hotel or restaurant's communication technology needs.
What Are the Main Use Cases for Walkie Talkies in Hospitality?
Compared to more modern technology like cell phones, two-way radios present several key advantages. For one, all the walkie-talkies connected to a certain channel will hear all the communication on that channel, so it's easy to send a message to a group of staff. Also, they're always "on," so you don't need to "answer" incoming messages, which means busy employees can stay informed without interrupting the task at hand. Walkie-talkies are lightweight, user-friendly, and energy-efficient too.
In what situations do these functions deliver real value? In the hospitality world, you'll find countless scenarios where two-way radios make communication easier:
Housekeeping: A housekeeping manager can easily communicate via walkie-talkie to housekeeping staff located throughout the hotel. If a guest calls the main housekeeping line to request more towels, the housekeeping manager can radio their team to request that the closest housekeeper deliver the towels.

Restaurants: When restaurant staff is equipped with walkie-talkies, key information can be disseminated quickly and efficiently. For example, a host can alert servers that a VIP has just arrived. Kitchen staff can tell servers that the fish of the day is sold out. Servers can quickly ask for a manager's assistance to handle a complaint.

Maintenance: You'll rarely find maintenance staff sitting behind a desk, so when a maintenance issue arises, it's much more efficient for the front desk or housekeeping manager to radio the maintenance staff to inform them about an issue. For example, a guest might inform the front desk that the air conditioning in their room is not working. The front desk agent can radio maintenance to request that someone stop by the room to resolve the issue.

Security: Whether in a hotel, restaurant, event venue, or nightclub, security staff relies on walkie-talkie communication to keep the premises secure. Thanks to discreet earpieces, security staff can share information, request assistance, or pass details on to other departments without needing to leave their posts.

Events: During a conference or a wedding, many different departments collaborate to pull off the big event - and often across thousands of square feet of space. Efficient communication is crucial! During setup, event staff can request additional chairs without needing to walk away from the task at hand. Servers can alert kitchen staff that the buffet is running low without walking several minutes to the kitchen. When the event concludes, event staff can radio the front desk to let them know to expect a rush in the lobby.

Front desk and valet: A guest's arrival or departure presents a crucial handoff between the valet or bell staff and the front desk. When these departments are connected via walkie-talkies, the valet staff can inform the front desk about a guest who has just arrived, and the front desk can let the valet know that a guest needs their car to be pulled around.
While walkie-talkies certainly meet a crucial communication need, it's important to remember that these devices do have a few downsides. Using them without headphones or earpieces can result in noise that might be disruptive for guests, and, for that reason, they're not meant to be used to relay sensitive information.
What are the Best Walkie-Talkie Models (Most Popular for Hospitality)?
Are you considering implementing two-way radios at your hotel or restaurant? Get a head start on the process by choosing one of the most popular devices.
Motorola CLP Series
This discreet walkie-talkie doesn't look much like a typical two-way radio, which means it's discreet enough to be suitable for front-of-house staff, like restaurant servers, valets, security staff, or event staff. The CLP line includes one-, four-, and six-channel models, so you can choose the device that works best for your business.
The entry-level CLP1010 costs about $200 per device, while the six-channel CLP1060 costs closer to $300 per device.
Motorola CLS Series
These handheld radios offer coverage across up to 200,000 sq. ft. or a 15-story building. The CLS1110 comes with one channel setting, while the CLS1410 model has four channels. The device doesn't have many features or settings, so it's easy to use with little training needed. Since the CLS series is handheld, it's best for back-of-house staff like housekeeping or maintenance.
The CLS1110 costs approximately $160 each, though you can find discounted rates when purchasing several devices.
Motorola DLR
Need a little more phone-like functionality? Motorola's DLR series includes several call functions and the ability to respond in a private "chat." The DLR series has two models: the two-channel DLR1020 and the six-channel DLR1060.
The DLR1020 costs roughly $200, and the six-channel DLR1060 costs $220.
Kenwood ProTalk® TK-3230DX
This lightweight walkie-talkie weighs only about five ounces, so it's a great choice for staff who need to carry it for an entire shift. The battery lasts up to 18 hours, and you can communicate across six channels. The device also has coverage across up to 225,000 sq. ft. of space, so it's ideal for event staff.
The TK-3230DX costs about $165.
Motorola WAVE TLK 100
The Motorola WAVE combines the coverage of a cell phone with the simple usability of a walkie-talkie. In fact, rather than radio channels, the WAVE uses the 4G LTE cell network, so these devices have coverage in areas that walkie-talkies don't. The devices also have WiFi connectivity and location tracking features.
The WAVE costs approximately $300 per device, and a centralized dispatch plan is required, which costs around $30 per month.
What's the Difference Between GMRS vs. FRS 2-Way Radios?
What's the difference between Family Radio Service (FRS) band or the General Mobile Radio Service (GMRS)?  As walkie talkies gained in popularity for consumers, FRS was developed to keep consumers off of CB Radio frequencies.  It's a standard protocol that puts consumers at 462 and 467 megahertz so that they don't pick up CB Radio chatter like police dispatchers or FM radio stations.
"GMRS radios sound a little louder and clearer than FRS radios. For those who plan to use two way radios only infrequently, in close range, or in outdoor scenarios that aren't particularly technical, an FRS radio is just fine. FRS two way radios are powerful enough to have a range of a mile or two (depending on the terrain) and will keep you in touch with your party in case of emergency.  If you plan to use your two-way radio more frequently, over a broader area, or in areas with more competition for a signal, you might want the greater flexibility and power a GMRS radio provides. If you want the greatest number of options for how to use your radio and at what distance and with the most clarity, a GMRS will give you extra peace of mind. A casual or new two-way radio user, however, will do just fine with a quality FRS." Midland USA
What are the most important 2-way radio features for hotels to look for?
Long battery life

Rechargeable batteries and fast charger

Wide headsets compatibility

Waterproof (or at least water-resistant)

Backlit LCD display

Long range

High sound quality

LED flashlight

Lightweight and portable
What are the main factors I should consider when buying walkie talkies for my hotel?
You'll want to think about who's using the walkie talkies.  If you plan to have multiple teams operating them you'll need to make sure that you've got a model that can support multiple channels.  You'll also want to think about the property you'll be using them at.  For smaller hotels you're likely fine with small lightweight consumer grade radios but for larger hotels (10+ floors) you'll need 2 watts or greater with the largest hotels needinig four watt repeater capable radios.  For massive properties with hundreds of staff members it's advisable to speak with a hospitality consultant prior to purchasing.