PMS in Hotels: Everything You Need to Know About Property Management Systems
By Jordan Hollander
Last updated September 22, 2023
6 min read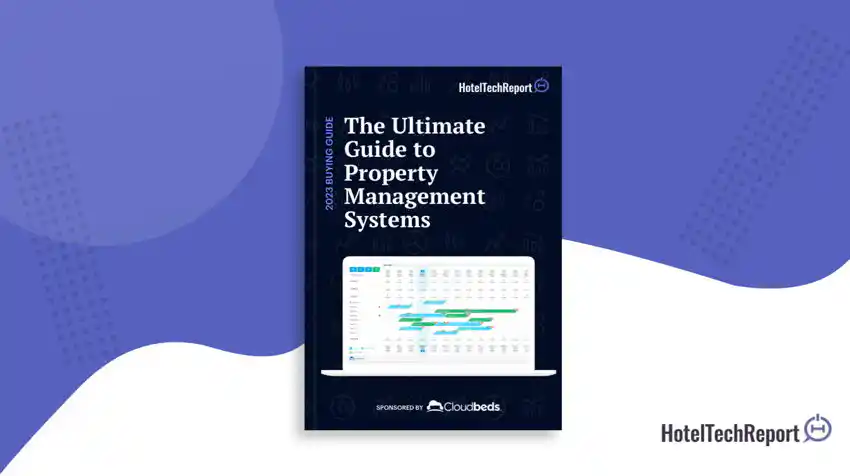 A hotel PMS unites many core functions of a hotel front desk and back office in one hotel software system.  Most vendors today tout their "cloud PMS" but the reality is that cloud computing is now old news even in the hotel industry.  Finding the right PMS system for your hotel is a huge challenge, but first you need to understand what exactly a hotel PMS is and that's what we're going to cover in this article.
By coordinating reservations, availability, payments, and reporting in one central point of sale, hoteliers have a better grasp of the real-time demand and performance of hotel operations. That's why choosing a PMS can be one of the most agonizing choices a hotelier makes.
If there's one hotel software that you're going to really want to understand it's the PMS.  The PMS is your property's core operating system that can streamline operations whether you're a vacation rental to a massive resort with dozens of outlets.  Consequently, PMS software you choose also determines all of the other systems that you'll use to run your business.
When evaluating a property management system for the hospitality industry, this is what you need to know.
What is a Hotel Property Management System (PMS)?
A property management system (PMS) is a hotel management software suite that property owners and front desk workers use to manage their business by coordinating reservations, online booking availability, payments, and reporting in one central place. The Hotel PMS streamlines operations for front office staff and guest services in a hotel business to check-in and check-out guests, see room availability, make adjustments to existing reservations, and even can have back office functionality (schedule housekeeping or maintenance ). With a central system, hoteliers can better manage and monitor the key metrics needed to run their business (e.g. average daily rate, occupancy, and RevPAR).
Here are some of the things a hotel PMS can do:
PMS Vendor Shortlist
Here are 10 top Property Management Systems that your hotel should take a look at:
Intuitive interface that's user-friendly
As hotel technology matures, there is less differentiation between vendors; as far as features and functionality, at least 80% is familiar across the best hotel PMS vendors. The actual differentiation is in the design. That's why our top two criteria when choosing a PMS are design-based. An intuitive interface, as well as an easy-to-read dashboard, go a long way in encouraging employee adoption, reducing training time, and generally improving the working lives of yourself and your team. The last thing you want is reluctance to use a particular software tool because it's ugly or hard to use.
In addition to the interface, a customizable dashboard becomes your real-time assistant as many hotel PMS players offer remote hotel management from a mobile device or smartphone. It's Immensely valuable to have a centralized dashboard that can be adjusted to reflect an individual property's most important metrics. This could be personalized to management only, or could also be shared across the team as a motivating tool.
A great PMS is one that your team will want to use. Since "good" design is in the eye the beholder, search for a System that balances functionality with an interface that makes sense to you.
Cyber security
The hotel property management software sits at the center of the hotel. The software itself, along with any third-party integrations, must be secure. Here are some facets of solid security:
GDPR-compliant personal data storage

PCI-DSS-compliant processing and card storage

Geographic diversity of servers to reduce downtime risk

Bank-level encryption of all data

Controlled access to the physical area for any on-premise PMS servers
A desirable PMS also has robust user access controls. To maintain guest privacy and payment processing security, Access to sensitive guest information must be restricted. An audit trail Should also be available to track any potential unauthorized user access.
In a world where data breaches make daily headlines, poor security practices of vendors can be a massive liability. Ask questions, probe for weakness, and determine if you trust this vendor as a proxy for your own brand's reputation.
Process automation
You need a PMS that molds itself to your business, not the other way around. A modern property management solution must evolve alongside guest expectations. When you get stuck with "frozen in time" legacy software, it limits how you can adapt to the retailing and property management trends of the day. The worst-case scenario is when operations are constrained, rather than empowered, by software.
A great example of this is the ability to automate repetitive tasks. Modern, cloud-based PMS are capable of automating certain back-office tasks (such as reporting, which we discussed earlier). Even something as simple as automatically letting housekeeping know when a guest has checked out can have a massive impact on operational efficiency -- and management sanity.
Systems integrations
From channel managers and revenue management to business intelligence, CRS, booking engine and hotel CRM the parade of acronyms (and vendors) exhaust even the most seasoned hotelier. Given the sheer number of hotel technology solutions, ease of integration is a top-of-mind for many hoteliers.
The right PMS is the one that plays well with your existing tech stack. Without the necessary integrations, a PMS cannot perform its functions correctly. It can also hinder staff productivity and trickle down to the guest experience. For example, if staff have to pull reservation details manually from channel management software and put them into the property management system, errors will arise that affect your guests. 
Adding custom integrations can be expensive, complicated and time-consuming. Aim for a PMS that integrates with all mission-critical software out of the box. When that's not realistic, you'll need to budget for assistance from a hotel systems integrator that provides deep PMS integrations as a service. They will be faster and more accurate than one-off customizations from many PMS vendors while ensuring two-way connectivity that keeps records updated across all systems seamlessly.
Reporting and analytics
One of the reasons why integrations are so important is that a poorly integrated PMS impedes proper reporting. Sure, you can pull reports from within the system, but you also want to save stuff time by providing a fully-integrated tech stack that reduces (or eliminates!) any time spent on pulling manual reports.
Streamlined reporting allows management to spend time on more pressing priorities. As all hoteliers know, there never seems to be enough minutes in the hour or hours in the day. You want a PMS that makes reporting simple and straightforward, so you can focus on revenue-generating activities.
How Much Does a Hotel Property Management System Cost?
We put this one last to encourage reversing the process when it comes to PMS selection. All budget certainly matters, it shouldn't be the first criteria. It's far more impactful to evaluate potential solutions according to functionality and set first, and then price them out. You may find that the more expensive solution provides greater functionality and increased opportunities for incremental revenue. Quite often, these solutions more than pay for themselves in unexpected ways.
As a rule of thumb with pricing, there is no rule of thumb anymore! Certain vendors charge by the feature and others charged by the room. Custom integrations quickly add cost. To compare vendors with different business models, we recommend calculating your own per room price for an apples-to-apples comparison.   
There's also a hidden factor in the pricing: customer service. When a vendor manages an attractive price, but without reliable support, it's usually not worth the small savings. Inevitably, systems go down -- and often, the outage occurs during peak usage. The trade-off of short-term savings is rarely worth the long-term reputational damage, staff stress, and missed revenue opportunities related to poor customer service and downtime.
When your hotel is a small fish in a big pond, you may be overlooked by your vendor -- this is especially acute with some larger vendors. On the flip side, your hotel could be a major account for emerging vendors -- creating a risk that a vendor cannot stay afloat without your business. The best practice is to find a customer-focused vendor with sufficient scale and market traction that still maintains a strong customer relationship.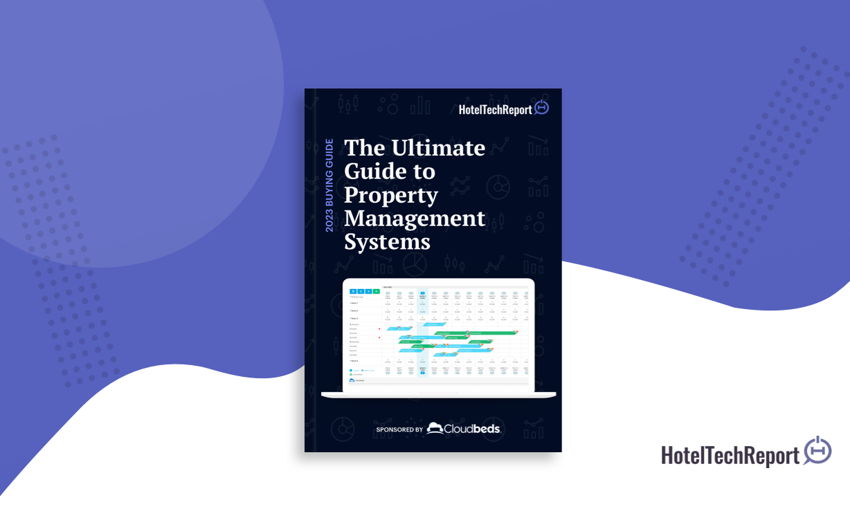 Download the Free 2023 PMS Buyers Guide
* * *
As hoteliers begin evaluating different hotel property management system (PMS) vendors, it is important to visualize your tech stack and how each piece connects with the other. By using a whiteboard or mind-map tool to workshop this process with your direct reports, you can align the team, uncover any false assumptions or overlooked needs, and streamline a complicated process. This will give you a clear picture of any potential overlaps that might save money, expand revenue opportunities, or enhance the guest experience. Additionally, when assessing PMS software solutions, it's important to consider the cloud-based functionality, real-time occupancy, automation, and revenue management capabilities that can improve your hotel business operations and guest services. Furthermore, consider the integration of a channel manager, booking engine, online travel agents (OTA), and point of sale (POS) to manage room inventory, pricing, and distribution channels effectively. The PMS should also have user-friendly interfaces for front office staff, guests, and travel agents, as well as invoicing, messaging, and credit card payment processing capabilities. Look for cloud-based PMS solutions that can integrate with mobile devices and hotel websites to increase direct bookings and improve guest services. Finally, consider the scalability and flexibility of the PMS system, whether it is on-premise or cloud-based, and if there are any upgrades or add-ons such as a revenue management system or CRM that can benefit your hotel business.
Searching for a new hotel PMS? Check out the 10 Top Rated Hotel PMS Systems based on verified hotelier reviews.