10 Best Places to Work in Hotel Tech (2020 Edition)
By Jordan Hollander
Last updated October 28, 2022
14 min read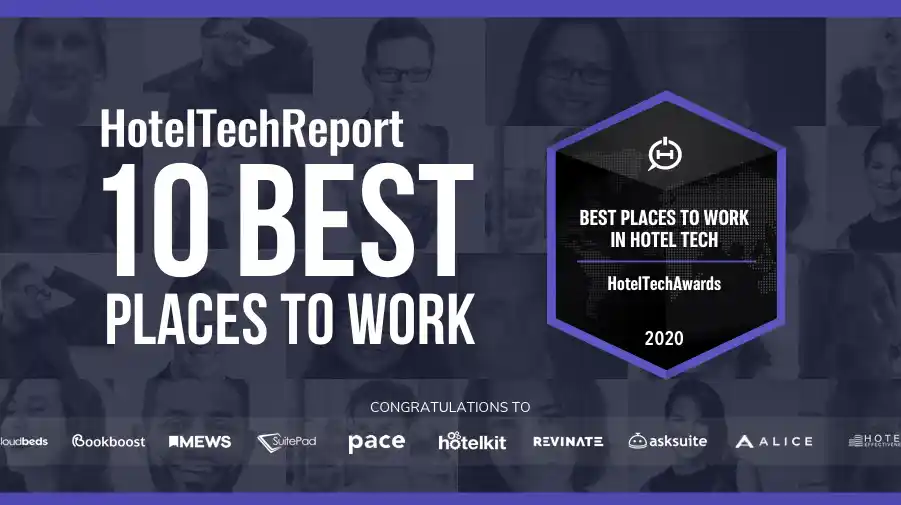 Each year Hotel Tech Report surveys thousands of industry insiders to find the best hospitality jobs and employers globally.
We all want fulfilling careers with intellectual growth opportunities and earning potential to provide for our families.
We want to work for companies whose cultures align with our values and to be surrounded by peers who celebrate our successes.
But it's hard to tell which companies are the real deal since most seem great during the interview and courtship process.
Every year we do the hard work for you and survey thousands of professionals to find the best companies to work for in the hospitality industry.
We ask respondents to rate their employers from 1-10 on these key variables: 
Work-life balance

Personal development opportunities

Gender equality

Confidence in company direction

Values alignment
Hotel Tech Report creates this list each year for two reasons: (1) to help industry professionals find the best hospitality jobs and (2) to help hotel tech buyers understand that it's just as important to partner with great organizations as it is to find great software tools and products.
Vendor culture is important to every aspect of a vendor relationship:
Product: Great workplaces attract the best talent who make the best products

Customer Support: Happy client reps give better service and stay around longer developing deeper relationships.

Sales: When a sales team has high turnover, innovation gets strangled because there isn't enough cash coming in the door to invest.
Our 10 Best Places to Work in Hotel Tech list features companies who foster wonderful work environments for employees.  In return, those employees deliver incredible products and service to clients.
This year we identified 6 major trends that made these companies stand out from the pack in an extremely competitive race:
Strong cross-departmental collaboration

Fast paced: employees take pride because they see their work come to life

Memorable team off-sites that build resilience through trust and friendship

Heavy investments made into employee onboarding

Visible and accessible executive teams who truly care

Focus and clarity: teams that know what is expected of them are consistently able to achieve lofty goals
Without further adieu here are 2020's 10 Best Places to Work in Hotel Tech...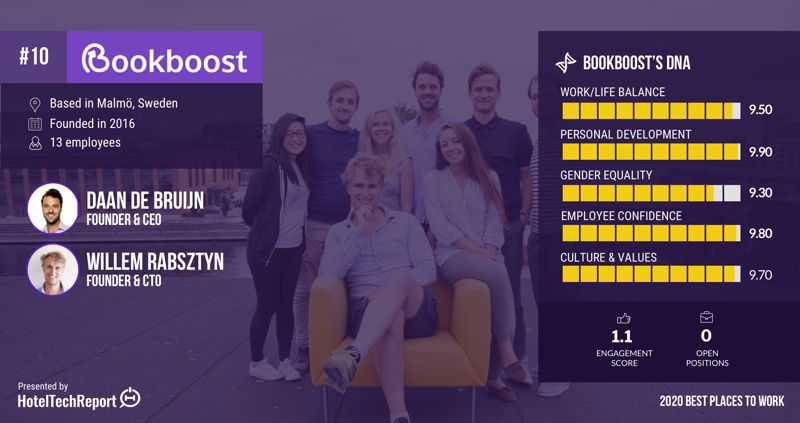 #10 Bookboost
The youngest startup to make the list is Bookboost, a rising star hailing from Sweden making big waves in the guest messaging space.  Given that it's a small and growing team, Bookboost employees frequently cite feeling like one big happy family. One employee told Hotel Tech Report that the highlight of their year was when the Company's CTO Willem suggested that everyone go for an impromptu team swim:
"I remember a hot summer day when Willem, the CTO of Bookboost, proposed that we go swimming together since our office is located right next to the port. As I stood on the shore watching everyone in the water, the sun was shining and they were all laughing. I used to work for big companies and the government, so I had never experienced something like this before. I felt the energy, passion, and love of this company."
In 2019 Bookboost closed a fresh funding round and expanded into the German market so don't expect them to stay small for long.

#9 Revinate
Making the top 10 for it's second year in a row, Revinate is the cure to corporate boredom without the risk of a true startup.  San Francisco based Revinate is one of the most mature companies on our list and recently celebrated its 10th anniversary. We've all seen the stats about startup failure rates - so how has Revinate been able to thrive for so long in rapidly changing markets? The short answer is that they've got a killer culture.
"The culture at Revinate is the best I've been a part of in my 25 years of being a professional."
Revinate has a CEO that's equally aggressive and empathetic.  The only things the CEO Marc Heyneker seems to love more than beating his competition are his team and his customers and his 98% approval rating on Glassdoor is just another data point to back it up.  This is a rare balance to find in a CEO and Revinate employees around the world have taken note. The company credo is as clear as Heyneker's leadership: Customer Love.
"We have worked super hard to make all customers happy. We have a company motto of customer love. As a product, design, and engineering org we spend time talking directly to our customers and collaborate with them as we build out our new features."
"As an SDR, I am an entry level sales person. I had some sales experience coming into this role, but this company has really shown me that they are willing to invest in their people, to grow them to their full potential. My most memorable event is my second week here and my CEO, Marc Heyneker, had a drink with me and spoke to me as a friend and colleague. He gave me words of advice, confidence, and shared lessons from his experience. I've never had a CEO that cared about all of his employees like this before. Even though I am entry level in sales, he expressed high hopes for my career and could see my eagerness to grow and achieve big things with Revinate. I will never forget this experience."
When you join the Revinate team you can expect to learn a lot about yourself through a personality test called "Insights Discovery" during onboarding.  This test will help you better understand your conscious and subconscious to better set yourself up for success at the Company and in your own career. Results of the test help your peers and manager guide you towards leadership - something mostly reserved for senior executives; however, a benefit that's available to all Revinate employees.  Once on board, Revinate employees frequently cite speaking opportunities where they are able to build their personal brand and reputation while promoting Revinate around the world. This year team members enjoyed speaking opportunities at No Vacancy Australia, Direct Booking Summit in Miami, California Hotel & Lodging Association and much more.

#8 Asksuite
Bust out the Caipirinhas because Asksuite is the first Brazillian company to ever make this list. In fact, Florianopolis based Asksuite is the first organization in all of Latin America to make the list.
Developer talent has gotten increasingly expensive in Eastern Europe and timezone/language barriers have made lots of U.S. tech companies look south for development resources.  Despite tons of engineering talent, Latin American tech is still in its early days and companies like Asksuite are making waves by leveraging strong in house tech talent.
This isn't the Company's first time winning a culture award as it was recently voted the 7th best place to work in Santa Catarina.  Asksuite recently pushed passed the 1,400 client mark (more than 2x growth) which is a huge step towards the Company making its name on the global stage.
Employees at Asksuite are totally pumped on the Company's growth in recent years and enjoy how the firm is constantly helping them grow on a personal level, too.
"This company has a greatest culture, I am deepest in love with them just how they embrace ourselves as a human being not just numbers."
"Our first team building was really special because we gathered in a beautiful environment where we could connect to nature and to each other. Not only in a professional way, but also as human beings."
"When I entered Asksuite, I was hired as SDR (Sales). But that was not my field. And they knew that. I just wanted to be part of the company and I thought that I could help them since I am an ex-hotelier myself. However, Content Production was always my target and I was very open about it. They didn't have a position like that back then so we decided to give a shot in Sales.  Eight months later, a job position opened in Marketing and they moved me. I could not be happier!"
#7 Hotel Effectiveness
Rounding out the top 10 for their second consecutive year, Hotel Effectiveness had an incredible year reaching over 4,000 hotels, launching a new mobile application and moving into a new office space.  Employees cite being constantly recognized for achieving milestones in and out of work which makes them feel valued.
"I have been here less than 18 months and have witnessed our more than doubling in revenues and employees. The ongoing challenges to find workable solutions that allow for scaling are great opportunities. In my own area, I have more than doubled the size of my team, transitioned invoicing over to a new system, and continually work to meet new challenges as we continue to grow. The victories are satisfying as well as we have dramatically improved processes to provide for better forecasting and cash collection."
Hotel Effectiveness also values giving back to their community and recently attended a suicide prevention event to raise funds and awareness for a critical cause as a team.
#6 ALICE
There's nothing worse than feeling like your company is stagnant and that your work is being tossed in a drawer somewhere.  Ultimately, that's why most ambitious young people are opting out of corporate life. At ALICE you certainly won't feel like you're stagnating and you'll watch your work come to life extremely quickly.  ALICE has consistently reinvented itself over recent years through the acquisition (and integration) of GoConcierge and then through the launch of the housekeeping product its team build from scratch and has landed itself the highly coveted 3peat on the top 10 best places to work list.
"Last year we developed a complete new product from scratch. I'm very proud of how much research we put into the design to create an amazing product and this effort was paid off when launching it with beta customers and seeing their satisfaction." ~UX Designer
"I created a performance / load testing tool using a more recent technology. Though it's still being discussed what would be our standard for that, at least I am able to introduce something more recent and what I think is something that can be potentially a good standard for us moving forward." ~Engineering
Integrating acquisitions and building new products is tough work but ALICE always finds time for balance.  This year's team retreat consisted of corporate summer camp.
"We had a CAMP! I personally had never been to a camp, with cabanas, lake, bonfires and stuff. We had one this past summer and it was fantastic! As we are from Customer Success most of us are either remote or always traveling, so there were people that I had never met, it was so great to have everyone together on such a beautiful place, we had very productive meetings in the morning and free time during the afternoons to go kayak at the lake, take walks, this definitely helped tremendously to bond more and more the team."
Employees at ALICE are encouraged to push themselves and learn new skills.
"I was able to learn mySQL, which has opened new doors and I feel like I've found a new passion. ALICE was able to pay for my course and I am proud to contribute to the company with new skills that I did not have before joining." ~Customer Success
"When I was struggling and reached out to my manager, he was able to provide help and gave me advice on how to prioritize my projects. Also, he spent extra time coaching me through difficult situations." ~Engineering
One of the hardest things is when you feel like you're struggling at work or not loving what you do.  If either of these happen in a corporate environment you might find yourself canned or cast aside - but not at ALICE.   When employees are struggling or in a rut, ALICE team members are encouraged to have an open conversation and be completely transparent so that the Company can identify a better fit for them and figure out how to help them succeed:
"Nearly 1.5 years ago, I found myself doing Product Management at ALICE. It was a career that I was unsure aligned with my strengths and passions. Since, ALICE gave me the opportunity to explore marketing at the company. I have been responsible for managing the day-to-day of the creative team, providing feedback to our designers, and contributing to the creation of core content. I feel much more impactful in this role and is aligned with my passions. In July, I was promoted to Marketing Manager. It has been a blast. I could have never made such a quick, smooth transition if it were not for ALICE's desires to care deeply about each employee and his/her growth."
"ALICE gave me a promotion, and helped me into a new career path - sales. I'm excited to be in the community talking about ALICE."
"Although I am still fairly new at the organization, I think the "All Hands" meetings every Tuesday are pretty incredible. I have worked at many hotels and none of them have taken time on a weekly basis to talk as a company going over updates, news in the industry, introducing new team members, etc. All of these meetings are recorded, so if you have a conflicting event you can still be kept in the loop. The team is so incredibly welcome and genuinely cares about creating a positive remote culture."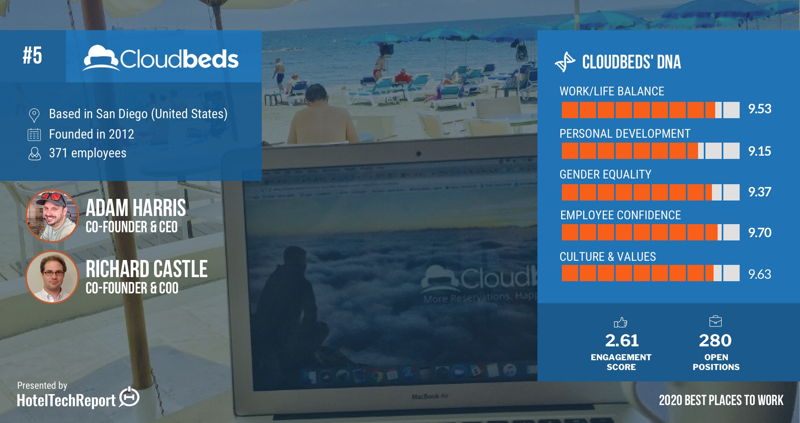 #5 Cloudbeds
This is Cloudbeds' 3rd year in a row making our list and if you read CEO Adam Harris' culture manifesto it's easy to see why.  We should note that Cloudbeds is the highest ranked U.S. based company on our list. Cloudbeds has a corporate culture that features a lot of the strengths found amongst other companies on this list but two things really make Cloudbeds stand apart from the pack.
Firstly, Cloudbeds is a mostly distributed and remote organization.  While it's headquarters are in sunny San Diego, California - the Cloudbeds team is entirely global.  Cloudbeds employees consistently cite that Cloudbeds has the best travel benefits of any company they've ever worked for.  Harris and Co-Founder Richard Castle understand that in order for their team to understand hotel clients and guests they need to walk a mile in their shoes.  Several employees told Hotel Tech Report that they're highlight of 2019 was meeting up in Bali for a team leader's 40th birthday where they spent days coworking and getting to know each other on a personal level.  Other team members report team outings in Spain, Nashville and across the world.
Cloudbeds even rents long term apartments in core cities so that team members can come and go as they please:
"The company strongly supports our travels, we are travelling cloudies.
The company rented apartments for us for a year in 2 biggest offices. Everyone who wanted could use it and visit our offices any time!"
One concern that many employees have with a remote organization is that it's difficult to build alliances and move up the ranks or switch into new roles but at Cloudbeds that isn't an issue.  Don't believe us? Check out what employees had to say: 
"Being promoted 2 times within the year was a great accomplishment. I have been with the company for over 4 years and started as a customer support coach and also an implementation coach. Having the opportunity to use my talents in other areas of the company has been a great motivator and I continue to grow every day learning new things within our company." ~Product Team
"When I was promoted I got all the confidence of Cloudbeds management to assume my new role. It was significant for me to feel that my company cares about my success and that my achievements were aligned with company goals."
"I was promoted within 9 months of work from a low position to a department I wanted to work in.  Success is both noticed and rewarded at Cloudbeds"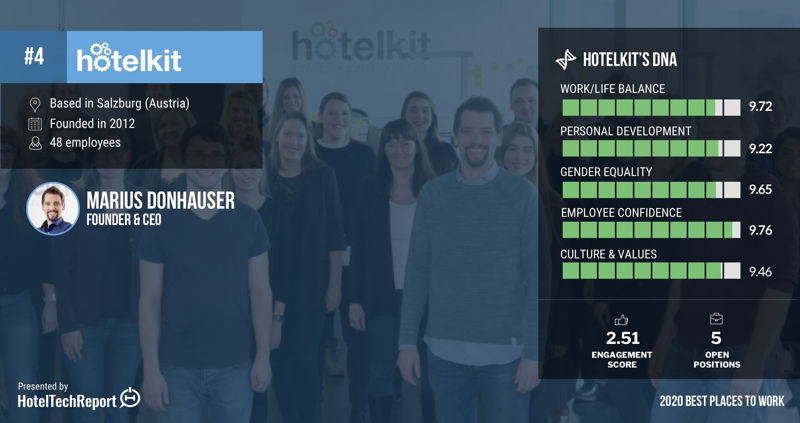 #4 hotelkit
Nestled in Salzburg on the German border, hotelkit is the only company on our list from Austria but they are a rising contingent of DACH based hotel tech startups (including SuitePad) that are rising to global domination.  Salzberg is where Mozart was born and hotelkit founder Marius Donhauser runs his team like a finely tuned symphony. Employees cite tons of team building events including Oktoberfest and a two day team trip to the mountains that included hiking, canyoning and even spending the night in a hut!
"We went on a two day hiking tour as teamevent and i am astonished every time how well we all work together as a team and how we trust each other. We constantly support our hotelkit team members, help each other out and spend a lot of time together after work. My colleagues have basically become my family away from home."
Hotelkit employees have weekly catered lunch, yoga classes, healthy office snacks and more.  These are all nice amenities but what really matters is that hotelkit cares about its people.  With all of these activities and benefits you're probably wondering when hotelkit has time to get things done.  We were wondering the same thing. While we can't say exactly, hotelkit recently crossed its 1,000th hotel client and they are now one of the most popular companies on Hotel Tech Report after some huge victories in the HotelTechAwards this year.
If you're looking for a fast paced job in a beautiful location with a CEO who lives and breathes both his brand and his staff - look no further and go check out what openings they have available.  Oh and did we mention, hotelkit also won first place in four categories of this year's HotelTechAwards...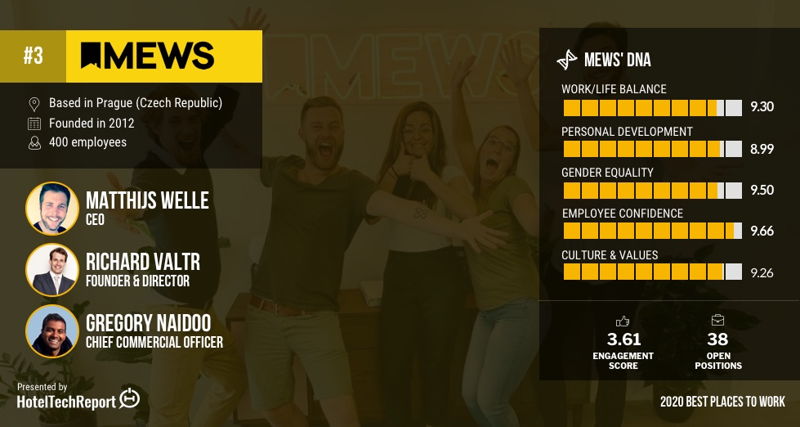 #3 Mews Systems
This ain't Mews' first rodeo and it definitely isn't their first time making this list.  This is Mews' second year in a row making the top 3 in our list. If you've been diagnosed with a chronic case of corporate boredom, applying for a job at Mews Systems is definitely the cure.
Mews has scaled from 100 team members to more than 400 in the last 12 months, which, needless to say, is an insane growth rate.  When companies scale this quickly they risk culture dilution but at Mews the opposite seems to be happening. The more Mews hires - the more fun they seem to have.  If you don't believe us go and check out one of their award winning conference booths at events like WTM and ITB where you'll find Mews team members rocking F1 racing suits, cheeky lab coats or even a hilarious take on miracle grow gardening.
Mews makes it look easy but don't be fooled - they are a work hard play hard company that is even more focused on driving results for clients.  According to one Mews Operations Associate, "Everybody is constantly on 120% level, which is great. Coming from the slow paced corporate world - the team here is giving me a lesson in productivity everyday."
So what's the secret to the Mews success? They're polarizing, mission driven and make everyone who joins feel like they're part of a family.  Some tentpole culture initiatives include the annual company get together in February where the entire team heads to Prague for a week of team building and a company wide cross-functional Hackathon.  Mews likely has the most well oiled onboarding process of any company on this list. New hires attend a monthly onboarding week that includes meeting the CEO in a small breakout and the opportunity to host a company funded theme party for your new colleagues.
Last but not least, Mews recently raised a monster $33M round led by Battery Ventures, won the top prize in the 2020 HotelTechAwards for the #1 PMS and made its official US debut this spring so it seems their miracle grow theme may have a few potential interpretations..

#2 Pace
London based Pace is another newcomer to our list and the team achieved some huge milestones in 2019.  For starters they grew the Pace family by 100% from 15 to 30 employees. Pace team members frequently cite being  motivated by getting stuff done and even hit their 2019 annual goals by October with two months to spare.
"In the past year the Pace team has grown by more than 100%. It was amazing to see the whole company (from recent joiners to old timers) rally around a few key product releases like a well oiled, high performance machine." Pace team member
In his former life, Pace CEO Jens Munch was a journalist and wartime photographer in Iraq which has helped him build a team that's battle ready to take on the hyper competitive revenue management space.  Pace is a very product driven culture and was designed from the ground up to disrupt the status quo. Pace has developed a completely automated revenue management system and everyone at the firm is focused on helping clients (old and new) feel confident in its recommendations where revenue managers have historically been apprehensive to let machines take over.
"The launch of automation at Pace was a great achievement by the whole team that was a true, cumulative effort of everyone working tirelessly in sync. The response from new and existing customers has been amazing, and seeing the product providing even better results instills me with even more confidence for Pace." ~Pace team member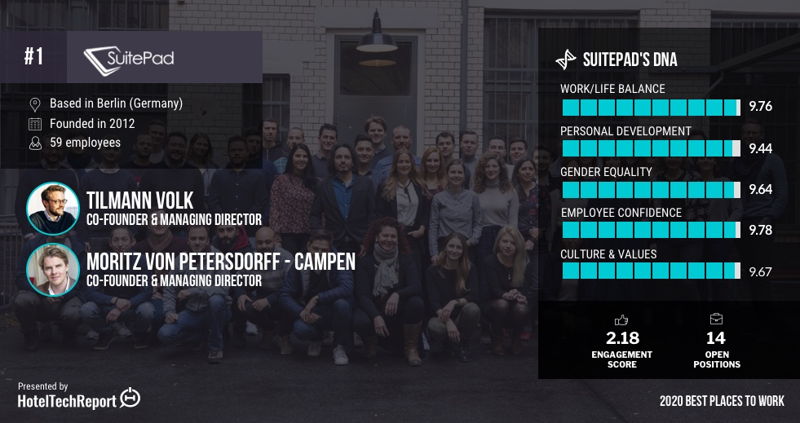 #1 SuitePad
Last but not least, the 2020 Best Place to Work in Hotel Tech goes to…(drum roll please)...SuitePad! This is Berlin based SuitePad's first year making the list (and their first HotelTechAwards winning #1 Guest Room Tablet provider) but we don't suspect that it will be their last. SuitePad employees share a genuine passion for building strong lasting relationships both with their hotel clients and with each other.
This people focused culture starts all the way at the top according to a SuitePad team member:
"I had a personal problem that required hospitalisation, my CEO dropped everything he had for the day and personally took me to the hospital and was there at every step of the recovery.  This is the kind of thing that I have seen time and time again done for employees that have any kind of crisis going on in their personal lives."
Many SuitePad employees cite having never been at a company before where they've clicked with so many other team members on a personal and professional level. The co-founders at SuitePad deeply care about the team and who joins it. One employee puts it best, "Work is great here, because the people are great."
It's not all kumbaya and hugs at SuitePad though, the team is fast paced and extremely results driven.  This year at SuitePad every team pushed their limits: sales and marketing aggressively launched new territories while product developed a new product from scratch on a completely new tech stack (SuiteTV box):
"We have worked a lot on our internal processes and our team closed the two biggest deals in the history of the company in the last few months, which is not only great in terms of growth and sales goals, but also because it has shown that our efforts in improving the processes and aligning our strategy with sales and marketing has been successful." ~Customer Success Employee
--
It's 2020 and it's time for a new hospitality job.  Go head to these incredible employers and start dropping those resumes.  For tips on how to find and land a job in hotels, we've also created a guide to using the popular Hcareers platform to help you get started.