2021 HotelTechAwards Finalists Announced
By Jordan Hollander
Last updated October 28, 2022
1 min read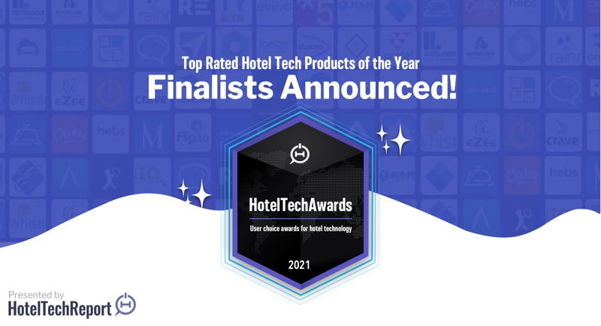 Hotel Tech Report has announced finalists in the 2021 HotelTechAwards, based on more than 10,000 hotel software product reviews from verified hoteliers during the competition.  Finalists are selected based on key performance metrics like product popularity, customer satisfaction, integration compatibility, customer support quality, and more.  Winning a HotelTechAward is the highest achievement in the hotel technology industry.
"In the midst of a global pandemic, 318,466 hoteliers visited Hotel Tech Report from every corner of the globe contributing over 10,000 verified new product reviews during the 3-month awards period to share insights about their favorite software products.  It has been inspiring to see this massive wave of hoteliers sharing technology insights and product recommendations," says Jordan Hollander, CEO of Hotel Tech Report.

"This is the most comprehensive dataset around hotelier preferences ever developed and it gives unprecedented insights into tech trends for hotels during a pivotal moment in history.  Finaling in the HotelTechAwards is a reflection of quality every company on this list should be extremely proud of what they've contributed to the growth of the hotel industry."
Hotel Tech Report authenticates reviews through a strict verification process.  Further, companies are ranked based on pre-defined objective data variables to avoid the biases present in other human judged competitions.
"Based on real and honest customer feedback, the HotelTechAwards really do provide the most transparent view on how technology is perceived and used across the industry," says Sean Fitzpatrick, CEO at OTA Insight.
The HotelTechAwards are often referred to as "the Grammys of Hotel Tech" and finalists are selected from more than 1,000 of the top technology products around the world. The HotelTechAwards are the industry's only data-driven awards platform with winners determined not by a handful of judges or popularity votes but by a global community comprised of thousands of verified hotel technology users across more than 120 countries.
-- Competition winners will be publicly announced on January 12th --
Best Guest Experience Technology Finalists
Guest Messaging Software: Whistle, EasyWay, Monscierge
Guest Room Tablets: SuitePad, INTELITY
Guest Survey Software: TrustYou, Guestrevu, Revinate
Hospitality TV Providers: Monscierge (Apple TV)
Mobile Key: ASSA ABLOY Global Solutions, FLEXIPASS
Mobile Ordering: Bbot, RoomOrders
Hotel Guest Apps: ALICE, INTELITY, Wishbox
Best Operations Software Finalists
Property Management Systems: Cloudbeds, Mews, Clock PMS+, HotelTime
Staff Collaboration: hotelkit, Monscierge, ALICE
Hotel Management Systems: RoomRaccoon, Cloudbeds
Concierge Software: ALICE
Cyber Security & Fraud Prevention: Canary Technologies, Sertifi
Digital Signage: Monscierge
Housekeeping Software: hotelkit, ALICE, Optii
Marketplaces & Integrators: Hapi, Dailypoint
Preventive Maintenance: hotelkit, ALICE, Transcendent
Restaurant Management: HotelTime, Oracle MICROS POS
Employee Engagement Software: hotelkit, Hotel Effectiveness, Beekeeper
Contactless Check-in: EasyWay, Canary Technologies, Wishbox
Spa Management: HotelTime
Best Revenue Management & Finance Software Finalists
Revenue Management Systems: IDeaS, Duetto, Atomize
Business Intelligence: OTA Insight, Duetto, ProfitSword
Central Reservations Systems: Pegasus
Channel Managers: SiteMinder, Cloudbeds, D-EDGE
Parity Management: OTA Insight, RateGain
Rate Shopping & Market Intelligence: OTA Insight, SiteMinder, RateGain
Reporting & Accounting: M3, MyDigitalOffice
Upselling Software: Oaky, GuestJoy, EasyWay
Best Marketing Tech Finalists
Booking Engines: Cloudbeds, Bookassist, SiteMinder
Hotel CRM & Email Marketing: Revinate, Profitroom, Dailypoint
Digital Marketing Agencies: Bookassist, Avvio, Net Affinity
Direct Booking Tools: Triptease, Hotelchamp
Website Live Chat and Chatbot: Asksuite, Whistle
Independent Loyalty Programs: The GuestBook
Metasearch & Ad Tech: Bookassist, Avvio, Koddi
Reputation Management: TrustYou, Guestrevu, Revinate
Hotel Website Design: Bookassist, Avvio, Profitroom
Best Meetings & Events Tech Finalists
Event Management Software: Event Temple
Group Sourcing & RFP Software: MeetingPackage, Venuesuite
Meetings Intelligence Software: Duetto, IDeaS
Sales CRM: Event Temple, MeetingPackage