Volara CEO reveals how Amazon Alexa can make you a better hotelier
By Jordan Hollander
Last updated January 26, 2022
6 min read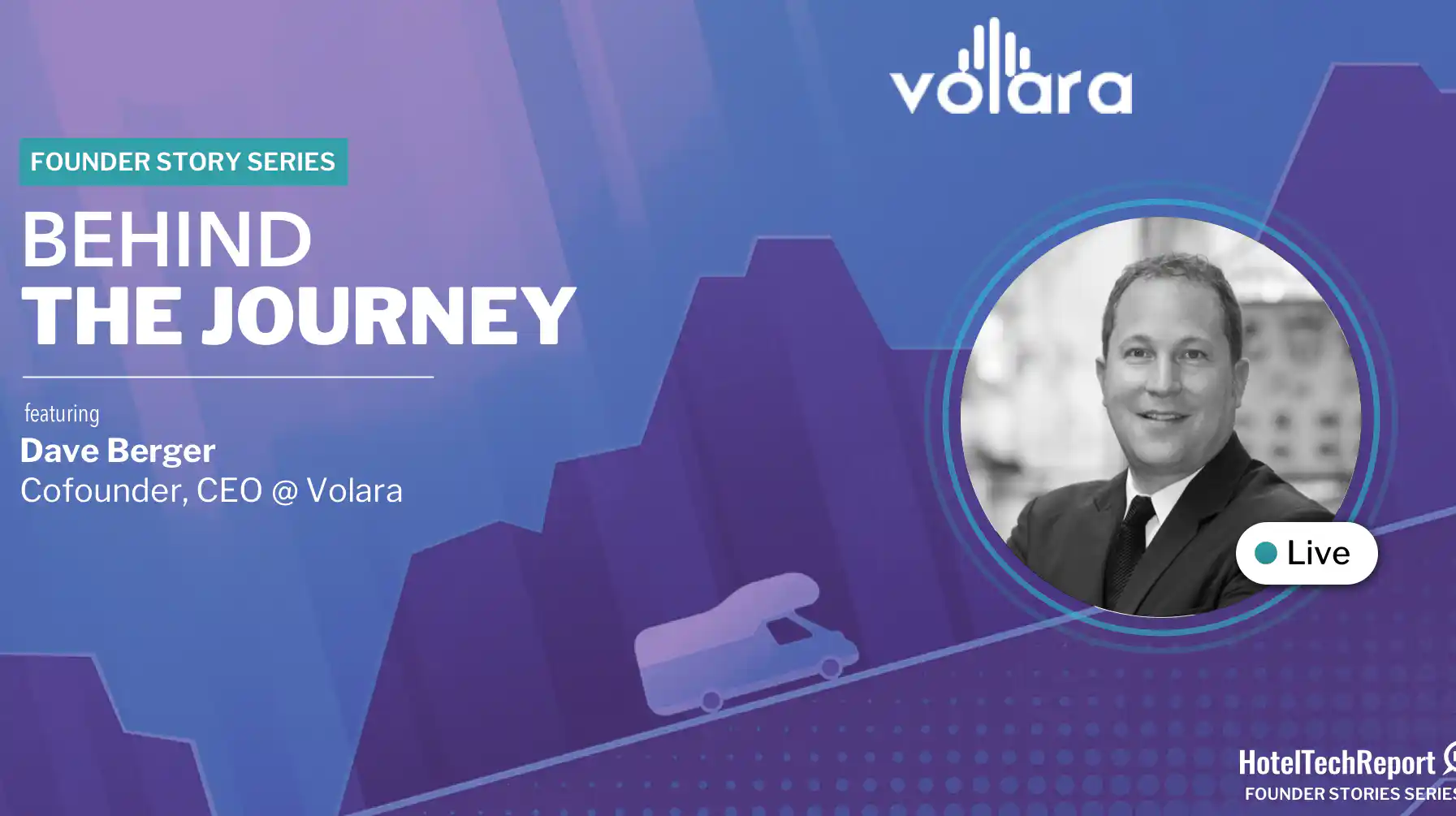 Most of the 'artificial intelligence' being sold to hotels isn't actually artificial intelligence.  The drones used to deliver room service champagne to the ultra elite back in 2014 was just a PR stunt.  Don't even get us started on Google's attempt to outfit hotel staff with Google Glass lenses.  The list goes on and on.
While we've been bullish on the use of voice activated technology for business use such as IDeaS Revenue Solutions' smart revenue assistant we have historically taken a more bearish stance on voice technology for guest use until recently.
Admittedly, we first thought that Alexa for hotel rooms was just another PR stunt but after meeting Dave Berger and trying Volara's technology for ourselves - our skepticism quickly became enthusiasm for Volara's impact on hotel operations and the overall guest experience.
Back in 2015 Dave Berger was a lawyer and AirBnB super host.  As his vacation rental business grew it began to interfere with his day job due to an increasing volume of text messages from guests asking lots of similar questions.  
Berger was an avid user of Amazon Alexa's smart assistant in his personal life and decided to hack together a solution that could help answer lots of these questions for guests.  Doing so instantly made managing his budding vacation rental business significantly easier.  
That's when he had his "ah-ha moment". Berger knew that if he could solve this much friction in his startup vacation rental business with Alexa that hotels would benefit from the use of this new technology due to the massive amount of complexity involved in their operations.
Berger didn't just jump in and start selling his device to hotels.  He spent 2016 identifying the areas where voice technology could make a meaningful impact on the guest experience.  During this research phase, he developed a partner strategy and built a platform that could easily connect with other software solutions.
To this day, one of the biggest pain points for guests in a hotel room is waiting on hold when calling guest services. Volara integrates with all the leading work order management systems - like Alice, Amadeus HotSOS, SynergyMMS, Knowcross, and HMobile - so guests can can make requests and get instant confirmation that the item or service they need is being delivered
Another massive pain point for hotel guests lies around the fact that hotel room TV remotes are ridden with germs and bacteria.  Volara integrates with in room entertainment systems like Sonifi, BeyondTV and Innspire so that guests never have to pick up that filthy remote control ever again.
One by one Berger has identified areas where voice can help other tech products perform better and faster.  Volara has racked up dozens of these technology partnerships to date and its platform approach has paid off in spades for Berger resulting in an exclusive partnership to provide voice technology for Marriott franchisees and even securing a nod straight from Amazon CTO Werner Vogels - no small feat.  
Amazon CTO Werner Vogels talks about Volara at Reinvent 2017
While we were tempted to speak with Alexa for this interview, we felt like sitting down for a chat with Berger might be a bit more productive.
Dave, what was your background before starting Volara?
After five years practicing law at a big law firm, I ran like hell.  I always knew I wanted to be an entrepreneur and have been following my entrepreneurial passions since 2008.  
I had been an AirBnB Superhost for three years and one day in January 2016 a particularly needy guest began peppering me the most mundane questions in rapid succession.  "Where are extra towels?" "How do I use the dishwasher?" "Where can I park?" Alexa was one year old at the time and I decided that she could help me serve my guests in a fun and more efficient way.
After receiving great feedback from my own guests and measurably reducing the number of guests messaging me, I saw the opportunity for a business venture and began to consider suitable markets.  I spent 2016 speaking with hoteliers and learning everything I could about technology in hotels. Thanks to some great mentors early on, we were able to identify specifically what it would take to turn a consumer smart speaker and natural language processing platform into an enterprise grade solution that's suitable for the most complex hotel environments.
Today, Volara's software addresses the most common concerns about consumer smart speakers deployed in hotels - guest privacy, data security, reply accuracy, and seamless integration into existing hotel technologies.  While others are charging for a "skill", Volara gives its conversation models away for free to its clients and enables others to build creatively atop of those conversation models.
Who was Volara's first customer?
The Acme Hotel in Chicago was the first hotel to deploy our solution in every room.  This solution is live and loved by guests today. The ownership group has since deployed our solution in another one of their hotels as well.  
If I recall correctly, the Acme Hotel found us.  It's an incredibly tech forward property with management and ownership that immediately saw the value in our solution.
Why do hotels need voice activated technology?
Voice technology enables hotels to engage their guests in a fun and scalable way.
Volara turns leading consumer voice technologies that your guests will know from home into a compliant, flexible, and accurate fully integrated hotel business tool that will yield measurable results.
Who is one mentor that has really helped you scale Volara?
Armand Rabinowitz.  Armand is currently the Senior Director of Strategy and Workgroups at HTNG, but at the time we met he was Director of Innovation at Hyatt.  Armand was the very first hotelier to contact us through our website and helped us understand the intricacies of working with large hotel brands.  Thanks to the insight he shared early on, we have managed to develop successful relationships with four of the largest hotel brands in the world.
What's the most common misconception that hoteliers have about voice technology?
Some hoteliers believe Amazon's Alexa is a hotel product.  We've seen this mistake lead to disastrous outcomes at The Wynn Las Vegas and Best Western.  In the same way that Google Chromecast needs a hotel technology overlay, so does Amazon's Alexa.  Volara has built this software overlay and I'm proud to say it is being used by every successful deployment of Amazon's Alexa in hotels today.
What's the most surprising thing you've learned about scaling technology into hotels since founding the business?
Hoteliers don't like to take risks on startups.  Its sad and holds back innovation in an industry that is in dire need of new ways of doing business.  Three years on, Volara is now well established in the industry, but we didn't reach the success we have today without a fight.  
Volara has built deep technical integrations for 30 plus hotel technologies - from work order management systems to guest engagement platforms to IPTV solutions to room controls to valet and safety products.  Our vision has been to be the voice interface for everything in the hotel and that helped us bring credibility in those early days by associating with partners who the hotels were already working with.
If you could partner with any vendor in hotel tech, who would it be and why?
Hotel Tech Report, because they are trying to bring transparency and efficiency to an old fashion marketplace.  Hoteliers should consider vendors based on the quality of their reviews on Hotel Tech Report, rather than by the size of their booth at HITEC.
How will voice technology for hotels change in the next 5-years?
Hoteliers will become more educated on voice technologies and value the solutions that provide guest privacy protections, data security, improved interaction accuracy, flexible management tools, and seamless integrations.
Volara will continue to lead the pack and will be voice enabling 80 hotel technologies across 8 natural language processing platforms in 26 languages on 60 different pieces of hardware in hotels across the globe.
Do you have any new products or feature launches to share?
While our Alexa based solution continues to scale rapidly, we are committed to providing platform agnostic conversation management for our clients.  I think most folks are aware of our joint solutions with Google and IBM Watson by now, but there is more to come. Stop by to meet us at HITEC or reach out for a confidential preview.
Is there anything that the community can do to be helpful for you?
Keep collaborating in the best interests of our clients.  I love working with partners to achieve truly remarkable outcomes.
What's one piece of advice that you have for any entrepreneurs in the hotel tech space?
Focus on measuring the ROI for the hotels immediately.  Nice to have solutions inevitably fail.
What is the best book you've read lately and why?
It's not a book but I've been really passionately reading the At War section of the New York Times for quite some time and I think it's critical reading for anyone in global business.  It chronicles the experience and costs of war across the globe. The impact of war - whether on combatants, civilians, the environment, lost innovation or other aspects of our world - is something we all need to try to understand better.
What is your favorite podcast
I enjoy listening to the investigative reports by 60 Minutes - yes, the same 60 minutes that my grandparents watched on their black and white TV.  Sometimes complex stories take time to investigate, unwind and convey in a thoughtful way.
What is one thing that most people don't know about you?
I lived atop a butcher shop in Hong Kong.  Each morning a noisy truck would drop a pig in front of our door and my wife would say "Breakfast is here."