How to Contact Booking.com for Partners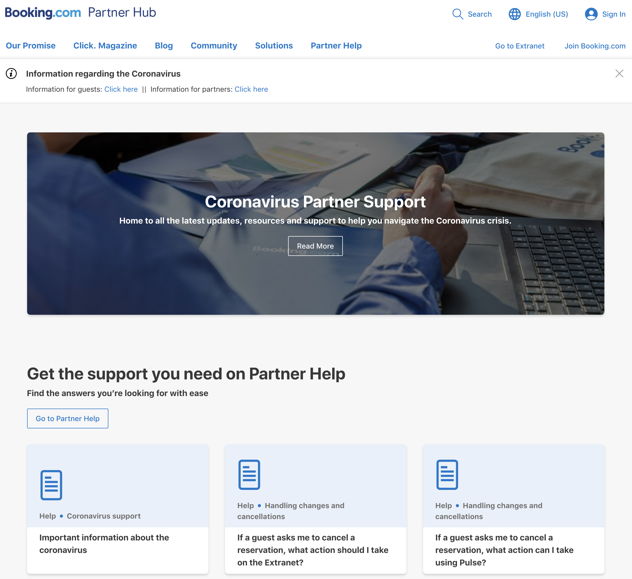 Have you run into an issue with your Booking.com listing? It's bound to happen from time to time, and you'll find yourself wondering how to contact Booking.com. Since the site works with hundreds of thousands of partners (their term for property owners, managers, and hoteliers) across the world, Booking.com offers several ways to get assistance and find the answers you need. Booking.com has 24/7 phone support, a message system in their extranet, and a library of self-service online resources that you can access at any time.
Online Support via the Extranet Inbox
One of the easiest ways to contact Booking.com for partners is to send a message through the Booking.com extranet inbox. Once you've logged into the extranet, click the "Inbox" tab, then "Booking.com Messages."
In this area, you'll see many messages that Booking.com has sent to you, but you will also see several options for finding assistance. On the right side, you'll see links to articles in the Booking.com Partner Hub (more on that later), and beneath that, a section called "Contact Us." Click on "Contact Us" to expand the section.
Here you'll find the link to compose a new message to the Booking.com team. You'll also see a phone number for your localized support team and your specific account manager, if you have one.
When you click "Compose a new message," the site will prompt you to select a topic and, possibly, a subtopic. You'll see links to self-service support articles, but if you still need personalized support, just click "Compose new message" and a text box will pop up. If applicable, you can mention a reservation ID number and attach a file. Click "Send message" to submit your message to Booking.com's team. They're usually pretty quick to reply, within a couple of hours, and you'll receive an email notification when you get a response. You can also turn on notifications in Booking.com's extranet app, Pulse.
Phone Support
Booking.com offers phone support 24/7 with representatives based all over the world. You can find your localized support phone numbers in the Booking.com Extranet.
To find the best phone number for your property, select the "Inbox" tab in the extranet, then click "Booking.com Messages." On the inbox page, click "Contact Us" on the right side (you might need to scroll down to see it), then you'll see two phone numbers: one for your general local team and one for your account manager. Keep in mind that your account manager probably only works during business hours in your area, so if you need assistance during the middle of the night, your best bet is to call the first number listed, which is the general support number.
If you can't access the extranet or need support in a different region or language, then you can find the full list of Booking.com support phone numbers here.
Self-Service Support
Booking.com also offers partners a robust database of FAQs, industry trends, and help articles on their Partner Hub. You can browse the pages here or use the search bar to find exactly what you're looking for.
Click on the Partner Help tab to see resources for many different aspects of working with Booking.com, from adjusting rates and availability to responding to guest reviews to setting up promotions.
The Solutions tab is especially helpful for learning more about how you can use Booking.com's features, and the Booking.com Blog keeps track of updates to the site and happenings in the travel industry.
Community Support
Booking.com's Partner Community forum is another good place to find answers and inspiration. With over 200,000 partners participating, you can probably get the answer you're looking for and receive a response quickly if you start a new thread, since odds are that another partner has encountered the same issue before.
The forum's hashtag system also makes it easy to find threads on a certain topic, like #homesandapartments or #managingoperations.
Whenever you need support, you can find it through one of Booking.com's support methods. Whether you prefer to speak with a representative in your time zone, send a message via the extranet, connect with other partners in the forum, or browse help articles, you have no shortage of ways to find information about using Booking.com as a partner.
More helpful content and tips for Booking.com Rental Hosts:
Listing on Booking.com Rentals (everything you need to know)
Logging into Booking.com Rentals
Booking.com Rentals Competitors