5 Tips for Hotels to Capitalize on Increasing Spikes in Travel Demand
By Hotel Tech Report
Last updated January 26, 2022
3 min read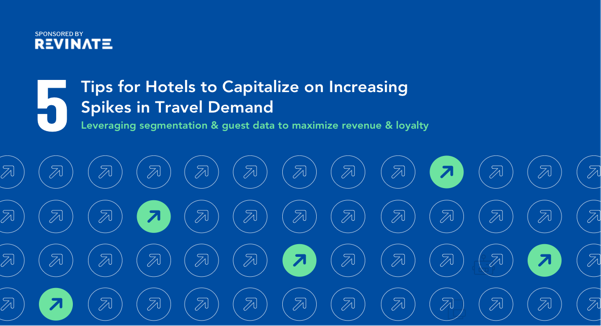 The travel industry rebound is well underway but the recovery remains uneven and demand trends are rapidly evolving. The guest acquisition strategies that succeeded prior to the pandemic are less likely to succeed in the new normal.
In a recent global study conducted by Revinate, 68% of travelers said they would feel more comfortable returning to a hotel they've stayed at before. Many of the highest value guests in the world have already stayed at your hotel. These repeat guests are cheaper to bring back to your property and tend to spend more than new visitors. Revinate's study also found that repeat guests spend 67% more during their stay than new guests. This attractive pool of potential customers is sitting in your guest database and we'll walk through how to attract them.
In this article, we'll share five tips to help you capture your guests' attention (and travel dollars). We'll cover how to ensure your past guests book with you and not another previously visited destination. We'll provide guidance on how to incentivize profitable direct bookings and maximize the revenue opportunity with every sale.
Use Segmentation to Attract High-Value Guests
As lockdown restrictions begin to ease, hotels need to segment their guest database to identify high probability bookers based on local market conditions. For example, where international travel restrictions remain in place - hotels need to focus on domestic and drive markets using personalized messaging and offers targeted to guest segments like families to sell more rooms.
Creating smaller, focused segments and targeting with personalized and specific action-oriented messages yields materially higher returns. Revinate's global survey found that segments of 10,000 contacts or less tend to generate 2x revenue compared to larger segments. Small hyper-targeted segment campaigns are also much more cost-effective because they tend to result in lower unsubscribe rates. Every contact in your database has the potential to yield revenue in the future, so unsubscribes present a very real hidden cost that many hotel marketers wrongfully overlook. Additionally, every campaign takes time to create and execute so when those campaigns aren't yielding results there is a significant opportunity cost.
Leverage Revenue Upsell Opportunities Post-Booking
Another effective, revenue-generating marketing strategy is to offer upsells to guests who have already booked at your property but haven't yet arrived. Bringing back old guests is far cheaper than finding new ones, but upselling existing guests can yield even more profitable outcomes.
According to the Revinate survey, the most popular upsells last year included pre-purchased food and beverages, early and late check-in and late check-out, and room upgrades. Additionally, hotels that have sophisticated segmentation strategies can get extremely creative with campaigns. If your hotel is popular among families, you could promote a "movie night in" package to the portion of your database who have previously stayed with their kids. Similarly, if your hotel is cozy and romantic, you might want to offer a "date night" package that includes a bottle of champagne or a takeout dinner for two from your restaurant. When formulating an upsell strategy you'll want to create segmentation rules so that the right offers go to the right guests.
Communicate Health Measures in Booking and Pre-Arrival Campaigns
It's no secret that health and safety are top of mind for travelers in the rebound. In fact, Revinate's survey shows that safety, cleanliness, and pandemic risk-mitigating measures are top priorities for travelers - even topping price and location as decision-making factors for the first time ever. Hotels looking to minimize cancellations are wise to create pre-arrival "clean theater" campaigns educating guests about health measures taken on property and in destination to boost confidence leading up to every trip. Running campaigns that communicate health measures that your property has taken can also influence guests to book with your hotel in the first place. During times of uncertainty, clear and transparent communication is the key to instilling confidence and driving bookings.
Avoid Generic One-Time Promotions
It's tempting to blast your database with generic offers to save time but these campaigns create database fatigue which results in poor campaign engagement and email unsubscribes. The best hotel marketers share relevant, timely, and personalized offers to targeted segments of their databases. While it takes a bit more thought and planning to set up these campaigns, behavior-based automation with tools like Revinate means that you can "set it and forget it" for the most part.
Automated campaigns can be triggered in real-time by actions that your guests take, they provide high lifetime value and generate strong engagement. Automated campaigns such as pre-arrivals, on-property welcome letters, win-back offers, and birthday promotions receive, on average, 270% higher open rates than unsegmented offers. This translates to more direct bookings, loyal guests, and upsell opportunities.
Grow and Maintain a Healthy Database
While marketing creativity is vital, growing and maintaining a healthy guest database is the foundation of a profitable long-term guest acquisition strategy. Database health can be measured via growth rates, unsubscribe rates, and campaign engagement.
Implement a data collection process when guests check in. This way you can gather accurate contact details from guests whose information may have been masked through OTA bookings. With this information, hoteliers can build strong relationships with guests through personalized communication, from pre-arrival to post-stay.
Time and effort invested into expanding your hotel's database pay off with extremely high returns on investment. As the industry rebounds, focus on growing and maintaining your base of loyal, repeat guests. Create processes to collect, clean, maintain, and action on guest data - finding the right Hotel CRM is key. The good news is that many of these vital processes can be automated via technology partners like Revinate.
This content was created collaboratively by Revinate and Hotel Tech Report.