How to Make Guests Feel Safe from COVID-19 at Your Property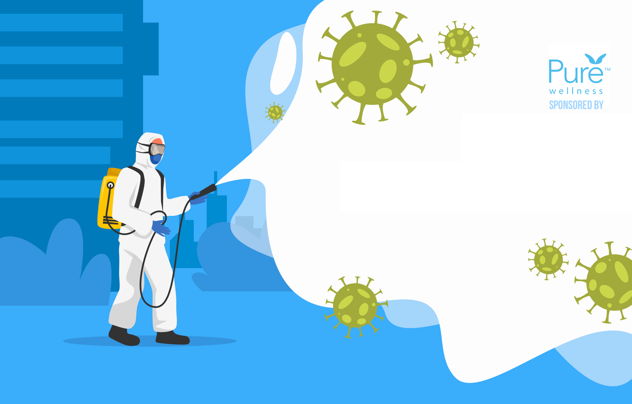 It's almost hard to believe that the pandemic is still here. Few imagined how long this would last and how devastating it would be on the global economy - especially for the travel industry. Hotels are fighting back though and there are early signs for optimism about a return to business as usual as certain segments like resorts and drive markets picked up steam throughout the summer.
The Basics for a Safe Hotel Reopening
Experts generally believe that staying in a hotel is pretty safe when following hotel industry guidelines. The American Hotel and Lodging Association recommends key measures being taken such as face coverings in all indoor public spaces, social distancing in common areas, temperature checks upon entry, and contactless room service delivery with enhanced cleaning protocols.
"I think that as long as the hotels and Airbnbs are transparent about what measures they are taking to make sure that it is safe for people to come and stay with them, it should be OK," said Dr. Gabriela M. Andujar Vazquez, an infectious disease physician and associate hospital epidemiologist at Tufts Medical Center in Massachusetts.
A recent Stay Safe study by the AHLA highlights some of the key features to most important things guests want to see to feel safe where ubiquitous face masks and contact-free technology top the list.
"The truth is that keeping guests safe and healthy is only part of the battle," says Integer Group's Senior Strategist Brooke Siskin, "hotels need to go above and beyond in order to show how safe their properties are. That includes ubiquitous signage and digital messaging as well as offering enhanced safety protocols available for an extra charge to accommodate the requirements of even the most demanding guest segments."
Want to Go the Extra Mile to Protect Your Guests?
Long before COVID-19 took aim at the hotel industry, Pure Wellness was protecting guests against harmful air pollutants, bacteria, germs, and viruses. Prior to the current pandemic, Pure Rooms was positioned as a wellness amenity and a way for hotels to cater to at-risk travelers with allergies and breathing problems. In the current state of the world, all travelers are now at-risk and Pure Rooms is well-positioned to help hotels protect guests from harmful air pollutants and unwanted surface particles.
The Pure Rooms patented 7-step room sanitization process for hotels provides added cleanliness and hygiene for guests who will pay a premium for the peace of mind that comes with enhanced safety and health measures.
Proprietary DFS Air Filtration Units Protect Against Airborne Viruses
Over the course of the pandemic, the world's leading scientists have learned a lot about how COVID-19 spreads from human to human and while their opinion has evolved over time - there does seem to be a consensus now that we're nearly a year in. As a whole, scientists have agreed that liquid droplets spread the virus when we cough or sneeze, and general consensus is that those droplets travel about 6ft which has lead to social distancing rules.
The CDC has also (more recently) revealed the results of a study showing that COVID-19 is also able to spread through airborne particles and has identified advanced air filtration technology as a key measure to enhance safety in commercial buildings. The EPA has shared similar sentiments around the importance of enhanced air filtration, "When used along with other best practices recommended by CDC and others, [air] filtration can be part of a plan to protect people indoors."
The EPA recommends that large commercial buildings like hotels look into upgrading the air filtration capabilities of their HVAC systems. Hoteliers looking into upgrading air filtration systems at their properties should contact a partner like Pure Rooms to assess whether a full HVAC upgrade is needed or if there is a more cost-efficient alternative.
Pure Rooms has developed a 7-step patented process to sanitize hotel rooms covering everything from surfaces to carpets and even the air guests breathe. As part of that process, Pure Rooms installs advanced air purification units into each upgraded room. What makes Pure Rooms' air filters unique? Most air filtration systems in hotels leverage HEPA filtration that can capture particles of about 0.3 microns or larger. Pure Rooms' air filters use a unique DFS (Disinfecting Filtration System) technology which can capture and filter out particles as small as .007 microns. For comparison, COVID-19 particles are approximately .12 microns in diameter according to the Mayo clinic which in theory means that they could pass through HEPA filtration systems but not DFS. That's why Pure Rooms' DFS filters are listed by the FDA as a Class II Medical Device and are used in medical facilities and clean rooms for enhanced protection.
Bioshield Helps to Keep Viruses Off of Surfaces in Hotel Rooms and Common Areas
Pure Rooms doesn't just clean the air in hotel rooms - the company's 7-step patented process also goes the extra mile to eliminate viruses from all surfaces. First, the Pure Rooms process sanitizes all surfaces from carpets to upholstery and other furniture using Pure Clean surface protection products. Once surfaces are sanitized Pure Rooms uses an electrostatic sprayer to apply BioShield, a technology that provides a durable antimicrobial protective barrier and is sprayed on hard and soft surfaces to inhibit the growth of bacteria, mold, and fungi.
While there have not yet been conclusive tests run on Pure Rooms' BioShield technology by the EPA, a study run by independent lab Microchem found that BioShield® Technology demonstrated a residual kill rate of 99.9% of the virus strain that causes COVID-19.
Bringing it All Together
Let's face it - the hotel business is challenging right now and no expense can be overlooked. Having said that, guest confidence and safety is absolutely critical to ensuring the long term viability of any hotel business and every owner should be examining whether they are delivering on that need. As you examine your property and overall operation you should explore whether Pure Rooms is a good fit for you even if that means having a few rooms where VIP guests can pay a premium to feel extra safe during their stay. Ultimately, you can't put a price on the health of your guests.
This content was created collaboratively by Pure Rooms and Hotel Tech Report.