Crave AppLess™: This is the Mobile Ordering Tech Your Guests Have Been Waiting For
By Jordan Hollander
Last updated February 16, 2023
3 min read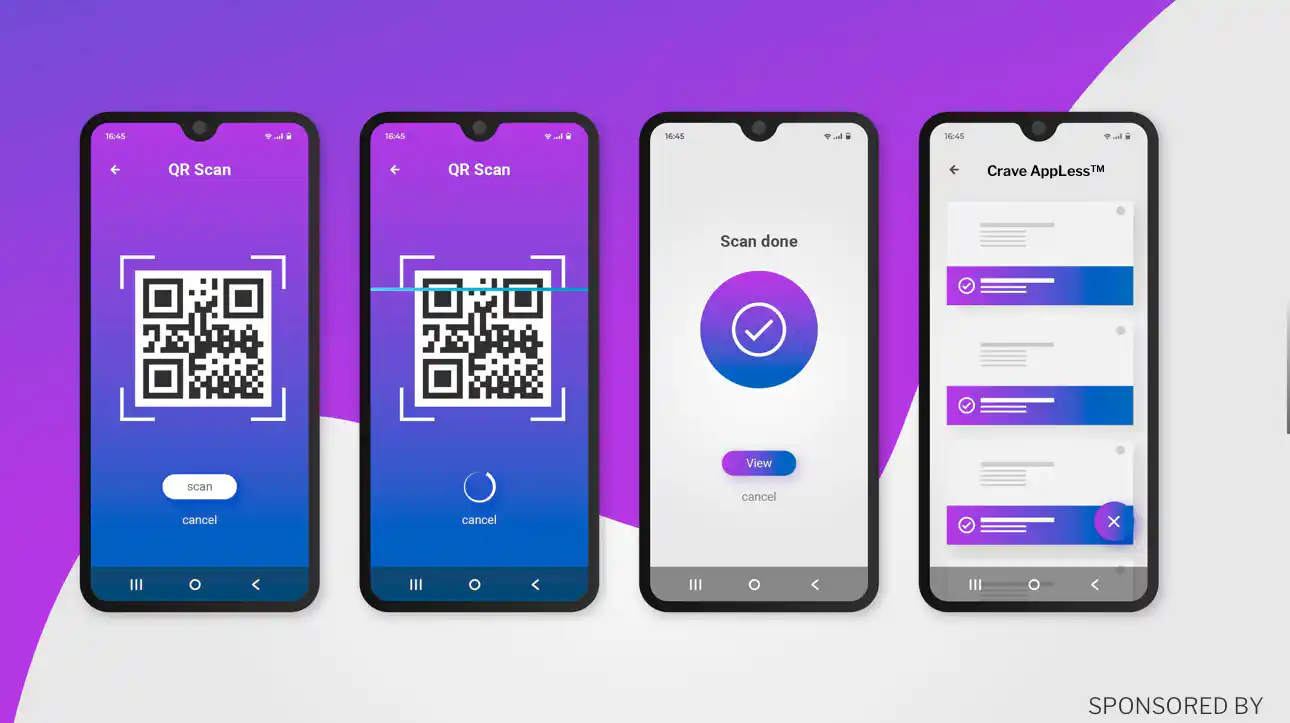 Travel is, for the moment, no longer the easy escape from daily life that many once sought. The health and safety restrictions necessary to combat COVID-19 have complicated everything from getting on a plane to ordering at a restaurant.
For hotels, nearly every element of the guest experience needs to be reconsidered to prevent the transfer of the virus. Before, a guest would simply pick up the phone to order room service. Now, guests are wary of high-contact surfaces – and may not want to use the phone. Room service must be left outside the door, rather than delivered in person. Guests wishing to dine at your on-site restaurant must make a reservation to ensure capacity restrictions are met. All these added precautions put additional burden on your housekeeping team already operating with reduced staff – again, due to capacity restrictions.
Many hotel properties are thinking outside the box about how to create a safe, yet satisfying, guest experience. Mercantile Hotel is experimenting with a robot concierge named Suga. Fairmont Le Chateau Frontenac has created a set-menu meal package of three meals a day, delivered to the room or in the property's restaurant. Singapore's hotels are going all-in on "automation and artificial intelligence" as well as "self check-in kiosks, mobile check-in, chatbots, direct booking applications, contactless payments, and digital in-room dining services."
Robots aside, there is one stand-out solution that's easy to implement at properties of all sizes: QR codes. The use of QR codes to enhance the guest experience isn't that new or revolutionary. Many properties are using QR codes to provide instant access to hotel information, such as services and amenities, guest check-in, room service, and more. 
Crave AppLess™ marries QR codes with seamless technology to help a property to maximize revenue and be cost-efficient. The pandemic won't impact travel forever, and Crave AppLess™ offers a frictionless (and touchless) experience for guests as well as a new avenue for hotels to capture incremental revenue in the time of coronavirus, and beyond.
Crave AppLess™ in Brief
Crave's newest offering, Crave AppLess™, is elegant in its simplicity. The product creates custom QR codes a guest can scan to order room service, explore amenities,and pay for products and services using a range of methods, including Apple Pay or charge to room. QR codes can be added to guest rooms, restaurant tables, cabanas, and other locations around your property – as well as in your booking emails.
71% of guests prefer to use a QR code versus downloading an app.  With Crave, there's no download required: as the name suggests, AppLess™ gives guests frictionless access to digital services on their own devices. Guests can simply point their phone cameras at the custom QR codes to access services customized to your hotel and your brand. 
How does Crave AppLess™ work?
With Crave AppLess™, guests can explore amenities at your property without touching shared surfaces like menus, directories, and in-room phones. It's an easy way to increase the health and safety of your guests and staff.
Here's an example of how Crave AppLess™ facilitates a better guest experience – without overworking your reduced staff.
Load your hotel's menu into the easy-to-use CMS. Include pictures, descriptions of dishes, and modifiers. Crave's customer success team is highly experienced and will even set-up your menu for you ensuring seamless configuration and deployment.

Put a QR code sign in guest rooms. Crave's AppLess™ uses location-intelligent QR codes to enable guests to access the menu in addition to other amenities – spa services, for instance. Guests can simply point their camera at any code.  Guests can even opt-out of housekeeping and control who is able to access their room through the mobile web, reducing your housekeeping costs.

Guests scan the QR code sign and place their order. With the platform's integrated easy payment with Apple Pay and Google Pay, guests can pay for food and drink to be delivered to their room. 

The kitchen automatically knows it's from a specific room, sends, and charges to their PMS. No additional manual labor from your team is needed to fulfill the customer's request. Contactless delivery is easy.
There are longer-term benefits to adding Crave AppLess™ at your property, too. First and foremost, the flexibility of Crave AppLess™ means you can add infinite points of discovery to your property. As your offerings grow and change, you can make digital adjustments to your guest services compendium without interrupting or disrupting the guest experience. Save money – and trees – in the long run as you cut down on paper and printing costs.
As a modular solution, AppLess™ can be used as a really simple, low-cost solution that simply provides links to PDF menus and directories. Once implemented, upgrading with additional services and functionality is easy.  As your hotel's requirements evolve, AppLess™ can evolve with you - adding functionality like a digital concierge service to make more incremental revenue from commissions.
Your guests benefit from the instant and easy access to explore all your services – without having to download and sign up for an app. The integrated payment feature also lowers any barriers to completing the checkout process. Guests don't have to go through the hassle of visiting the concierge or front desk to pay, and your property benefits from higher incremental sales – especially from day guests. Capture higher revenues from F&B, spa bookings, and concierge services.
Is Crave AppLess™ right for your property? 
At the end of the day, Crave AppLess™ is a low stakes, high reward investment you can make to boost revenue now and in the future. Customers have never enjoyed downloading an app; an easily scannable QR code circumvents the many steps it takes to get set up with a new app that a guest won't use. Your property can benefit from incremental revenue and excellent service that drives loyalty and repeat visits – all while keeping your team and guests safe.
Get in touch with Crave to request more information.
This content was created collaboratively by Crave Interactive and Hotel Tech Report.