How to Contact TripAdvisor Rentals or FlipKey Support for Owners
By Adrienne Fors
Last updated May 27, 2020
2 min read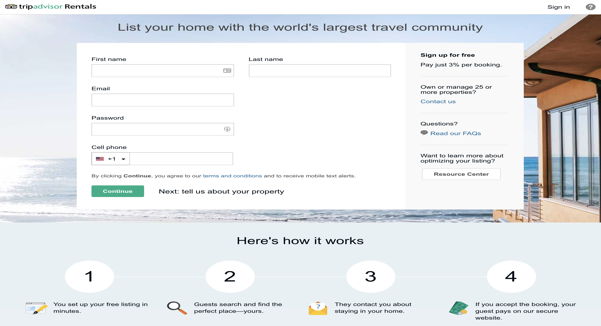 Looking for assistance with your FlipKey or TripAdvisor Rentals listings? Whether you operate one or one thousand vacation rental properties, you're probably going to run into an issue every now and then. TripAdvisor Rentals offers many reference guides and answers to frequently asked questions, plus a chatbot, a phone line, and a message intake form for more personalized support.
Self-Service Support
One of the most convenient ways to find answers to frequently asked questions and learn about TripAdvisor's features is through the self-service support options within the Owner dashboard. Once you've signed into your TripAdvisor Rentals account, click the grey question mark icon in the top right corner of the screen. You'll see two options: Step-by-Step Guides and Common Questions.
The Step-by-Step Guides are available for many common scenarios, like "How do I send a quote?" and "How do I reactivate an old listing?" When you click on one of these options, you'll be automatically redirected to the page where you can complete that action. For instance, if you click "How do I reactivate an old listing?" the site will redirect you to the Listings page and a pop-up will further describe how to reactivate old listings.
If the answer you're looking for doesn't appear in the step-by-step guide section, then you might be able to find it among the Common Questions.
Can't find what you need? Try using the chatbot, sending a message to the TripAdvisor Rentals team, or calling the phone support line.
Chatbot Support
On every page in the TripAdvisor Rentals host dashboard, you'll see a little picture of a robot in the bottom right corner, which is a link to the chatbot. Click on the robot to begin a conversation with the chatbot.
You can ask the chatbot for assistance on editing your listing, communicating with guests, and resolving issues with payouts or account settings.
Remember that the chatbot cannot understand complex phrases, so try to use simple language and keywords that it will recognize.
Phone Support
For more specific issues, like a question about an individual reservation or technical support, then you might want to speak to a human. TripAdvisor offers 24/7 assistance via phone.
The best phone number to contact TripAdvisor Rentals support for owners is 1-877-354-7539. Keep in mind that wait times can vary before you reach a support representative.
Send a message to TripAdvisor Rentals
If you don't want to wait on hold to speak to TripAdvisor's support team, then you can send them a message via their message intake form here. Just remember to select "My Listing" in the dropdown menu for your message subject.
Community Support
Unlike some other vacation rental sites, TripAdvisor does not have a community forum specifically for vacation rental owners. There is a general TripAdvisor forum (available here), which is open to anyone who manages a listing on TripAdvisor, including hotels, restaurants, attractions, and tour operators, as well as travelers. You can browse open discussions, search for certain keywords, or start a discussion yourself if you can't find the answers you need.
When you list properties on FlipKey and TripAdvisor Rentals, you'll have methods of support at your fingertips at all times. With phone support and self-service resources available 24/7, plus a message intake form and a handy chatbot, you can usually find the answers you need with minimal effort.
More helpful content and tips for FlipKey (TripAdvisor Rentals) Hosts:
Listing on FlipKey (everything you need to know)
Guide to Vacation Rental Listing Sites