Everything You Need to Know About FlipKey (TripAdvisor Rentals)
By Adrienne Fors
Last updated May 27, 2020
5 min read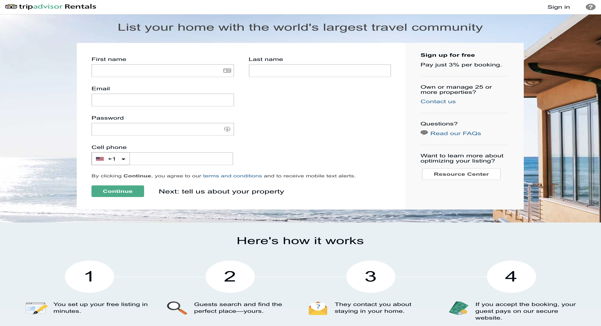 Interested in learning more about Tripadvisor Rentals and FlipKey? Can travelers actually book vacation rentals on Tripadvisor? And how is Tripadvisor related to FlipKey? This comprehensive guide to all things Tripadvisor includes everything you want to know about Tripadvisor's payment and refund policies for vacation rentals, company history, and competitors. If you have a thriving vacation rental business or you're just getting started, you'll want to stay up-to-date on Tripadvisor Rentals and FlipKey.
What is Tripadvisor Rentals?
Tripadvisor wasn't always a place to book vacation rentals; the site started as a review platform for travel business where users could post their own reviews. In 2000, when the site was launched, the majority of travel information and recommendations came from guidebooks and travel agencies, so Tripadvisor's differentiating factor was that readers could browse reviews that were written by regular people. In 2004 InterActiveGroup (IAC) acquired Tripadvisor and shortly after spun it off as part of Expedia, Inc. In 2008 Tripadvisor purchased a majority stake in FlipKey.com, a traditional vacation rental marketplace similar to Vrbo and HomeAway.
Tripadvisor was under the Expedia umbrella until late 2011, at which point the two companies split, and Tripadvisor has operated as a public company since then. Over the past decade, Tripadvisor has acquired many more travel brands, including Jetsetter, Oyster.com, Viator, and several dining reservation platforms around the world, including La Forchette (France), Iens (the Netherlands), and Dimmi (Australia).
Hotel reviews are still a major component of Tripadvisor's site, but reviews are just one of many features on Tripadvisor today. Travelers can post and read reviews for all types of travel businesses, including hotels, restaurants, and tour operators. Business owners and managers can then respond to reviews and provide photos and content for their Tripadvisor listings. Travelers can also book hotels and vacation rentals, make restaurant reservations, buy tickets for attractions, and purchase airfare. Tripadvisor also runs a popular traveler forum where you can find discussions about destinations, special events, itineraries, traveling with kids, and more.
Tripadvisor operates their short-term rental listings under the "Tripadvisor Rentals" name. Properties listed via Tripadvisor Rentals are automatically listed on FlipKey and all of the other vacation rental sites under the Tripadvisor umbrella, including Holiday Lettings and HouseTrip.
What do people think about Tripadvisor?
Tripadvisor was once simply a place to write reviews for hotels, but now it's a popular booking site for hotels, vacation rentals, rental cars, activities, and flights. Like any booking site, users have a lot of opinions about it. Tripadvisor.com has a rating of 4/5 on rating site Consumer Affairs (here) and a 3.9/5 on Trustpilot (here) as of April 28, 2020. The ratings for FlipKey.com are slightly lower at 2.9/5 on Trustpilot (here).
Negative reviews from property owners mention issues with the support team and problems loading rates.
On the positive side, travelers say that Tripadvisor and FlipKey make it easy to contact property owners, see photos, and read reviews.
Where can I find forums about Tripadvisor?
Unlike Airbnb, Vrbo, and Booking.com, Tripadvisor does not have a dedicated forum for short-term rental owners and managers.
The best option for property owners looking for discussions with fellow owners is an unofficial forum like Airhosts Forum, which has over 13,000 members who are mostly property owners or managers. Most posts in this forum pertain directly to hosting but are not always related to Airbnb, so it's perfectly acceptable to start a thread about a Tripadvisor-specific topic.
Tripadvisor Rentals FAQs
Curious about some specifics? Let's dive into a few commonly asked questions about Tripadvisor Rentals.
What commission does Tripadvisor Rentals charge property owners? Tripadvisor charges a 3% commission on all reservations booked through Tripadvisor sites, including FlipKey and Holiday Lettings.

Do Tripadvisor guests pay a booking fee? Yes, Tripadvisor charges a booking fee between 8% and 16% of the nightly rate. Guests pay this fee at the time of booking. The booking fee is non-refundable starting 24 hours after booking; before that time, guests can get a refund of the booking fee if they cancel.



Does Tripadvisor Rentals collect taxes? Tripadvisor Rentals collects and remits tax to local authorities in a few markets, which are listed here. Any markets not on that list will need to add their tax rate to their Tripadvisor listing, and guests will pay tax to the property owner just like they would pay any other fees. The property owner then must remit the tax to the local authorities.
Tripadvisor Payment Policy
Travelers can pay for their Tripadvisor Rentals via credit card (Visa, Mastercard, Discover, and American Express) or via PayPal. Property owners can choose their own payment schedule, so guests can pay the entire reservation amount upfront or pay a deposit upfront and the balance at a later date.
Tripadvisor processes the guest's payment and issues a payout to the property owner approximately 24 hours after check-in. The payout equals the reservation total minus Tripadvisor's 3% commission. Property owners can receive funds into a bank account, which takes 3 to 5 business days, or into a PayPal account, which usually arrives within 1 business day.
Tripadvisor Rentals Cancellation Policy
Property owners can choose from several different cancellation policies on Tripadvisor Rentals. By default, properties use the Moderate policy unless the property owner changes to another policy.
Relaxed: Guest receives a full refund if they cancel at least 2 weeks before check-in.

Flexible: Guest receives a 50% refund if they cancel at least 4 weeks before check-in or a 25% refund if they cancel between 2 and 4 weeks before check-in. No refund issued if they cancel less than 2 weeks before check-in.

Moderate: Guest receives a 50% refund if they cancel at least 4 weeks before check-in.

Strict: Guest receives a 50% refund if they cancel at least 8 weeks before check-in or a 25% refund if they cancel between 4 and 8 weeks before check-in. No refund issued if they cancel less than 4 weeks before check-in.

Super strict: No refunds issued.
Tripadvisor Rentals Refund Policy
If a guest cancels their reservation during a free cancellation period (this period varies based on the cancellation policy that applies to their reservation), then they will receive a refund issued to their original payment method, minus Tripadvisor's booking fee. If the guest cancels within 24 hours of booking, then they will receive a refund of the booking fee. All cancellations made within 24 hours of booking and at least 60 days before arrival receive a full refund, including a refund of the booking fee.
Tripadvisor Rentals Competitors
Tripadvisor's closest competitors in the vacation rental space are other online travel marketplaces: Airbnb, Vrbo/HomeAway, and Booking.com. Vrbo and HomeAway started as separate companies, but HomeAway acquired Vrbo in 2006. HomeAway was then acquired by the Expedia Group in 2015, and in 2019 Expedia announced that it would operate its vacation rental division under the Vrbo name.
In addition to these big players, Tripadvisor Rentals and FlipKey see competition from smaller regional sites too. For example, FloridaRentals.com, which is popular among Florida beach markets, is a strong competitor for Tripadvisor in that specific geographic area.
Since Vrbo and Tripadvisor both only list entire homes and apartments (and they've both been around for decades), they are close competitors. These two sites also have a lot of traction in traditional vacation rental markets, like Destin and Gatlinburg, which newer sites like Airbnb might have trouble tapping into.
How to log into Tripadvisor Rentals
Property owners can log into their Tripadvisor Rentals accounts via their internet browser or mobile app.
Logging in is relatively straightforward when you visit rentals.tripadvisor.com. The login page is not the Tripadvisor homepage (tripadvisor.com). On rentals.tripadvisor.com, you'll see boxes for your email address and Tripadvisor Rentals password.
On the owner version of the mobile app, the login screen will be visible when you open the app.
If you forget your password, click the "Forgot your password?" link and an email will be sent with a link to reset your password. If you're logging on from a new device for the first time, you may be prompted to enter a text or email verification code to keep your account secure.
How to contact Tripadvisor Rentals support
Like other vacation rental listing sites, Tripadvisor Rentals offers a few support options for property owners, including phone, online chat, and FAQ pages.
After logging into your property owner account, you can find several self-service help guides by clicking the question mark icon on the top of the screen. These help guides include answers to frequently asked questions as well as step-by-step guides for a variety of common tasks.
Within the property owner portal, you can also find answers to FAQs by chatting with the chatbot, which is the little robot image on the bottom right corner of the screen.
For more personalized support, you can contact the Tripadvisor Rentals team directly. The best phone number for owners is 1-877-354-7539. You can also send a message via their intake form here.
Want to learn even more about Tripadvisor Rentals and FlipKey? Read more about logging into Tripadvisor, contacting Tripadvisor support, and analyzing Tripadvisor's competitors.
More helpful content and tips for FlipKey (TripAdvisor Rentals) Hosts:
Contacting FlipKey Support