Google Analytics 4: The Hotel Marketers' Guide to GA4
By Brett Perry
Last updated November 09, 2022
2 min read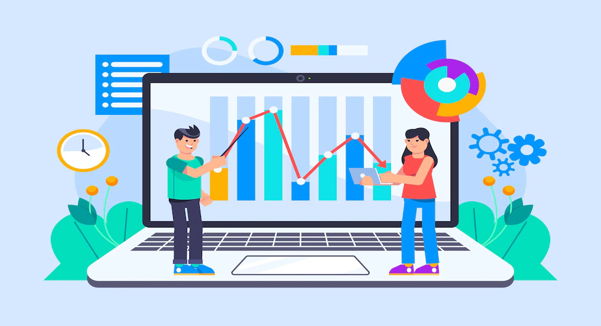 Google's Universal Analytics (UA), the tool every website has used to collect and organize data for years, will sunset in July, 2023. Its replacement, Google Analytics 4 (GA4), is the new standard for measuring traffic and engagement across websites and apps.
While many hotel and resort teams have already transitioned to GA4, some are still in UA limbo, uncertain how to pivot, and possibly unaware of how important the update is.
Here are the answers to the questions teams should be asking ahead of UA's 2023 sunset, and the complete transition to GA4.
What is GA4?
GA4 is the new measurement property for Google that combines both websites and apps (if applicable). It was built on the basis of future measurement protocols and a world without third-party cookies.
Why should we switch?
The most obvious reason is that sometime in July 2023, UA will cease collecting data about your website.
More importantly, GA4 is a superior tool for our evolving, cookie-free world, measuring activity across a full spectrum of platforms and adopting an event-based data model for measurement.
New security and machine learning features place an emphasis on user privacy and protect marketing teams from liability. Google will no longer store IP addresses and they have built in features to assist with GDPR regulations. On top of that, the foundation of GA4 is machine learning, which means there are new ways to fill the gaps of a cookie-free future, and more access to predictive analytics.
When should we switch?
As soon as possible. The sooner a property migrates to GA4, the more historical data the property will be able to capture, which is critical for guiding marketing strategies. (Screen Pilot, for example, transitioned most of its hotel clients to GA4 in 2021, so properties will have some two years of historical data when UA finally sunsets.) As we wait for UA to officially go dark, properties can, and should, be running UA and GA4 side-by-side.
How do we switch?
While transitioning to GA4 isn't a terribly complex process, it is important to do it properly. Hotel teams should work in tandem with their trusted digital marketing partners to confirm that their digital properties have been transitioned to GA4. If they have not, they should make a plan to transition sooner rather than later.
What should we do if we're already on GA4?
1. Locate your GA4 account. It should be in the same Google Analytics account you previously used to access UA.
2. Go native. Dive in, create custom reports, identify your most popular pages, maybe make a new event.
3. Know your history. Make sure you've pulled your historical data from UA and stored it for future reference.
4. Become a power user. Create customized reports and bring your data to life with tables and visualizations to find insights. Develop audience segments, add secondary dimensions and even create your own events to dig deeper into data.
5. Ask questions. Your marketing partners should handle the actual migration, but don't be afraid to ask questions and better understand the significance of this transition. After all, it's been a decade since the last major GA update.
What if we need help transitioning from UA to GA4?
Reach out to your designated digital marketing partner and trust in their expertise. If you're between agencies and want guidance on the UA to GA4 changeover effects your specific hotel properties, Screen Pilot has transitioned hundreds of hotels to GA4 over the past two years.
Our team is practiced in helping brands understand the process, its importance, and answering questions about the UA to GA4 transition.