Here's Why Hotel Operations Software is Exploding in the Pandemic
By Jordan Hollander
Last updated January 26, 2022
4 min read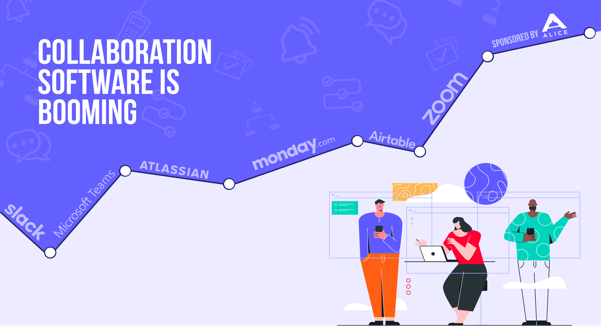 It's no secret that the COVID-19 pandemic has devastated the hotel industry with flights grounded, global travel restrictions, and high unemployment.  Once in a century crises like this often bring about long term societal and behavioral change.  Those who are able to identify these tectonic shifts and adapt their businesses are most likely to succeed in the years ahead.
Capital markets often act as a canary in the coal mine to help identify these shifts as they're unfolding.  Massively popular video communications firm Zoom has seen its stock grow more than 6-fold during the pandemic as all meetings have moved to virtual.  In-person conferences and office meetings have been put on furlough enabling video meetings to jump years ahead of where they would have been without the pandemic.  Hotel groups that are able to successfully leverage video in their sales process are setting themselves up for outsized returns in the months and years ahead.
You're probably thinking "yeah, everybody knows about Zoom", right? While Zoom is obvious, there has been an explosion of operations software that has been far less publicized.
Collaboration Tools Are Exploding Right Now
Project management, team communications, and collaboration software have absolutely exploded during the pandemic.  Here's are some of the biggest success stories:
Task and project management tools enable teams to collaborate with each other cross-functionally and remotely.  These tools help workers do their jobs - so why are their valuations exploding while unemployment is reaching all-time highs?  Shouldn't fewer workers mean fewer users and lower revenue for these businesses?
In reality, a smaller hospitality workforce has meant each worker needs to be more efficient with time which has led to the rapid adoption of platforms like those we mentioned above.  As companies across the globe have gone fully remote, collaboration tools have become more important than ever to ensure that these businesses can deliver consistent service to their customers.  Signing up for software like Airtable brings productivity equivalent to hiring new team members at a fraction of the cost.  As workforces shrink, managers use these tools to augment productivity.
Hotels Look to Software to Do More With Less
Remote work has been a huge driver of the collaboration tool revolution because workers have needed to organize themselves and communicate around specific projects without face to face interaction like never before.
Hotels historically already had this need.  Hotel teams have always possessed characteristics of remote work that demand efficient collaboration.  Housekeepers, for example, often work on completely different floors yet need to stay in sync around room turns and assignments.  Concierge and engineering teams often work different shifts without setting foot on property at the same time, yet need to manage requests and projects across shifts without face-to-face interaction.  Adding to this complexity, hotel teams have needed to work cross-functionally without direct interaction.
Think about the case of  VIP guests arriving early.  Their room cleaning needs to be prioritized, rushed, assigned to a housekeeper, and then communicated back to the front desk.
Without software, these kinds of service optimizations are nearly impossible.  Great operations software like ALICE has kept these teams in sync for years and now, like the collaboration tools mentioned above, is more important than ever.
Global furloughs and layoffs in the hotel industry have meant that the fortunate workers who retained their jobs have needed to wear multiple hats and perform tasks they've never done before.  Here at Hotel Tech Report, we've heard stories of IT Directors helping out with housekeeping and Sales Managers running shifts at the front desk.  It's been beautiful to see everyone come together and hotels without the right software were caught flat-footed when evolving their staffing and operations models.
Despite tightened budgets, the smartest hotels and hotel groups have used downtime as an opportunity to dial their operating models, increasing chances of survival in the short term, and maximizing profit potential in the long run.  These businesses have learned to embrace collaboration software to bring their businesses into the 21st century.  Instead of seeing a cost center, they view tools like ALICE as a source of strategic value and savings making each worker more efficient and effective.
How Oslo's Clarion Hotel The Hub Leveraged ALICE to Maximize Efficiency During the Pandemic
Marianne Høybakk has been a Hotel Manager at Oslo's beautiful 810 room Clarion Hotel The Hub for more than 2 years and ALICE has completely transformed the way her team operates connecting departments like front desk, housekeeping, maintenance, and concierge in a single platform that is also used to communicate with guests via messaging functionality and request ticketing.  At a massive property like The Hub - operations software was a must-have according to Høybakk long before COVID-19.  After implementing ALICE's guest messaging functionality, The Hub experienced a 126% improvement in guest satisfaction scores.
Prior to the pandemic, ALICE was already the key hotel software keeping Marianne's team and guests in sync.  When the property ran a fire drill before using ALICE's guest messaging software, hundreds of frantic guests would flood the front desk asking questions.  During COVID-19 a situation like this would be untenable.  Using ALICE, Marianne's team now instantly messages all guests prior to fire-drills to warn and inform them which helps keep everybody calm and improves their stay.  Housekeeping managers no longer need to take long trips across the property to find out new room assignments have been distributed and every maintenance issue can now be tracked in real-time to ensure the property is running smoothly.
ALICE's messaging functionality has also grown even more critical during the COVID-19 pandemic at The Hub with constantly changing local regulations.  The Hub has been using ALICE to distribute updates around property rules and restrictions mandated by the government in order to keep guests safe and informed in a rapidly changing environment.  ALICE has also helped The Hub reduce checkout lines by offering an app-based checkout option for guests who don't require additional service.  This allows the hotel's team to deliver impeccable service even when they're short-staffed since they can focus on the guests who have more specific needs.
Hotel management is incredibly complex. Within every hotel, there are literally thousands of daily tasks.   Now that hotels have cut staffing levels while also dealing with ever-changing regulations and health conditions, it's more important to invest in operational tools like ALICE that can make every single team member on the property more productive and efficient.
This content was created collaboratively by ALICE and Hotel Tech Report.