How Are Hoteliers Adapting to Welcome Travelers Back in 2022?
By Hotel Tech Report
Last updated January 26, 2022
4 min read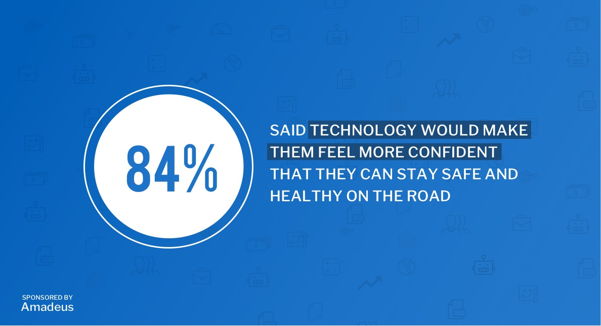 We certainly don't need to tell you that the COVID-19 pandemic has shaken up the travel industry. But despite all the pandemic's negative effects, this unusual year has inspired many hoteliers to take the leap into new technology that will enhance guest stays in 2021 and beyond. According to recent studies conducted by Amadeus, people are eager to travel again, with 75% of survey respondents stating they would travel within just three months of loosened restrictions. Although many of those travelers might feel nostalgic about the world "before," the data shows that travelers expect technology to help reduce physical touchpoints, encourage social distancing, and more. In fact, 84% of respondents said hotel technology would actually make them feel more confident that they can stay safe and healthy on the road.
In this article, we'll explain five key areas where hoteliers can strategically implement technology to give guests a warm welcome to the "new normal." By the end of this article, you'll have a solid understanding of guest expectations and exciting innovations in the travel and tech space.
Staff Collaboration Tools Help Improve Team Efficiency at Lower Staffing Levels
With 87% of travelers feeling skeptical that their peers are following health and safety guidelines, impeccable housekeeping and maintenance service is more important than ever. If guests think their fellow travelers didn't wash their hands before pushing elevator buttons or opening doors, then your employees need to go above and beyond to keep your property clean. You'll want to do whatever you can to avoid housekeeping mishaps that could break guest trust, and a key element of success is staying organized and avoiding lapses in communication between staff.
Staff collaboration tools make teamwork a breeze - even with teams that work on different schedules or in different locations. Software like Amadeus HotSOS gives hotel managers and employees the power to log maintenance issues, centralize housekeeping requests, record guest preferences, and more. The app integrates seamlessly with Amadeus' own PMS as well as 100+ other systems, so your tech stack can work harmoniously.
"We use Amadeus HotSoS for logging guests' needs as well as general area maintenance, such as lighting fireplaces, old light bulbs, clogged sinks, broken tiles, missing paint. To be able to log and communicate with housekeeping, engineering and bell in this manner is excellent," a Resort Activities Manager in Rancho Palos Verdes told Hotel Tech Report.
Collaboration tools like HotSOS not only reduce communication lags and potential friction between departments, but they can enhance the guest experience by helping staff provide faster and more accurate service. In a post-COVID world, it's even more crucial that guest expectations are met (if not exceeded) and that hoteliers can reduce costs wherever possible.
Use Customer Messaging to Communicate Compliance and Safety
Local health restrictions are changing frequently, and today's traveler needs to stay in the know - and they need to receive information from a trusted source, like from their hotel. Hoteliers are implementing customer messaging tools like Amadeus GMS to communicate rapidly changing regulations and standards with guests. Whether you need to alert guests about a new travel restriction or share the good news about reopening the spa, guest management technology can help you spread the word. 42% of respondents even say that technology that provides on-trip updates to local guidelines and outbreaks would make them more confident about traveling.
If you're considering adding a GMS to your hotel's tech stack, you have no shortage of choices.
Through customer messaging platforms, you can communicate with guests via their preferred method. Some guests prefer email, while others prefer text messages. Some platforms, like Zingle (which integrates directly into HotSoS, even support WhatsApp and Facebook Messenger). Plus, you can set up automated messages that will free up your employees' time while increasing guest engagement.
Ditch Guest Room Phones for Smart Assistants
Hotel guest room phones have been slowly dying out for years and the advent of smart assistants like Google Echo and Amazon Alexa accelerated their decline. Why? According to the Amadeus research, 61% of travelers would like to use voice assistant technology if present in their rooms.
Hotels and larger groups like Viceroy are welcoming guests back to hotels by eliminating in-room phones and allowing them to order via the same technologies they're using at home like mobile apps and smart speakers. Smart assistants powered by software like Volara are preprogrammed to control every facet of the in-room guest experience going far beyond the capabilities of in-room phones without adding significant cost.
Volara's voice technology integrates seamlessly into Amadeus HotSOS to fulfill service requests.
"The reality is anything you can do to limit direct contact with other people and even our own surroundings is part of widespread change in personal behaviors. Guests no longer want to have to touch the remote control or use the guest room telephone to make service requests. If a guest has forgotten toiletries or needs to report maintenance issues for instance, or even play music, watch shows, set alarms, or request more towels, they will want to do so in a contactless manner. Having the ability to simply ask an in-room voice assistant to help fulfill special requests and preferences will be an opportunity to increase guest Loyalty," says Volara CEO Dave Berger in an interview on the Amadeus blog.
Eliminating Lobby Crowds with Contactless Check-In
Like with contactless ordering, offering a contactless way for guests to check in to your hotel is the welcoming touch that every traveler wants these days. Amadeus' research shows that 62% of travelers would prefer to handle check-in and check-out via an app, so hoteliers that don't yet have a technology solution for contactless check-in are making it a priority to implement one. Both guests and employees enjoy peace of mind when they don't need to exchange physical credit cards, IDs, registration cards, and pens.
"There are a number of ways the PMS can become a key component of the new guest experience. First, advanced two-way integrations with other supporting systems (CRS for instance) will allow for synchronized data across platforms to capture and make data actionable data coming from new apps. Second, many PMS systems provide simple and robust integrations with hundreds of third-party systems to make the implementation of new mobile services and tools simple and painless. Finally, some PMS systems offer open APIs, which make it possible to integrate with custom internal apps. This allows hotels and hotel chains to innovate at their own pace, and be more agile," says Patrick van der Wardt, Head of Sales Specialists International, SO, S&C, PMS at Amadeus.
Besides just providing a solution for check-in without physical contact, contactless check-in software can personalize the guest experience further by offering upgrades and add-ons that can lead to incremental revenue.
--
As we've learned throughout the pandemic, guest preferences and expectations are changing rapidly. COVID-19 ushered a new wave of contactless technologies and efficiency driving software into the hotel industry. As we prepare for a travel rebound, hoteliers are still in a prime position to optimize their tech stacks to ensure they are able to capture and maximize on new business opportunities. Every facet of the guest experience is being reimagined with the creative use of technology from booking to check out. Let market data like this Amadeus research and the needs of your own guests guide your technology decisions and set your hotel up for success in 2021.
This content was created collaboratively by Amadeus and Hotel Tech Report.