Hyatt's 14 Hotel Brands Explained
By Hotel Tech Report
Last updated January 26, 2022
5 min read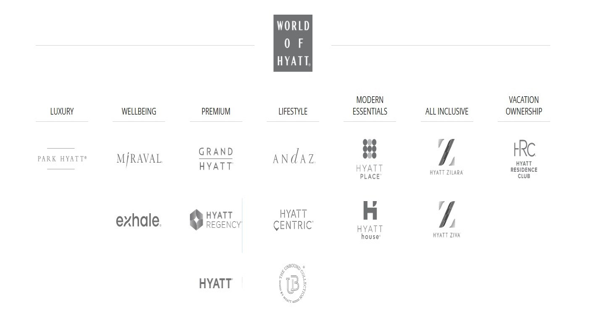 Hyatt has carved a niche in the higher-end market, zeroing in on modern, design-forward, creative spaces that are meant to inspire and refresh. This approach can be best demonstrated in their exclusive Miraval resorts, beloved by celebrities like Oprah and Ellen Degeneres. Hyatt's latest offering, Caption, follows this trend with a socially-forward blend of lifestyle and select-service. Caption's signature look is crisp, functional, and social, with a food and beverage concept crafted by Danny Meyer's Union Square Hospitality Group.
Catering to luxury leisure and business travelers, Hyatt's 20 brands span the globe, with over 900 hotels and resorts in 65 countries and 80% of the world's most populous urban centers. Hyatt is trading on the New York Stock Exchange under the symbol H.
We're categorizing hotel types using the STR chain scale, wherein brands are broken out into tiers based on their Average Daily Rate. Obviously, rates will vary, but we believe this scale to be more consistent than the star-rating system.
Hyatt Brand Portfolio Breakdown
Hyatt owns 20 brands with more than 1,345 properties in more than 134 countries across six continents. Its loyalty program is called World of Hyatt, which features four different tiers of membership and redeemable points at Hyatt hotels. There are an estimated 30 million+ members enrolled in World of Hyatt. Here's a quick guide to Hyatt's portfolio of brands.
Hyatt Collections and Soft Brands
Destination Hotels is one of the brands at the pinnacle of Hyatt's luxury offering. With 58 properties in the US, Destination Hotels caters to discerning leisure travelers looking for active stays in beautiful, resort settings with spacious, residence-style accommodations. Destination Hotels offers properties set on 20 renowned golf courses, with 19 indigenous spas and 105 exceptional bars and restaurants. This brand competes with properties by Design Hotels and Autograph Collection.
Spruce Peak by Destination Hotels
Joie de Vivre is a collection of boutique hotels crafted for trendier travelers. These 15 hotels based in ten cities offer a cool, social vibe matched by bright colors, playful design, and access to interesting neighborhoods. These upscale properties offer distinctive art, stylish meeting and event space, and exceptional on-site dining. Joie de Vivre competes alongside Kimpton, Tapestry Collection, Edition, and Autograph Collection.
Finally, Unbound Collection rounds out this category with 20 hotels in 20 cities. This group of hotels is positioned around "the freedom to be extraordinary," and offers wholly unique properties in major cities around the world. Each property features distinctive design and one-of-a-kind experiences. For instance, Unbound Collection's Carmel Valley Ranch offers the activity "Grazing with the Goats" and an on-site creamery to help guests connect to nature. Unbound Collection competes with Autograph Collection, Tribute Portfolio, Curio Collection, and Kimpton.
Párisi Udvar Hotel Budapest by Unbound Collection
Hyatt Luxury Brands
The majority of Hyatt's portfolio is made up of luxury properties with six brands within this tier. Alila Hotels boasts 17 hotels in 7 countries, offering wellness escapes in stylish spaces and notable locations for affluent travelers. These high-end properties deliver unique experiences at each destination, such as an off-the-road cooking class in Malaysia or stand-up paddleboard yoga in Indonesia. Alila means "Surprise" in Sanskrit, showing the brand's emphasis on delighting guests with be-spoke and adventure in each location. Competitors include Ritz Carlton and Miraval.
Andaz Hotels offers 22 hotels in 14 countries for travelers with an eye for good design, as well as a penchant for premium hospitality and high-end local experiences. This brand infuses local elements in every one of its properties: locally-inspired architecture, market-to-table restaurants, music from local musicians playing in social spaces. Guests are typically well-traveled and creative individuals. This Hyatt brand competes with W Hotels, Edition, SLS, Mondrian, and The Edition.
The Grand Hyatt brand manages 58 hotels in 23 countries. These properties provide upscale and welcoming hospitality paired with local experiences. Grand Hyatt is defined by reliable luxury, targeting affluent travelers with inventive restaurants, luxury spas, and elegant meeting spaces. These properties compete in the same category as InterContinental, Fairmont, JW Marriott, and Conrad hotels.
Four Miraval Resorts can be found in three cities providing luxury wellness for guests seeking to escape, unplug, and refresh their energy. These all-inclusive destination resorts and spas offer fitness, meditation, yoga, wellbeing, hiking, biking, and more. Celebrity guests frequent Miraval for R&R in Arizona, Austin, and soon the Berkshires – Miraval consistently wins accolades from top travel and lifestyle publications. These properties compete with Enchantment/Mi Amo, Red Mountain, and Canyon Ranch.
Park Hyatt properties fuse residential-inspired accommodation with luxury service. Discerning affluent travelers looking for more bespoke experiences enjoy staying at 44 Park Hyatt hotels across 24 countries. Dining stands out at these properties, where world-class chefs and use locally-sourced ingredients and sommeliers are available to offer wine pairings. Hyatt reports that Park Hyatt guests tend to be well-traveled, affluent professionals, dignitaries, and celebrities. Park Hyatt competes along with Ritz-Carlton, St. Regis, Four Seasons, Rosewood, Waldorf Astoria, and Conrad.
Rounding out Hyatt's luxury tier is Thompson Hotels. The newest member of World of Hyatt, Thompson has 11 hotels in 10 trendy cities that meet the needs of sophisticated travelers and business professionals looking for higher-end hospitality and culinary experiences. Edgy yet refined, these properties focus on hip F&B and nightlife, as well as nontraditional design in their meeting spaces. Thompson Hotels competes for guests with The Edition, NomadHotels, 1Hotels, and Rosewood.
Hyatt Upper-Upscale Brands
The two namesake properties in this category, Hyatt Centric and Hyatt Regency, broaden Hyatt's outreach to business travelers and a growing category of "lifestyle travelers."
Hyatt Centric is frequented by savvy, curious travelers who want an immersive, authentic experience. Through the brand's artwork, furniture, food and beverages, guests can begin to get a taste for the destination. Hyatt Centric incorporates social spaces called "The Corner," where guests can work, socialize, or read a curated collection of local books and magazines. Hyatt Centric properties, since 2015, have expanded to 36 hotels in 35 cities. Guests choose between Hyatt Centric and brands such as Kimpton, Palomar, Canopy by Hilton, Autograph Collection, Curio Collection by Hilton.
Hyatt Regency has a much bigger footprint: 211 hotels in 189 cities. This brand caters more toward business travelers, with 24/7 on-site dining, big event venues and conference spaces, in-room workstations, and dedicated event planners. Hyatt Regency was one of the company's very first hotel brands and is at the core of Hyatt's portfolio. These properties compete for guests against Marriott, Westin, Renaissance, Sheraton, and Hilton.
Hyatt Upscale Brands
Rounding out Hyatt's portfolio are four upscale hotel brands, including its newest opening, Caption. Caption by Hyatt is positioned for value-minded business travelers and millennial weekenders. Community is at the core of this brand, with a number of features designed for socializing. Each property will include a distinctive food and beverage element that's a cross between a café, market, and bar. Social spaces are designed to help guests meet and connect, along with a rotating calendar of self-guided or hosted events from trunk shows to local beer tastings. Caption will compete with properties from Hyatt Place, AC Hotels, and Motto.
Hyatt House is designed for guests needing an extended stay, with 106 properties in 95 cities. This brand caters to mid- and upper-income extended-stay guests who are looking for spacious accommodations with the conveniences of home. Hyatt House's studios and suites include up to two bedrooms, separate living areas, and fully equipped kitchens. These properties compete with Homewood Suites, Residence Inn, and Element by Westin.
Hyatt Place is a niche offering to mid- to upper-income business and leisure travelers at the top of the select-service category. With 371 hotels in 299 cities, Hyatt Place features event spaces, free breakfast for loyalty members, workspace, and 24/7 room service. Competitors with Hyatt Place include Hilton Garden Inn, Courtyard by Marriott, Aloft, Tryp, and tru.
Finally, with a very small footprint of eight hotels in eight cities, are the Hyatt Zilara and Hyatt Ziva resorts. These two all-inclusive properties are for families and couples who want luxury without hassle. Honeymoons is a big revenue generator for Hyatt Zilara and Hyatt Ziva; Hotel Zilara is adults-only, while Ziva is family-friendly. Hyatt offers an all-inclusive package featuring indoor-outdoor venues and dedicated wedding specialists to assist with event planning. Hyatt Zilara and Ziva compete with Club Med, RIU Hotels, Cruise Lines, and LXR.
To learn about hotel brands by Hilton, IHG, Marriott, and more, check out our 2020 Ultimate Hotel Brand Guide.