Hotel Brands: Marriott, Hyatt, Hilton, IHG (Who Owns What?)
By Jordan Hollander
Last updated January 26, 2022
27 min read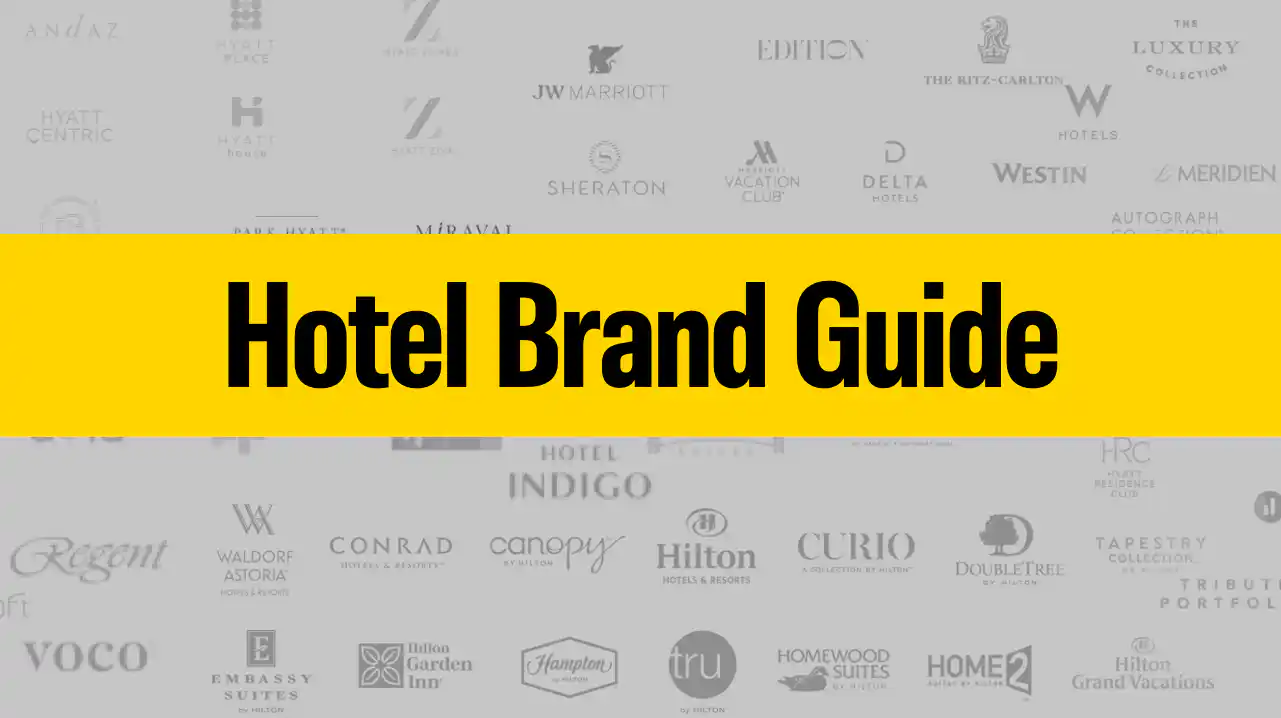 Did you know that there are 214 Marriott International hotels in New York City alone? How about that The Algonquin Hotel is a Marriott property? And for bonus points: can you name all of Marriott's 30 hotel brands? Hotel chains and major hotel companies are growing beyond the traditional standardized brands to include collections of boutique hotels, timeshare developments, and even vacation rentals.
The proliferation of highly targeted niche brands, coupled with mergers, acquisitions, and partnerships and the rise of soft brands, has created quite the tapestry of hotel brands with literally hundreds of different hotel types emerging. Travelers today have options across the spectrum, even including dozens of choices within a single chain's portfolio.
In this comprehensive guide, we've organized the world's leading hotel brands by both parent company and chain scale.   For those who don't know the chain scale system, it's essentially Smith Travel Research's star ratings system used by hotel professionals to distinguish between different levels of properties. We'll keep the list updated over time, so bookmark this page as a resource to consult on the current landscape of hotel brands worldwide. Whether you are considering which flag to put on your next property or want to figure out which brand you should book for your next trip - this guide is for you.
First, we break the brands down by parent company, and then we organize the brands by chain scale. This gives you two ways to browse: either by portfolio or hotel category. Our sources include company development hubs, investor disclosures, Lodging Magazine, and Wikipedia.
When it comes to each brand's concept, we've pulled this information directly from hotel development resources to highlight how each brand is being positioned by its parent company. While some of this is certainly marketing-speak, this information is helpful to understand each brand's target niche.
We've also highlighted any key metrics around ADR and RevPAR that we found in company development disclosures. Keep in mind that this was prior to the covid-19 pandemic, so these numbers are most likely in flux.
Using the STR chain scale categories, we organize this article starting from luxury to economy:
Luxury Hotel Brands
Upper Upscale Hotel Brands
Upscale Hotel Brands
Upper Midscale Hotel Brands
Economy Hotel Brands
Soft Brands (usually upper upscale)
We also break out the hotel brands by chain in these articles:
Luxury Hotel Brands
Luxury hotels are known for their exceptional service, high-end finishes, premium amenities, and well-appointed rooms in notable locations around the world.
The Pinnacle of Luxury Brands
Planning a honeymoon or a once-in-a-lifetime vacation? Brands like Ritz-Carlton (Marriott), St. Regis (Marriott), Park Hyatt (Hyatt), Bulgari (Marriott), and Regent (IHG) offer truly unique experiences. From the moment you step into one of their grand lobbies (after a doorman opens the door for you, of course), you'll be wowed not only by the stunning decor but also by the world-class service. Luxury brands like these target affluent luxury travelers who expect the best of the best.
Pictured: Bulgari Hotel Dubai
These brands represent the cream of the crop of the big hotel companies' portfolios. They compete with renowned, independent luxury brands like Four Seasons, Rosewood, Mandarin Oriental, Peninsula, and Aman. Although these hotels come with eye-wateringly high price tags, you can sometimes snag a fantastic deal when you redeem points you've earned by staying at lower-end properties.
Pictured: The Ritz-Carlton Macau
Perhaps the most well known of the luxury brands is Ritz-Carlton. When you stay "at the Ritz," you'll experience not only white-glove service, but also spectacular amenities that include golf courses, spas, dining venues, and kids programming. Located in urban and resort destinations in 35 countries, Ritz-Carltons are known for their timeless, elegant aesthetic and legendary hospitality.
Though they're both owned by Marriott, a close competitor of Ritz is St. Regis. Spanning over 100 years of history, the St. Regis brand is renowned for service, style, and sophistication. Each property offers a unique afternoon tea ceremony, a tranquil spa, and an interpretation of the brand's signature drink, the Bloody Mary. 
Pictured: Park Hyatt Bangkok
Similar to Ritz and St. Regis, but with a more cosmopolitan flair, is Park Hyatt. As the pinnacle of Hyatt's luxury brands, Park Hyatt properties showcase some of the finest gastronomy, service, and design in their destinations, which include cities like Paris, Beijing, and New York. Park Hyatt targets the most discerning travelers who travel, on average, over 30 times per year, and seek truly unique experiences.
Looking for a place to show off your haute couture? Inspired by the distinctive style of the Italian jewelry designer, Bulgari hotels offer glamorous hideaways for the jet-setting glitterati. Hotel amenities range from private beach clubs, Michelin-starred restaurants, high-end spas, and customized tours and activities. You won't find Bulgari hotels everywhere; the 6 properties are located in carefully chosen destinations like Milan, Bali, and Dubai.
Like Bulgari, Regent Hotels offer innovative design, exceptional service, and a sense of wonder for frequent travelers who have seen it all - but at a slightly lower price tag. Regent carefully curates its small collection of properties so each one stays true to the brand standard.Regent's collection is also small, containing 6 properties in 4 countries.
Classic Luxury Brands
While the ultra-luxury properties can carry a somewhat pretentious reputation, classic luxury brands like Waldorf Astoria (Hilton), JW Marriott (Marriott), Grand Hyatt (Hyatt), Hyatt Zilara/Hyatt Ziva (Hyatt), and Hualuxe (IHG) are more understated, while still luxurious. These properties are equally suitable for family vacations and business trips with their elegant decor, top-notch amenities, and genuine service. They appeal to wealthy travelers with discerning tastes who prefer a traditional aesthetic.
Pictured: Waldorf Astoria Chicago
A small step below its competitors St. Regis and Ritz-Carlton, the Waldorf Astoria brand is synonymous with timeless hospitality. This iconic brand stems from the original, century-old Waldorf Astoria in New York City, but now includes over 32 hotels in 14 countries. Guests can expect personalized service and luxurious amenities, including golf courses at many properties.
Competing closely with Waldorf Astoria is the JW Marriott brand, which has a slightly less opulent aesthetic but a larger global footprint (110 properties in 29 countries). These luxury hotels offer one-of-a-kind experiences for the whole family, from art classes for the little ones to romantic spa treatments, with a focus on being present and mindful. JW Marriott's target guests are "enrichment seekers" who want to engage with their destination.
Like Waldorf Astoria and JW Marriott, the Grand Hyatt brand offers premium amenities tailored to all types of guests, from business travelers to families. Grand Hyatt hotels and resorts include spas, meeting and event space, dining venues, and refined architecture and decor, with notable properties in Tokyo and Abu Dhabi.
Travelers looking for a luxurious, family-friendly experience in a resort destination should consider Hyatt Zilara/Hyatt Ziva, which offer a similar level of service and amenities as the previously mentioned brands. Located in vacation destinations in Mexico and the Caribbean, these high-end resorts offer a premium, all-inclusive experience for couples and families. Amenities include top-of-the-line fitness centers, spas, restaurants, bars, and event spaces, plus spectacular outdoor pools and beach access. Hyatt Zilara/Hyatt Ziva competes not only with traditional luxury hotels, but also cruise lines and resorts like Club Med and RIU.
Pictured: Hualuxe Wuhu
Speaking of traditional luxury hotels, IHG's Hualuxe brand takes tradition to a new level. Featuring traditional Chinese design, amenities, and etiquette, Hualuxe caters to elite business travelers in 10 markets in China. These hotels include nature-inspired decor, local food and beverage offerings, and meeting spaces suitable for conferences or social gatherings with clients. It's a close competitor of Mandarin Oriental, since they both offer Asian-inspired service and design.
Design-Focused Luxury Brands
For the high-end traveler who doesn't want to stay in a stuffy, old-fashioned hotel, design-forward brands like W Hotels (Marriott), EDITION (Marriott), Andaz (Hyatt), Conrad (Hilton), and Thompson Hotels (Hyatt) deliver exceptional service in totally out-of-the-box surroundings.
You'll feel like you're staying inside a work of art at these hotels. Eye-catching decor, funky lighting, and unique architecture come standard. Though they're part of major hotel chains, you'll have a hard time believing these properties are remotely related to big-box brands like Courtyard or Hampton. Interested in more hotels with a creative bent? Check out the design-focused soft brands at the end of this article.

Pictured: W New York Downtown
Taking inspiration from music, events, and technology, W Hotels is a leading luxury brand with a completely unique look. This brand competes with luxury boutique brands like Morgans and the Standard. W Hotels think outside of the box with design-forward architecture, cutting-edge tech, and an emphasis on music. Many properties have on-site recording studios, high-energy nightclubs and bars, poolside events, and fitness classes that encourage you to detox before you re-tox. Like the sound of the W brand? You have plenty to choose from; there are now nearly 70 W hotels around the world, including destinations like Aspen and Barcelona.
Andaz is another arts-inspired brand, though these hotels tone down the party atmosphere and turn up the sophistication. Signature features at Andaz hotels include modern design, high-tech meeting spaces, and state-of-the-art fitness facilities, which are especially relevant to the brand's guests, who often mix business trips with leisure time. Each Andaz incorporates elements of the local arts and culture scene to create a unique sense of place.
Like Andaz and W, Marriott's EDITION combines luxury with design, food, and entertainment. The EDITION brand is the brainchild of famed hotel developer Ian Schrager, and every property features its own unique design infused with the character of its location. The hotels offer contemporary decor, gourmet dining venues, luxurious pools, and buzzing nightclubs. This new brand includes 11 properties in 7 countries.
While Andaz, EDITION, and W feature design that's almost larger than life, Conrad's urban and resort properties feature subtler, contemporary design, plus spas, wellness facilities, and high-end dining. The brand's mission is to inspire your experience with tailored service and on-site art collections, and these hotels target design enthusiasts of all ages.
Focusing more on designing great culinary experiences, Thompson Hotels is a collection of high-end boutique hotels which combine the unique character of each destination with a mid-century modern theme present. Thompson Hotels typically include vibrant restaurants or bars and funky, unconventional meeting spaces. Close competitors of the Thompson brand include 1Hotels, Rosewood, and NomadHotels.
Luxury Wellness Brands
Who doesn't love a good massage? Luxury wellness hotel brands like Miraval (Hyatt) and Six Senses (IHG) offer possibly the best way to relax (and redeem points) after all those business trips. These brands compete with independent destination spas like Canyon Ranch, La Reserve Geneve, and Rancho Valencia.
Miraval is a collection of four all-inclusive wellness resorts in the United States that provide exceptional wellbeing experiences. These exclusive properties offer nutritious cuisine, spa services, and outdoor experiences to nourish body and soul. They cater to luxury travelers who want to unplug and refresh. 
Pictured: Six Senses Con Dao
Craving an international escape from the stresses of daily life? While all Miraval properties are based stateside, the Six Senses brand can be found in 14 countries worldwide. Six Senses provides oases of calm set among stunning natural landscapes. Each property has a high-end spa and locally inspired dining outlets, and some have villa- or apartment-style residences that are ideal for longer stays.
Upper Upscale Hotel Brands
Positioned slightly under the "luxury" category, upper upscale hotels are full-service properties with premium amenities and notable designs that cater to affluent travelers. They're usually located in major cities and resort destinations worldwide. Upper Upscale isn't a one-size-fits-all category, though. We'll explore three distinct types of Upper Upscale brands: traditional brands, modern brands, and brands that specialize in groups and conventions.
Traditional Upper Upscale Brands
With amenities and service that are pretty darn close to what you'd find at a luxury property, these traditional Upper Upscale brands are ideal for business and leisure travelers who want the best, but also want a good value. This category includes InterContinental Hotels and Resorts (IHG), Hyatt Regency (Hyatt), Wyndham Grand (Wyndham), Westin (Marriott), Sheraton (Marriott), Le Meridien (Marriott), Renaissance (Marriott), Hotel Indigo (IHG), and Alila (Hyatt). These brands often compete with luxury brands like Grand Hyatt and Ritz-Carlton, but come at a lower price point.
Pictured: InterContinental Amstel Amsterdam
If there were a chain scale between Luxury and Upper Upscale, InterContinental Hotels and Resorts would embody it perfectly. These sophisticated hotels offer high-end amenities and exceptional service to business and leisure travelers - a good alternative Grand Hyatt, JW Marriott, and W Hotels. InterContinentals often include spas, executive lounges, elegant meeting spaces, and stylish guestroom decor. You'll find over 200 InterContinental hotels in 68 countries.
Sitting squarely in the Upper Upscale tier is Hyatt Regency, which includes urban and resort properties that are suitable for both business and leisure travelers. These hotels are known for classic design, excellent service, and a wide variety of amenities like meeting spaces, business centers, fitness centers, and restaurants. There are also about 200 Hyatt Regency hotels worldwide, so you'll always be able to find one in major cities.
Pictured: Wyndham Grand Desert, Las Vegas
Like InterContinental and Hyatt Regency, Wyndham Grand hotels feature amenities for both families and business travelers, including pools, spas, meeting spaces, and restaurants. Guestrooms include WynRest® bedding and modern decor, and public spaces offer a taste of the local character - plus great service. And don't just take Wyndham's word for it, 97% of Wyndham Grand hotels have earned a Tripadvisor rating of 4 or above.
Pictured: Westin Anaheim Resort
The Westin brand is on par with Hyatt and Wyndham, though these hotels incorporate a focus on wellness into every amenity, from relaxing pools to healthy cuisine at on-site restaurants to their signature pillow-top Heavenly® Beds. The brand's partnerships with New Balance and TRX provide an array of fitness options, and many properties have kids clubs and spas. Westin hotels cater to business and leisure travelers who seek personal and professional success.
With over 80 years of history, the Sheraton brand is a solid competitor of Hyatt Regency and Westin. This brand combines traditional hospitality with modern amenities in destinations around the world. Sheraton hotels feature elegant design, gourmet dining venues, chic executive lounges, sophisticated meeting spaces, and a slew of wellness amenities. Hyatt Regency has a much larger footprint with over 440 hotels in 70+ countries.
Pictured: Le Meridien Koh Samui
Marriott's Le Meridien brand brings a touch of vintage French glamour to the Upper Upscale space. Le Meridien hotels feature mid-century modern decor, internationally inspired cocktail bars, and partnerships with European brands like Illy Coffee. Some properties have kids clubs, spas, art collections, and seasonal amenities or pop-up dining venues. Le Meridian targets the "creative traveler" and competes with InterContinental, Kimpton, and Hyatt Regency.
Renaissance, another Marriott brand, fills a gap between the chic design of InterContinental and the local vibe of Kimpton. The Renaissance brand appeals to curious travelers who want to uncover hidden gems in their destinations. Each hotel's staff members act as "Navigators" who provide neighborhood recommendations, and locally inspired on-site restaurants and stylish decor add to the sense of place. If Renaissance hotels sound like your type of place, you'll be happy to know there are nearly 200 of them in 42 countries worldwide.
Pictured: Hotel Indigo Berlin Centre Alexanderplatz
Like Renaissance, IHG's Hotel Indigo brand could be considered a traditional Upper Upscale brand inspired by boutique hotels. Echoing the destination's personality, every Hotel Indigo offers curated decor and local cuisine that provide a boutique-style experience in primarily US and European cities. Each property includes 24/7 fitness and business centers (ideal for business travelers!), flexible function space, and premium guestroom amenities that could include rainfall showers and hardwood floors.
While many Upper Upscale brands speak to both business and leisure travelers, Hyatt's Alila brand is most suitable for vacationers who want to get away from it all. Alila, meaning "surprise" in Sanskrit, specializes in experiences that reflect a sense of place, like upscale gastronomy, outdoor adventures, and locally inspired spa services. Alila hotels are primarily located in Asia and can be competitors of Miraval and Ritz-Carlton.
Modern Upper Upscale Brands
Do you like the idea of an Upper Upscale hotel but crave a contemporary twist? Brands like Hyatt Centric (Hyatt), Moxy (Marriott), Tempo (Hilton), and Kimpton (IHG) offer the same high-quality amenities and service but with a dash of personality. These brands are also forward-thinking in their design; some offer coworking spaces and tech features that make them more attractive to a younger demographic.
Pictured: Hyatt Centric South Beach Miami
Hyatt Centric is one of the most popular Upper Upscale brands that has a contemporary aesthetic and vision. These modern hotels invite you to explore your destination through local cuisine at the on-site dining venues, staff that act as local "hosts," and room decor that offers a sense of place. Every hotel has a multi-purpose lobby space where you can dine, drink, work, and socialize.
Like Hyatt Centric, Moxy proves that a hotel with great style doesn't need to be expensive. Signature features include a combination bar and front desk, a funky lobby packed with art and furniture, a cafe open 24/7, and cozy guestrooms with smart TVs and walk-in showers. Moxy bills itself as "edgy and affordable," and the brand competes with trendy chains like CitizenM, Yotel, and Generator.
Hilton's brand new Tempo brand is an exciting addition to the Upper Upscale category. Tempo offers premium service and a collection of curated wellness and lifestyle amenities, including exclusive bath products and a complimentary tea and coffee bar. Each hotel also has flexible coworking spaces that target a younger demographic that mixes work with leisure.
Pictured: Kimpton Hotel Monaco Denver
A longtime boutique chain, Kimpton is now part of IHG, but these hotels still don't take themselves too seriously.. The brand is known for stylish guestrooms and high-end dining, and while no two hotels are the same, they all offer a complimentary daily wine hour and in-room fitness amenities - plus, pets stay for free. The Kimpton brand competes with Hyatt Centric as well as more classic properties like Le Meridien.
Convention & Group Hotels
Looking for the perfect hotel for your meeting or event? Gaylord Hotels (Marriott) and Dolce (Wyndham) are ideal for large-scale gatherings. They're the perfect settings for functions that range from conventions to weddings.
The Gaylord Hotels brand includes large convention center hotels that have everything you need for a conference, meeting, or social gathering. Every Gaylord hotel has over 400,000 square feet of function space and several dining outlets, while some also offer family-friendly recreational amenities like golf courses and water parks. All six Gaylord properties are located in the US, and they offer comparable service and amenities to Destination Hotels properties.
Pictured: Dolce Athens Attica Riviera
Wyndham's Dolce brand is a curated collection of properties that are ideal for business or social gatherings with flexible event spaces and on-site catering options. Some properties have spas and golf courses, and most are set in tranquil, scenic destinations in the US and Europe.
Upscale Hotel Brands
The Upscale category includes full-service hotels with premium amenities that cater to leisure travelers and business professionals. Guests at upscale properties are willing to spend more to stay comfortably in a convenient location or remarkable destination -- but without splurging on over-the-top amenities. There are a lot of brands that fall into the Upscale bracket, so we'll break them out into traditional, modern, and extended-stay categories to easily explain the differences between them.
Traditional Upscale Brands
These brands are the most traditional hotels in every sense of the world. They usually have restaurants, gyms, and rooms that have plenty of amenities, but nothing over the top. Traditional Upscale brands include Crowne Plaza (IHG), Wyndham Hotels (Wyndham), DoubleTree (Hilton), Courtyard (Marriott), Hilton Garden Inn (Hilton), Hyatt Place (Hyatt), and Delta Hotels (Marriott), and they're suitable for both business travelers and families on vacation.
Crowne Plaza tailors its offerings for business travelers with round-the-clock dining options, fitness centers, meeting spaces, and amenities to help you get a good night's sleep. Most properties are located in major business centers, while some are in leisure destinations, in 65 countries worldwide. Crowne Plaza is a close competitor of DoubleTree, Sheraton, and Renaissance.
Wyndham is a longtime brand that includes both urban hotels that cater to business travelers and family-friendly resorts that cater to vacationers. All hotels have meeting space, fitness centers, and dining options, and some offer pools, beach access, and in-room wellness amenities like aromatherapy and air purification systems. Wyndham properties are at the higher end of the Upscale category, competing with Upper Upscale brands like Hilton and Marriott.
Pictured: DoubleTree Hotel Dallas
Hilton's DoubleTree brand is a close competitor of Wyndham. The brand is famous for their signature chocolate chip cookie at check-in. DoubleTree hotels cater to business and leisure travelers with traditional decor, fitness centers, meeting spaces, on-site restaurants, and golf courses and spas at some properties. DoubleTrees are set in primarily urban locations in 46 countries around the world.
As Marriott's largest brand by number of hotels, Courtyard hotels have business centers, gyms, pools (in some properties), and an all-day bistro serving food, Starbucks coffee, and drinks. Guestrooms are suitable for all kinds of travelers, with desks and modern decor. Courtyard hotels are more "cookie-cutter" than Wyndham and DoubleTree, and the brand has a much larger footprint - over 1200 properties in 56 countries!
Like Courtyard, Hilton Garden Inn hotels are largely the same in every city - which is a great thing if you want to be confident in the hotel's quality and amenities. Known for their classic, bright aesthetic, Hilton Garden Inn hotels are located in both major metropolitan markets and small towns. This brand is a favorite among business travelers, and each hotel has a spacious lobby, meeting space, a fitness center, and cooked-to-order breakfast available daily.
On par with Courtyard and Hilton Garden Inn, Hyatt Place is designed for guests who want comfort and consistency. Hyatt Place hotels have gyms, meeting spaces, lobby bars, and daily breakfast service (free for Hyatt members). Guestrooms include modern decor and workspaces, and you can usually find Hyatt Place hotels in urban, airport, or college campus markets.
Marriott's Delta brand also caters to business travelers who want both functionality and style, Delta Hotels offer fitness centers, free WiFi and water bottles, ergonomic in-room workspaces, lobby bars, and the 24/7 "Delta Pantry."
Modern Upscale Brands
While the traditional Upscale hotels offer consistency, these modern hotels offer something unique. Brands like Signia (Hilton), Caption (Hyatt), EVEN Hotels (IHG), Voco (IHG), Dazzler (Wyndham), and Esplendor (Wyndham) provide stylish, communal spaces for working and socializing, refreshing dining options, and decor that reflects the local character. These hotels are competitors of not only the traditional hotels in this space, like Courtyard and DoubleTree, but also independent and boutique hotels in each destination.
Designed for social and corporate gatherings, Hilton's new Signia brand offers a sleek aesthetic, high-quality bars and restaurants, and cutting-edge technology in guestrooms and public spaces. The first Signia hotels are planned for Atlanta, Indianapolis, and Orlando.
Another new brand, Hyatt's Caption, is also centered around social connections, but with an emphasis on local cuisine. Caption hotels have flexible common spaces and a unique dining concept that combines a cafe, a bar, and a market at each property. Caption properties are slated to be located in up-and-coming urban areas.
Pictured: EVEN Hotels-Omaha
Catering to the fitness-focused business traveler, EVEN Hotels offer health-conscious cuisine at the Cork & Kale™ Market and Bar, state-of-the-art fitness centers, and spacious guestrooms with exercise equipment and ergonomic workspaces. This brand is a good competitor of Courtyard and Hilton Garden Inn, but it offers enhanced fitness amenities that appeal to wellness-minded travelers. There are currently 13 EVEN properties in the U.S., but that number is likely to grow quickly.
Outside of the U.S., IHG's new Voco brand provides a relaxed, homey experience for travelers who are looking for something besides a cookie-cutter chain hotel. Voco properties are located in the UK, Asia, and Australia, and many have on-site restaurants and living room-style lobbies similar to what you would find at a Hyatt Centric.
Also found abroad, Dazzler is a stylish Latin American brand known for contemporary design, free buffet breakfast, and upscale public spaces like gyms, pools, and rooftop decks. These hotels are also reminiscent of Hyatt Centric. Dazzler properties are primarily located in urban markets in South America.
Pictured: Esplendor by Wyndham Buenos Aires
Located in Argentina, Paraguay, and Uruguay, Wyndham's Esplendor brand features curated art collections, a boutique ambiance, and comfortable and classic guestroom decor at each unique property. Some Esplendor hotels have pools, spas, and fitness centers, and the brand's target demographic is younger guests who appreciate good design. Esplendor is a solid competitor of Kimpton and Hyatt Centric.
Extended-Stay Upscale Brands
Some of us wish our travels could last for weeks or months, but for certain travelers, they do. Extended-stay Upscale brands like Homewood Suites (Hilton), Hyatt House (Hyatt), Residence Inn (Marriott), and Element (Marriott) offer apartment-style rooms that have everything you need to feel at home. These brands compete not only with other hotel brands, but also with Airbnb and corporate housing providers.
Pictured: Homewood Suites by Hilton San Diego Hotel Circle/SeaWorld Area
Hilton's Homewood Suites brand is ideal for guests who are staying for an extended period of time - for business or personal purposes. Every room includes a full kitchen (with dishwasher!), a living area, and ample storage space, and the hotels provide free hot breakfast, a free weekday happy hour, and fitness centers. Fun fact: Homewood Suites was named as having the fastest-growing value out of 50 hotel brands!
Named for the very first Hyatt property, Hyatt House offers extended stay accommodation for all types of travelers. Every suite features a full kitchen, living area, and up to two bedrooms, and on-site amenities include free breakfast, a gym, a coin-op laundry room, a bar, and a pool (at some properties).
With a home-like ambiance, Residence Inn hotels cater to business travelers and families who need a place to stay for weeks or months at a time. Each room includes a full kitchen, a workspace, and up to two bedrooms, and hotel amenities include free hot breakfast, a fitness center, a nightly social hour, and on-site laundry. Renaissance Inn, Hyatt House, and Homewood Suites are all close competitors.
For long-stay guests who are passionate about fitness and sustainability, Marriott's Element brand might be the perfect fit. Element incorporates sustainable practices and a focus on wellness into the design and amenities at each property, which can include premium fitness equipment, bikes for guest use, saltwater swimming pools, and organic wine at the nightly manager's reception. Guestrooms feature full kitchens and Westin Heavenly® Beds.
Upper Midscale Hotel Brands
Upper Midscale hotels offer spacious accommodations while catering often to extended stays for both business and leisure. Many of these brands have unveiled modern refreshes that bring the category out of the past and into the present. For more clarity, we'll break out the extended-stay brands at the end of this section.
Standard Upper Midscale hotel brands that don't target extended stays specifically include Hampton (Hilton), Fairfield (Marriott), La Quinta (Wyndham), Atwell (IHG), TRYP (Wyndham), Wyndham Garden (Wyndham), and Protea (Marriott).
Pictured: Hampton Inn Boston - Westborough 
One of the most popular Upper Midscale brands is Hilton's Hampton, which is formerly known as Hampton Inn. This brand appeals to all types of travelers, with a whopping 2500+ properties in rural and urban markets, primarily in the US. Signature amenities include free hot breakfast, gyms, business centers, and multipurpose lobby space.
A close competitor to Hampton is Marriott's Fairfield, which is also suitable for business and leisure travelers alike, Fairfield is known for its simple aesthetic and efficient guestrooms. Most Fairfield hotels offer free breakfast, fitness centers, business centers, and meeting space, and some have pools. While Fairfield properties are a lot like Hampton, the brand's footprint is smaller, with about 1150 properties worldwide.
If you've tried Hampton and Fairfield and are looking for something new, the recently refreshed La Quinta brand might be of interest. All La Quinta hotels have modern decor, free breakfast, and guestrooms with pillow-top beds and HDTVs. Some properties have pools, fitness centers, meeting spaces, and pet-friendly policies, making them ideal for both business and leisure travelers seeking a good value.
Maybe you've already tried La Quinta too - or you're searching for a brand that's more unique than the tried-and-true classics. IHG just launched Atwell Suites, which they bill as a new brand that speaks to travelers who seek personal growth and crave social connection, with flexible public areas, free breakfast, and colorful decor. Each Atwell hotel will have suite-style guestrooms, a pool, a bar, and meeting space. 
Pictured: TRYP by Wyndham Dubai
If the Atwell brand strikes a chord with you, then you'll probably like Wyndham's TRYP brand too. Pops of color add a playful personality to every TRYP hotel, where you'll also find at least one restaurant, a fitness center, free WiFi, and staff that serve as local experts. TRYP aims to help travelers have authentic experiences in the brand's destinations on five continents. Many TRYP hotels are located in urban markets, and the brand competes with the hip Moxy, Aloft, and Tru hotels.
In addition to its La Quinta and TRYP brands, Wyndham offers yet another option in the Upper Midscale space: Wyndham Garden. Typically located near airports or in secondary markets, Wyndham Garden hotels have meeting spaces, free WiFi, and daily breakfast service (fee applies). Some Wyndham Garden properties have pools, fitness centers, and lobby bars.
Pictured: Protea Hotel Knysna Quays
Marriott also has multiple players in the Upper Midscale space - the Africa-based Protea brand is a solid competitor of Hampton and IHG's Holiday Inn Express. Protea hotels have full-service restaurants, meeting and event spaces, and free WiFi, and many have outdoor pools. Some Protea properties are located in urban, business-focused destinations, while others are in scenic leisure destinations. The brand currently has about 80 properties in 9 countries.
Extended-Stay Upper Midscale Brands
Staying in your destination for a while and want all the amenities of an apartment - at a fair price? Staybridge Suites (IHG) and TownePlace Suites (Marriott) offer two wallet-friendly solutions for extended stays that don't compromise on quality.
Featuring spacious guestrooms with kitchens and living areas, Staybridge Suites is ideal for guests staying in a destination for several weeks or months. Hotel amenities include free breakfast, a free social happy hour, a gym, a laundry room, and storage lockers. Staybridge Suites is a good option if you want a hotel similar to Homewood Suites or Residence Inn at a slightly lower price point.
Like Staybridge Suites, TownePlace Suites offers everything an extended stay guest could need, from full kitchens and custom closets in every room to a free hot breakfast every morning. On-site amenities include Weber grills, a 24/7 grab-and-go market, and a fitness center and pool at some properties, and the 450+ TownePlace hotels are located throughout the US and Canada.
Midscale Hotel Brands
Featuring more amenities than Economy hotels but lower prices than Upper Midscale, Midscale hotels are found in urban areas as well as on highways and other transportation hubs. Many also have refreshed designs with contemporary amenities that today's traveler expects. As new sub-brands emerge, we've noticed a trend towards increasingly modern and design-forward offerings in this category - which is dominated by Wyndham brands.
Midscale brands include AmericInn (Wyndham), Baymont (Wyndham), Hawthorn Suites (Wyndham), Ramada (Wyndham), Wingate (Wyndham), and Tru (Hilton). We'll start with the more traditional Midscale brands, then we'll introduce the new, modern additions to this group. These Midscale chains compete with independent brands like Best Western and America's Best Value Inn.
Located primarily in the midwestern United States, AmericInn hotels offer free hot breakfast, fitness centers, indoor pools, and comfortable lobbies. Guestrooms include classic decor, desks, and TVs, making these hotels ideal for value-oriented business and leisure travelers. And travelers definitely like what AmericInn offers; 86% of AmericInn hotels score a 4+ rating on Tripadvisor!
Pictured: Baymont Inn & Suites Miami Airport
The Baymont brand includes unpretentious hotels that offer free breakfast, fitness centers, no-frills guestrooms, and thoughtful extras like board games and pet amenities. Baymont properties are located in rural and suburban locations throughout the US, Canada, and Mexico. Baymont hotels are usually positioned toward the lower end of the Midscale spectrum and compete with Economy brands like Days Inn, EconoLodge, and Quality Inn.
If you like the price point and no-frills attitude of Baymont and AmericInn but want a place that's more comfortable for a long stay, then Wyndham's Hawthorn Suites might be a good pick. Ideal for longer stays for business or leisure, most Hawthorn Suites properties include a fitness center, laundry facilities, and free daily breakfast and social hours. Guestrooms feature full kitchens, one or two private bedrooms, and living areas with couches and desks - making them a lower priced version of a TownePlace Suites or Hyatt Place.
Pictured: Ramada by Wyndham Amsterdam Airport Schiphol
But perhaps you're looking for something with a fresher design and more modern amenities. The Ramada brand has been around since the 1950s, but today's Ramada hotels offer 21st-century essentials like free WiFi and business centers in addition to free breakfast. Many Ramada properties are located near airports around the world, and some have pools, restaurants, and meeting spaces.
Wingate is another brand that offers a new interpretation of the Midscale hotel concept. The corporate-oriented Wingate brand is known for its clean, modern aesthetic, spacious lobbies, free breakfast, and bright guestrooms that are perfect for business travelers who spend a lot of time on the road. Guestroom amenities include microwaves, mini-fridges, desks, and coffee makers, and some Wingate hotels have lobby bars and business centers. If you like the vibe of a Moxy hotel, Wingate can be a cheaper alternative.
Pictured: Tru by Hilton Stuttgart
A fresh face in the Midscale category is Hilton's fast-growing Tru brand. The centerpoint of each of these cheerful, value-oriented hotels is the large lobby, which features a 24/7 sundry market, coworking space, plenty of seating, and pool and foosball tables. Tru's efficient guestrooms have desks on wheels and spacious bathrooms, and you can work up a sweat at the on-site fitness center.
Economy Hotel Brands
Economy hotels target the most budget-conscious travelers. These hotels are often found on highways and near airports. The rooms are simple and amenities sparse, although the hotel usually provides a basic self-service breakfast.
Like the Midscale category, Wyndham dominates the Economy segment when we compare the top hotel companies. Marriott, Hilton, Hyatt, and IHG have no brands here - yet. Economy brands include Days Inn (Wyndham), Howard Johnson (Wyndham), Microtel (Wyndham), Super 8 (Wyndham), and Travelodge (Wyndham).
Pictured: Days Inn Niagara Falls 
With its iconic sunburst logo easily recognizable from the highway, Days Inn offers free breakfast and free WiFi to travelers on a budget. Some Days Inns have fitness centers, pools, restaurants, and meeting spaces, and the brand includes over 1600 properties on six continents.
Like Days Inn, Howard Johnson is also an iconic roadside motel brand. Featuring an updated look, today's Howard Johnsons combine retro-inspired decor with 21st-century amenities like USB outlets and free WiFi. All Howard Johnson hotels are suitable for families and offer free breakfast, while some have pools, meeting space, and pet-friendly policies.
Though the name might suggest otherwise, Microtel properties are just as spacious as other economy hotels, such as Days Inn and Red Roof Inn. These hotels feature comfortable lobbies, free breakfast, and free WiFi. Guestrooms are efficiently designed and include microwaves and mini-fridges, and some Microtels include pools, fitness centers, meeting space, and free parking.
Pictured: Super 8 by Wyndham Dresden
If Days Inn or Howard Johnson sounded like your type of hotel, then you might also be interested in Super 8. This one is also a modernized version of the roadside motel. Super 8 hotels are known for free breakfast, free WiFi, and simple guestrooms with amenities like microwaves and flat-screen TVs. Some Super 8s have indoor or outdoor pools, and the brand is present in primarily rural markets across the US, Canada, China, and Europe.
Super 8, Days Inn, and their competitors are great if you're on a road trip or visiting a small town for work. But are there any Economy hotels that are not located on the highway? Travelodge hotels are usually situated in urban markets, by airports, or near national parks. They offer basic amenities at a low price, making them good competitors of other Economy brands, Airbnbs, and even hostels.  Many Travelodges have free breakfast, free parking, free WiFi, fitness centers, and pools, making them suitable for budget travelers or sports teams.
Soft Brands & Collections
What is a "soft brand" exactly? Having become a popular trend in recent years, soft brands are collections of independent hotels that maintain an affiliation with a larger hospitality company. These collections bring together boutiques and other independent hotels into a distinctive portfolio under one brand umbrella. Their connections to leading hotel companies allow travelers to earn or redeem points via a global loyalty program.
While the hotels that make up each soft brand are unique, the soft brands themselves have their own characteristics. We'll break down the big "soft brand" category into three sub-segments: luxury, design-focused, and boutique.
Luxury Soft Brands
Searching for a splurge-worthy vacation that will earn rewards points? Luxury soft brands like LXR (Hilton), The Luxury Collection (Marriott), Destination Hotels (Hyatt), the Unbound Collection (Hyatt), and the Curio Collection (Hilton) offer the best of two worlds: exclusive, luxurious hotels and resorts - and the loyalty programs of their parent brands. These hotels are great options for point redemptions when you don't want to stay at a Westin, Park Hyatt, or Six Senses.
Pictured: Habtoor Palace Dubai (LXR)
On par with luxury hotels like Ritz-Carlton and St. Regis, LXR's exclusive collection of luxury hotels and resorts targets affluent travelers with a sense of adventure and an appreciation for personalized service. Renowned LXR properties include Zemi Beach House in Anguilla and The Biltmore, Mayfair in London. Properties in this collection are similar to what you'll find in the Luxury Collection and Destination Hotels.
A close competitor of LXR, Marriott's Luxury Collection includes 236 properties in 55 countries. Set in truly unique destinations, often away from the hustle and bustle of the city, the Luxury Collection hotels offer bucket list-worthy accommodations and local experiences that you can't find anywhere else. The Luxury Collection includes Vedema in Santorini (where you can taste wine in an ancient cave) and Solaz in Los Cabos (where you can explore an on-site museum). 
Pictured: Wild Dunes Resort (Destination Hotels)
Destination Hotels offers beautiful properties with a more family-friendly atmosphere than some ultra-premium brands. With hotels located in remarkable locations across the United States, Destination's collection includes properties that specialize in spa, golf, and luxury experiences and offer amenities for business and leisure travelers - similar to yet slightly above what you'd find at Marriott's Autograph Collection. One-of-a-kind Destination Hotels include The Lodge at Kukui'ula in Hawai'i and Wild Dunes Resort in South Carolina.
Positioned just beneath true luxury collections like LXR and Destination, the Unbound Collection includes luxury and upper-upscale hotels that range from historic to ultra-modern and cosmopolitan to secluded. The Unbound Collection's guests "crave the unconventional and expect the exceptional," so you can be sure you will get a truly unique experience. Examples of Unbound Collection properties are the Carmelo Resort & Spa in Carmelo, Uruguay and The Eliza Jane in New Orleans.
Pictured: Reichshof Hamburg, Curio Collection by Hilton
While Destination and the Unbound Collection include many family-friendly properties in leisure vacation destinations, Hilton's Curio Collection is known for its portfolio of historic, distinctive four- and five-star hotels. This brand targets open-minded travelers, both business travelers and vacation-goers, who want the experience of an independent hotel and the level of service expected from an upscale Hilton. Notable Curio hotels include The Trafalgar St. James London and The Logan Philadelphia.
Design-Focused Soft Brands
All soft brands technically place emphasis on design - since they're a far cry from the "big box" brands - but this group makes a special effort to include properties that are truly exceptional. Both Design Hotels (Marriott) and Tribute Portfolio (Marriott) can be viewed as competitors of luxury or upper upscale brands, but a better comparison is to truly independent hotels or independent-leaning chains like Leading Hotels of the World. Since each one of these hotels is so unique, you wouldn't know it's part of a "chain" unless someone told you!
Pictured: Ion Adventure Hotel, Selfoss, Iceland (Design Hotels)
With striking architecture and inventive decor, Design Hotels push the boundaries of the traditional image of a hotel. These hotels are located in a variety of locations around the world, from cities to remote beaches, The Design Hotels collection includes over 300 properties on six continents. Exceptionally notable hotels are Habita in Mexico City and Analeya in Marrakech.
Pictured: The Vagabond Club Singapore (Tribute Portfolio)
Like Design Hotels, the Tribute Portfolio includes design-forward properties, but with emphasis on warm, genuine hospitality, curated art and decor, and notable dining venues. Many Tribute hotels feature distinctive themes, like the baseball-inspired Hotel Zachary in Chicago and the whiskey-obsessed Vagabond Club in Singapore. Most are suitable for both business and leisure travel, and the collection is viewed as a competitor of the Curio Collection and Preferred Hotels & Resorts.
Boutique Soft Brands
Not all soft brands are positioned at the luxury end of the spectrum - which is good news for travelers who are searching for the boutique vibe at a lower price point. Boutique soft brands like the Autograph Collection (Marriott), the Tapestry Collection (Hilton), Joie de Vivre (Hyatt), and the Trademark Collection (Wyndham) include a range of hotels at various price points. Some of these hotels are on par with a Waldorf or a Ritz, while others can be considered competitors of Hyatt Centric or Tru.
Pictured: The Brown Palace Hotel (Autograph Collection)
The Autograph Collection contains boutique hotels especially well suited for foodies, design fans, stylish business travelers, and corporate retreats - which are broken out in sub-collections. You can find a wide spectrum of hotels in this group, from exquisite luxury properties to hip yet simple boutiques. The collection includes over 200 hotels in 32 countries. Notable Autograph properties include The Douglas in Vancouver and Cotton House Hotel in Barcelona.
Positioned slightly beneath the Curio Collection, the Tapestry Collection is made up of boutique hotels with their own unique personalities. The Tapestry Collection caters to a younger demographic with amenities that are especially relevant to millennials. Examples of Tapestry hotels include the Hotel Skyler in Syracuse, NY and The Bernic Hotel in New York City.
Pictured: The Laurel Inn (Joie de Vivre)
Joie de Vivre includes boutique hotels like the Autograph and Tapestry Collections, but this group focuses on bringing local character and thoughtful design to life via chef-driven restaurants, creative meeting spaces, and stylish guestrooms packed with modern amenities. These hotels have a trendy vibe and offer plenty of spaces for socializing, similar to Kimpton. The Joie de Vivre brand includes Hotel Kabuki in San Francisco and Hotel Revival in Baltimore.
The Trademark Collection includes unique properties that offer a sense of place and amenities that business and leisure travelers want: on-site dining, access to a fitness center, and flexible meeting space at most properties. Members of the Trademark Collection include The Burgess Hotel in Atlanta and the H+ group in Germany.
--
With so many hotel groups and brands to choose from, you can find a segment or subset that truly speaks to your traveling style, price range, and amenity needs. Many of these brands feature modern services like: digital concierge, guest messaging, mobile ordering, streaming hospitality TV, mobile key, and contactless check-in. We intentionally left out major brands not owned by the big hotel chains like Omni, Loews, Four Seasons Hotels, and even bigger groups like Accor, Best Western, Choice Hotels, Comfort Inn, Motel 6, and Radisson.  And if you're exploring hotel investment or franchising opportunities, you can surely find the perfect brand for your business goals.
Once you've launched your hotel and chosen a brand it's time to select a hotel management company.