How to Run Your Hotel Retail Like Amazon with Impulsify
By Hotel Tech Report
Last updated January 26, 2022
5 min read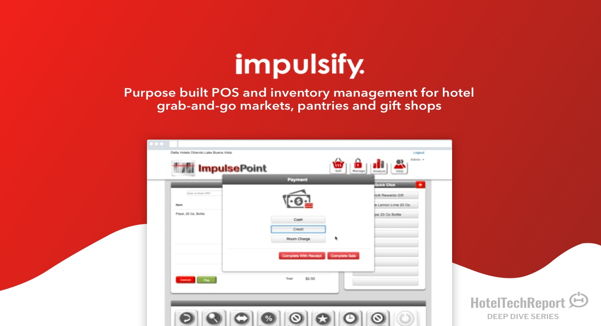 In 2016, Amazon unleashed a retail revolution: a store without cashiers called Amazon Go. The store uses RFID to automatically calculate what a shopper owes as they leave the store. Without cashiers, the experience is more convenient and far speedier. Amazon Go has now extended its cashier-less experience to 11 stores in 3 cities.
As more consumers experience these types of seamless self-serve solutions, from grocery stores to CIBO Express markets at airports, they expect more control and convenience across other interactions. Hotels are beginning to feature these types of experiences in their lobby stores, bringing this convenience and speed to hotel guests.  
For hotels, the lobby store is a triple threat: it's an amenity that guests love, it doesn't cost too much to implement, and it builds a reliable incremental revenue stream. And, with the right technology like Impulsify, the store doesn't have to add unnecessary layers of complexity to hotel operations.
What Impulsify does: intelligent retailing tech
One of the leaders in hotel pantry management technology for hotels is Impulsify. Aptly named, the technology encourages "impulse buys" with its guest-facing self-service kiosk product - Shop Pop. On the back end, the system simplifies inventory management, ensuring that adding a lobby pantry won't also add an unreasonable burden on staff. Together, Impulsify is a powerful system for hotel gift shops, pantries, and grab-and-go markets.    
Impulsify's ImpulsePoint technology has a few different features that form its approach to intelligent retailing. There's both the hardware that guests and staff interact with on a daily basis, as well as software running in the background that optimizes inventory for a specific hotel's situation. Across both, the experience must be flawless, with intuitive screens that are simple and straightforward to use.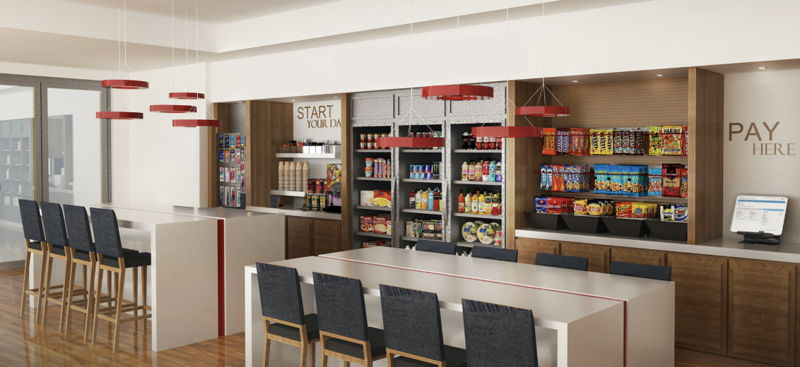 Impulsify powered hotel retail experience
With Impulsify hoteliers get:
Automated inventory management: Staff use a barcode scanner and a portable tablet to track inventory. By avoiding manual methods, such as pen and paper transferred to a spreadsheet, you reduce errors and increase productivity. Impulsify enables guests to easily grab products from your hotel lobby store and notifies your team when supplies are low.  The platform delivers data that helps your team optimize the products that you're selling for margin and volume to take the guesswork out of your retail operation.
Self-serve kiosks: The Shop Pop guest-facing kiosks eliminate the need for guests to stand in line for payment. Guests select their own items, scan each, and then charge either directly to the room or on a card -- all without staff intervention. Guests can select items at their own pace, and avoid standing in line to pay. Overall, a better experience for everyone: front desk can tend to other needs and guests enjoy speedier service. Impulsify creates a frictionless retail buying experience for guests which means that they buy more from your shop all the while improving their experience on property.
Data-driven decisions: Impulsify delivers real time data to help you optimize inventory selection in order to maximize margins and reduce waste. When you start with Impulsify you will see which products are moving off the shelves and which aren't so you can optimize your selection. The platform makes it easier than ever to experiment with new product assortments and quickly identify top money-makers. Impulsify can even make recommendations about which products to stock your shelves with because they have data from millions of transactions in their hotel ecosystem.
Who Impulsify is for: Hotels of all sizes
Given the structure of the category, Impulsify's core segment is select service hotels with limited on-site amenities. Since restaurants in select service hotels may offer a smaller menu with shorter operating hours than a restaurant in a full-service hotel, these properties benefit from a more tightly-operated "grab and go" market or lobby pantry.
Impulsify also works well in the full-service segment, as intelligent retailing technology can be used by any hotel that has a store, gift shop, restaurant or grab and go. For hotels that currently use manual processes to manage and stock inventory, the impact of Impulsify's automated, data-driven platform can be significant. Given that Impulsify can drive a project from design to grand opening, larger resorts could even engage Impulsify to expand retail offerings in areas of the property that may be more remote.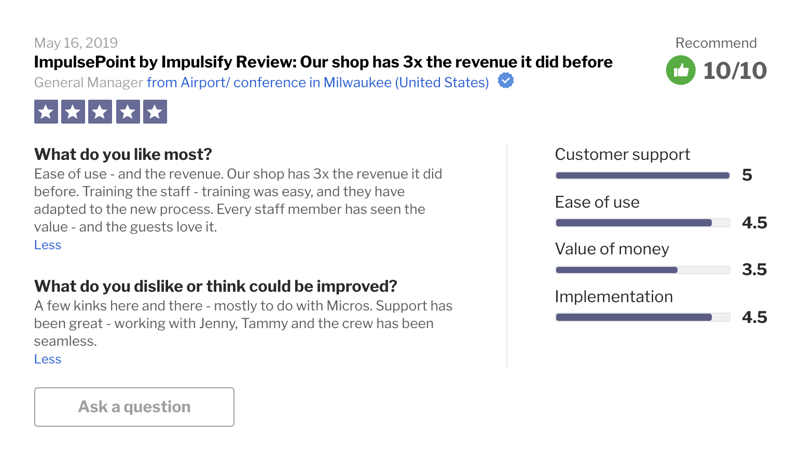 Verified product review on Hotel Tech Report (Impulsify reviews)
5 reasons hoteliers love Impulsify
1. Intelligent strategies for assortment and merchandising.
Inventory management is only one part of the equation. The true value of Impulsify comes from how it uses location, guest profiles, hotel size, and hotel type to make smart recommendations about what to stock and how to display it on your shelves. To date, Impulsify has processed over 5 million transactions, giving it a growing database of information so you won't have to rely on instinct or habit to decide what guests prefer. It's like having a 24/7 store manager without the added cost!
2.  Self-pay = PMS integration.
The self-service kiosk means that guests don't have to stand in line to pay. They can pay with a card, or charge it to a room. The system integrates with your property management system  to pull all purchases to the guest's folio -- a major benefit to the guest experience. With self-pay, you can also place a kiosk in different areas of a property. Perhaps your golf resort would like to include a "grab and go" pantry in another location away from the clubhouse; self-pay makes it all work.
3. Full design services.
If your property is undergoing renovations, you may already have an idea of what you're looking for. Or, you may want to consider using Impulsify's specialized knowledge base to design the ideal layout for your hotel's store. Existing stores can also be renovated to better leverage Impulsify's novel approach to intelligent retailing in hotels. The design services include renderings, elevations, and ADA-compliant construction drawings, as well as project management for the entire process.
4. Automated shopping lists by vendor.
Eliminate tedious manual ordering with Impulsify's automated shopping lists. Once your hotel implements Impulsify, the system monitors sales to automatically build order sheets. This is an incredible time savings, as staff no longer has to be trained on which vendor provides which product. The automation also prevents inaccurate ordering, ensuring that your hotel either holds excessive inventory nor runs out of things that guests want.   
5. Planogramming.
5 in 6 Americans admit to impulse buys -- and a planogram likely contributed to these purchases. A planogram is a diagram that specifies where products should be placed to optimize both store space and shelf layout. A planogram uses popularity, preference, and relevancy to place products strategically so that consumers find what they need -- and, of course, make more impulse buys (such as those candy bars by the grocery store checkout)! Planograms also keeps a store organized, which appeals to consumers and makes re-stocking much faster. Most hotels could never afford a full time planogrammer (up to $47,000 a year), so Impulsify leverages its database of hotel purchases to create data backed planogram models for its hotel partners.
Impulsify pricing
Pricing varies according to a property's needs, such as:
Number of self-service kiosks

Whether or not you need design services

Size of the space, as far as number of SKUs managed

Number of your properties using the Impulsify technology

Length of contract

Monthly vs annual billing
Based on those factors, you can expect to pay a one-time implementation fee, as well as a flat monthly fee for the software (ranges from $199-249 depending on billing cycle), per the pricing below. Each subscription comes with two USB scanners, ongoing training and support, and account setup.
On the hardware side, Impulsify charges some upgrades related to enabling self-pay, as well as for product scanners, kiosk units, and retail sales data analysis to benchmark your retail performance. 
Get a custom Impuslify price quote for your hotel here
Conclusions: Should you consider Impulsify?
Incremental revenue is a hotelier's best friend. If you have an existing store, there's the potential for capturing even more revenue. If you're building a new property, or considering adding a "grab and go" store to your hotel, Impulsify can help you achieve your revenue targets.
Results from a study conducted by Impulsify with 12 select-service hotel clients using the technology are astounding: 49% increase in revenue, 220% increase in profit, 62% profit margins.  The results are so good that Impulsify has an ROI guarantee.
Also: 20 global chains can't be wrong! That's the number of larger brands already using Impulsify to optimize inventories to match shifting guest preferences. Once you add in the self-serve kiosks and mobile inventory management, Impulsify is quite appealing. It reduces the burden on staff while also optimizing profitability of on-property retail. Not to mention a big boost to guest satisfaction.
Just like Amazon enabling frictionless checkouts for its customers -- and earning loyalty in the process -- hotels can make a visible impact on its guest experience with a similar approach to giving guests control and convenience.
Read Impulsify reviews from verified hoteliers like you