What Is Managed WiFi? (+Benefits, Examples, Best Providers)
By Hotel Tech Report
Last updated October 28, 2022
4 min read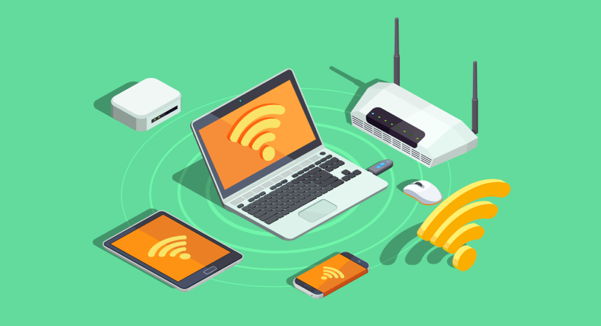 Do you wish your hotel had better internet? Do guests often mention WiFi problems in guest reviews? Or is managing your own WiFi connections just getting to be too much for your IT staff? Is your back office hotel management software too slow to efficiently get your work done? If any of these situations resonate with you, then your hotel might be well suited for managed WiFi. Managed WiFi is often cheaper, more reliable, and more secure than independent WiFi connections, but making the switch is a big decision. Making fast, reliable WiFi available to your guests can improve guest review scores and even result in a RevPAR boost, so WiFi shouldn't be an afterthought. In this article, we'll explain what managed WiFi is, what benefits managed WiFi can provide, and introduce you to the top managed WiFi providers. With a deeper understanding of the ins and outs of managed WiFi, you can make an informed decision for your property.
What is Managed WiFi?
Never heard of managed WiFi? You're certainly not alone. In a hotel, your guests might not even notice the difference - managed WiFi offers an internet connection that acts the same way as any other internet connection, from a user's perspective. What's different is that managed WiFi is a cloud-based network controlled by a third-party, accessible via multiple access points, and able to handle many devices at the same time. The third party is responsible for maintenance, troubleshooting, security, and general upkeep of the WiFi service, taking that burden off the shoulders of the on-site IT team.
The alternative to managed WiFi is unmanaged WiFi, which is like the WiFi connection in your home, most likely. Unmanaged WiFi requires on-site setup and management of the connection, and WiFi is accessible via a single access point, like a modem or router, or perhaps a couple of access points in a larger building. The bandwidth of an unmanaged WiFi connection is typically suitable for a handful of devices but not strong enough for dozens or hundreds of hotel guests and employees to use the internet at the same time.
Benefits of Managed WiFi
At first glance, managed WiFi doesn't seem too different from unmanaged WiFi. But when you dive into the details, there are several key differences that make managed WiFi an attractive solution for many kinds of hotels. What are the biggest benefits that your hotel could realized if you switch to managed WiFi?
Lower costs: Although the upfront cost is lower for unmanaged WiFi (and perhaps the monthly cost for the actual internet service is lower too), when you factor in the time your IT team spends maintaining your WiFi connection, managed WiFi is usually a better deal. Plus, managing and troubleshooting WiFi connections might not be your IT team's area of expertise or interest, so it could take them longer to resolve issues compared to the cybersecurity professionals who work for managed WiFi providers. You can tap into their expertise for a fraction of the cost necessary to hire someone with that skill set full-time.

Reliability: Nothing ruins a guest's stay (or a front desk agent's shift) like an internet outage! With managed WiFi, the provider is responsible for keeping service up and running. And if something does go wrong, the WiFi company should have support representatives available 24/7 who can help with troubleshooting.

Safety and security: Like reliability, safety and security is a main area of focus for the managed WiFi companies. These companies invest in the latest technology to keep their connections secure. Without managed WiFi, the burden would be on you to continually upgrade your service (like replacing the routers) whenever a more secure option is available.

Easy to scale: Want to upgrade your connection? Or build an addition with more guestrooms? Managed WiFi can grow with your business, and it's as easy as asking your provider to add new access points wherever you want them. Even if one guestroom happens to have a worse connection than others, your provider could add a special access point for that guestroom.

Upgraded functionality: Rather than a one-speed-for-all internet connection, managed WiFi vendors often offer some additional options. For example, you could offer a standard speed connection for free, but charge a daily fee for a faster connection. Or you could make a faster connection available to your loyalty members. 

Reporting and monitoring: Managed WiFi providers collect usage and performance data, so you can see how your WiFi is being used and how often outages occur, for example.
Although all of these benefits are compelling, it's worth noting that a potential drawback of managed WiFi is loss of control over your WiFi connection. When you implement managed WiFi, your on-site IT team's hands are tied when it comes to troubleshooting, so your guests or employees would need to work with a third-party support representative if they need help. This setup can be great for smaller hotels that don't have IT staff on site to begin with, but for larger hotels it could be frustrating for your IT team. You might also worry about the security implications of a third party being in control of your critical internet service for daily operations and handling of sensitive guest data. But you can rest assured that all of the big managed WiFi companies have top-of-the-line security protocols.
Best Providers Offering Managed WiFi for Hotels
Curious about bringing managed WiFi to your hotel? Before committing to a provider, it's a good idea to shop around to find a company that offers the best fit and value for your specific hotel. As you research providers, you can narrow them down by location (some providers only operate in some regions) and by reading user reviews. Since this vendor will be providing a very important service, you'll want to find one with a high-quality support team and the functionality you're looking for. Let's take a look at some of the top providers:
Cox Business tailors their managed WiFi to hotels by offering a customizable guest-facing landing page, giving you a nice opportunity to reiterate your brand as guests get connected. Cox also has a 24/7 support team available for guests to contact, and the company can set up separate networks for employees and guests to keep connections fast for everyone. Their service is suitable for hotels of any size; coverage is available for buildings over 1 million square feet, and you can connect a maximum of 7,500 wireless devices to up to 150 access points.
Another leading provider is Comcast Business, which works with many hotels, resorts, restaurants, and other hospitality businesses, including Choice Hotels. Comcast can provide separate employee and guest networks, managed security services, and an analytics suite. In addition to managed WiFi, Comcast's X1 entertainment platform includes TV shows and movies on demand, live TV, and streaming services.
Like Comcast, Spectrum Enterprise can provide a bundle of services that includes managed WiFi, TV, and phone. Their managed WiFi comes with 24/7 support for guests and employees and speeds of up to 100 Gbps. You can add access points as needed, and you can also customize the landing page guests see when they log on. Spectrum's administrator portal will give you insight into usage and uptime, and you can add on managed security services.
Certified by Hilton, Hyatt, Marriott, and Wyndham, Deep Blue Communications is a great solution for branded hotels. In addition to simple WiFi service, Deep Blue has a slew of hotel-specific features, like PMS integration for simple guest verification, bandwidth tiers with payment collection functionality, and multi-device compatibility per user.
When you choose the right managed WiFi provider, your guests and employees can enjoy safe, reliable, and fast WiFi all the time. With a strong connection, your hotel can get a boost in guest review scores (and, consequently, online visibility and RevPAR), guest loyalty, and employee efficiency.