All of Marriott's Hotel Brands Explained
By Jordan Hollander
Last updated October 12, 2022
7 min read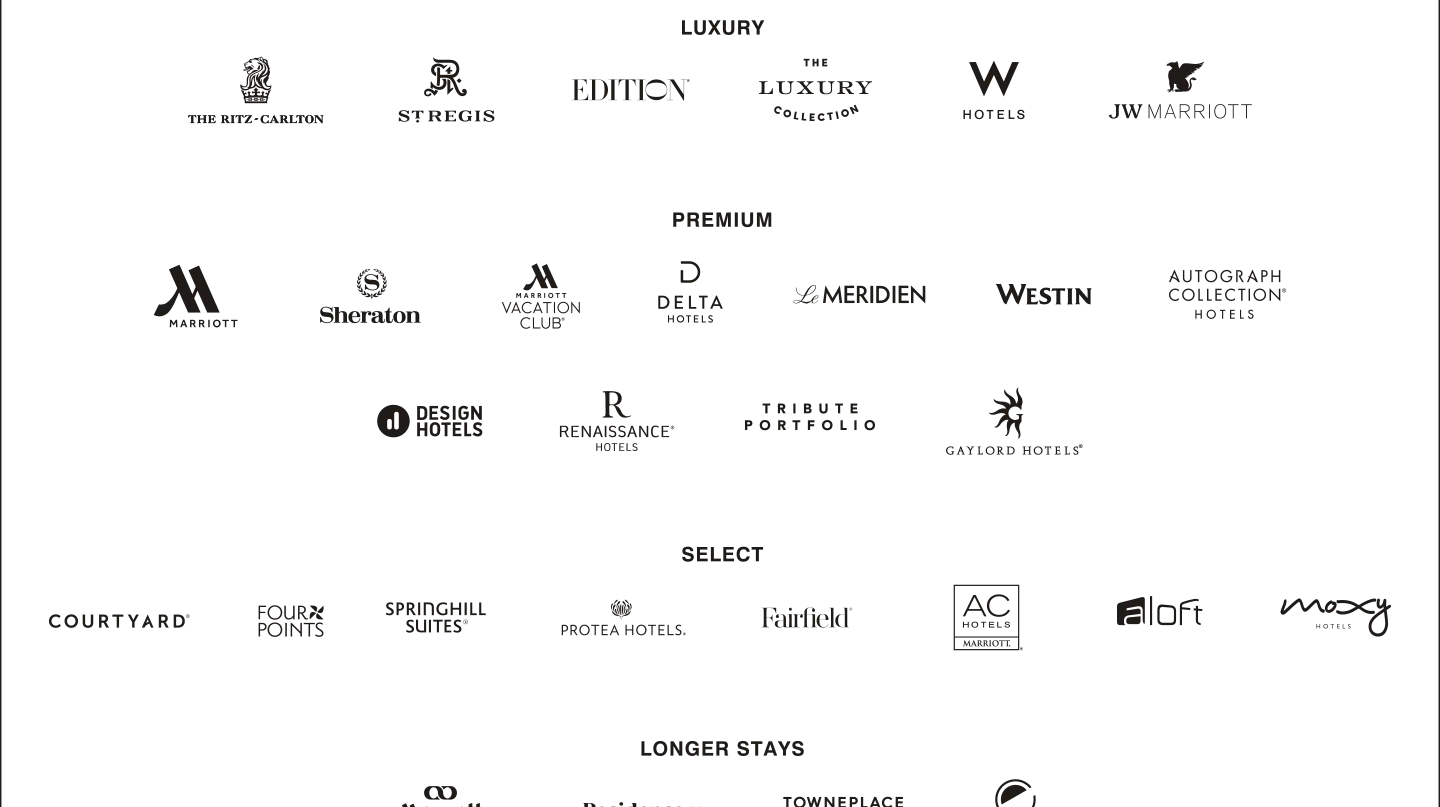 Marriott International has the largest footprint of any hotel company after acquiring Starwood Hotels & Resorts in 2016. That acquisition added 11 new brands to add to Marriott International's original 19 assets. Marriott's portfolio includes 30 brands in 131 countries. Brands range from the eponymous Marriott to distinctive brands such as the Edition and W Hotels. The company recently announced All-Inclusive by Marriott, an initiative to extend seven of its premium and luxury brands with all-inclusive getaways around the world. Marriott trades under the stock symbol MAR on NASDAQ.
We're categorizing hotel brands and different types of hotels using the STR chain scale, wherein brands are broken out into tiers based on their Average Daily Rate. Obviously, rates will vary, but we believe this scale to be more consistent than the star-rating system. 
Marriott brand portfolio breakdown
Marriott oversees 30 brands in more than 131 countries, boasting 7,000+ properties worldwide. Marriott recently combined Marriott Rewards, the Ritz-Carlton Rewards, and SPG into Marriott Bonvoy, the largest loyalty program in the world with 140 million members. Here's what you need to know about this portfolio of brands.
Marriott Collections & Soft Brands
Marriott holds four collection and soft brand hotel properties. Autograph Collection is a brand made up of 180 independent hotels around the world. These hotels are curated for guests who want forward-thinking experiences, as well as design-crafted spaces. Each independent hotel offers an original aesthetic, attention to detail, and a boutique experience for travelers. Autograph Collection hotels compete with properties from Curio, Leading Hotels Of The World, and Preferred Hotels. 
The Buenaventura Golf & Beach Resort by the Autograph Collection
Design Hotels is a similar collection to Autograph. These properties target "influencers, world travelers, and local creatives" with immersive experiences and design-forward architecture. This collection includes 317 hotels and resorts in 75 countries. Design Hotels offers branded "Original Experiences" – cultural programming created by independent hoteliers at the property, combined with local design and area recommendations. Design Hotels' main competitors include Curio Collection, Autograph Collection, and Tapestry Collection.
Marriott's Luxury Collection offers high-end experiences in 124 iconic locations. These hotels are exclusive, sophisticated, and elegant. Each destination curates authentic experiences – private wine tasting in Santorini, traditional lake fishing in Austria, or indulging in thermal spas in Peru. Properties in the Luxury Collection compete for guests with Leading Hotels of the World, Rosewood, Waldorf Astoria, and Four Seasons.
Finally, Marriott's Tribute Portfolio is made up of hotels for independent and spirited business and leisure travelers. Tribute Portfolio brands are hotels with character: these properties are defined by striking design elements, bold color, and art installations. There's a focus on building a community in social spaces with on-site events and  24/7 "pantries" with baked goods. The Tribute Portfolio consists of 67 hotels in 17 countries that compete with Curio, Leading Hotels, and Preferred. 
The Slaak Rotterdam, by Tribute Portfolio
Marriott Luxury Brands
Marriott's luxury tier boasts heavyweights Ritz-Carlton and the St. Regis hotels, as well as the very high-end Bulgari brand. Bulgari hotels is a partnership with the Bulgari jewelry brand. There are currently six properties in five countries, with an additional three properties slated to open by 2023. Guests are in the top 0.01%; the property evokes the same contemporary style as the Italian designer. Competitors include the  Ritz-Carlton, Four Seasons, and Nobu. 
Bvlgari Hotel & Residences, Dubai
The slightly more accessible JW Marriott brand offers wellness and relaxation at 110 properties found in 29 countries. This luxury Marriott hotel chain specializes in high-end rest and relaxation, as well as weddings and honeymoons. Many of these properties emphasize a connection with nature and can be found on beaches and remote settings. JW Marriott competes with Conrad, Fairmont, Grand Hyatt, and Shangri-La.
The Ritz-Carlton brand is renowned for its legendary service. Affluent, luxury travelers who are seeking classic hotel service are drawn to 119 Ritz-Carlton hotels and resorts in 35 countries. Ritz-Carlton specializes in weddings and events, but also offers new residences and the "Destination Club," a members-only luxury vacation club for well-off travelers who seek personalized experiences with Ritz-Carlton service. Ritz-Carlton competes with Four Seasons, Mandarin Oriental, and The Peninsula.
Lastly, the St. Regis line of hotels targets affluent luxury travelers who expect the best of the best. A legacy brand founded in 1830, the St. Regis has a reputation for five-star service, impeccable amenities, and refined style at each of its 48 properties in 25 countries. The St. Regis competes alongside the Four Seasons, Mandarin Oriental, the Peninsula, Park Hyatt, and Rosewood brands.
Marriott Upper-Upscale
Marriott's six upper-upscale brands run the gamut from resorts to trendy boutique hotels to the stylish W Hotel line. Delta Hotels is the first offering in this tier, with 105 hotels primarily in Canada. The ADR at Delta is on the lower end of the range for Marriott's upper-upscale tier of properties. Guests who book Delta Hotels are seeking simple, quality, great details and amenities. Delta offers free Wifi, modern guest rooms, and sustainable bath products. Delta competes with brands like DoubleTree and Crowne Plaza.
EDITION hotels are beloved by trend-forward, design-conscious culture mavens. These properties are stylish first: branded as "a new generation of luxury" with 11 properties in seven countries. EDITION features in destinations like West Hollywood, Miami Beach, and London, targeting lifestyle travelers with highly-Instagrammable spaces. EDITION competes with W Hotels, Andaz, Delta Hotels, Hyatt Centric, and Canopy. 
Gaylord Hotels is Marrot's upper-upscale resort offering, with six destinations in the US. Gaylord Hotels put "everything in one place" with grand rooms, entertainment, dining, shopping, and more. These resorts are equipped as convention centers, but also cater to families on vacation. Gaylord Hotels compete with Destination Hotels.
Marriott's Le Meridien brand is a design-centered line of European-inspired hotels, targeting creative, cosmopolitan travelers. With 116 hotels in 37 countries, Le Meridien destinations feature mid-century modern design with a style inspired by the 1960s era of glamorous travel. This brand competes with Hilton, InterContinental, Kimpton, Loews, and Hyatt Regency. 
Le Meridien Columbus, The Joseph
Westin Hotels are found in 41 countries, with 264 properties worldwide. This line has recently zeroed in on wellness, focusing on signature wellness programs to differentiate the brand from competitors like Hilton, Wyndham, and Hyatt. Wellness offerings include Westin's "Gear Lending Program" which provides guests with on-demand workout essentials and a partnership with Peloton.
Finally, W Hotels is a luxury lifestyle brand that combines stylish stays with music, design, fashion, and more. With 339 hotels in 36 countries, guests who stay here are trendsetters and trailblazers who are looking for (and creating) the next big thing. These ultra-hip properties also offer "escapes," curated experiences at W Hotels with surf classes, skiing, and clubbing. W Hotels compete with The Standard, Morgans Hotel Group, and Thompson. 
Marriott Upscale Brands
Five brands make up Marriott's upscale tier, but this is where the majority of Marriott's footprint lies. Courtyard and Marriott brands have massive reach; newer brand Aloft is still growing.
AC Hotels is a service hotel designed for business travelers and solo travelers, offering signature spaces such as the AC Lounge (bar) and the AC "Meeting Salon" (conference room). The AC Hotel brand, along with EDITION, is part of Marriott's strategy to attract millennial travelers. There are 184 AC Hotels in 26 countries, with plans to expand to 220 destinations by 2022. AC Hotels competes with Hyatt Place, Hyatt House, Aloft, and Even Hotels.
AC Hotels by Marriott Phoenix Tempe/Downtown
Aloft is an AC Hotels competitor within Marriott's portfolio, designed for the traveler of the future. Aloft's marketing clearly states this brand is for "the early adopter." Rooms and lobbies feature the latest hotel technology, such as mobile keys and use of an Apple Watch. Aloft's 198 properties are available in 28 countries, competing with Hyatt Place, Element, Four Points, and Even Hotels.
Marriott's second biggest brand by number of properties is Courtyard, with 1360 properties across 65 countries. This upscale brand targets business and leisure travelers alike with a  select-service model that's quality comfort without the frills. Courtyard properties have fitness studios, free Wifi, and business centers. Courtyard competes with hotel brands such as Hilton Garden Inn, Hyatt Place, Holiday Inn, and Residence Inn. 
Courtyard Long Island City
Four Points by Sheraton is a line of hotels targeted to business travelers and small conventions with select service essentials and a few add-ons, like the Four Points local craft beer program. Each Four Points has workspace and is equipped for small conferences. Four Points operates 317 hotels in 49 countries. It competes with Hyatt Place and Hilton Garden Inn.
Finally Marriott's eponymous brand Marriott Hotels boasts the largest footprint in the upscale category, with 7085 hotels in 138 countries. Marriott serves guests across categories, with amenities for business travelers, families, couples, and more. Many Marriott properties are going through a renovation and re-brand. The brand also owns six resorts in places like Goa, Phuket, and Vail. Marriott competes with Hyatt, Hilton, and Intercontinental for guests. 
Marriott Upper-Midscale Brands
The upper-midscale tier also makes up a big portion of Marriott International's footprint. The brand Fairfield leads the way with 1153 hotels in 14 countries. Guests who stay at Fairfield can expect comfortable amenities with good value; this uncomplicated chain focuses on offering quality basics. Fairfield competes with brands like Hampton Inn and Holiday Inn Express.
Protea by Marriott hosts 80 properties in nine countries in Africa. Protea is the largest hospitality brand on the continent and mostly serves business travelers. It also owns lifestyle hospitality brand Protea Hotel Fire & Ice!, a four-star hotel in South Africa. Protea is comparable to brands such as Hampton Inn and Holiday Inn Express.
Protea Hotel by Marriott Pretoria Loftus Park
Renaissance hotels compete with Kimpton and Intercontinental brands for the social traveler – guests on vacation. Renaissance focuses on local experiences, marketing their concierge service as "on-site Navigators" skilled at helping guests discover authentic adventure right in the neighborhood. There are 198 Renaissance properties in 42 countries.
The last brand in the upper-midscale category is Sheraton, with 447 hotels in more than 70 countries. Sheraton's service offering is very similar to that of Marriott or Four Points, in that these properties are very versatile. Sheraton offers event venues and flexible meetings spaces, business amenities, and family-friendly getaways. Sheraton also offers a membership club with privileges such as complimentary breakfast, all-day snacks, and free Wifi. Sheraton's top competition comes from Hilton, Hyatt, and Westin.  
Marriott Midscale Brands
Finally, Marriott International's midscale tier rounds out its portfolio with four brands: Element, Moxy, Residence Inn, and Towneplace Suites.
Element is an extended-stay hotel that uses Scandinavian-inspired design aligned with their "balanced travel" branding. Element seeks guests who emphasize wellness and sustainability in their choice of hotel. Amenities like a S'Well bottle in each room, "Studio Commons" social areas, and partnership with The Color Run position Element toward millennial and Gen Z travelers. Element currently operates 172 hotels in 33 countries, competing with Homewood Suites and Hyatt House.
Moxy hotels similarly positions itself for millennials and younger travelers. This brand offers "small but smart rooms" and amenities for travelers on vacation, such as a complimentary cocktail at check-in – which is at the bar, not the front desk. Small rooms mean that Moxy emphasizes communal spaces, like the branded Living Room with games music. Moxy's 81 properties in 22 countries compete with brands such as Citizen M, Tommie, Generator, Motel One, Pod 39, Mama shelter, and Yotel. 
Residence Inn operates an impressive 891 properties in 21 countries. This extended-stay hotel offers suites alongside amenities for business and independent travelers. Residence Inns host branded "RI Mix" social events with wine and beer, as well as custom running routes at each property through MapMyRun. Residence Inn is often in the same consideration set as Homewood Suites and Hyatt House. 
Finally, Towneplace Suites is Marriott International's last extended-stay hotel, with 457 hotels in the US and Canada. Towneplace Suites' properties feature full kitchens, complimentary hot breakfast, and free Wifi, catering to business travelers on long trips. Towneplace competes with  SpringHill Suites, Residence Inn, Candlewood Suites, and Hawthorne Suites.
Want to learn about hotel brands by Hilton, IHG, Hyatt, and more? Check out our 2020 Ultimate Hotel Brand Guide to explore these portfolios.