How to Do More With Less By Leveraging Omnichannel Communication For Hotels
By Evelin Lima
Last updated June 30, 2022
3 min read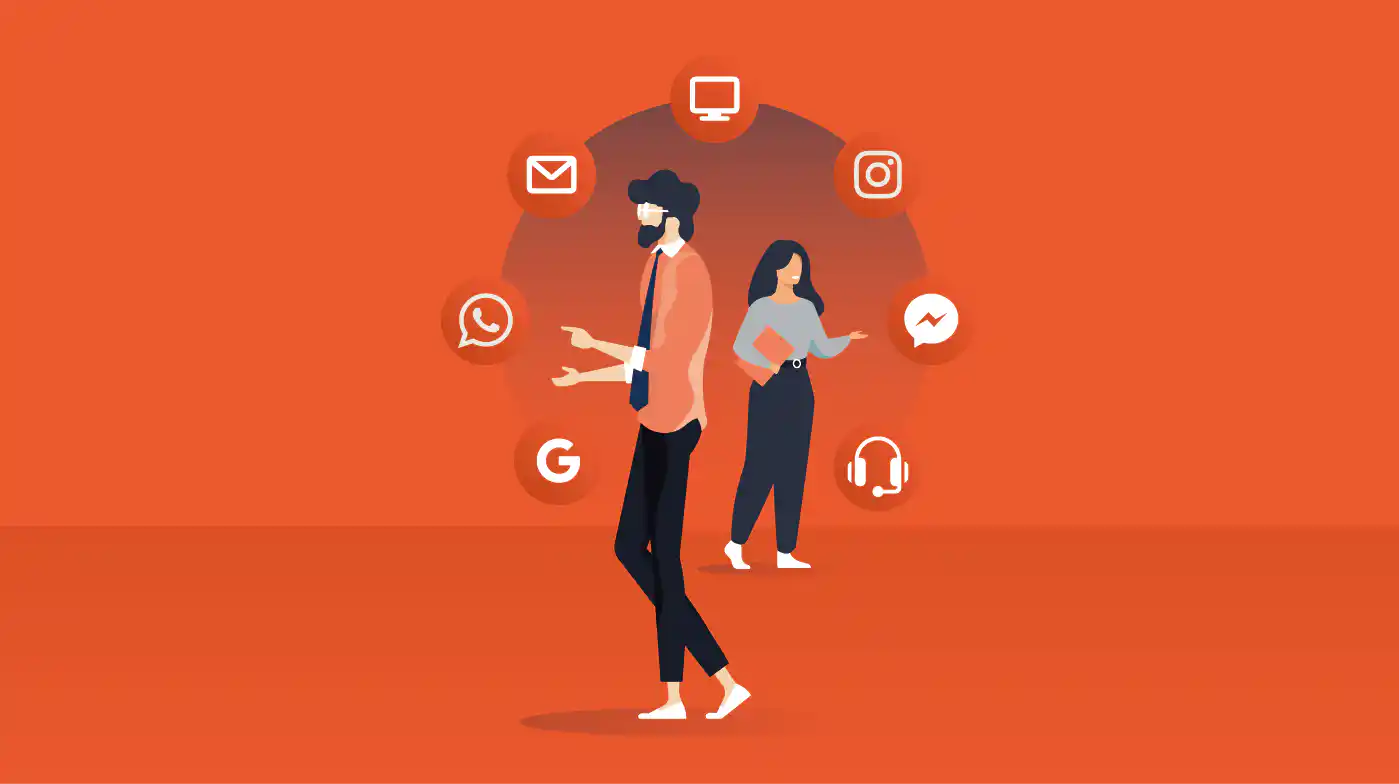 One thing modernity has changed for good is how much customers have become impatient, expect a personalized experience, and have less tolerance for errors. The immediacy of social media and mobile access to real-time information have altered guests' behavior into expecting to be answered on-demand no matter the stage of the buying journey they are in—what Google calls "micro-moments".
The alarming number of customer service channels is entirely new to hoteliers, while their response time window has shrunk more and more. Not to mention how previous interactions become a predicament as agents have to juggle different channels, trying to grasp some context to ensure guests feel heard and understood.
This need to shorten the booking journey and have a broader view of simultaneous customer demands has brought omnichannel solutions to the table. That said, to better understand how omnichannel service software can change the game for hotels, we first need to think about the multichannel strategy.
What is the difference between omnichannel and multichannel?
Email and phone calls are not the only means of communication customers use anymore. Travelers want practicality and to reach hotels no matter the channel they are using at the moment. To be where travelers are, it's in hotels' best interests to diversify how people can find them—this is a multichannel strategy.
But once hotels multiply their communication channels, how can they handle simultaneous incoming requests from Instagram, website chat, Facebook, Google Messages, and WhatsApp, for example? An omnichannel dashboard is the answer.
Multichannel strategies have agents jumping between channels, trying to prioritize a constant flow of requests and questions. An omnichannel solution centralizes all channels into a unified inbox, while also keeping data shared between channels.
Why is omnichannel communication so relevant for hotels?
When you broaden your reach with new communication channels, chances are you'll be available when travelers are excited about the possibilities of a stay, ensuring more bookings coming your way. It is no coincidence that companies with strong omnichannel customer engagement retain on average 89% of their customers.
On the profiting side, marketers using three or more channels in a campaign earned a 494% higher order rate than those using a single-channel campaign.
Google research shows that of all leisure travelers on smartphones, 69% search for travel ideas during spare moments, and nearly half of those travelers go on to book their choices through an entirely separate channel. Those are countless potential guests which hotels can reach by being present on different channels.
Innovation to save the day in the thick of hospitality staff shortage 
An omnichannel solution has a more important than ever role to play for hotels. The present record shortage of hospitality staff the world over has hoteliers struggling to do all they can to prioritize tasks and ensure travelers don't feel the effect of yet another crisis.
That is why this technology comes as a win-win. It creates unified workflows which catalyze a seamless experience for customers. It helps hotels drive the revenue they so desperately need right now.
Additionally, an omnichannel strategy ensures managers assign the right agent to handle a certain segment or campaign. This way, you can distribute incoming queries and ensure that more experienced agents handle the most profitable opportunities.
Why is omnichannel communication so relevant for travelers?
American customer service expert, Shep Hyken, advocates for a seamless experience and explains how having two or ten channels makes any business a multichannel provider. Rather, it is only when channels are interconnected that the omnichannel experience takes place.
A report on the multichannel demands of customers showed that 63% of customers prefer a choice of channels to contact customer service, and that 50% of customers expect representatives to have access to previous interactions with the company.
An omnichannel service platform ensures all communication channels are unified into a single window. Agents can not only see all the different channels in a macro view, but they can also track the chat history for every guest, ensuring a seamless experience.
In practical terms, instead of accessing several tabs where one shows all incoming DMs on Instagram, another shows emails, and yet another all WhatsApp API messages, etc., agents have a broader view of each customer journey:
Here is Mr. Smith, and he made first contact through Facebook messages two weeks ago, then he asked a question using the web chat, and now he is ready to book using email.
The Takeaway 
Even if a traveler's first touchpoint happened weeks in advance, a different attendant can take over without making them repeat themselves. Omnichannel communication service is a rock-solid way to five-star customer service. When agents are there to answer, travelers don't feel frustrated.
In an industry where quality and timing are of the essence and workers are few, adopting an omnichannel solution has put many hotels ahead of their competitors. This approach creates a sense of continuity for guests and works as an extra pair of hands for agents, organizing the workflow distribution for hotels.
As for hoteliers, this truly gets them more bookings out of less work by providing their teams with an optimized workflow that can clear out their plates to work on the prospects ready to make hotels run at full capacity.