10 protel Air Features That Are on the Cutting Edge
By Jordan Hollander
Last updated October 28, 2022
5 min read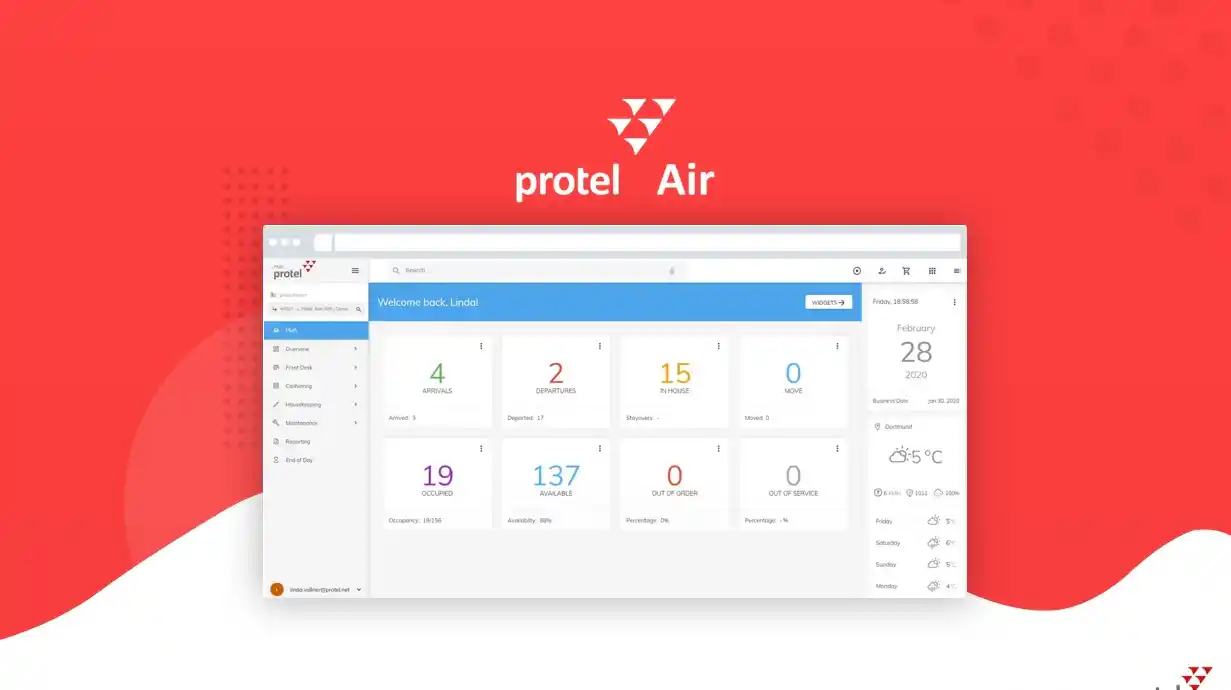 As a hotel owner or general manager, you're always exploring new, creative ways to increase efficiency and guest satisfaction at your properties. But with new technologies popping up constantly and guest preferences changing rapidly, it can be difficult to determine which software can really make an impact on your hotel's operations and your bottom line. In fact, your hotel probably doesn't need all the trendiest gadgets and apps; the best and most efficient solution is to partner with an intuitive, adaptive property management system that will evolve with you as trends change and guest's needs shift.
One hotel software company that truly embodies this forward-thinking approach is protel, which recently launched a completely new interface for their cloud-based PMS product, protel Air. In this review, we'll explain what makes protel Air unique, what benefits it can deliver, and where the differences lie between cloud-based and on-premise systems. By the end of this article, you'll gain a deeper understanding of the nuances of protel Air and property management systems in general so you can make more informed decisions about your own tech stack. 
What is protel?
If you've been in the hotel industry for a while, you've probably heard the protel name. Founded in Germany in 1994, protel was a pioneer in property management systems. Over the next decades, 14,000 hotels in over 90 countries implemented protel, and protel's team has kept their products on the cutting edge of hotel technology. protel's niche is hotel property management systems, and since that's been their main focus for over 25 years, the company has gained some serious knowledge about what hoteliers want and value in their hospitality technology solutions.
Traditionally, protel's software uses an on-premise model, which means that the software was installed on a local server at the hotel. Since 2009, protel has also been building applications directly in the Cloud. The company has recently launched a new interface for protel Air, their entirely cloud-based PMS, and packed it with exciting updates. Let's dig into what exactly makes protel Air unique and why it's a top property management system used in thousands of hotels around the world.
10 Unique Features You Should Demo on protel Air
We've established that protel Air is a cloud-based property management system, but there are many other great systems on the market too. What really sets it apart? Let's explore protel Air's most unique features:
Digital registration cards
As guests and hoteliers increasingly prefer a check-in process that's contactless and paperless, protel Air's digital registration cards make arrival a breeze. Using the protel Air app on a tablet, front desk agents can collect digital signatures from guests and instantly save profile information without a single pen or file folder needed. Furthermore, the digital registration cards make it easier to organize and retain records, so you can keep guest information on file for years to come - without taking up space in the file cabinet.
Integrated passport scanner
Besides digital signatures, the check-in process can become even more efficient with protel Air's passport scanner, which "reads" guest information from their passport and saves it, securely, to their guest profile. Ever struggled to read a guest's handwriting? Problem solved. The passport scanning functionality helps to speed up the check-in process and prevent breaches of sensitive guest data.
Efficient group block reservations
Using an Amazon-style "shopping basket," protel Air's calendar interface makes it easy to create group room reservations. Sales managers can quickly drag and drop the room types they need, adjust the room counts, and change billing settings in seconds.


After the group reservation has been confirmed, it's easy to make changes to the rooms needed, billing details, and group codes.
App Marketplace
protel AIR works with an impressive number of add-on apps (1000+ integration partners) that pack a lot of value, including marketing tools, revenue management systems, door locks, upsell software, and more. Configuring an integration is easy - many apps require just a single click to connect.  In an industry first, protel partnered with Hotel Tech Report to become the only hotel app marketplace with user reviews just like the Apple and Android app stores and boasts tens of thousands of user reviews to help protel clients choose the right applications for their properties.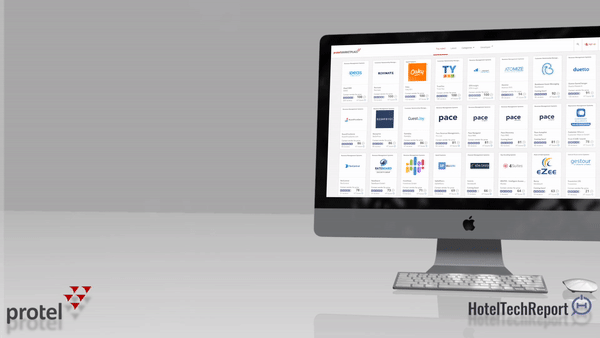 Robust, customizable reports
General managers will appreciate the intuitive reporting dashboard, which lets employees and key stakeholders review ADR, occupancy, revenue, and more at a glance. Users can create custom reports, export them to various file types, and share insights via email. protel Air's reporting center can help you understand historical booking data, trends, future pace, and more, so you can stay on track toward your goals. In addition to reports that show metrics like RevPAR and occupancy, you can pull lists that contain guest birthdays, arrival or departure times, wake-up calls, maintenance issues, and a slew of other attributes.
Voice recognition
We're used to asking Siri about the weather, but what about dictating guest details in your property management system? protel Air includes voice recognition via a nifty voice-to-text feature that allows you to add guest information by simply speaking it. And this functionality isn't a gimmick; it can actually help your front desk staff do their jobs more efficiently, and enable busy managers to add to do's via mobile, as they walk the floor.


Daily rates calendar
Hotels that set rates manually will find the Daily Rates section to be intuitive and straightforward - but robust enough that you can fully customize your rate schedule. If you use revenue management software via the integration marketplace, rates from that system will appear in your Daily Rates in protel Air.
On-premise and cloud-based versions
While this article focuses on the cloud-based protel Air, it's important to note that protel hasn't abandoned their on-premise PMS version. In fact, the on-premise version is also packed with features that can deliver value to any hotel where a server-based system is preferable.
Mobile web access
Since protel Air's cloud-based version is accessible via your web browser, the system can also be used on your mobile web browser on your smartphone. The system is fully responsive and adapts to smartphone or tablet screen sizes for a smooth experience across devices.
Worldwide partner network with local language support
Since protel is truly a global company, their client support teams speak your language - literally. protel specialists are available to assist around the clock, no matter where your hotel is located.
"It's a great product, with world-class integrations and an excellent marketplace. They have been adding so many wonderful new features and have adapted the product to meet the challenges of 2020 for all hoteliers." -David Gerrard, Director of Integrations at Duetto
What's the Difference Between Cloud and On-Premise PMS?
Let's take a step back and explain the difference between cloud-based systems and on-premise systems. The main difference is that on-premise software is installed on a local server on-site, which means that only computers connected to the hotel's local networks can access the software. Cloud-based software, on the other hand, is accessible from any web browser (like Chrome or Safari), whether that be via a computer at the front desk, your laptop in your office, a tablet at the concierge desk, or even your smartphone while you're at home.
If you already use an on-premise system, does it make sense to switch to cloud-based software? For many hotels, cloud-based systems can offer several key benefits. One major advantage of using cloud-based software is that employees can access it from anywhere. Cloud-based software also receives real-time software updates, which means it is often more secure and glitch-free when compared on on-premise software that requires manual updates. Another obvious advantage: it's much faster to connect to other cloud-based systems and apps that the hotel may later decide to run parts of their business on. This means the hotel is pretty much already connected to future technologies. However, on-premise software usually includes more options for property-specific customization, since your hotel's individual version of the software can be tailored to your needs, whereas changes to the functionality and interfaces of cloud-based software generally affect the entire user base.
"We regularly recommend protel software to other operators in our sector and to other hotels under the Best Western umbrella. Three or four other hotels have now adopted the software which is brilliantly easy to use and, being cloud-based, is accessible anywhere, anytime offering great flexibility." -Raj Patel, Hotel Owner at the Best Western Olde Maritime
What Hotels Could Benefit from Implementing protel Air?
If you nodded along as we discussed protel Air's features, perhaps wishing your property management system included a passport scanner, then it might be time to consider a switch. Over 14,000 hotels worldwide use protel's software, but a few types of hotels can realize even greater benefits. Smaller hotels that don't need an on-premise system will appreciate protel Air's user-friendly, cloud-based infrastructure. Hotels with a significant chunk of group business will save time with the simple group reservation "shopping basket" feature. And even chain hotels will find that protel Air offers cluster functionality and connections to central reservation systems for integrated management of multiple properties.
Still have questions about protel? Read protel reviews, specifications, and testimonials to learn more.
This content was created collaboratively by protel and Hotel Tech Report.