How To Log Into TripAdvisor Rentals as an Owner
By Jordan Hollander
Last updated January 26, 2022
2 min read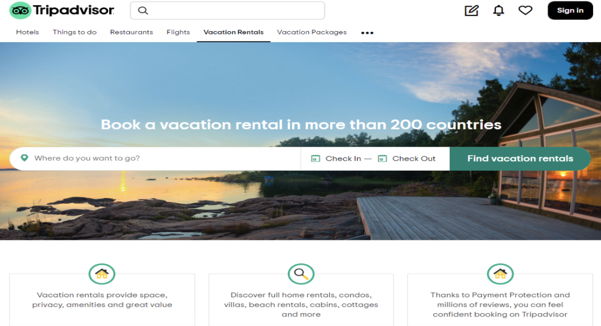 Wondering how to log into TripAdvisor or FlipKey to manage your vacation rental listing? TripAdvisor acquired FlipKey back in 2008, but FlipKey.com is still a popular vacation rental booking site. However, all of the listing management tools are found on the TripAdvisor Rentals site. If you try to log into the owner portal on FlipKey, you'll get redirected back to TripAdvisor Rentals.
TripAdvisor operates two mobile apps: one for owners and one for travelers. You can download the owner version for iOS or Android to manage your listing on the go.
Creating a TripAdvisor Rentals owner account
Before you can log into TripAdvisor as an owner, you need to create an account. And in order to create an account, you need to start creating a listing.
How to create a TripAdvisor Rentals account:
Go to TripAdvisor.com/rentals and click "List My Property." You might need to scroll down to find this link.
Enter first and last name, email address, and cell phone number, and create a password.

Click "Continue."

Keep following the prompts, which ask for specifics about your property.

You can pause the onboarding process at any time. To resume onboarding, log in to your account with the email address and password that you entered in the first step.
The account setup process must be done in an internet browser; the TripAdvisor Owner app does not have this capability.
Logging into your TripAdvisor Rentals account
Once you have a TripAdvisor Rentals listing, then you can log in and manage your property. You can access your account via your browser or the Vacation Rental Owner app.
How to log into TripAdvisor Rentals as a host:
Go to rentals.tripadvisor.com.

Enter your email address and your TripAdvisor Rentals password.

Click "Log in."


If you're logging in on a new device, you might need to confirm your account with an email or text message verification code.

You're in!
How to log into the Vacation Rental Owner app:
Open the app.

Enter your email address and password.

Click "Log in."
Troubleshooting tips
Having trouble logging in? Or are you receiving an error message? Try these handy tips to log into your TripAdvisor Rentals account successfully:
Double check that you've entered the correct email address and password.

Clear your cookies.

Access the site in an incognito window or private browsing mode.

Check your email for messages from the TripAdvisor team to ensure that your account is in good standing.
If you've forgotten your password, don't worry! TripAdvisor can send a password reset link to your email address. Simply click the "Forgot your password?" link on the login screen, then you'll be prompted to enter your TripAdvisor Rentals email address. Just a moment later, you'll receive an email containing a password reset link. 
Recommendations for managing your TripAdvisor Rentals account
Generally speaking, TripAdvisor is a safe platform, but you can always take steps to keep your information extra secure and use the site responsibly. If you're listing properties on TripAdvisor, then it's even more crucial to keep your account secure, since your account contains sensitive contact information and financial information for yourself and your guests. Use a strong password that is not easily guessable, and be sure to take note of it in a safe place or in an online password keeper. Also, try not to share your password with anyone.
Make sure you do not lose access to the email account that you use with TripAdvisor Rentals. TripAdvisor sends important notices and guest communication to your email address on file - as well as password reset links - so losing access to that email account could mean that you also lose access to TripAdvisor Rentals.
Setting up your TripAdvisor account and logging in are the first steps to using TripAdvisor Rentals as an owner. Now that you know how to log in, you're ready to use the platform!
More helpful content and tips for FlipKey (TripAdvisor Rentals) Hosts:
Listing on FlipKey (everything you need to know)
Contacting FlipKey Support