The WeWork Effect in Hospitality: This is Going to Get Ugly
By Jordan Hollander
Last updated September 22, 2019
3 min read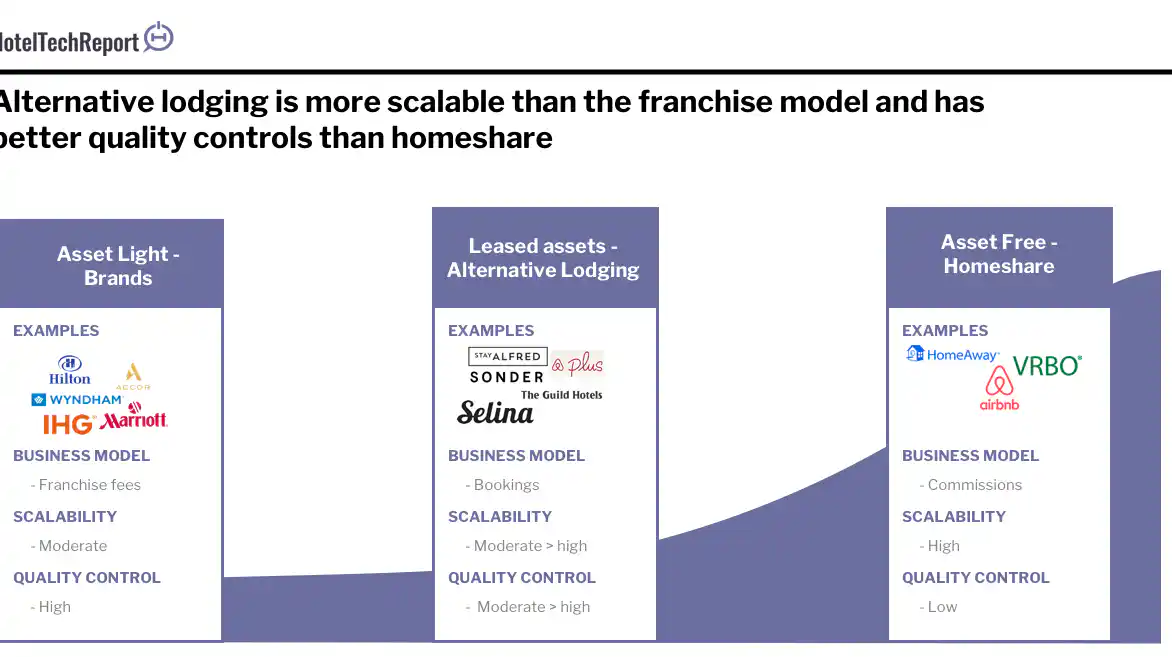 Softbank has taken some massive high profile hits on investments like Uber and WeWork.  There is an impending fall from grace on the horizon for firms like Softbank backed OYO and other alternative lodging players who claim to be tech companies but are actually just disguised real estate companies seeking greedy valuations.
There's a lot of talk in the hotel industry about massive growth from homeshare players like AirBnB but relatively little talk about the immense growth of franchise brands.
For years now, major brands like Marriott have growth hacked their way to scale by going asset light.  By relieving themselves of physical assets and focusing on a franchise business model, Marriott projects 1,700 new hotel openings between now and 2021.
This growth may seem surprising given all the buzz around travelers wanting unique and local experiences but there's also been a ton of growth amongst incredible boutique hotel concepts.  Think about brands like Two Roads (Thompson, JDV), Bunkhouse, Nomad, Freehand, Standard Hotels, Public Hotels, Bunkhouse, 25H Bikini - the list goes on and on.
All of the "independent brands" mentioned above (several have been acquired by chains) have found ways to create incredible (and unique) travel experiences for guests but there is one thing holding them back - scalability.  Even the best (and most capitalized) management teams have barriers to scale like identifying unique real estate, negotiating large scale transactions, securing financing and building out properties.
AirBnB took a different approach to rapid scaling by leveraging the power of an unregulated marketplace model.  As a result of this strategy, just 9 years after its founding, AirBnB already had more rooms online than the top 5 brands combined.
AirBnB passed the top 5 chains by # of listings (CB Insights)
You'd be hard pressed to find a friend who hasn't had a crappy experience on AirBnB but they've probably also had some great ones.  Where the franchises found a good balance between scalability and quality control, AirBnB and the homeshare economy sought rapid scale in unregulated markets.
More recently a new category of hotel management company has popped up.  Some call these players hometels (home+hotel) and they're more generally referred to as alternative lodging.  Brands in the alternative lodging sector include Stay Alfred, Sonder, The Guild Hotels and to some extent groups such as Selina and OYO.  The alternative lodging sector brings similar scalability to homeshare companies with similar quality control to brands. Sonder, for example, was founded by college students in 2012 and just 5 years later hit $100M in revenue with it's rapid venture capital fueled growth.
The alternative lodging sector brings the consistency of a hotel without the overhead and therefore often charges cheaper rates relative to comparable properties.  While attending the Triptease Direct Booking Summit in Dallas last year I slept at Sonder competitor Stay Alfred and the experience was remarkable.
Stay Alfred had leased a floor of apartments next to the Statler Hotel (Hilton Curio Collection) and converted the apartment units into hotel rooms.  These rooms were larger than the rooms at the Statler next door and one third the price. Upon arrival I headed to a Key Cafe kiosk in the lobby of the building to get my key - the process was completely seamless and I never interacted with a single person.  The room came outfitted with DirectTV and high speed WiFi as well as HDMI cables to plug in my devices.
The alternative lodging experience is undeniably something that the hotel industry needs to keep careful tabs on as it scales quickly and will be highly disruptive to certain segments of the market - perhaps even more so than AirBnB.  
Companies like Stay Alfred and Sonder have used distribution channels like Booking.com to kickstart their growth and have augmented digital advertising efforts by offering unbeatable (sometimes even unprofitable) prices to bring customers in the door via 3rd party distribution channels.  Once customers like me are in the door and have a great experience - we then tend to look for those properties for similar use cases in the future. As an example, I recently went straight to Stay Alfred's website to book my hotel for an upcoming conference.
It's not all fun and games though in the alternative lodging sector as the excitement has pushed valuations into what many believe is bubble territory. Alternative lodging player Selina which is often referred to as a "co-living hospitality brand" (aka glorified luxe hostel with good WiFi and coffee) recently raised $100M at an $850M valuation for it's portfolio of 22,000 hostel beds.  
To put the Selina valuation in perspective, John Pritzker's Geolo Capital sold Two Roads Hospitality to Hyatt for $430M last year. At the time Two Roads managed 17,000 hotel rooms with a significant development pipeline and iconic brands such as Thompson and Joie De Vivre.  Two Roads was producing approximately $40M of EBITDA at the time of the sale while Selina is likely to see losses for many years to come.
The alternative accommodation market is undeniably frothy with prices driven up by venture capitalists who have AirBnB fomo and are paying technology multiples for real estate companies.  Today's TechCrunch article fires a warning shot to investors:
"...one focus will be to improve the booking process and algorithmic recommendations that people use both to figure out where to travel next, as well as what they want to do when they get there." ~TechCrunch comments on Selina's use of $100M
The question to ask is whether these are real estate companies fronting as tech companies or whether they're the real deal.  Do we actually need algorithms to tell us where to travel next? If so, is that technology actually valuable?
One of the major proponents of the alternative lodging sector has been Thayer Ventures, a travel tech focused venture capital firm with deep ties to the hotel industry. Thayer's focus on travel and hospitality gives the firm a unique perspective so we sat down with Venture Partner Katherine Grass to discuss hotel tech, the rise of alternative lodging and more.  Katherine previously founded Amadeus Ventures and has met with literally thousands of startups in the space over the years - she's seen it all and has unparalleled insight into the alternative accomodation trend.
Check out our exclusive interview with Katherine Grass here