Winners of the 2021 HotelTechAwards Announced
By Jordan Hollander
Last updated October 28, 2022
2 min read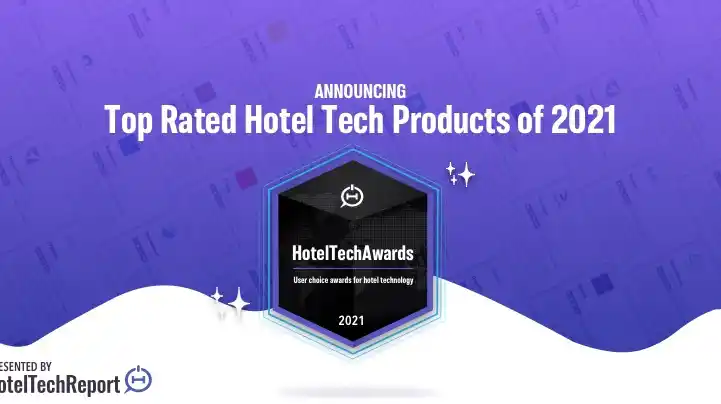 Hotel Tech Report has announced winners in the 2021 HotelTechAwards, based on more than 10,000 hotel software product reviews contributed by verified hoteliers during the competition.  Winners are selected based on key performance metrics including product popularity, customer satisfaction, integration compatibility, customer support quality, and more.  Winning a HotelTechAward is the highest achievement in the hotel technology industry.
"In the midst of a global pandemic, 318,466 hoteliers visited Hotel Tech Report from every corner of the globe contributing 10,227 verified new product reviews during the 3-month awards period to share insights about their favorite tech products to run and grow their businesses.  It has been inspiring to see this massive wave of hoteliers sharing technology insights and product recommendations," says Jordan Hollander, CEO of Hotel Tech Report.
"This is the most comprehensive dataset around hotelier preferences ever developed and it gives unprecedented insights into tech trends for hotels during a pivotal moment in history.  Winning a HotelTechAward is a huge feat with the 2021 competition being the most competitive year ever.  Every company on this list should be extremely proud of what they've contributed to the growth of the hotel industry."
During the HotelTechAwards, hoteliers from the world's leading hotel companies review the top tech products used at their hotels to increase operating efficiency, drive revenue, and improve the guest experience. This data is used to identify the best hotel tech products and organizations.
"The HotelTechAwards  are the only prize in the industry that is completely and transparently customer-driven — it's the hoteliers that decide who is best, and it's their opinion that matters most." Gautam Lulla, CEO at Pegasus.

"We at SiteMinder believe strongly in the essence of openness; it is what underpins the very core of what we stand for, and the HotelTechAwards, through the program's data-driven and transparent process, aligns firmly with this value." - Sankar Narayan, CEO at SiteMinder

"This honor has deep, personal meaning as it is decided upon by our clients and represents our passion and focus for providing the most sophisticated revenue technology and comprehensive support." Dr. Ravi Mehrotra Founder at IDeaS

"The HotelTechAwards are a powerful stamp of approval for any company to possess and for hoteliers to trust. We value the HotelTechAwards process, which collects thousands of verified reviews from around the world each year." Alex Shashou, Co-Founder at ALICE

"HotelTechReport is the leading platform for technology in the hotel industry, and its meticulous and impartial verification process makes this one of the most prestigious awards." Moritz von Petersdorff-Campen, Co-Founder at SuitePad
The competition spans core areas of hotel software & technology: marketing, revenue, operations, and guest experience. 2021 Voting included participation from major hotel groups including Four Seasons, Hilton, Marriott, Accor Hotels, Hyatt, Intercontinental, Rosewood, and thousands of independents.
"We originally created the HotelTechAwards as a democratized way to help our fellow hoteliers quickly determine best of breed vendors based on data they can trust and the scope of the competition this year is a testament to how far the industry has come in the last decade.  The HotelTechAwards rating process is simple, transparent, and unbiased--judging is based on time tested ranking factors, publicly available data, and crowdsourced insights from verified hoteliers who have hands-on experience with each product."
The HotelTechAwards are often referred to as "the Grammys of Hotel Tech" and winners were selected from the top technology products around the world. The HotelTechAwards are the industry's only data-driven awards platform with winners determined not by a handful of judges or popularity votes but by a global community comprised of thousands of verified hotel technology users across more than 127 countries.