Apple Pay is Finally Here for Hotels and It's Glorious
By Jordan Hollander
Last updated May 18, 2023
3 min read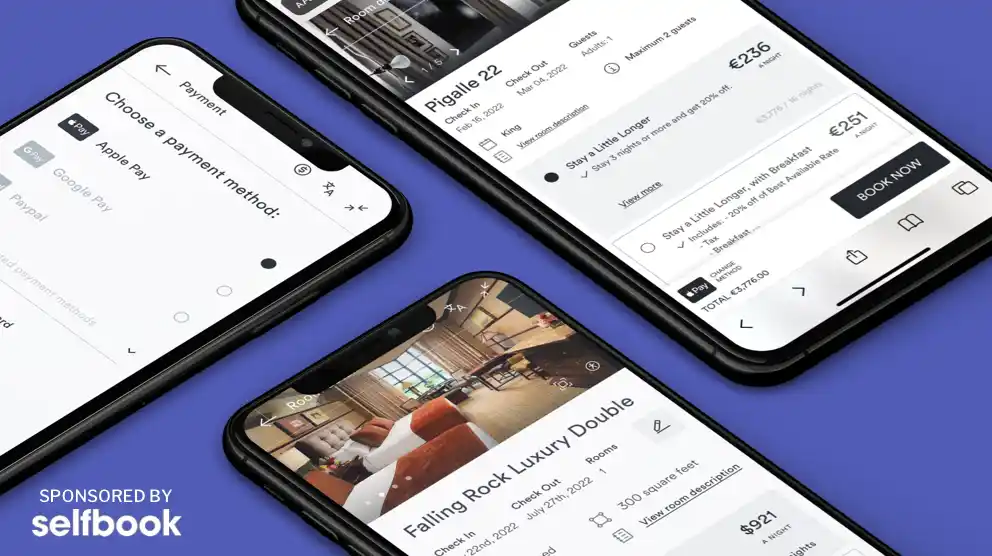 Imagine a world where booking a hotel is as quick and painless as ordering from your favorite food delivery app or buying something on Amazon: just a few taps, and you're done. It sounds futuristic, but with Selfbook and Apple Pay - hotels can finally deliver a seamless hotel booking experience.  Selfbook recently announced that it closed its $25M Series A led by Tiger Global Management to accelerate it's vision for the future of hotel payments.
Since 2014 more than half of online purchases have been made on mobile devices, and we've already seen mobile-friendly payment methods like Shop Pay yield staggering four-fold increases in checkout speed and conversion increases of up to 1.91x. Since Apple has a 15% share of the mobile device market (55% in the U.S.), Apple Pay is the preferred payment method for a sizable group of your potential guests.
In this article, we'll explain what hoteliers need to know about Apple Pay and how it can enable better (and more profitable) booking experiences. We'll walk through examples of ecommerce and hospitality brands that have found success with the platform then introduce you to Selfbook's booking and payment solution which provides turnkey Apple Pay booking compatibility. We'll also highlight why innovative hoteliers like you need to offer Apple Pay if you want to boost conversion and compete with the OTAs.
Apple's Ambitions in Hospitality: Wallet and Payments in Focus
Airlines like United and Southwest have embraced Apple Pay and Apple Wallet to power the entire customer journey from booking to boarding. When shopping for flights on a mobile device, you can pay for your airfare with Apple Pay, and after you check in, your boarding pass can appear in your Apple Wallet. There's no need to type in a credit card number or print a boarding pass; the payment and check-in process takes just a few taps. For a hotel guest, the booking process should be just as effortless. While Apple recently announced that their iOS 15 update will allow hotel guests to store digital room keys in their Apple Wallets, most hoteliers aren't yet able to take advantage of Apple's most promising feature: Apple Pay in the online booking process. Hotel websites should accept Apple Pay then store a digital room key on guest devices to facilitate a smooth check-in.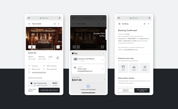 THE PITCH
RATINGS
BEST FOR
0
HT Score
Hotel Tech Score is a composite ranking comprising of key signals such as: user satisfaction, review quantity, review recency, and vendor submitted information to help buyers better understand their products.
Learn More
With just one click, their booking is confirmed and paid by Apple Pay, Google Pay or any credit card.

Selfbook Direct
Direct Booking Tools
THE PITCH
RATINGS
0
HT Score
With just one click, their booking is confirmed and paid by Apple Pay, Google Pay or any credit card.
Learn More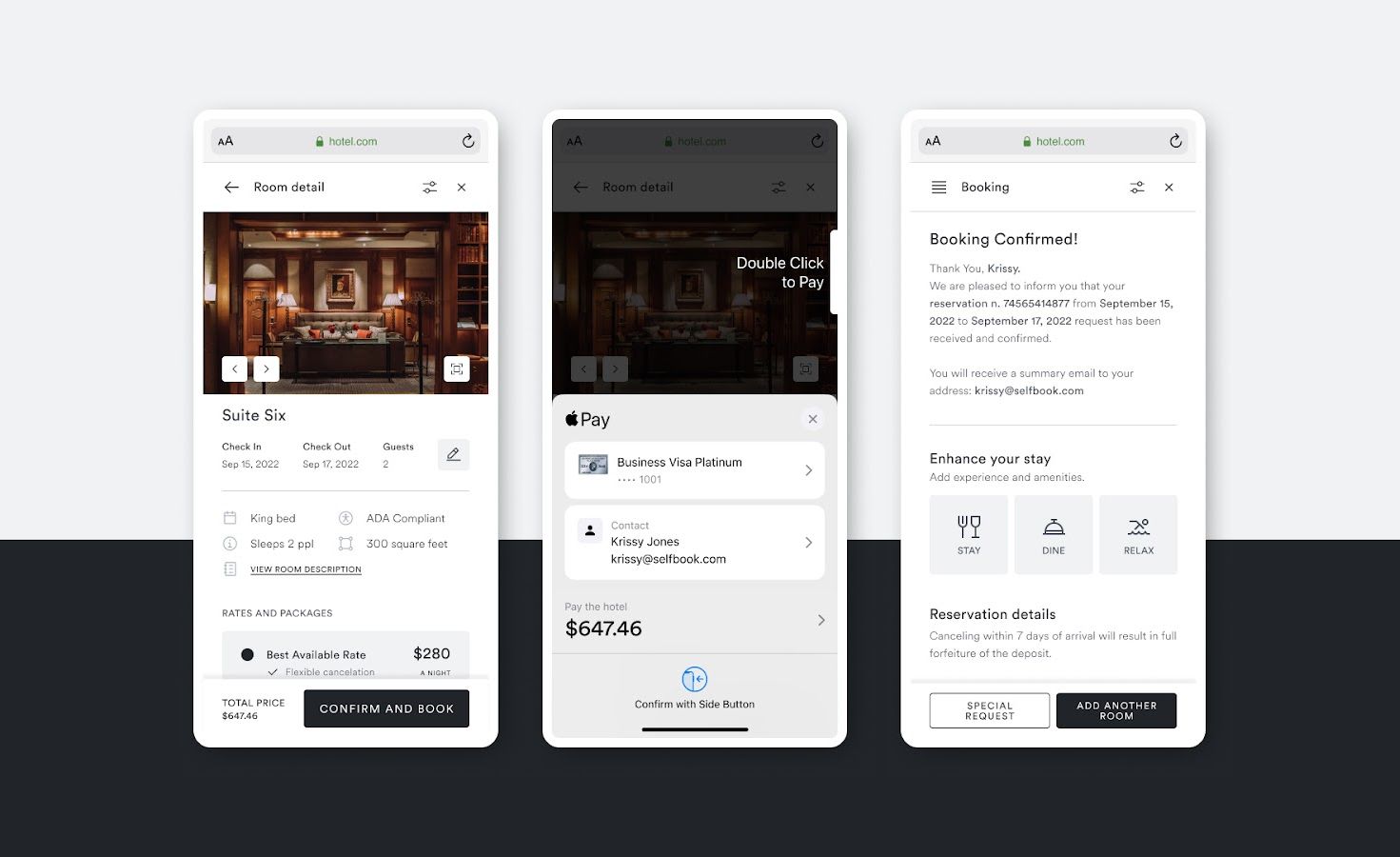 ×
Apple Pay is a 'No Brainer' for Hotels
The benefits of Apple Pay are obvious when looking at ecommerce data, and you'll definitely want your hotel to realize these benefits too. eCommerce businesses that implement Apple Pay see increased average order value, decreased chargebacks, and increased conversion rates just by adding this mobile-friendly payment method. 
Average order volume tends to increase by as much as 5 to 10% at ecommerce businesses that allow customers to pay with Apple Pay, so you can expect your average booking value to grow if guests can use Apple Pay in your website's booking engine. Apple Pay makes the entire purchase process more convenient, so fewer shoppers abandon their carts midway through the checkout flow. Apple Pay also adds a level of trust, so customers find your website more credible and feel comfortable making larger purchases.
eCommerce businesses receive fewer chargebacks from Apple Pay customers than from customers who pay with traditional credit cards because Apple Pay is a more secure payment method. Apple Wallet houses credit card information in the form of digital cards that can only be added through a direct link from the card issuer, so the risk of fraud is lower than a standard credit card form, in which anyone can type in any credit card number.
Since Apple Pay makes the checkout flow faster, more convenient, and safer, it makes sense that eCommerce businesses notice a conversion increase after adding Apple Pay as a payment method. Without Apple Pay, customers must enter their credit card number, expiration date, CVV, and billing address manually, which adds friction (and perhaps an entire extra minute) to the checkout flow. When you remove these steps, the purchase process becomes easier, so customers are more likely to complete their purchase.
Bring Apple Pay to Your Hotel with Selfbook
By now you're probably wondering how to bring Apple Pay to your property, and, luckily, the answer is simple. Selfbook offers a quick and easy way to elevate your online booking experience by accepting Apple Pay. Selfbook's platform also enables hotels to accept other popular digital wallets like Google Pay and PayPal. The Selfbook team has productized their expertise in ushering shoppers down the booking funnel, so they can help your hotel's website compete with the OTA giants.
 "With Selfbook's booking engine and payment solution, our guests have the sensation of ease and convenience instantly," says Selfbook client and General Manager of Le Pigalle Paris Xavier Hue.  "With three or four clicks, their booking is confirmed and paid by Apple Pay, Google Pay or any credit card.  I highly recommend Selfbook to anyone looking to improve the guest experience on their website."
The best part -- Selfbook is completely free for hoteliers to use. The company makes their money on credit card processing fees, rather than any sort of commission or subscription model, meaning there's no incremental cost for hoteliers. With so much potential upside, bringing Apple Pay to your hotel is a no brainer.
This content was created collaboratively by Selfbook and Hotel Tech Report.