The 10 Best Places to Work in Hotel Tech 2022
By Jordan Hollander
Last updated October 28, 2022
13 min read
Quick Take
Each year Hotel Tech Report surveys thousands of industry insiders to find the best hotel tech jobs and employers globally.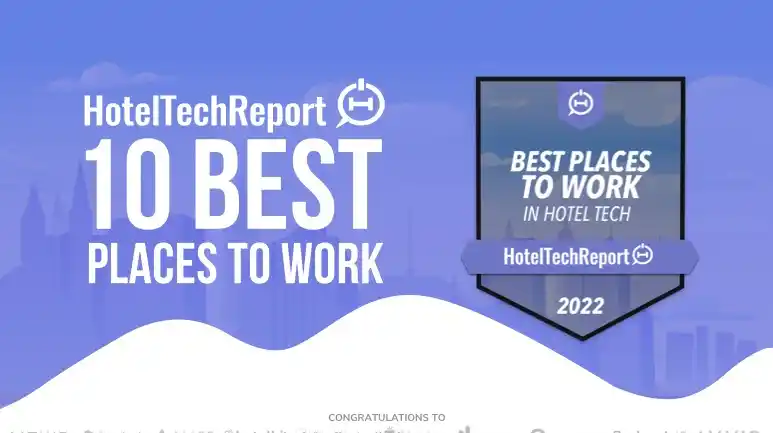 The global economy has undergone massive changes in recent years.  Remote work is evolving from what was initially thought to be a short term trend into a long term change in the way we work and live.  At the same time, software has eaten the world resulting from rapid acceleration of digital transformation required in old world businesses.  With the rapid advance of technology stocks, the demand for talent has never been greater leading to higher wages and more challenging recruiting environment for hotels and tech companies alike.
Last year when we ran this survey the ball was in employers' proverbial courts.  Jobs were slashed across the board placing talent in precarious positions.  As the market raged back, technology firms have been on a recruiting tear putting the power in the hands of prospective employees.
So if last year the question was "which employers can I trust not to lay me off or furlough me?", the question this year is "which employers are best equipped to provide a strong and productive culture in the new world?"
Both hotels and hotel tech companies are on the hunt for great talent which is harder than ever to find.  So you have the upper hand, but which hotel tech companies should you apply to?
Every year we do the hard work for you and survey thousands of hotel tech professionals to find the best companies to work for in the hospitality industry.
We ask respondents to rate their employers from 1-10 on these key variables: 
Work-life balance
Personal development opportunities
Gender equality
Confidence in company direction
Values alignment
2021/22 Bonus Question: Rate your firm's COVID-19 crisis response
We then have an adjustment factor for employee engagement on the survey so that all else equal with 2 employers of the same size, an employer with 100% engagement on the survey indicates deeper levels of connection between the team than an employer with a 20% engagement rate, for example. 
Hotel Tech Report creates this list each year for two reasons: (1) to help industry professionals find the best hospitality tech jobs and (2) to help hotel tech buyers understand that it's just as important to partner with great organizations as it is to find great software tools and products.
Vendor culture is important to every aspect of a vendor relationship:
Product: Great workplaces attract the best talent who make the best products
Customer Support: Happy client reps give better service and stay around longer developing deeper relationships.
Sales: When a sales team has high turnover, innovation gets strangled because there isn't enough cash coming in the door to invest in innovation.
Our 10 Best Places to Work in Hotel Tech list features companies who foster wonderful work environments for employees.  In return, those employees deliver incredible products and services to clients.
Without further adieu, here are 2022's 10 Best Places to Work in Hotel Tech…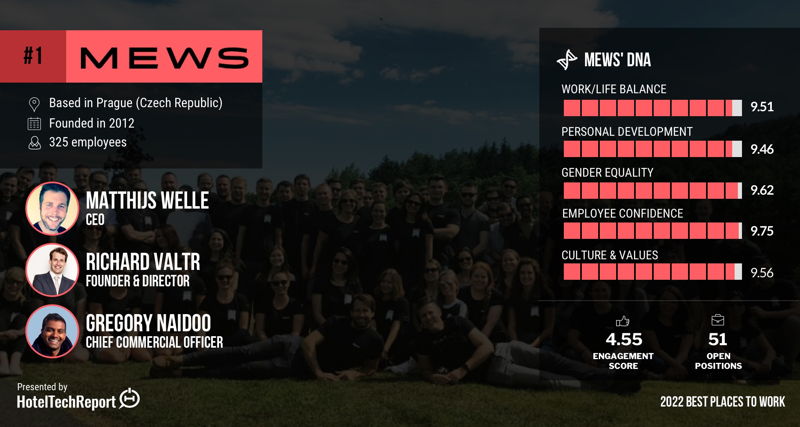 1. Mews
This is Mews' 4th year making the list and second year in a row winning.  Mews ranked #2 in 2019, #3 in 2020, and #1 in 2021.  Mews management has created one of those infectious startup cultures that can almost feel cult-like at times often intoxicating entire trade show floors (pre-COVID).  It's not often that employees at an aggressive high-performance tier 1 venture-backed business get to see their founder dancing through a town hall (affectionately named Mews Con) in a silly costume.  Mews pivoted from hyper-growth mode into a sharp focus on profitability right-sizing the business and is poised to come out of the pandemic far stronger than it went in recently securing funding from Salesforce Ventures.  Lots of open roles to check out and we're sure that list will continue to grow over the coming months.
What Mews employees love about the culture:
"It's an overall feeling of transparency. It's great to know that we can count on the leadership team to always be upfront about what is happening with the company and with our customers. We regularly have strategy calls where we get told what is coming next."
"We have a monthly Wellness Wednesday where people can take a few hours/ half a day or a day off for their wellness and wellbeing. The company also hosts yoga classes and stress management workshops to help us balance our life better."
"We have unlimited paid vacations, but more importantly, we are encouraged to spend time recharging batteries so that we can be our best self at work."
"We have personal development plans aiming to address opportunities to grow for everyone, there are cross-team 1 on 1 sessions where you can learn what others do, people are continuously encouraged to leave their comfort zone and broaden their experience, also to dedicate weekly several hours to personal development."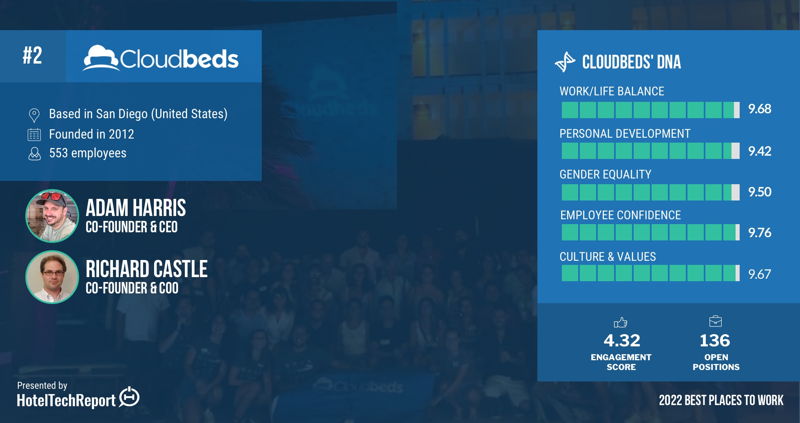 2. Cloudbeds
Cloudbeds has made our Best Places to Work list 4 years in a row and recently raised a whopping $150M from Softbank's legendary vision fund that invests in businesses that are slated to be massive disruptors.  With this funding, Cloudbeds joins the ranks of tech elite like Uber, Doordash, and SoFi - a rare feat for hotel software startups. Cloudbeds is arguably the most decorated and the fastest-growing hotel tech company in the world so while their headquarters are in sunny San Diego the Company has got Silicon Valley energy pumping through its veins.  Not to mention, Cloudbeds is extremely global with local managers in 40 countries.  Cloudbeds has TONS of openings so make sure to browse their career page if you're in the market.
What Cloudbeds employees love about the culture:
"There is a very high percentage of women working for the company and in leadership positions as well which promotes opportunities for women and shows those in lower ranks that they are able to reach higher."
"Cloudbeds is a remote first always company, which inherently promotes the well being of their employees. Each employee is encouraged to prioritize care of themselves and family and given resources to do so (flex scheduling, mental health resources, unlimited PTO, etc.). Our CEO and CFO are highly involved in the company, and make it a priority to meet every employee from the very beginning."
"Cloudbeds is very training-focused, always willing to update all areas regarding new functions of the system. They are also very open to possible promotions and building a career path within the company."
"Our managers at Cloudbeds always try to make work a function of our personal life, not the other way around. You don't live to work or work to survive, but you work so you can live a great life."
"We had a big system release planned which involved many departments and it required a lot of work, not all of it could be automated at the time. What struck me most, is how we connected all of these internal teams that rarely work together, organized a plan on how we would roll everything out to the client base and all individuals rolled up their sleeves and worked as one unit to make it happen. It was an intense 2-3 weeks of hard work but it all paid off when we saw the results and customer feedback."
"Cloudbeds encourages everyone to take interest in other people, in other departments, and values to comment of everyone in the company."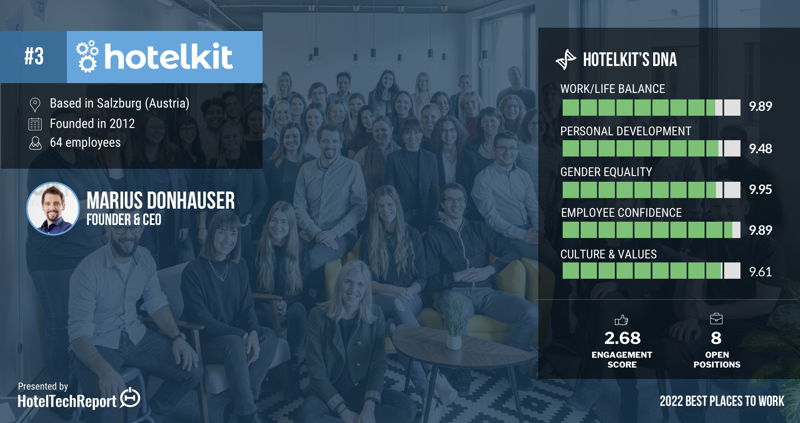 3. hotelkit
Austria-based hotelkit is another repeat visitor on this list moving up from 4th to 3rd place.  Founded in 2012 by hotelier Marius Donhauser, hotelkit is a majority female-run business that's growing rapidly but responsibly throughout Europe.  hotelkit's team motto is "one team one dream" and while the team had to work remotely for a good portion of the year, colleagues are hopeful that 2021 will bring back the annual hotelkit Christmas party famous for great eats and poker.  Under Marius' leadership, hotelkit has fostered a culture that feels like family so it's no wonder that employees rate the culture so highly across every single vector.
What hotelkit employees love about the culture:
"As soon as I mentioned that I might want to change my position it was no problem at all to figure something out, which fits better my interests and working schedule."
"Flexible working hours and breaks, home office whenever you prefer, opportunity to work from wherever you want"
"Heavy emphasis is put on self actualization. Role mobility is highly sought after and hotelkit creates a very secure environment to discuss career path interests within the company and encourages employees to pursue them."
"There is a big focus on using each employees skills to the max and, if necessary, moving them to other departments or positions, depending on the persons skills, motivations and personal preferences. The education background is not the deciding factor in promotions or transfers. It is always about the individual person. This makes the motivation increase and people are happy."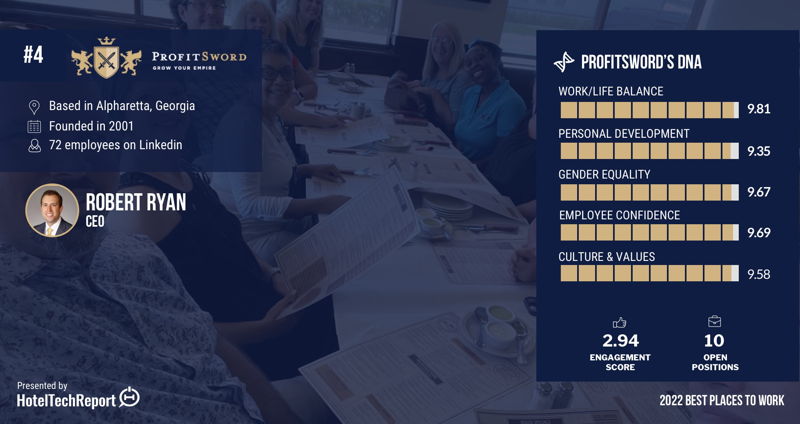 4. ProfitSword
This is ProfitSword's first year making our best places to work list - which has gotten exponentially more competitive in the last 5 years as hotel technology startups have exploded.  ProfitSword is also one of two companies on this list backed by private equity power player Alpine Investors ASG.  Alpine is a growth oriented and value add private equity player with deep experience in hospitality technology.  ASG buys entire software businesses, then invests even more cash into those businesses while ASG operating partners roll up their sleeves and deploy that capital for growth.  ProfitSword was already dominant in the enterprise hotel business intelligence space and will likely solidify its dominance over the coming years under the stewardship of ASG.
What ProfitSword employees love about the culture:
"Everyone at ProfitSword understands that life happens and we need to be present for it. My manager would rather have me take a few hours or days off to clear my head than to have it reflect within my work."
"[I have] regular calls with my supervisors to review my current role in the organization, what is next and where I see myself in 5 years."
"The realignment of the Leadership team and various departments earlier this year has made a significant impact on the efficiency and health of our organization. Putting the right people in the right seats with the corresponding roles matching their strengths and skill sets will continue to help us define excellence at ProfitSword."
"The most memorable event at work this past year was the pandemic. This obstacle highlighted the company's ability to be nimble in its strategies and proactivity with customers in continuing operations even during the pandemic."
"I feel that the opening of our new office earlier in the year was special. It symbolized how we are open and back in business in a way, and it was also a time where everyone in the company evn from out of state, showed up to be together."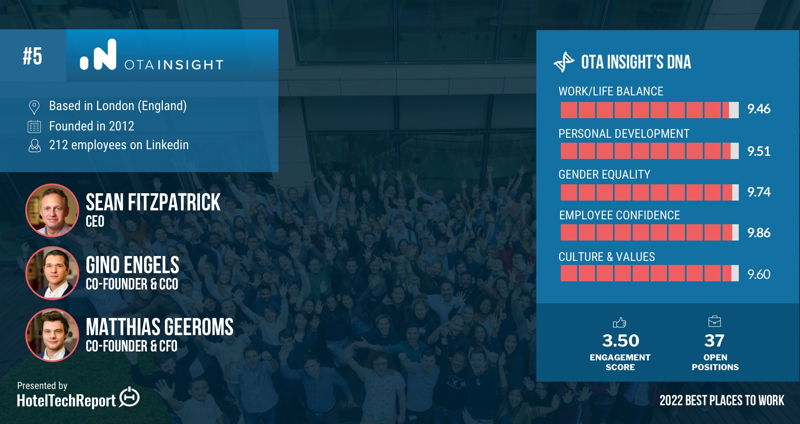 5. OTA Insight
If you work in the hotel industry and haven't heard about OTA Insight they must have you locked in the back office without internet access.  OTA Insight has experienced massive growth throughout the pandemic as hoteliers needed to become even smarter about leveraging real-time data to make commercial decisions.  OTA Insight recently raised another $80m from Spectrum Equity partners to continue driving it's vision for better decision making by hospitality commercial leaders at organizations of all sizes.
What OTA Insight employees love about the culture:
"They laid out a path for me to grow and trusted me with a role that I am growing into and learning to thrive in. I learn something new every day."
"OTA Insight gives you the flexibility to work when you need and plenty of vacation and mental health time. Leadership truly cares about you as a person."
"OTA insight proactively offers a great culture for work life balance. We even have worldwide company day off called Detox Day"
"OTA insight makes it a mission to grow our team. It's a topic of discussion in our regular 1 on 1's with our managers. The company is young and uses our input to determine how we'll grow. We have many opportunities to share ideas and contribute."
"Lots of leadership opportunities within the organization, as well as opportunities to work on projects and initiatives with the leadership team."
"Throughout COVID OTA Insight provided financial compensations where necessary while at the same time ramping up investments in product innovation, data accessibility and thought leadership."
"Proactive approach from leaders and peers in checking in with people on mental health and workload, and focus on allowing people to organise their work flexibly around personal priorities."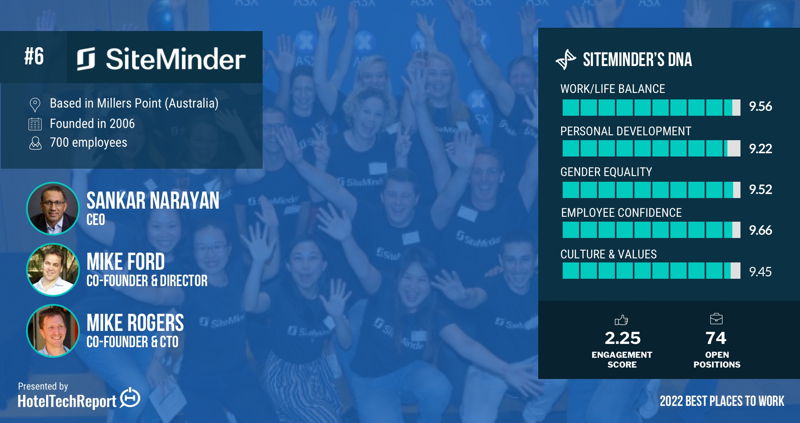 6. SiteMinder
Right before the coronavirus pandemic broke out, industry leader Siteminder reached an incredible milestone earning itself unicorn status and more recently took the leap into a highly successful oversubscribed IPO that symbolized to the hotel tech industry that there's a bright future ahead.
Under the stewardship of CEO Sankar Narayan the firm quickly composed itself when the pandemic broke out and began rolling out initiatives to support both employees and customers like its World Hotel Index sharing real-time data with the industry when historical data just wouldn't cut it.  Siteminder has an internal slack channel called #stayingsocial dedicated strictly to team members having a social communal space in the age of remote work.  This is pretty typical for a small startup but much rarer in the world of 700 employee behemoths.  The great part about working at a large startup-like Siteminder is that there's almost limitless upward mobility according to one employee working in operations at the firm.  If you're looking for a fast-paced global startup on a world domination path - then you should absolutely be dropping a resume at Siteminder.  The best part is that they've got offices all around the world so even if you prefer the WFH life your colleagues shouldn't be too far away no matter where you call home.
What SiteMinder employees love about the culture:
"There are many things Siteminder have done and continue to do to promote a healthy work/life balance - walking meetings/camera off days; regular workshops and talks on the topic; daily yoga and meditation; and generally a caring culture that promotes a healthy balance."
"In my team we all have PDPs or we follow a Career Pathway framework that also takes into account personal achievements and goals; everyone in the company also sets 6 monthly goals which are tracked in Lattice; and we have a number of amazing L&D programs for all levels."
"We just debuted on the ASX with an oversubscribed IPO which is an amazing achievement. We have a strong business strategy to maintain category leader position through the launches of many new exciting products. We also have a roadmap of so many exciting product innovations to come where our customers are at the heart of our day to day."
"Mentoring program available to me, on-going feedback which I value. Access to programs such as Marketing Academy. Our CMO hosts various 'outside in' sessions where experts from our discipline are invited in to give the marketing team masterclasses. At my 6 monthly reviews I get the chance to have a great discussion about my personal development plan and identify areas for growth."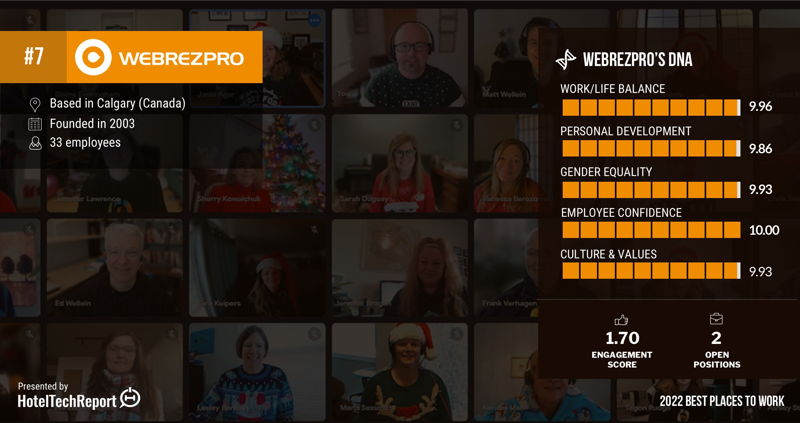 7. WebRezPro
Canada based WebRezPro is another newcomer to this list and the first Canadian company to make this list in its entire history.  WebRezPro is a small business but it's certainly not a startup after more than 20 years in business.  Many employees cite being at the company for extremely long careers with one employee sharing that she had been at the firm for 26 years.  Needless to say this length of tenure is atypical in tech land - so it's not surprising that WebRezPro made the list.
What WebRezPro employees love about the culture:
"We have yearly reviews to discuss setting new long term and short term goals and review existing goals and how we are doing in relation to those goals. There is always room for growth within this company."
"I have been with the company for 26 years and they have always given me opportunities for personal growth."
"WebRezPro promotes open conversations regarding workload and will work with you to resolve any issues where you are feeling overwhelmed."
"The company respects personal endeavors and commitments, encouraging a healthy work life balance by offering set working hours as well as flexibility through paid appointment time, flex days, generous holidays, and shorter office hours on Fridays."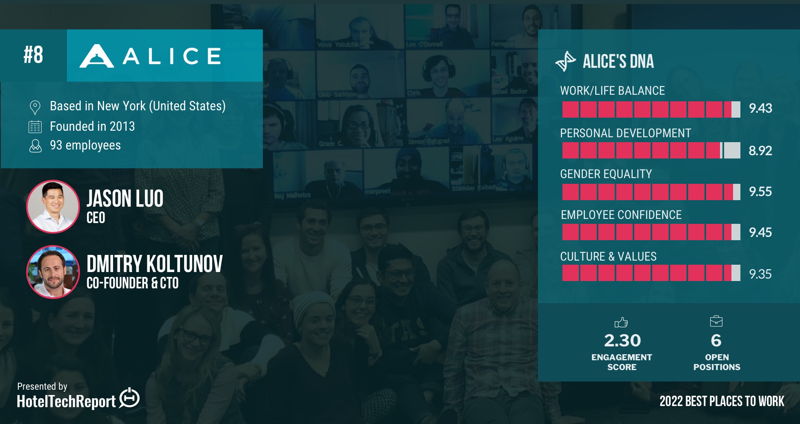 8. ALICE
This ain't ALICE's first rodeo, well it's their fifth if we want to be precise about it.  ALICE is the only company in history to have made Hotel Tech Report's Best Places to Work list 5 years in a row (2018, 2019, 2020, 2021).  ALICE is an incredible place to work for former hoteliers because employees truly act as a strategic extension of their partner properties.  During the pandemic, ALICE quickly pivoted to rollout closure checklists and other free assets to help partners quickly reconfigure their operations for the new normal.  Anyone in luxury hotels knows ALICE since clients include the most premium names in the industry.  In 2021 ALICE was acquired by private equity powerhouse ASG (who also owns ProfitSword on this list) leaving the business poised for hypergrowth headed into 2022.
What ALICE employees love about the culture:
"Company management truly cares about work-life balance of employees by providing additional company-wide days-off, engaging discussions on that topic and arranging different team-building activities."
"ALICE encourages a flexible work schedule. There's a lot of trust between employees and management that employees will get their job done, so there's not a lot of need for micromanagement, which allows us to have flexible work hours, days off when we need them, time off whenever there's a personal emergency, etc."
"ALICE has an inhouse mentorship program. The executive leadership really understands what you are passionate about and incorporate that more in the day to day."
"ALICE built a compelling work from home culture before COVID and with the pandemic there already have been systems to support team members and enable them to manage their time how they chose."
"In my opinion, overcoming the COVID crisis was the remark of 2021 for ALICE. Everyone stuck together during the pandemic and even though the hospitality industry was one of the most affected by this crisis, we made it through. We built a stronger, closer community within the company and I was really able to see how human everyone really is. I had coworkers from all over reaching out to check on me and see how I was doing."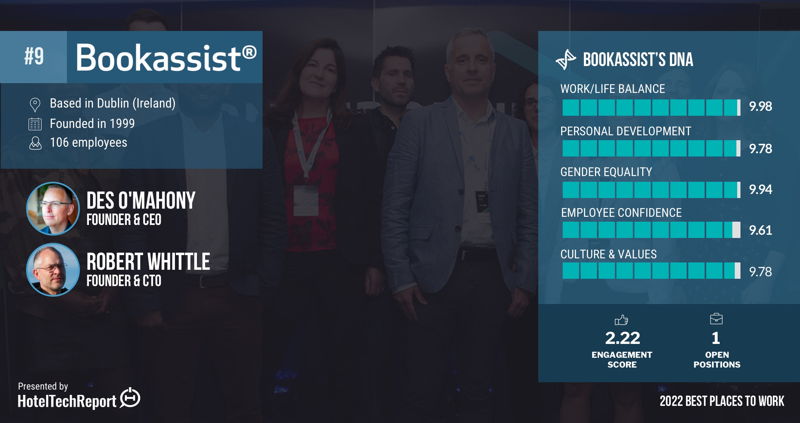 9. Bookassist
While this is Bookassist's first year making Hotel Tech Report's Best Places to Work list, the Dublin based company is the oldest business on our list being founded in 1999.  Bookassist employees enjoy ample opportunities to upskill and given the geographical spread of it's offices in locations like the UK, Spain, Czech Republic, France, Austria, Germany and Italy - remote work is nothing new to this organization.
What Bookassist employees love about the culture:
"As a remote working organisation Bookassist promotes a very strong work/life balance, removing unnecessary commute journeys, providing central hot desks, organising staff get-togethers, supporting different training programs from stress management to wellness programs to effective time management. The departure to remote working and the tailored support programs has transformed Bookassist in this area."
"Bookassist regularly encourages employees to up skill, supporting this financially, with study days and facilitates professional development by implementing these learnings in day to day operations."
"The company surprises me positively all the time. When I got hired I was fascinated by the new opportunities but I can still get more and more and that keeps me motivated."
"This year I had the opportunity to deal with new responsibilities. I now work on different projects rather than my usual day-by-day work; I relate with different colleagues and partners. This is a great opportunity for my career aspirations."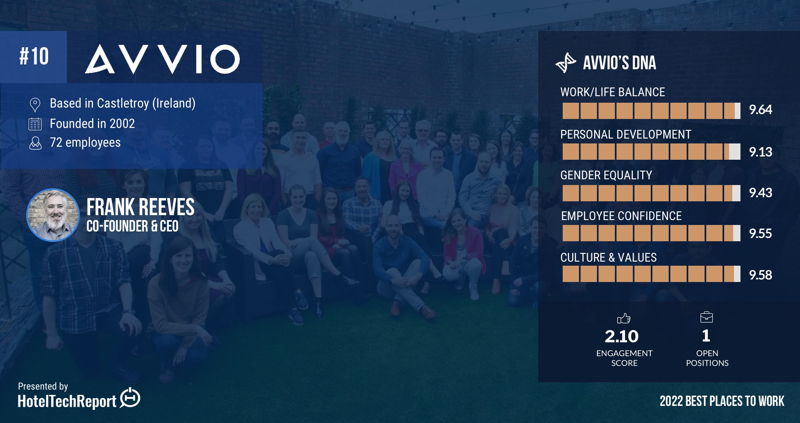 10. Avvio
London based Avvio is another newcomer to this list and was founded in 2002.  Avvio employees rate the firm amongst the highest on our list in terms of how the firm supported clients throughout the prolonged COVID pandemic.  Employees also rated the firm a 95.8% for company culture citing a big emphasis on family orientation and general flexibility when considering the personal needs of employees.
What Avvio employees love about the culture:
"They put a huge emphasis on Family, taking time off when required, Birthday and Christmas Gifts for kids, normally have an annual Family Christmas Party."
"Avvio wants employees to take time off. Everyone can get sucked into work and projects but Avvio always emphasizes on the importance of work/life balance."
"I was supported both financially and in terms of time off to complete my degree and expand my development with further diplomas"
"Management listens to any concerns or challenges, encourages employees, trusts and creates opportunities. They also promote within!"
"This has been a very hard 18 months plus, but Avvio has shown great support and flexibility when needed. They care about our mental health and well being and encourage us to take regular breaks and make time for ourselves, they even organised an unplugged day so we could take a break from work."