The 10 Best Places to Work in Hotel Tech 2019
By Jordan Hollander
Last updated October 28, 2022
10 min read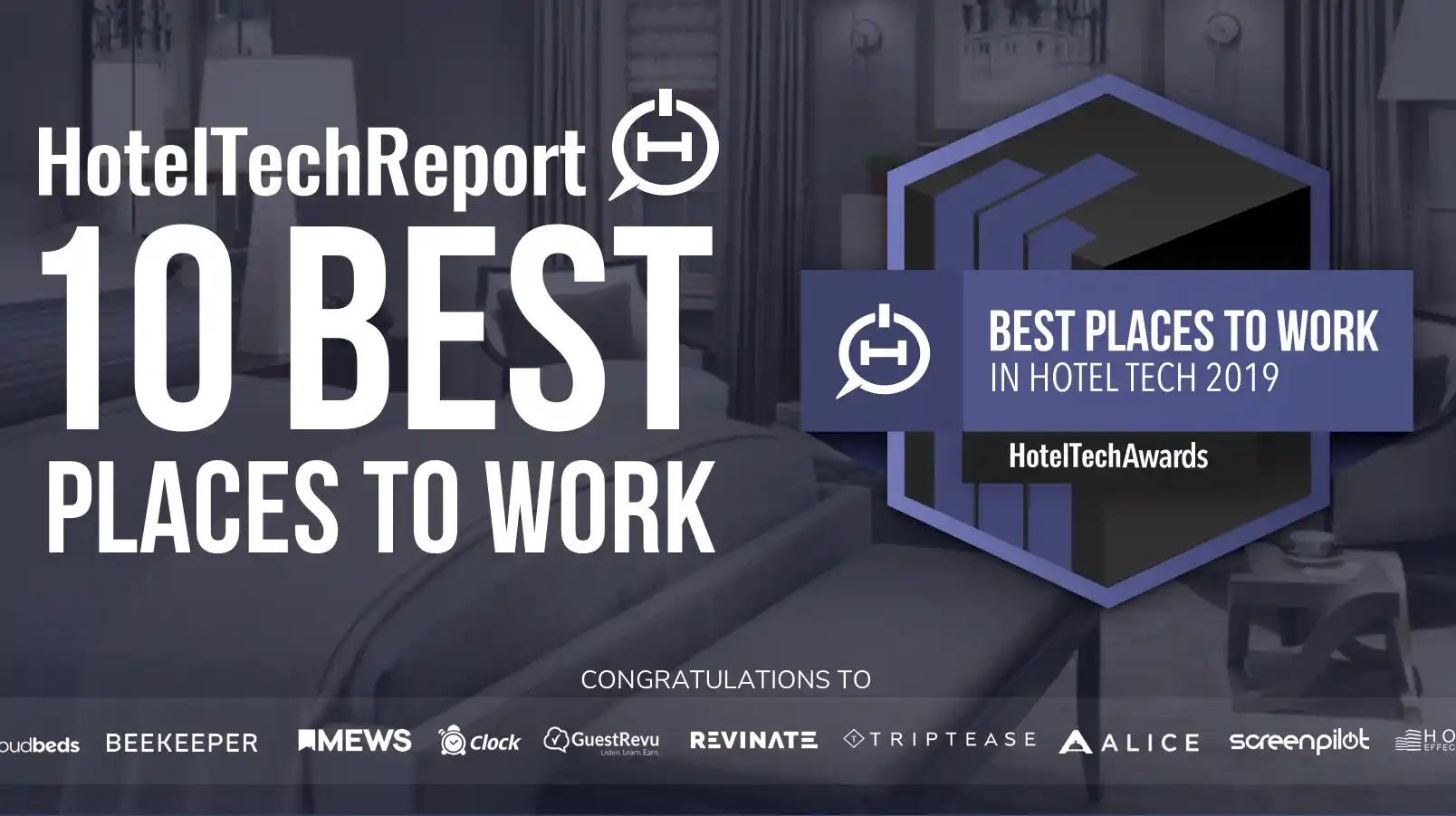 Creating a great work environment is the single biggest determinant of success for any business.  Companies that foster great work environments attract the best people and the best people build the best products.
A 2017 study that analyzed 326,000 employee reviews at publicly traded companies found that firms with high employee satisfaction outperformed the overall stock market each year by 135bp (1.35%).  A similar study of 400,000 employee ratings found evidence of a statistical relationship between employee perception and a firm's future earnings.
Sophisticated enterprise software buyers know that when they partner with a technology company, they are buying into not just its products but its vision, mission and team.  These buyers perform due diligence to understand the viability of any business that they plan to partner with and a deep analysis of employee satisfaction and vendor culture is part of that process.  Hotel Tech Report hosts this award not just to help the community find great jobs, but also to help fast track diligence for hotel tech buyers who want to learn about the best vendors to work with.
Understanding organizational culture is important for software buyers because companies that create great work environments retain employees longer, service customers better and innovate faster.
Perks like ping pong tables,  office snacks and vacation days are nice,  but our 10 Best Places to Work in Hotel Tech list is determined by the glue that holds companies together.
Each year we ask thousands of employees at hotel tech companies how they feel about their employers and anonymize the results.  The 2019 scoring is based on 7 key data points:
Work-life balance: Please rate how well your employer promotes work/life balance.

Personal development: How much importance does your employer place on your own personal development and succesful hospitality careers? 

Gender equality: How would you rate the opportunities available to women in your firm?

Employee confidence: How much confidence do you have in the future of your company?

Values alignment: How well do your values align with the culture of your organization?

Employee engagement: How passionate are employees about the company?

Growth prospects: How many open roles are there for your employees to grow into?
Without further adieu we give you 2019's 10 Best Places to Work in Hotel Tech:

10. Triptease
Our research on Triptease validates that the Company truly lives and breathes the ethos of its name.  Employees consistently cited off-sites and team trips as the highlights of their year. According to LinkedIn data, Triptease has grown its employee count 72% in the last 2 years.  Sometimes when companies grow that quickly, it's hard to maintain a great team culture. With the team spread all around the world, Triptease brings new employees for training and team building to the LondonHQ.  New employees rave about the experience for the learning and friendships that come from it. Other notable events include Triptease's renowned Direct Booking Summits (America, Europe, Asia) and a company wide Christmas party in Madrid (let us know if you need HTR on the scene to cover next year's party - this one sounded like a rager!).  Triptease employees are constantly blown away by how much management cares. One employee cited an unexpected bonus for a month of killer performance and another described to us how open management is to employee travel focused on career development. Ultimately, Triptease is one a big happy family and employees around the world are constantly connecting through a multitude team building activities and trips.  Employees love the fast paced nature of consistently launching new innovative products.
Check out open positions at Triptease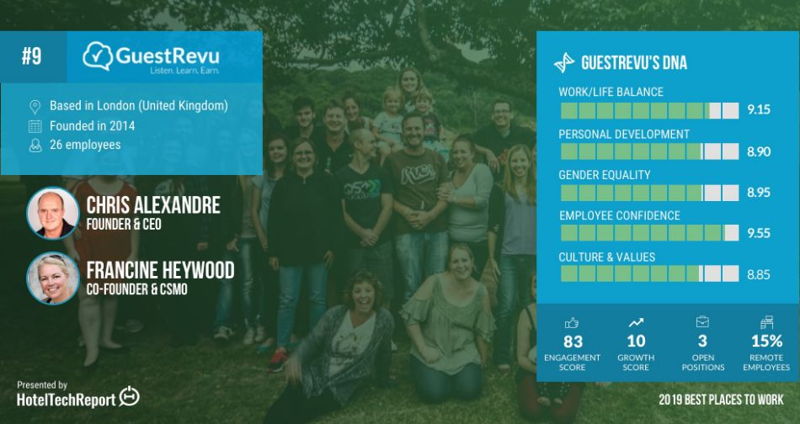 9. GuestRevu
GuestRevu had a year in which critical company milestones rallied the team together.  Not only did GuestRevu acquire a large regional competitor but the team also launched a major version update that required all hands on deck.  Despite all the craziness of rapid growth, a new version launch and a major acquisition - one employee raved to Hotel Tech Report about how supportive the entire team was during the loss of a loved one.  Another told us that she often needs to bring her 9-year old to work where he is always made to feel welcome and at home. The firm is so committed to its team that it sent out a company wide survey asking what employees wanted to learn and then purchased everyone access to Udemy classes to help them develop those new skills. The marketing team took classes on video editing and is already leveraging those skills to develop a series of video case studies for GuestRevu.
Check out open positions at GuestRevu
8. Beekeeper
For a company building software to help teammates communicate better - Beekeeper takes employee engagement and experience very seriously internally.  As one employee told us, "Beekeeper does an excellent job of capturing feedback and always checking in to understand where you want to go and providing actionable feedback and support to get you there." The Company promotes a healthy lifestyle through lunchtime sports and CrossFit.  Taking it one step further, Beekeeper offers unlimited PTO and flexible work schedules to accommodate the expectations of the modern workforce. Beekeeper's culture exudes transparency and humility. One employee told us that the team was initially put off by management's decision to require employees to clean dishes at an off site before they realized that this was all part of the team building.  This employee told us that the people they ended up washing dishes with ended up being their closest new friends and that the experience gave them an opportunity to bond in a way that most rarely do in the modern workplace. Another employee told us about a rewarding experience they had volunteering together at a homeless shelter. The team's humility shined through further when a new employee (2 weeks in) alerted management about tensions between two departments.  Much to their surprise both teams were thrilled to hear their new colleague's insight and showed their appreciation. Management even went one step further offering this individual to run a huge cross-departmental retrospective 5 weeks into their job. It's not often that companies are so open to self-reflection and change coming from a new junior hire and we really admire the culture that Beekeeper has nurtured.
Check out open positions at Beekeeper
7. Hotel Effectiveness
Hotel Effectiveness is an incredibly successful company that largely flies under the radar of hotel tech buzz.  The Company provides revolutionary labor management software that we've covered here.  If there's one word that sums up the Hotel Effectiveness team culture - it's 'performance'.  Employees are unilaterally motivated by consistently hitting lofty sales goals time and again.  As a testament to this performance driven culture - one employee told us that one time their boss had to tell them to go home early and make some time for family when they were overworking themselves.  This performance culture isn't mandated from the top and is completely grassroots in that it's driven by internal employee motivation and ambition. While you can expect to work alongside incredibly driven and ambitious colleagues at Hotel Effectiveness - they definitely know how to have a good time host a hilarious annual white elephant Christmas party.
Check out open positions at Hotel Effectiveness
6. Revinate
Revinate's culture is characterized by constant iteration and testing.  The Company is always trying new things and that affords a ton of learning opportunities to team members.  This year while the technical team executed a full shift from hosted data center to cloud based AWS infrastructure the sales and marketing teams were tasked to rapidly grow the install base of the Revinate Marketing product.  Both teams executed with near perfection and everyone celebrated with an impromptu party where key team members reflected on the incredible achievements of such a relatively short time period. Revinate embodies the startup spirit with enterprise scale.  Revinate CEO Marc Heyneker is deeply involved in the day to day operations of the business and employees across the organization rave about his ability to inspire and teach. One employee told us a story about a serious head injury that left this person working remotely for several months.  His team made sure to make him feel included as part of the office through the entire time away but that was only the beginning. The employee recalled being shocked that over a year after his injury Heyneker pulled him aside to check in on his health and to ask what he could do personally to help.
Check out open positions at Revinate
5. Cloudbeds
Cloudbeds management recently surprised its team with a beautiful new San Diego headquarters equipped with a 14 ft indoor willow tree, a massive outdoor workspace, game areas, stand up workstations and more.  The environment is fun, welcoming and echoes the company theme - all things travel. Cloudbeds has an extensive wellness program because management knows that healthy employees are productive ones. This productivity paid off in 2018 where Cloudbeds achieved #75 on Inc Magazine's fastest growing companies list.  How are they growing so fast you ask? Well it's probably because CEO Adam Harris told the team he'd dance to any song of their choosing. We will keep you posted once we get our hands on the video from Harris' co-founder Richard Castle. The Company maintains several internal chat threads exclusively for team sharing of funny photos, videos and memes - so we expect the video to surface there as well.  All jokes aside, Cloudbeds takes both employee and team growth very seriously. Each employee has weekly 1-1 meetings to review competencies and revisit their path to promotion. The Company is growing rapidly and there are constant opportunities for employees who prove themselves. Cloudbeds is also a 100% flexible organization where remote employees and those stationed at the headquarters all enjoy the ability to work from anywhere anytime.  Cloudbeds has fostered a culture where its team members truly enjoy hanging outside of work and building friendships important for their personal and professional lives. Several Ukrainian teammates trained for a marathon together and one customer success rep has leveraged her friendship with the UX designers to pursue her passion for design. After taking several courses independently the UX team has given her several opportunities to practice her skills on live projects.
Check out open positions at Cloudbeds
4. Clock Software
Clock Software is another company on our list that is growing insanely fast but doesn't take itself too seriously.  One Clock employee told us that on their birthday coworkers wrapped his entire workstation and even put a bow on it.  The only complaint we heard from Clock Software team members was that they are growing too fast and needed more staff to manage the growth.  This is the best kind of problem to have. Clock is the oldest company on our list and celebrated their 22nd anniversary this year - a testament to the longevity of the business.  Clock founder Krasimir Trapchev has focused on growing the client base without scaling the team too quickly. Trapchev is all about execution and he's prioritized building a long term sustainable business over rapid scaling which is extremely unique in an environment where funding is so plentiful that CryptoKitties, a company that enables users to breed and trade digital cats can raise $15M.  Clock is now starting to scale the team so it can take on more enterprise clients and its employees are fired up.  If you want to learn how to build a real business without massive amounts of venture capital - check out open jobs at Clock because Trapchev is the Mr. Miyagi of entrepreneurship and you'd be wise to make yourself his Karate Kid.
3. Screen Pilot
Screen Pilot takes team building very seriously with activities like bubble soccer, a British Bakeoff (it's ok we Googled it, too), volunteering at an animal shelter, an escape room and even a city wide scavenger hunt around its hometown in Denver.  The scavenger hunt and Screen Pilot's quarterly volunteer days are a testament to Screen Pilot's commitment to the surrounding community. While Screen Pilot is a top rated digital marketing agency, it's a technology innovator as much as a marketing service provider.  The Company has created what it calls SP Labs where employees brainstorm ways to better leverage technology to help its clients win more direct bookings. Think of SP Labs like an ongoing internal hackathon with dedicated teams set on solving acute problems for clients. It's this kind of innovative mindset that lead Screen Pilot to a 2018 Adrian Award for social content creation.
Check out open positions at Screenpilot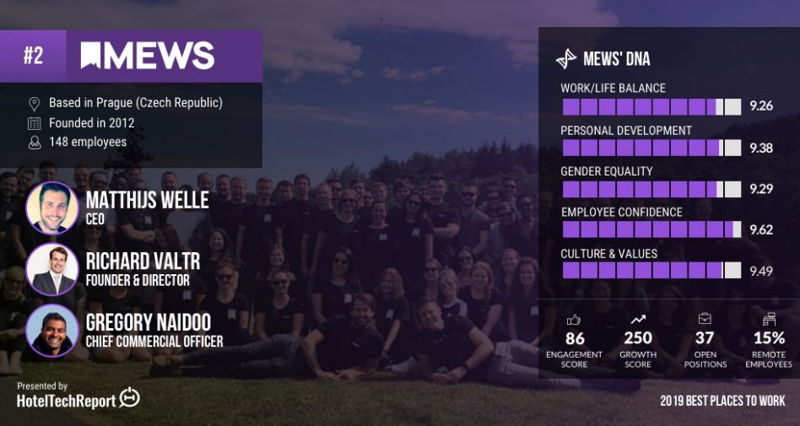 2. Mews Systems
If you caught the Mews Systems booth at WTM you might think that it was a rocket science company with all the lab coats and futuristic decor that earned it the Best Stand Award.  While Mews isn't quite a rocket science company it is taking off like a rocketship having doubled its client base in the second half of 2018 alone. To support that kind of insane customer growth Mews had to 4x its team size in the last year - the fastest growth of any company in our list.  So how can a company even hire that fast? Mews attracts 40% of new hires via referrals. If that doesn't say something about the company culture we don't know what does. With that kind of insane growth supported by an $8M Series A in June you'd think it's all business but Mews employees say it's very much a "work hard, play hard" culture.  One employee told us that one of his favorite things about working at Mews is "daily banter with the boizz" - this kind of hilariousness is exactly what's helped the Company take the industry by storm. Hoteliers everywhere are sick of generic jargon and boring brand marketing from hotel tech firms and Mews is the antidote. Employees frequently cite founder Richard Valtr and CEO Matt Welle as saying "At Mews we are family and we will take care of any family member in need."  Mews also boasts an extremely inclusive culture illustrated by the firm's attendance at the Prague Pride celebration wearing special edition Mews gear to the event. The Company also has a shared value culture at its core and participated in UK Byte Night last year.  Byte Night prevents youth homelessness by having corporate teams sleep in the streets to raise awareness and funds for the cause.  Richard and team participated which is really cool and a statement to the quality of people that you'll work with when you join the Mews team.
Check out open positions at Mews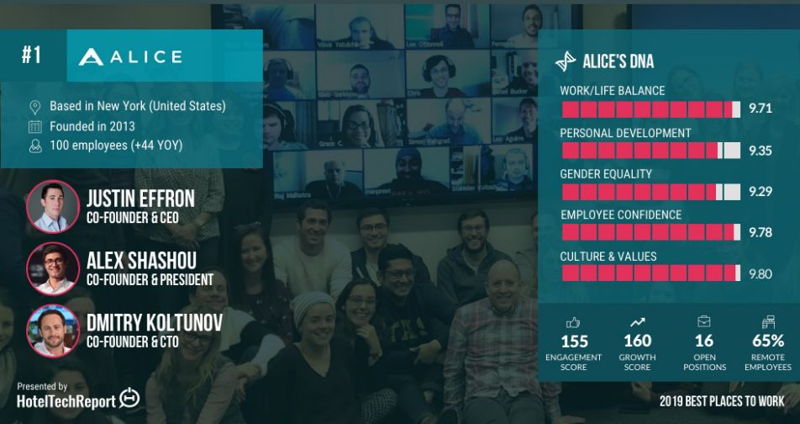 1. ALICE
ALICE employees widely agreed that quarterly town hall meetings are the foundation of ALICE's connected team culture.  ALICE staff loves the opportunity to connect with colleagues from around the world, align around the company vision and get transparency into how the business is performing at a macro level. More than doubling its size in 2018, ALICE unsurprisingly had to upgrade its HQ office to add more space and acquire obligatory startup amenities like a cold brew keg, stand up desks and lockers.  ALICE goes so much deeper for its team and invests heavily in career development. Employees participate in a company wide book club, receive access to free Udemy courses and are nurtured along a very clear path to promotion.  ALICE employees talk about the clarity of path to promotion more than any other company's employees on our list. Setting a clear path to promotion is important for making employees feel like they're constantly progressing and puts them at ease knowing that there's always room to grow internally.  Major consulting firms like BCG and McKinsey have perfected this art but rarely do we see startups who are able to provide such transparency to their staff - kudos ALICE management.One employee told us that she was promoted 4 times in the last 3 years - a testament to ALICE's ability to reward top employees.  Even a remote worker was able to win ALICE's Culture and Values Award twice in 6 months. This individual told us that they felt like they were on an island while working previous remote jobs - but felt very connected to the inclusive ALICE team. ALICE acquired GoConcierge this year and is making serious strides with major enterprise clients after its $30M Series B funding - a testament to the strong prospects for the firm and probably why employee confidence in the firm is best in class.  "When you receive a high five from the CEO, that says a lot about the culture of the company," says one team member. High fives all around!
Check out open positions at ALICE
--
Looking for open roles at hotels and hotel groups? Check out our step-by-step guide on how to use Hcareers to find and land your next role.