Cendyn CEO: This is what hotels can learn from the Grateful Dead
By Jordan Hollander
Last updated January 26, 2022
7 min read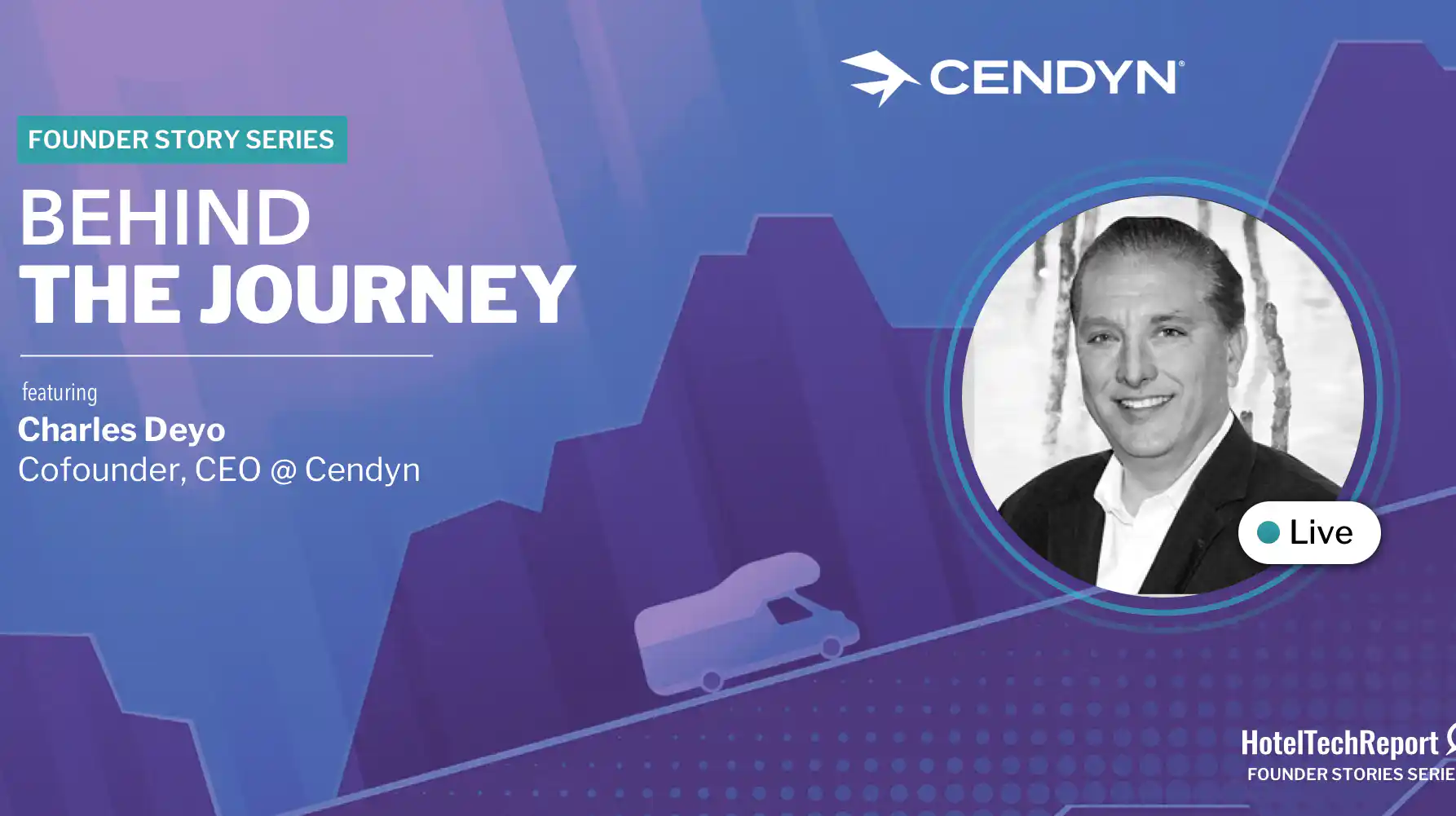 Cendyn's Charles Deyo isn't your typical hotel tech founder by any stretch of the imagination.  Deyo is an avid scuba diver, he meditates under pyramids for spiritual guidance and even plans to play guitar at an underwater music festival next year.  By 1996, the same year that Expedia was born, Deyo had spent 20 years in the hotel industry before founding Cendyn with his wife Robin to help hoteliers win in the digital age.
Cendyn's first product to market was its eProposal solution which allowed hotels to accept group business RFPs via their websites and grow their group business. While eProposal is still a core component of the Cendyn Hotel Sales Suite, it is only a small piece of Cendyn's current offering.  Today Cendyn's sales and marketing solutions power more than 30,000 hotels globally through products that touch on hotel CRM, sales software and hotel digital marketing services.  
Back in 1996, Cendyn's initial product to market was its eProposal solution which allows hotels to accept group business RFPs via their websites to increase group bookings.  Today, eProposal is still a core component of the Cendyn Hotel Sales Suite.   
The best tech companies listen carefully to client pain points and develop solutions based on those requirements.  The history of Cendyn is a textbook example of how to build a great business by listening to your customers. As the internet boomed through the early 2000s Deyo and his team noticed that there was a huge skills deficiency in digital marketing amongst hotels and began to offer digital marketing services to help clients grow their direct channel.
During our interview with the Cendyn chief, Deyo told Hotel Tech Report that the biggest inspiration for building his empire was Grateful Dead frontman Jerry Garcia.  When asked why, he noted that the Grateful Dead is not just an iconic band but is actually one of the greatest brands of all time. The Grateful Dead brand is so prolific that at its peak it raked in more than $90M per year.  Deyo believes that the Grateful Dead's success could be attributed to one of Garcia's core beliefs that is summed up in this iconic quote:
"We did not want to just be the best at what we did, but the only ones doing it." ~Jerry Garcia
Deyo has always wanted to innovate ahead of the competition and be the "only one doing it" as an ode to Garcia.  When Deyo started Cendyn there were few (if any) online platforms facilitating group business RFPs in hotels and he wanted eProposal to be the only one doing it.  While others were busy copying his recipe for success, Deyo was pioneering the concept of hotel CRM to provide actionable marketing insights where hotel marketers previously lacked any tools to make data driven marketing decisions.
Cendyn is yet again pushing ahead with plans to change the way hotels leverage CRM systems within their businesses.  Historically, the hotel CRM sits within the marketing function but Deyo and his team believe it will become much more operational in the future and Cendyn is focused on pioneering the ways hotels leverage CRM systems for operations and not just marketing.
Related article: "Super Angel" Dave Berkus on the convergence of PMS, CRS and hotel CRM
Deyo believes that hoteliers, too, can benefit massively from living by Jerry Garcia's credo.  The hotel industry is one of the most competitive in the world and in order to stand out hoteliers must find unique ways to can add value for hotel guests, shareholders and staff.  In this exclusive interview we spoke with Cendyn CEO Charles Deyo about the competitive advantage enjoyed by hotel technology early adopters, the evolution of hotel CRM as an operational tool and more.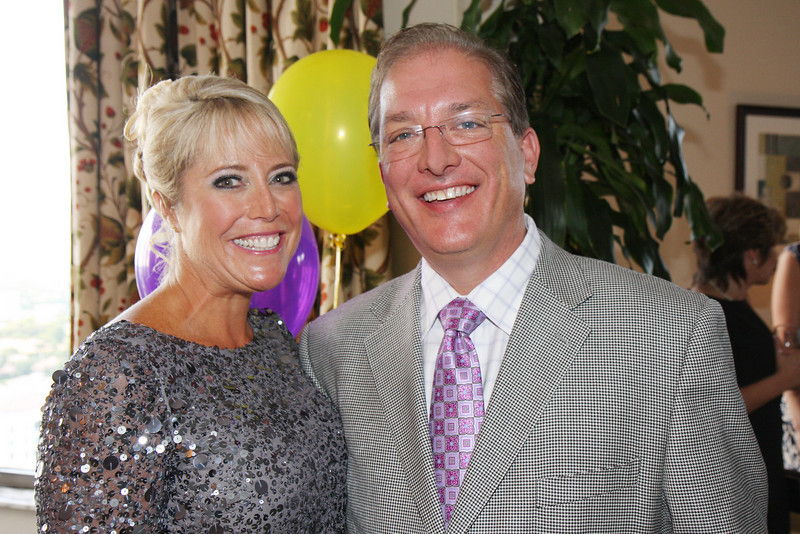 Power couple Charles and Robin Deyo co-founded Cendyn together
What was your background prior to starting Cendyn?
Before starting Cendyn I had many years of hospitality experience including 13 years at Hyatt Hotels as Regional Controller and AVP of Sales and Marketing, 3 Years at Kerzner International as Senior Vice President during the development of Atlantis in the Bahamas and 3 Years as Regional Vice President at Boca Resorts (which also owned The Biltmore and Registry Hotels).
Tell us about the Cendyn founding story.
After spending 20 years in the hotel industry, I realized that hotels needed software solutions to run their business better. We developed solutions that eliminated the pain points for hotels and drove sales and marketing performance.
When Robin and I started Cendyn in 1996, the Internet bloomed in front of us and we decided to use this new medium to develop web-based tools that could help the industry we had worked in for years run their businesses better. The first product we brought to market was eProposal, which is still the industry leader almost 20 years later as part of the Cendyn Hotel Sales Suite. Back then, I did it all, from being the programmer to the accountant and everything in between. We were a small, family-run tech firm. After expanding into hotel CRM and digital marketing, (we were one of the early trailblazers in these areas for the industry), the momentum kept going as we won some of the biggest brands and best hotels in the world as clients.
That really amped up with the investment from Accel-KKR a few years ago that gave us opportunities to open new locations, acquire companies and accelerate product innovation. Today, we're lucky to have over 30,000 hotel clients using our solutions.
Who was Cendyn's first customer?
Frank Calaguire at Starwood. Frank and I worked at Hyatt together and we deployed our first SAAS solution (Cendyn eProposal) at The Westin back in the 90's. Frank was a good friend and the Managing Director at Westin Copley Place. eProposal is now in over 22,000 hotels worldwide.
The hotel tech market is incredibly competitive, how does Cendyn stand out?
Cendyn is a cloud-based software and services provider that develops integrated technology platforms for driving sales and marketing performance in the travel and hospitality industry. The Cendyn Hospitality Cloud offers the most complete set of innovative software and services in the industry, covering hotel marketing, guest engagement, group sales, and event management.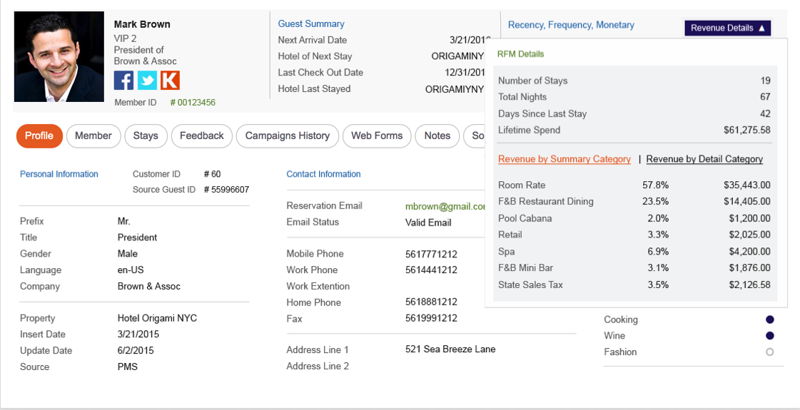 Cendyn's eInsight CRM is more than a marketing tool and delivers operational insight
Who is one mentor that has made a big impact on your entrepreneurial journey?
This is probably not one you hear everyday in hotel tech interviews but The Grateful Dead has had a huge influence on my perspective both personally and within the realm of entrepreneurship.  Jerry Garcia said: "We did not want to just be the best at what we did, but the only ones doing it." Most people don't realize that the Grateful Dead was one of the most successfully marketed bands of their time and turned their brand into a cash cow which generated $95 million a year at one point.
What's one commonly held belief that most hoteliers believe to be true that is actually wrong?
Hoteliers believe delivering personalized experiences is hard. I have always looked at technology as an enabler for innovation. With the right enablers, hoteliers can take advantage of technology to make personalization easy, which is one of the cornerstones of our eInsight CRM product.
I think either hotels don't know where to start with their data, or they haven't democratized access to the right people who can leverage it to drive home personalization. Hotels that standardize 2-way communication among systems and make data integrations a priority are the ones able to break through and outperform in personalization. Information is more relevant, robust and customized when all the systems are speaking to the touchpoints guests have in the journey.
What's the most surprising thing you've learned about scaling technology into hotels since founding Cendyn?
I was always surprised that standardized integration took so long for our industry. Today, we integrate to hundreds of hotel systems which is key to getting a true 360-degree view of your guest.
There are hotels leading the way in how they use technology integrations and those at the other end of the spectrum, but what we do see day-in-day-out is in those hotels that have done so, they have an improved ability to; send the right message to the right guest, through the right channels; gain a clear understanding about the history and preferences of each guest in real time regardless of how they booked; empower their guests to receive information and communicate in the ways that work for them; and deliver the best kind of service, whether it be human interaction or through the use of technology.
How do you see hotel tech changing in the next 5-years?
We will see more intelligent use of data with AI and bots to further leverage the guest experience.
Because of more integrations between technology systems and a higher flow of data between platforms, bots and AI will increase in learned automation and intelligence that can deliver more of the right messages, at the right time through the right channel. We're in the process of breaking new ground with CRM technology as the core with bots and AI serving based off centralized intelligence. In five years, it will all evolve around the model of a central global profile for guests that references a sophisticated rolodex of data to help serve the customer's desire for personalization at every touchpoint.
Bots will make recommendations, personalize communications and adjust service algorithms in real-time based on data points. CRM will no longer be seen as a marketing function, but rather an operational tool that intelligently orchestrates how everyone interacts with a guest.
For Cendyn specifically, we will continue to grow our organic revenue at 20% year over year, along with continued evaluation of M&A opportunities.
Do you have any new products or feature launches?
As we continue to operationalize CRM for hotels, our latest release of eNgage allows for more sophisticated algorithms that anticipate varying engagement opportunities with hotel guests that, in turn, alert hotel staff.
We have a lot of hotels using this solution with great success for personalization, including our client TFE Hotels, headquartered in Australia. They've got eNgage across their international hotel group in Australia, New Zealand, Germany, Denmark and Hungary.
What advice do you have for hoteliers in this economy?
Adopt more technology. Even with all the strides the hotel industry has made, it is still behind other industries. Technology must have an ROI by driving sales and marketing performance. With eInsight, our CRM product, we drove an average 33X ROI for our hotel customers in 2018.  As the economy hits an inevitable slow down, technology will determine the winners and losers.  
What's one piece of advice that you have for any entrepreneurs looking to get into the hotel tech space?
Keep it simple. Make it valuable. This has been a mantra of Cendyn from the beginning of our company.
What is the best book you've read lately?
I think we are experiencing significant generational differences due to technology, social media and the varying thought processes. Given that, I thought "Sticking Points" by Haydn Shaw does a great job of explaining how we can make this work with our evolving business teams. Great people working in harmony make great companies.
What is your favorite podcast
Cendyn's upcoming podcast series, of course.
What is one thing that most people don't know about you?
I play guitar and am certified in scuba diving. I plan to play the underwater music festival in Big Pine Key, FL next year. I also meditate under a pyramid on life and business opportunities when needed.