What is a Channel Manager? How Do You Choose the Right One?
By Hotel Tech Report
Last updated October 11, 2022
4 min read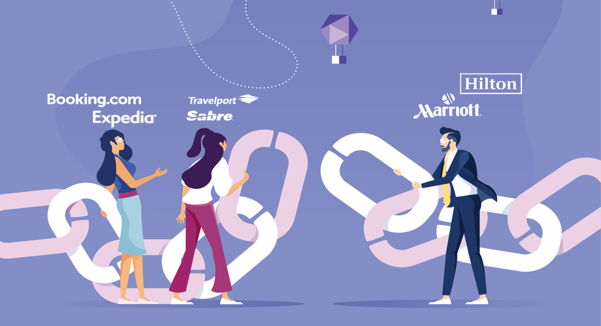 Without a channel manager, hotels must manually update inventory and availability on each channel -- a tedious, time-consuming process that often creates inconsistencies across channels.
A channel manager also empowers hotels with greater control over the channel mix. Revenue managers can set specific targets on a channel-by-channel basis, and then adjust inventory and/or pricing on individual channels to optimize revenue. By using this dynamic approach, Revenue managers can more precisely manage a hotel's distribution and prioritize the most profitable channels at any given time.
Presently, only about 50% of hotels worldwide employ dedicated channel managers to help them automate, manage and optimize online distribution. If your hotel is considering a channel manager, here are the top criteria to use when choosing the best channel manager for your hotel.
What is a Channel Manager?
A channel manager is a simple yet powerful piece of hotel technology that increases occupancy, saves time, boosts direct bookings and maximizes online sales. It allows a hotel to expand its reach and online bookings, as well as more easily manage its rates, availability, and reservations.
With a channel manager, hotels can connect to hundreds of online distribution channels in real-time. This allows the hotel to boost visibility (and ultimately reservations) with almost no risk of being overbooked.  Channel managers can connect to any of the following:
Online travel agencies (OTAs): Booking.com, Agoda and Expedia, also any metasearch channel that has direct booking functionality (think TripAdvisor and Google Hotels)

Vacation rental platforms like AirBnB and Homeaway

Brick and mortar travel agencies: Channel managers allow you to sell inventory via GDS

Direct: this is through your hotel website and booking engine
Real-Time Connectivity and Pooled Inventory
One of the major benefits of hotel channel managers is real-time connectivity; without it, the risk of overbooking remains. The best way to accomplish this real-time synchronization is through two-way XML connectivity.
Instant sync ensures that room rates and availability are current and accurate across all chosen channels. Without that assurance, a channel manager will be less effective in increasing your bookings and resulting revenue.
Effective channel management also requires a pooled inventory model, which means that your room inventory is shared across channels, rather than allocated manually on a channel-by-channel basis. Pooled inventory ensures accurate availability so that rooms can be advertised across all channels at the same time, without fear of overbooking (or double bookings).
Channel Optimization
To distribute inventory on the most optimal channels for your hotel, you'll first need to know which channels matter most. Look closely at which channels a potential channel manager supports. If any of your most important channels are missing, consider another vendor.
Channels vary dramatically by region.  Also: refer to your guest personas (or take the time to do that critical work!) to determine which channels help you reach those kinds of guests. It's also revealing to consult your CRS reports to surface the popular booking channels among your target demographics.
"If you're a hotel looking to attract Chinese travelers, for example, you will want access to the booking channels that Chinese travelers use most, like Ctrip or Fliggy. The makeup of travelers is constantly evolving, so gaining access to these more niche channels, as well as the top global ones, will allow you to broaden your distribution strategy and attract new types of guests."

SiteMinder director of product Gregor Vogel, in TravelDaily
The best channel manager allows you to leverage your most productive channels, as well as experiment with less-obvious channels that might bring you untapped demand from hard-to-reach markets. And it doesn't hurt to ask vendors for recommendations on which other channels you should consider -- the answer will show you how the company approaches customer service.
Training, Support, and Implementation
As with any new system, users will have questions and encounter issues that require troubleshooting, so training and constant support is a must. Depending on the size of your property, this could be a make-or-break item. You need to know what training is available, how much it costs, and if it's offered in the appropriate time zones and languages for your business. The same goes with ongoing support -- you should be able to get a response via chat, e-mail, or phone within a few hours at the most.
There are five milestones on the path to implementing a channel manager. These include an introduction, group training, setup, private follow-up, and set live. Free trials typically last about 2-weeks where the hotelier can test out the full feature set and upon completion can immediately activate their subscription or choose not to invest at no further cost.
Deep Integrations with Pricing Rules
A good channel manager should have the ability to integrate with all the hotel's existing core systems, such as the PMS, RMS, and CRS.
PMS: The property management system is the central hub for hotel management, so data from the channel manager must flow back and forth.

RMS: To accurately and effectively manage revenue and profits, the revenue management system and channel manager need to share data.

CRS: For seamless operations and a single unified view of property management, the channel manager must feed data to the central reservation system which then links with other systems.
An effective channel manager eliminates content inconsistencies by making it easy to update room inventory, availability, and rate plans through a simple interface. This interface should also facilitate cross-channel content updates, you can update your property's photos, descriptions, room types, and related content all from one central location. No more endless manual updates, or forgetting to update content on a rarely-used channel.
"The ability for distribution technology to seamlessly manage and sync content can save property's time and, more importantly, drive reservations."

Cloudbeds director of global partnerships Sebastien Leitner
Hotels should also be able to set pricing- and availability-related rules to maximize profitability on each channel. These include: Direct pricing rules to maintain the direct channel's Best Available Rates, setting stop-sells for rooms and packages when a specific channel has met its targets, setting the minimum number of days a booking can be made (to entice specific behaviors on certain channels), and offering discounted rates prior to a guests' arrival.
Intuitive, Easy-to-Understand Reporting
Channel managers provide valuable data for revenue managers to adjust their distribution strategy dynamically. The right channel manager for your hotel is the one that gives you the insights you need to optimize your channel mix. It's not enough to just distribute inventory across channels; best-in-class channel managers invest heavily in advanced analytics and easy-to-understand reports that show occupancy, reservations, and revenue for specific periods of time. m.
Armed with this information, revenue managers can make pricing decisions based on supply and demand. The reports will identify under- and over-performing channels for further investigation. For channels where the marketing cost per booking is low, it may be advantageous to address underperformance with price adjustments to encourage more bookings. For channels with high commissions or other customer acquisition costs, a spike in bookings may negatively affect a hotel's Net RevPAR.
Choosing the Best Channel Manager for Your Hotel
Channel managers are valuable allies for revenue managers as they balance profitability-per-booking with gross room revenue targets. Distributing your inventory to the broadest base of connected channels maintains visibility and increases your chances of bookings. The ability to selectively choose online channels keeps you in control over the optimal channel mix and profitability at the booking level.
When vetting vendors, use the criteria above and ask the following questions to determine the best channel manager for your property:
How many channels are you connected to?

Are you connected to the most important channels for my hotel?

How many channels, room types per channel, and days can my hotel manage simultaneously?

How far out can you manage availability?

What reports will you provide me? Will you show me which channels deliver the most bookings and which provide the most revenue?
Read relevant and recent reviews of the 10 top rated hotel channel managers.