How to Easily Manage and Distribute Your Hotel Content Across Demand Partners Using Content.AI
By Jordan Hollander
Last updated February 16, 2023
7 min read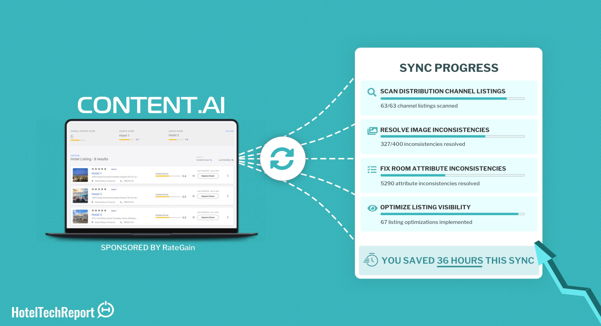 Prior to the pandemic, travel bookings were abundant which led to many hoteliers becoming complacent in their distribution strategies.  As bookings dried up, hotels needed to get more creative about how and where they generated demand from.  Many of the savviest hoteliers began optimizing their content across 3rd party distribution channels to drive more visibility and increase conversion by standing out from the compset - but with so many channels out there the task has become unmanageable (especially with labor shortages).
Managing digital content, like amenity information, descriptions, and photos, is an important component of any online hotel content distribution strategy. And far too often, it gets deprioritized in favor of what seem like more urgent tasks.
Great content is the key to travel and accommodations bookings.  All else equal, hotels who display the best and most accurate content to 3rd party channels will receive the most bookings.  Airbnb co-founder Joe Gebbia credits the firm's early success to a strategic shift in content distribution.  After the startup implemented a strategy to display better content, Airbnb doubled it's revenue within a week.  While your hotel may not double revenue in a week like Airbnb, there are massive gains to be had by optimizing your content distribution tools and strategy.
What if we told you that there's a way to optimize your content using automated tools without needing to hire a team or take hours out of your already slammed schedule?
In this article, we'll explain why it's so important to maintain correct, complete, and consistent content, and explore how Content.AI by RateGain addresses  the common pain points of content distribution. 
What Hotel Content Do You Find on Demand Partners?
Let's first define exactly what we're talking about here: what is hotel content on demand  channels? These include online travel agencies (OTAs) like Booking.com and Expedia, as well as smaller niche sites. And the types of content on these sites include photos, policies, text descriptions, and amenity information.
A typical hotel might have between 50 and 100 photos uploaded across multiple OTAs, GDSs, etc. Photos include exterior shots, interior shots of areas like the lobby, fitness center, restaurant, bar, and hallways, and each room type. Within each room type, it's a good practice to include photos not only of the bed and living area, but also of the bathroom, toiletries, storage spaces, and unique decor elements. Photos must be tagged with tags like "Pool","Bathroom", "Fitness Center", "Spa", etc.," which adds another step to the photo upload process.
Your policies are an important part of your demand partner listings because they communicate crucial information that guests need to know, like what time to check-in, when free cancellation ends, and whether children or pets are allowed. 
Amenity information is another important part of your listings not only because it shows guests what makes your property special, but it also helps guests narrow down their hotel options.
Many guests use filters to look specifically for hotels that have free parking or are pet-friendly, and if your hotel offers these amenities, you must share the relevant information  to appear in filtered searches.
OTAs are constantly adding more content fields or offering additional options too, like instead of simply showing a checkbox for "coffee maker," the OTA might add options like "Keurig coffee maker," "espresso machine," or "Nespresso machine."
Recently, demand channels have added a slew of COVID-related content fields so you can communicate your hotel's health and safety policies effectively.
Here's Why It's Important to Update Your Hotel's Content on Distribution Channels Regularly
There are two key reasons to update your hotel's content on a regular basis: to optimize search results placement, and to maintain accurate and relevant listings.
Smart hotel management companies and ownership groups have processes to manually monitor content scores across their demand partners on a monthly or quarterly basis.  Typically it takes a corporate revenue or distribution manager around 45 minutes to set up a new demand partner and 15 minutes to monitor a demand partner which is typically done on a monthly basis.  Since most hotel groups have 10 or more demand partners, this can require significant labor hours checking and updating each platform.  With Content.ai they can view scores in a centralized dashboard and execute quick wins to improve scores without heading into all the different extranet systems.  Content.ai is basically a channel manager for content (instead of rates and availability).
In a world where hotels are short staffed, it's easy to see the value in a syncing platform that reduces labor and tedious tasks.
Many third-party sites use "content completeness" as a factor in their search results ranking algorithms. You may notice a "content score" in the OTA extranet that tells you if you've filled out each high-priority section of content, like check-in/check-out times and parking information. These requirements are always changing, so even if you had a 100% content score six months ago, it might be at 90% now. If you want the best placement in the search results, you need to log into each OTA's extranet frequently in order to complete all of their fields.
In addition, your hotel is constantly changing. Perhaps your restaurant hours shift or you've installed EV chargers. You'll want to showcase those updates to potential guests who are looking at your listings by adjusting the restaurant availability, informing about the "EV charger" addition, and maybe even uploading a photo of the EV chargers. It's easy to see how updating content on demand channels can take a lot of time!
Where the Process is Broken Today
As a revenue manager or digital marketer, content management might not be a priority for you right now - and you're not alone in that.
Content management is traditionally seen as a lower-priority task, maybe something an intern would handle or something you do once a year. Besides, your hotel might be facing staff shortages, and you might have more on your plate than you had last year or the year before, which pushes content management even lower on your list of things to do.
At the same time, content management is a more time-consuming task today compared to two years ago. Your demand partners are asking for more content fields, like whether your housekeeping staff wears PPE while cleaning guestrooms, and if you offer special rates or availability for first responders.
Your hotel's amenities and policies are also in flux; as local regulations and travel restrictions evolve, your hotel must adapt to stay compliant or to make things work with fewer guests, less staff, or reduced capacity. 
Why Focus on Hotel Content Now?
Maintaining good content isn't a new concept. So, why are we now paying special attention to it? 
As the world starts traveling again post-COVID, travelers are extra cautious about staying in hotels. They're spending more time researching potential places to stay, and they're reading all about each hotel's safety and cleaning procedures.
Furthermore, a recent McKinsey study shows that today's travelers are more likely to share negative reviews if their experience falls short of their expectations compared to pre-pandemic times. It's crucial for your hotel to show accurate information about your cleanliness efforts, amenities, and policies across all of your channels so you avoid setting the wrong expectations and getting bad reviews.
For example, if you used to serve a fabulous buffet breakfast, but since the pandemic began you've pivoted to continental breakfast served in to-go bags, you'll want your listings to reflect this change. That includes removing all the photos of your buffet breakfast spread too.
How Content.AI Makes Updating Content Quick and Easy
When faced with less time, more work, and more pressure to deliver great guest experiences, it's difficult to make hotel content management and distribution a top priority.
But what if you had data that told you exactly which content was most important to update? What if artificial intelligence (AI) could help you with the time-consuming task of updating content across all of your channels?
So how exactly does Content.AI work? You enter all of your content and upload your photos on Content.AI's cloud-based software, then the software distributes it to channels with just a single click. When you need to make changes, you simply make the change in Content.AI's portal and push the update to all of your connected channels.
Content.AI helps hoteliers prioritize which content to optimize, provides tools to make the optimizations then syncs those optimizations across multiple demand partners from a single interface.  Here are some of the key features:
Uses AI to prioritize which content should hotels update first to drive more conversions
Edit, Enhance and Optimize images to communicate the best experience to prospective guests
Auto-tag images for easy identification and categorization by demand partners to improve SEO
One-click distribution to demand partners saving hours of effort in updating content
Benefits of Maintaining Content Across Third-Party Channels
Now that we've discussed what Content.AI does, how does updated and optimized content actually benefit your hotel? How does content help you reach your goals? Good hotel content will help with:
More visibility: Filling out all of the relevant amenity information will ensure your hotel's listing appears in filtered searches. For example, guests often filter the search results to show only properties with free breakfast or beach access. Maintaining a complete and accurate list of amenities will help you maximize visibility. In addition, you'll want to maintain a 100% content completion score on your demand channels so you have the highest possible ranking in the search results.
Higher conversion rates: Every hotel wants to increase their conversion rate, which is the percentage of shoppers who click on your hotel's listing who end up making a booking. Potential guests shop around when they're choosing a hotel, and if your hotel's listing doesn't have enough content (or if the content is outdated), that potential guest may click over to a competitor's listing. If that potential guest can see all of the information they need on your listing, then they will be more inclined to book, thus increasing your conversion rate. As a bonus, most OTAs sort their search results by putting the highest-converting hotels at the top. If you can boost your conversion rate, then your search results rank will get an additional boost.
Additional revenue: When you can boost your conversion rate, even if you don't get any additional views of your hotel's listing, you'll get more revenue. Accurate and compelling content will help your hotel to stand out among competitors. In addition, when you have complete content for each room type, you can book more premium room types if guests understand the upgraded benefits or amenities that are present in those rooms.
Better guest review scores: With accurate content across all of your channels, guests can set realistic expectations for their stays. When your hotel is represented accurately online, and the guest experience aligns with the photos and amenity content on your listings, guests are  likely to write positive reviews.
Content.AI helps you keep all of your digital content fresh and up-to-date across all channels. Content management shouldn't be put on the back burner; instead, content should be an integral part of your digital marketing strategy and a component in achieving your occupancy, revenue, and guest satisfaction goals.
Together with RateGain
This article was created collaboratively by RateGain and Hotel Tech Report.  Learn more about RateGain's product suite: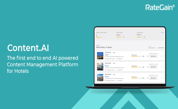 THE PITCH
RATINGS
BEST FOR
88
HT Score
Hotel Tech Score is a composite ranking comprising of key signals such as: user satisfaction, review quantity, review recency, and vendor submitted information to help buyers better understand their products.
Learn More
AI-enabled platform for improving content strength across preferred demand partners; increased discoverability in filtered searches; increased bookings; and more revenue.

Content.AI (by RateGain)
Listings Management
THE PITCH
RATINGS
88
HT Score
AI-enabled platform for improving content strength across preferred demand partners; increased discoverability in filtered searches; increased bookings; and more revenue.
Learn More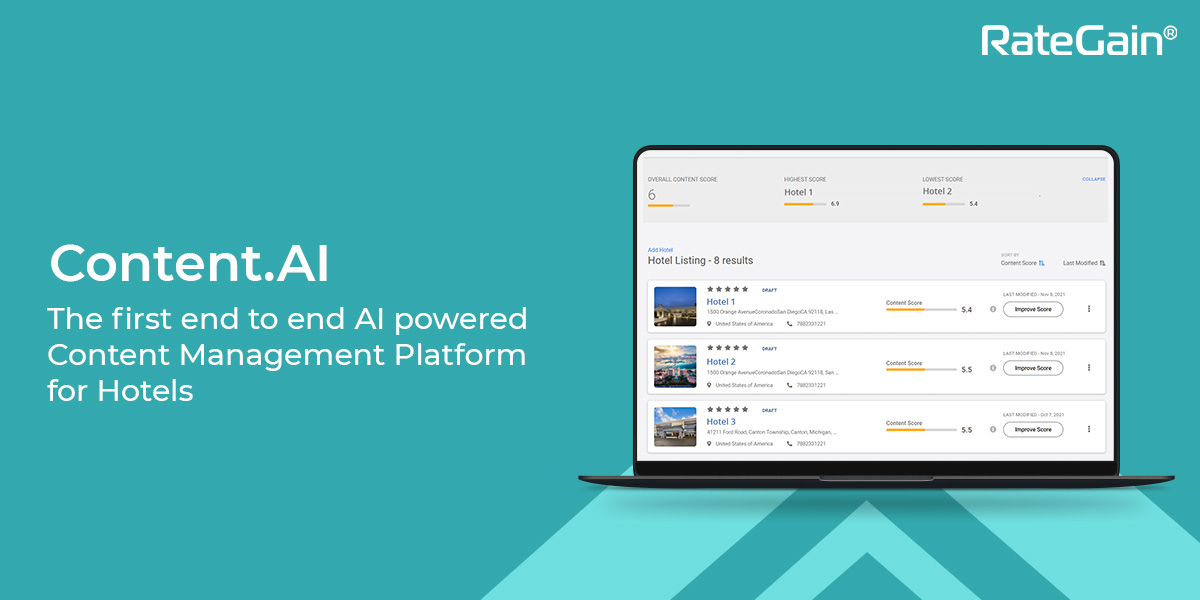 ×