How to Build a Data Driven Culture at Your Hotel Organization
By Hotel Tech Report
Last updated October 28, 2022
6 min read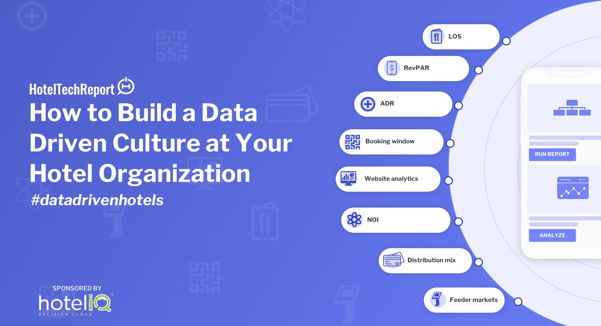 Are you wondering how to make better decisions at your hotel? Have you heard about the benefits of a data-driven culture, but you're feeling unsure of how to change the mindset at your property? Building a data-driven culture is challenging, and it's normal to feel overwhelmed, especially when faced with talent shortages, teams that operate in silos, and a lack of guidance about incorporating data into hospitality businesses. But it is indeed possible to shift your organization's culture to be one where data is accessible and actionable, and where decisions are driven not by the highest paid person's opinion, but by hard data. In such a culture, decisions can be made more efficiently and confidently, and employees at all levels of seniority feel valued. In this article, we'll explain the benefits of a data-driven culture and how you can transform your hotel organization to one that encourages collaboration and makes better decisions.
Advantages of a Data-Driven Culture
Simply storing guest information in a database doesn't automatically make your organization "data-driven," and it's what you do with the data that counts. But why bother digging into that database? Organizations with data-driven cultures can realize three main benefits:
Deeper understanding of performance. Did we sell out? Did we surpass last month's RevPAR? Did we compress the booking window too much? Data can help you answer these questions and more, giving you new insights that can help you monitor progress and achieve your goals.

More efficient decision-making. Imagine you're in a meeting with department heads, brainstorming ways to hit budget for next month. You might throw around dozens of ideas, but without really knowing the root cause of the lag in performance, you go through pros and cons of various initiatives, and quite often the decision is made on instinct rather than on data. Instead of taking this circuitous route to a decision, data can help you pinpoint where exactly you need to improve, which expedites the decision making process.

Increased coordination between employees and teams. With quick data sharing, an organization can speed up feedback cycles.  Waiting for quarterly business reviews to work across teams and properties means that by the time your counterparts understand the data - it's already out of date.  Coordination between teams is facilitated by real-time digital sharing.
It's important to remember that although "data-driven culture" might sound like a buzzword, it's not a passing trend. Adopting a culture rooted in data shouldn't be treated like a temporary experiment or an excuse for gathering data that you don't intend to use. Be mindful that the overarching goal of collecting data is to leverage it to make better decisions, foster collaboration, and keep tabs on performance.
Start by Removing Friction in Data Collection
Let's take a step back; before you can encourage your employees to embrace data and use it to make decisions, you need to ensure your data is readily available. If your staff need to jump through hoops to find the metrics they want to use, then you're going to see minimal adoption of a data-driven mindset.
HotelIQ's Decision Cloud facilitates cross-functional hotel data sharing
With the goal of using data to make better decisions, we recommend assessing the availability of your data. Start by determining key areas where data is collected and analyzed. At many hotels, this will be the property management system. Does your PMS have ready-made dashboards or tools to see insights in real-time? If so, great! Otherwise, you'll want to invest in business intelligence software like HotelIQ that will help you synthesize the data gathered in your PMS in as close to real-time as possible. 
"I previously didn't consider myself data savvy. Many programs require pulling and cross referencing of multiple reports to solve a problem and provide the analysis you're looking for. This was time consuming and left me feeling ill-equipped. I would sharpen your excel skills heavily or find a program that has more versatility. HotelIQ has reports conducive to our needs already set up, but furthermore those reports can be repurposed past their intention to find answers and areas of opportunity," says Cara Gilbert, Revenue Analytics Manager at the Intercontinental New York Times Square.
Any lag between events happening and data showing up in your dashboard could cause missed opportunities for data-driven decisions that would improve performance. For example, if you're approaching a busy weekend, you'll want to keep a close eye on occupancy and ADR leading up to that weekend; if the data hits your system after the weekend has passed, you've missed the boat.
Although hotels may be slower than other organizations to welcome data, your employees are likely already handling data in other areas of their lives, which is a promising sign, as HotelIQ's Sameer Umar sums up: 
"For years hoteliers have relied on their knowledge of the market and gut feeling. While those still matter, human instincts work best when coupled with timely and reliable intelligence. You need to keep your finger on the pulse so as to avoid any (more) unpleasant surprises. Downloading data into spreadsheets and emailing each other is a good way for people to fill their days but it fails at ensuring timely realization of opportunities and threats. Not to mention the many different versions of the truth that float around in inboxes thanks to human error and/or differences in timing of data extraction etc. We live in a world where streaming data and AI are already a part of our day to day lives. They should be incorporated into our digital workspace as well."
Create a Culture of Transparency and Collaboration
Adopting a data-driven culture can increase transparency and collaboration at all levels of the organization. Numbers don't lie; metrics can tell you exactly how your hotel is performing without sugarcoating anything. In addition, numbers aren't political. As Rob Casper, JP Morgan's Chief Data Officer explains, "If everybody sees what everybody else is doing, then the great ideas tend to rise to the top and the bad ideas tend to fall away." In hotels, which are hierarchical by nature, reliance on data rather than seniority in decision making can help all employees feel more equal.
So how do you achieve a transparent, collaborative environment at your hotel? First, tear down silos by sharing metrics publicly and digitally so everybody can access the same reporting. For example, revenue managers should have visibility into ad spend, and marketing staff should have visibility into booking pace. Next, make sure that you're measuring the right metrics. Successful organizations avoid "vanity metrics" that don't holistically track performance, and they don't hide data that reflects poorly on their performance. Encouraging everyone to share (and trust) the right metrics will help you catch red flags early and prevent further poor performance.
Develop Data Literacy at all Levels of Your Commercial Organization
If you're determined to turn your hotel business into a data-driven one, do you have to replace your front desk agents with data scientists from tech companies? As Sameer illustrates: 
"You don't have to find data scientists with PhDs in Statistics and Economics. But you do need marketers that can explain the correlation between online searches, shopping cart abandonment, and booking patterns across channels and markets. You need sales people who work out of the CRM and know which customer(s) to contact when. You need revenue managers who stay on top of market trends and won't drop your rates the minute booking pace dips. You need an operations team that's constantly incorporating guest feedback to enhance the stay experience. In short, you need data-driven hoteliers."
Your hotel's staff should remain hoteliers first; no amount of number-crunching can substitute for a friendly face at the front desk or a beautifully executed event in your ballroom. But your team should be passionate about leveraging data to achieve their goals, whether those goals are related to RevPAR, review scores, or repeat bookings. Making metrics checks a routine part of department meetings and performance reviews will help your team get more comfortable with data and showcase how monitoring performance can help them hit their targets.
Make Your Organization's Data FAIR (Findable, Accessible, Interoperable, Reusable)
By now, you're probably excited about all the upsides to a data-driven culture in your hotel organization. As you think about how to adopt good data practices, we recommend keeping the FAIR guiding principles in mind. These principles ensure your data is:
Findable: The data has clear and consistent identifiers and metadata. For example, all of your check-in dates should be labeled with a field like "Reservation Check-In Date" rather than "CID" or something that's not instinctual.

Accessible: The data can be accessed by any user, at any time, with the relevant authentication and authorization. If you pull data from third-party sources, for example, like STR or Kalibri Labs, the data should be available without needing to enter additional passwords.

Interoperable: The data is integrated with other relevant data. For instance, your database of guest email addresses should be connected to your reservation database and your restaurant's point-of-sale system so you can connect email addresses with reservation dates, room types, restaurant checks, and more.

Reusable: The data should be able to be replicated or combined in different areas. If you want to pull one report that shows guest email addresses and room types, and another report that shows guest email addresses and restaurant check values, you shouldn't need to pull your email address data twice.
Sameer nicely puts FAIR principles into a hotel context: 
"The cleanliness of your data is just as important as the cleanliness of your rooms...these data fields need to be clearly defined in operational systems, you need to have consistent data standards for them, staff needs to be trained to follow these standards, and data quality needs to be tracked and incentivized. Else, it's 'garbage in, garbage out' and you have nothing to go on but gut-feeling."
The benefits of integrating various data sources, while keeping FAIR principles in mind, are especially relevant for hoteliers that pull value from their own systems (like your PMS) in addition to third-party sources (like STR). Connecting the two data sources can unlock even more insights. For instance, if you can benchmark your own channel mix against STR's Market Penetration Index, you can better assess whether you have a healthy mix of channels or if you need to focus on one segment in particular.
Ready to work toward a data-driven culture at your hotel? There's no better time to start to realize benefits like increased transparency, tighter collaboration, and better decision-making.
Finally, you'll need a digital workspace where employees can collaborate. Data-driven culture doesn't equal meeting-heavy culture; in order to be efficient, your teams should be able to access data on demand. In this digital workspace, anyone on the team should be able to plan, share, track, and comment on reports or initiatives to achieve maximum transparency and collaborative power.
This content was created collaboratively by HotelIQ and Hotel Tech Report