The Ultimate Guide to Hospitality Technology (2023)
By Jordan Hollander
Last updated April 26, 2023
8 min read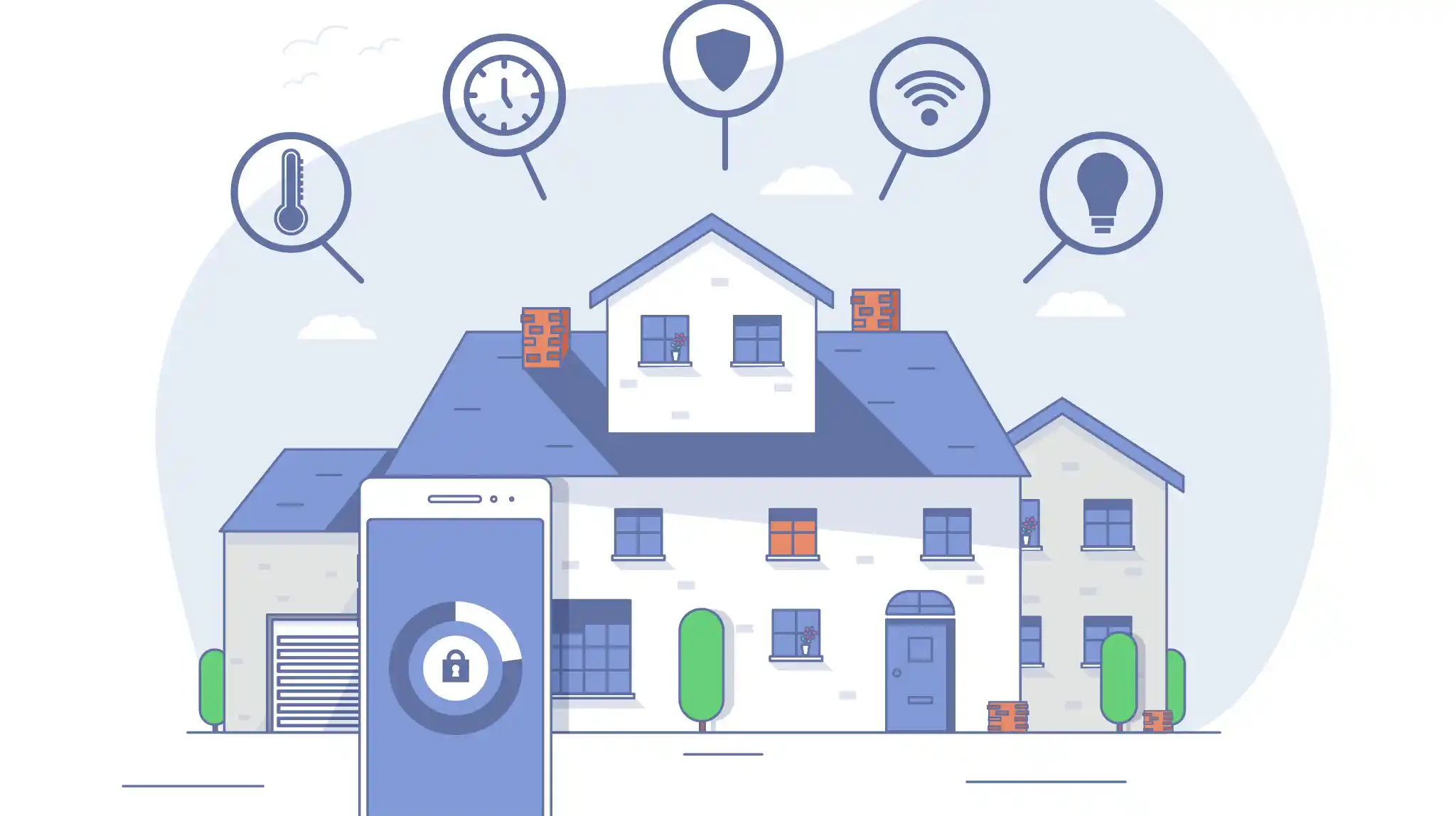 Did you know the average small business uses 40 different software applications, and the average hotel uses around 20? In an ideal world, every system in your hotel's tech stack would help you automate tasks, reduce costs, grow revenue, and deliver a five-star guest experience. But we understand that getting up-to-date on the myriad of technology solutions available to hotels can be daunting! Where do you even start?
In this article, we'll introduce you to each piece of the hotel technology landscape, from revenue management to reputation management and everything in between. Drawing on insights from over 10,000 hotel software reviews written by hoteliers across the globe, this article will also highlight some top software vendors in each category. For more detailed testimonials and additional software choices, you'll want to click over to the full list of vendors. Let's dive in!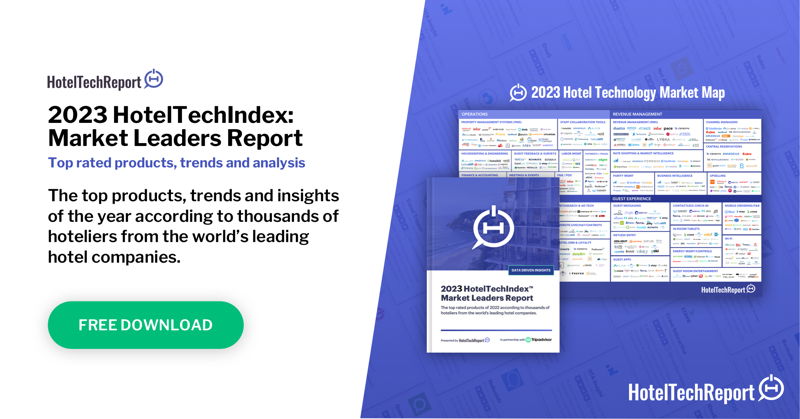 9 Hotel Operations Software Tools that Drive Efficiency
This category of software includes the most essential technology for hotel operations: checking guests in, reconciling accounts, handling payroll, and getting feedback from guests. Your hotel's size and complexity will determine which systems you need; small, limited-service hotels might be fine with a PMS and a payment processor, but a large resort could benefit from each category of software.
1. Property management systems (PMS): The PMS is the central hub for hotel operations. In this system, staff can check guests in and out, create and manage reservations, pull financial reports, manage guest profiles, and more. According to user reviews and analysis of system functionality, the top PMSs are Cloudbeds, Clock, and HotelTime, though there are over a hundred more great systems on the market.
2. Staff collaboration tools: Hotel staff are scattered across different floors, buildings, and shifts, so a communication platform is necessary to keep everyone on the same page. Systems like hotelkit, Monscierge, and ALICE can replace analog methods like walkie-talkies and logbooks, plus they can track tasks, reduce manual errors, and increase efficiency.
3. Housekeeping and engineering software: These tools digitize the operations of your housekeeping and maintenance departments, with the ability to automate task assignment, monitor real-time status of rooms or issues, and track task completion. Top software in this category includes hotelkit, Flexkeeping, and ALICE.
4. Guest feedback and surveys: Do away with the paper comment cards and give guests a digital platform to voice their feedback, such as GuestRevu, TrustYou, or Revinate. Not only are these tech solutions easy for guests to use, but they also allow hoteliers to customize, automate, and analyze guest comments and complaints.
5. Accounting and reporting: If your hotel accepts payments from guests and issues payments to employees and vendors, then you'll benefit from an accounting and reporting system like myDigitalOffice, M3, or Omniboost. A modern accounting system reveals opportunities to reduce costs and maximize revenue, plus makes your accounting team more efficient with automated reports and integrations with other on-site software.
6. Payments Processing: Most guests prefer to pay for their reservations with credit cards, but a payment processing system is necessary to get the funds from the guest's card into your hotel's bank account. Payment processors like Profitroom, Mews Payments, and Adyen charge a small processing fee, but they make getting paid as seamless as possible.
7. Labor management: Hotels have dozens, if not hundreds, of employees, so scheduling is no easy task. Software such as Hotel Effectiveness' PerfectLabor™, M3, and UniFocus include forecasting, insight into labor costs, and integrations with payroll and timekeeping systems. 
8. Meetings and events: Whether your hotel has one private dining room or several floors of ballrooms and breakout spaces, meetings and events software can support every step of the sales and planning process - and the event itself. Highly rated meetings and events software includes Proposales, Event Temple, and Blockbuster by Duetto.
9. F&B and point-of-sale systems: The pandemic accelerated demand for features like contactless menus and online ordering, so there has been a huge wave of innovation in the F&B software space. Vendors like RoomOrders, Bbot, and Oracle's MICROS can help restaurants modernize their operations, cut costs, reduce reliance on delivery platforms, and strengthen relationships with customers.
7 Revenue Management Tech Systems that Improve Yield Strategy
The goal of revenue management is to sell the right room to the right guest at the right price, and revenue managers leverage a variety of software to achieve their RevPAR goals.
1. Revenue management systems (RMS): The secret weapon of any revenue manager is the RMS; this system analyzes historical data, market supply and demand, and forecasts to recommend the rates most likely to maximize revenue and profitability. You might also hear revenue management software like IDeaS, Duetto's Gamechanger, or Atomize referred to as "yield management systems" or "pricing engines."
2. Channel managers: A channel manager is the link between a hotel's property management system and distribution channels like Booking.com, Expedia, and the GDS. Channel managers such as SiteMinder, Cloudbeds' myallocator, and D-EDGE's Smart Channel Manager allow hoteliers to make changes in one system, their PMS, rather than managing rates on each channel individually.
3. Central reservation systems (CRS): Larger hotels or hotels that are part of a chain or group might use a CRS to centralize all bookings, whether they're made by call center staff, the hotel's own website, or a third-party channel. The CRS will then send reservations to the PMS for room assignments. Popular CRSs include Pegasus, Windsurfer, and GuestCentric CRS.
4. Rate shopping and market intelligence: A key to revenue management success is selling competitive rates, but how do you know what your competitors are selling? Rate shopping tools, like OTA Insight, Siteminder Insights, and D-EDGE RateScreener, do the heavy lifting for you and present competitor rates and market forecasts in user-friendly dashboards and reports.
5. Parity management: OTAs ask hotels to provide rate parity, meaning selling the same rate across all channels, and, as a hotelier, you don't want OTAs to sell cheaper rates than your hotel's website. Parity management tools, like OTA Insight, FornovaDI, and Triptease give hoteliers access to dashboards that monitor rates across all channels in real-time.
6. Business intelligence: Revenue managers love data, but sometimes all that data is too much for Excel to handle. Business intelligence tools offer better solutions for slicing, dicing, and visualising data through dashboards and reports suitable for studying historical performance or predicting the future. Top BI applications include OTA Insight, Scoreboard by Duetto, and ProfitSage.
7. Upselling Software: Driving incremental revenue per guest is possible with upselling tools that automate the entire process - and use profile data and historical trends to serve the most compelling, personalized offers to each guest, like room upgrades or F&B items. Tools like Oaky, EasyWay Smart Upselling, and GuestJoy also enable hoteliers to start the upselling process before the guest arrives on property.
9 Guest Experience Platforms to Improve Satisfaction Scores
How do you create a five-star guest experience in the digital age? A plethora of systems exist to delight guests, from contactless check-in solutions to modern in-room entertainment.
1. Guest messaging: Messaging platforms allow hotels to communicate with guests via their preferred platform: text messaging, email, or even apps like WhatsApp and Facebook Messenger. Top-rated systems like Monscierge, Whistle, and EasyWay support automated messaging and one central dashboard where staff can respond.
2. Keyless entry: Keyless entry software enables a guest to unlock their room or other secure areas like gyms or pools with a wave of their smartphone. Systems like Mobile Access by ASSA ABLOY, FLEXIPASS, and Openkey.co offer integrations with PMSs for a seamless arrival experience.
3. Guest apps: Digitize your in-room directory with a hotel app like ALICE, INTELITY, or Duve. These downloadable apps put everything guests need to know at their fingertips, from contact info and directions to room service menus and local recommendations. 
4. Contactless check-in: In the wake of the pandemic, guests prefer a contactless arrival process, and software like EasyWay, Canary, and Duve make it easy for hotels to pivot to a fully digital check-in. Functionality includes ID scanning, digital registration cards, upselling, payment processing, and arrival time coordination.
5. In-room tablets: Just like the smartphone replaced our digital cameras and rolodexes, an in-room tablet can replace your rooms' telephones, directories, room service menus, TV remotes, thermostats, and more. Tablet providers like SuitePad, Crave Interactive, and INTELITY are even proven to increase guest satisfaction and revenue.
6. Energy management: These systems have two goals: decrease your hotel's energy costs and reduce your hotel's environmental impact. Vendors like Verdant Energy Management Solutions, Telkonet, and EcoStruxure are designed with hotels in mind and seek to not only decrease costs, but also enhance the guest experience.
7. Guest room entertainment: Today's guests want more than local cable channels on their guestroom TVs; systems like Monscierge ZAFIRO IPTV, and Sonifi provide interactive content and entertainment for all types of hotels, plus additional marketing and engagement opportunities you couldn't get with traditional TV.
8. Mobile ordering/F&B: Bbot, RoomOrders, SABA F&B Ordering, and other systems provide an essential piece of technology for hotels and restaurants: mobile ordering. With this software, guests and customers can access menus, place orders, and pay from their smartphones, and F&B outlets can better manage order fulfillment and deliver an end-to-end contactless experience.
9. Hotel Wi-Fi: What was once a premium add-on is now an essential amenity at hotels, especially with a growing segment of travelers working remotely. To offer reliable high-speed internet access, hotels can partner with vendors like Cisco (Meraki), Percipia, or GuestTek that offer implementation services and ongoing support.
9 Marketing Tools to Lower Acquisition Costs and Drive Direct Bookings
Of course, you don't need any of the software listed above if nobody knows about your hotel! Marketing software allows you to tap into new audiences of guests and build relationships with your existing guest base.
1. Booking engines: For hoteliers seeking to increase direct business, a booking engine is essential. This software allows guests to book reservations on your hotel's website by displaying rates and availability from your PMS, then integrating reservations into the PMS. Cloudbeds, Bookassist, and SiteMinder offer some of the best booking engines. 
2. Reputation management: A reputation management tool helps you request, track, analyze, and respond to guest reviews across sites like Tripadvisor and Google and your own surveys. Some of the industry leaders are TrustYou, GuestRevu, and Revinate, and they can even assist in increasing guest review scores by revealing insights about guest sentiment.
3. Website builders and content management systems (CMS): Outsourcing your website design isn't necessary with a CMS; these tools allow you to build, edit, and organize website pages and content, and they support integrations with booking engines, payment processors, widgets and more. Smart CMS by Bookassist, Profitroom, and Net Affinity are some of the top website builders.
4. Direct booking tools: If you want to increase direct bookings, then an app like Triptease, Hotelchamp, or TrustYou can boost the number of shoppers who complete bookings on your hotel's website. These tools let you display personalized messages, snippets of guest reviews, price comparison widgets, and more - all of which give guests reasons to book direct instead of on an OTA.
5. Digital marketing agencies: Don't have the time or resources to handle digital marketing in-house? A digital marketing agency can lend their expertise to help your hotel succeed in search engine marketing, social media, content creation, and PR. Bookassist, Avvio, and Net Affinity are some of the leaders in this space.
6. Social media tools: Whether you're trying to build a new audience or stay in touch with past guests, social media is an important component of your hotel's marketing strategy. Social media vendors like BCV, Sprout Social, and Travel Media Group can help you achieve your reach and engagement goals.
7. Metasearch and ad tech: Metasearch channels, like Google, Kayak, and Tripadvisor, are powerful drivers of traffic to your hotel website - if you leverage them effectively. These sites require special connectivity and a bidding strategy, and tools like Bookassist, Avvio, and Koddi will help you manage budgets, track attribution, and understand market dynamics.
8. Website live chat/chatbots: Potential guests shopping on your website want answers now - without needing to pick up the phone. A chatbot, like one from Asksuite, Quicktext, or Whistle, use artificial intelligence to answer guest questions quickly and accurately, plus capture leads and increase conversion on your website.
9. Hotel CRM: Your database of guest email addresses is a gold mine - if you can leverage it strategically. A CRM system, such as Profitroom and dailypoint 360, allows you to capture email addresses on your website, send automated messages throughout the guest's journey, create segments of profiles with specific characteristics, and analyze open rates, click-through rates, and conversion.
F&B and MICE
The food and beverage and meetings and events components of the hotel industry have their own technology solutions too. Whether you're trying to streamline your room service offerings or support citywide conferences in a maze of meeting spaces, you can find software to help you execute any type of service or event.
1. Restaurant management: In order to run a restaurant smoothly, restaurateurs leverage point-of-sale software to manage stock in real-time, handle transactions, reserve tables, run reports, and more. Popular restaurant management software includes Vento ePOS, Oracle MICROS, and Lightspeed POS.
2. Mobile ordering and room service: Contactless service is the latest trend in F&B, but it seems likely to become the norm. Mobile ordering systems, such as Bbot, RoomOrders, and SABA F&B Ordering, allow restaurants to upload digital menus, accept online orders, and receive contactless payments, and customers can feel confident in more efficient service and accurate orders and bills.
3. Meetings and events intelligence: This category of software aims to help hoteliers maximize their meetings and events business by understanding market dynamics, uncovering insights about attendees, and optimizing pricing and space usage. Top meetings and events intelligence tools include Blockbuster by Duetto, IDeaS (SmartSpace), and Get Into More.
4. Group sourcing and RFP tools: Without software to assist, the RFP process is tedious. RFP software, such as Proposales, MeetingPackage, and Venuesuite, moves this process online and helps you to automate it, making all the back-and-forth more efficient and helping sales teams reach their goals.
5. Event management: Software doesn't just help your sales team seal the deal, but also to plan and execute the event itself. Event Temple, Tripleseat, EVENTMACHINE, and others provide functionality to send proposals, get e-signatures, manage traces, communicate with clients, and create and edit BEOs and agendas.
Looking for more resources on hotel industry software? Download the free 2023 HotelTechIndex Market Leaders Report.