Former IHG Lead Strategist: Hotel Groups that Build Tech in House Are at Risk
By Jordan Hollander
Last updated May 21, 2019
5 min read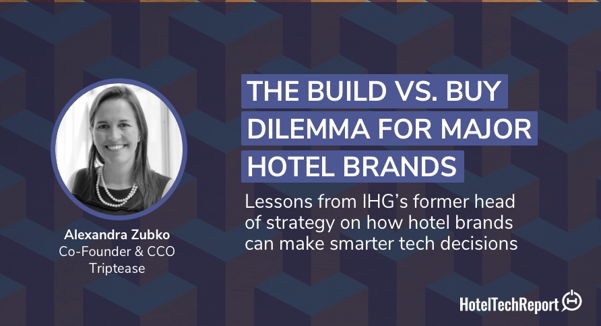 During my second week on the global partnerships team at Starwood Hotels & Resorts, the firm laid off a significant portion of the corporate office as it prepared for a sale. Adam Aron (interim CEO at the time) called all corporate employees to a town hall behind it's Stamford Connecticut headquarters to allay concerns about future layoffs and set a clear message about the changes happening at Starwood. One of the most critical messages from this meeting was the idea that "we are not a technology company".
In the years leading up to this event, Starwood had spent hundreds of millions of dollars on proprietary technology such as SPG Keyless and Aron wanted to reduce that spend by finding strategic partners who would take on the R&D risk, innovate faster and add expertise without being on Starwood's payroll. In the age of digital transformation one of the key decisions that managers must weigh is whether to buy or build technology. When big brands choose to build proprietary tech in house it often comes at the cost of sub-par products, hemorrhaging cash and stifled innovation.
As former head of global strategy for industry powerhouse InterContinental Hotels Group, Triptease's Alexandra Zubko is no stranger to this paradigm. Now a co-founder of one of the industry's fastest growing tech upstarts, Zubko has an undeniably unique perspective on the market. We sat down with Zubko to get her take on build vs. buy, why vendors misunderstand hoteliers, her favorite hotel in the world and more.
Tell us about your career in hotels
Prior to Triptease, I was the Head of Global Strategy for IHG, responsible for strategy across all brands, verticals and regions. I had started in the EMEA region and was thrilled about working across markets near and far. I was originally attracted to hotels after having spent 10 years outside of them in finance, television and consulting. The global role piqued my interest as I'd lived as a little girl in Korea, Venezuela and Brazil. As a continuous learner, the industry was constantly challenging me. Delivering a global brand through diverse cultures and people is constantly inches beyond grasp.
We weren't particularly tech-savvy in the strategy team. We worked in data and analysis, not systems and processes. With that in mind, on any given day, you'd find me in Think-Cell. 10 years later, that'd probably be Tableau or Looker. Since my first job as an investment banker, I've always been fascinated with telling stories through numbers and data. At its heart, Triptease is a data and analytics company. These insights recommend digital marketing strategies to hotels to drive profitable, incremental revenue.
When did you first become interested in leveraging technology to become a better hotelier?
Honestly, I didn't. My obsession with new technology happened outside of, and in spite of, being a hotelier. It was a side obsession which began with teaching myself to code in the 90s, continued when I started a travel tech business in the mid 90s and then persisted through reading blogs and articles while at IHG.
 As a hotelier what was your biggest frustration with technology vendors?
I couldn't stand the pitches from vendors who didn't understand my role or my business; the pitch was really all about them/their business and didn't understand my business challenges. Hoteliers are skeptical about adopting new technology, quite rightly. The onus is on the vendors, on the tech startups, on the entrepreneurs to reduce the friction and showcase the benefit as quickly as possible. We're lucky at Triptease because the benefits are obvious from day 1. We've reduced our integration to one day for hotels operating on one of our preferred partners. Because the skepticism exists and because tech can take long, hoteliers reach the wrong conclusion. They decide to build instead of buy. I have witnessed a transformation in travel tech. Increasingly, hotels are embracing the rules of comparative advantage and are embracing tech where they can move fast, learn fast and benefit quickly.
Tell us about your journey from working at IHG in strategy to now running the Triptease business?
I met Charlie Osmond when I was at IHG. I was moving back from London to New York and we connected. It was clear that the team (him and Alasdair Snow) wanted to solve big and challenging problems. It took about 6 months from the moment we first met to my first day in our London office. I had no idea what a whirlwind the experience would be, how much I would learn, how fast we would move and how much of an impact we would make for our hotelier clients.
I had always worked for big brands, established companies with well-known reputations. What was it going to be like to risk everything I'd worked for? Risk wasn't something we had a lot of appetite for at IHG as a large, publicly-traded company. On top of that, I had two children under 5 and was pregnant with a third! It's not exactly the prime time in one's life that Steve Jobs, Jeff Bezos and many others would recommend starting a company!
Give us the Triptease elevator pitch
Hotels use Triptease's data and analytics to optimize their presence and compete successfully in the digital space. Through a joined-up platform across a hotels' tech stack, Triptease knows who your guests are, who is likely to book and delivers a personalized online guest experience on the hotel website and booking engine.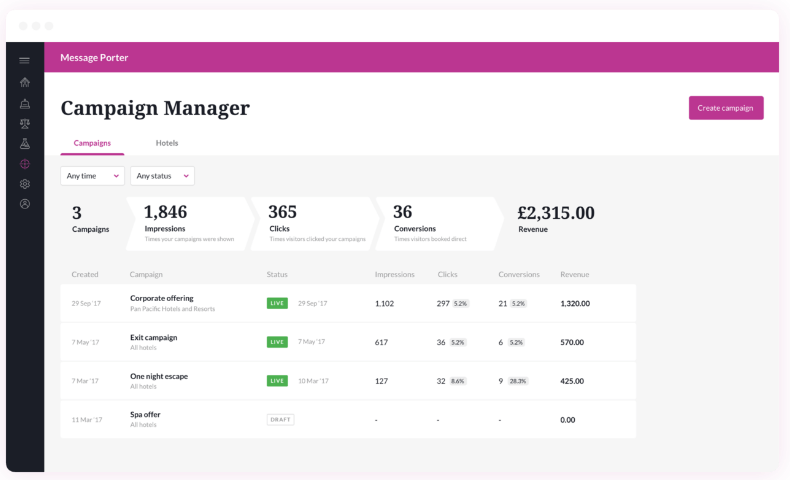 Imagine that you're going to open the hotel of your dreams tomorrow.  What kind of hotel would it be and what tech would you leverage?
Consumers are conscious of the choices they make and the impact on communities, sustainability and, increasingly, their own brand and values. I'd build a hotel that has a positive impact on poorer communities in distant destinations. A hotel like Nihi on the island of Sumba in Indonesia is the best representation of this ambition. The hotel combines economic impact, training of indigenous people, ultra luxury and a sublime guest experience.
Starting with the user in mind, I'd leverage the following technologies for my property:
1) Triptease direct booking platform
2) Mews Systems Property Management System to deliver the best guest experience
3) SiteMinder Channel Manager to maximize 3rd party channel performance
4) ALICE Hotel Operations Software to facilitate day to day operations
What's one piece of advice you have for hoteliers who have dreams of working in technology one day?
Be confident you've learned enough. Be willing to take the leap and disregard titles and job roles. Join a company destined to solve big problems quickly with a set of people and values that inspire you. Put your hand up for anything and everything and suggest solutions.
What's one podcast, newsletter or book that you recommend hoteliers read if they'd like to eventually move into tech?
I'd recommend "Masters of Scale with Reid Hoffman". It's a great way to learn what it's like to be a founder and what land mines to avoid.
What is your favorite hotel in the world?
Nihi Sumba in Indonesia which was voted #1 hotel in the world by Travel + Leisure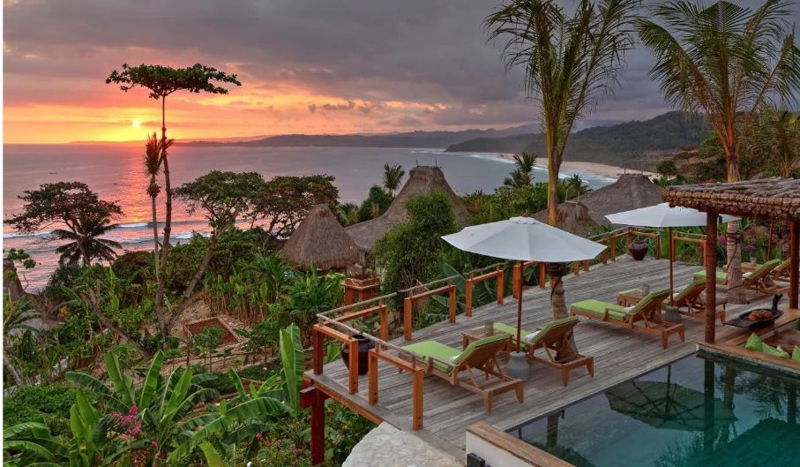 What is the most exciting technology you've seen in the hotel tech space that is not built by your own company?
Tableau. Data visualization that unleashes data locked away deep in an on-premise PMS 
What is one thing that most people don't know about you?
I obsess about learning and development - for my team, my company and my clients. Here are some examples of how we've brought this idea into the Triptease culture:
1. Radical Candor approach to developing people. We strive to provide continuous feedback. After every meeting or interaction. It's a human need to know where you stand and how you're doing. Annual performance feedback and reviews are antiquated in today's world of immediate likes on social media, for example.
2. Development framework. So everyone knows where they stand at their level across 6 competencies. They know what they need to demonstrate to move to the next level.
3. Engineers do pairing so they're constantly learning from one another as they code
4. We have firesides and sharing lunches where we learn from one another and the volunteer gets public speaking practice. Topics range from digital marketing to color blindness to ballroom dancing
5. Each employee has an annual obsessive learning budget so they can invest in themselves
6. In person offsites and training courses during the year