Google's Free Hotel Booking Links: Here's What You Need to Know
By Hotel Tech Report
Last updated October 28, 2022
5 min read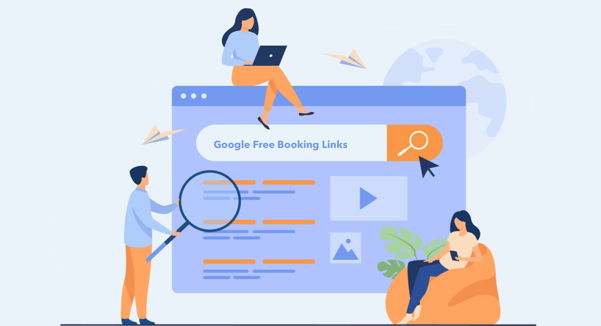 Wondering how to get more direct bookings without a massive advertising budget? Google recently announced that hoteliers can get free links in their hotel metasearch results. Perhaps this is the first time you've heard about this free listing program, or maybe you're looking for more information on the benefits and risks. 
In this article, we'll explain exactly what Google's free hotel booking links mean, how you can set them up, and what potential advantages and disadvantages the program brings. Millions of guests begin their travel research by seeking out the best rate via Google search and free booking link integration partners are going to be featured front and center in this new feature to drive more business through their direct channel without needing to pay for Google ads.  By the end of this article, you'll know how to proceed, whether or not you've used Google Hotel Ads in the past.
What are Google's Free Hotel Booking Links?
Let's take a step back and explain Google Hotel Ads, the official name for Google's metasearch product. When you search for a specific hotel on Google, you'll see results that show rates and availability, similar to what you would see on another price comparison site like Kayak or Trivago. These results pull in rates and availability for the given hotel from online travel agencies like Booking.com and Expedia, plus the hotel's own website might appear. These results are Google Hotel Ads, with the exception of free hotel booking links, which we'll explain in a moment.
In the metasearch module, which is where you can see the rates and availability from the various sites, you can plug in dates and the number of guests to get accurate pricing and availability.
So how do the OTAs appear in these results? How is the order of sites determined? The simple answer is that the OTAs pay to play in Google's metasearch results. Expedia and Booking.com spend billions of dollars each year bidding on placement in these results by bidding on the best position and paying a cost per click, which is usually between $1 and $3. For many small, independent hoteliers, metasearch was an expensive marketing avenue, and some hotels opted to skip it because they couldn't compete with the OTAs' deep pockets.
However, that all changed when Google announced their free booking links program in March 2021, which gave hoteliers a chance to participate in metasearch without the ad spend requirement. Now, hoteliers can include a link to their direct booking engine in the Google metasearch results with no cost per click. The free links usually show below the paid OTA links, so shoppers might need to click "View more rates" to see them, but sometimes they do appear in the top four links.
How Can You Take Advantage of Google's Free Hotel Booking Links?
Google is quickly becoming a powerful player in the online travel marketplace. For hotels who participate in metasearch, it's not uncommon for Google to make up 90% of their metasearch production, surpassing the production of other sites like Tripadvisor and Trivago. There's no denying that Google is a huge source of traffic, so you're probably wondering how you can set up free hotel booking links for your hotel.
The good news is that configuring your free hotel booking links is pretty straightforward when you use one of Google's preferred connectivity vendors. First, you need to ensure that you have claimed and verified your hotel's Google My Business listing. The Google My Business listing is the same as your Google Maps listing. You can easily claim the listing online on business.google.com. If you need to verify the listing, you will likely need to complete a verification process over the phone or by verifying receipt of a postcard that Google sends to your property's address.
Once you've claimed and verified your GMB listing, then you can work with your connectivity vendor (your channel manager or property management system) to link your hotel's rates and availability with Google. Google has partnered with dozens of systems, like Sabre, Siteminder, and protel, and the complete list is available here. Your specific software will have their own connection process, but it's usually quick and easy. After you've completed the connection, you will be able to see your rates and availability in Google's metasearch results - no ad campaign needed.
Do you already use Google Hotel Ads? Then you can also take advantage of the free booking links. Google allows hotels to run both paid ads and free booking links, so you can double your exposure in the results. You'll only pay for clicks on your ad link, while clicks on the free booking link are totally free.
Benefits of Using Free Hotel Booking Links on Google
Hotels that leverage Google's free booking links can realize several key benefits: more visibility to potential guests, more direct bookings, and potentially lower marketing costs.
It's no secret that a lot of travelers end up on Google at some point in their travel booking process. You can think of Google as another shelf where you can showcase your product, just as Booking.com, Expedia, and Tripadvisor serve the same purpose. By maintaining a presence on Google, you can ensure your hotel is visible to all those potential guests who search for your local area or your hotel.
Another compelling benefit of using Google's free booking links is that you can better compete with the big OTAs. Google's search results puts your hotel's direct site on a relatively equal playing field as the Booking.coms and Expedias of the world. Although you probably won't convert all your OTA guests to direct guests overnight, it's likely that some guests will choose to book direct if your rates are equal (or better) that OTA rates and your direct site is just a click away.
Finally, if you already spend on Google Hotel Ads, or if you use other cost-per-click tools like Expedia's TravelAds or Tripadvisor's Sponsored Placement, then you might be able to scale down those paid programs if you see strong performance from Google's free booking links. Finding the right balance between ad platforms can help you decrease your marketing spend while generating more direct bookings.
Considerations of Google's Free Hotel Booking Links
Although there are plenty of reasons to use Google's free hotel booking links, it's not a perfect program. Some potential downsides include the requirement to use one of Google's preferred connectivity vendors, the lack of control over your placement and ad strategy, and implications of out-of-parity rates.
While it makes sense why Google would limit their hotel connections to channel managers that they've vetted, so they can scale the program more efficiently, this requirement leaves hoteliers out of options if you don't use one of their preferred vendors or if you don't use any channel manager at all. On the flip side, if you've been considering switching to a new channel manager, assessing their Google connection options might help your decision.
Although we recognize the huge value of the free booking links, it's worth noting that hoteliers have no control over the visibility that these links receive. Unlike Google's paid Hotel Ads, which allow you to adjust bids for specific travel dates, you'll have no control or insight into your links' performance. If you want to push visibility during need periods, you don't have any levers to pull to make your free booking links appear in results more often or higher in the ranking.
Finally, another potential downside of using Google's free booking links is the can make out-of-parity rates more obvious. We all know that some OTAs are notorious for undercutting your direct rates, and nothing is more frustrating that seeing your OTA rates and direct rates side-by-side when your own website is more expensive. Sometimes it can be nearly impossible to get in touch with the OTA or wholesaler that is undercutting, and during any periods when your direct site is not in parity, you could actually lose share of direct bookings.
But all things considered, Google's free hotel booking links are a great option for hoteliers who want to increase visibility on Google and increase direct booking volume. Since the setup process is relatively easy, and the program doesn't cost anything, the benefits can outweigh the potential downsides of this new marketing channel.