What is Rate Parity in the Hotel Industry?
By Jordan Hollander
Last updated February 16, 2023
7 min read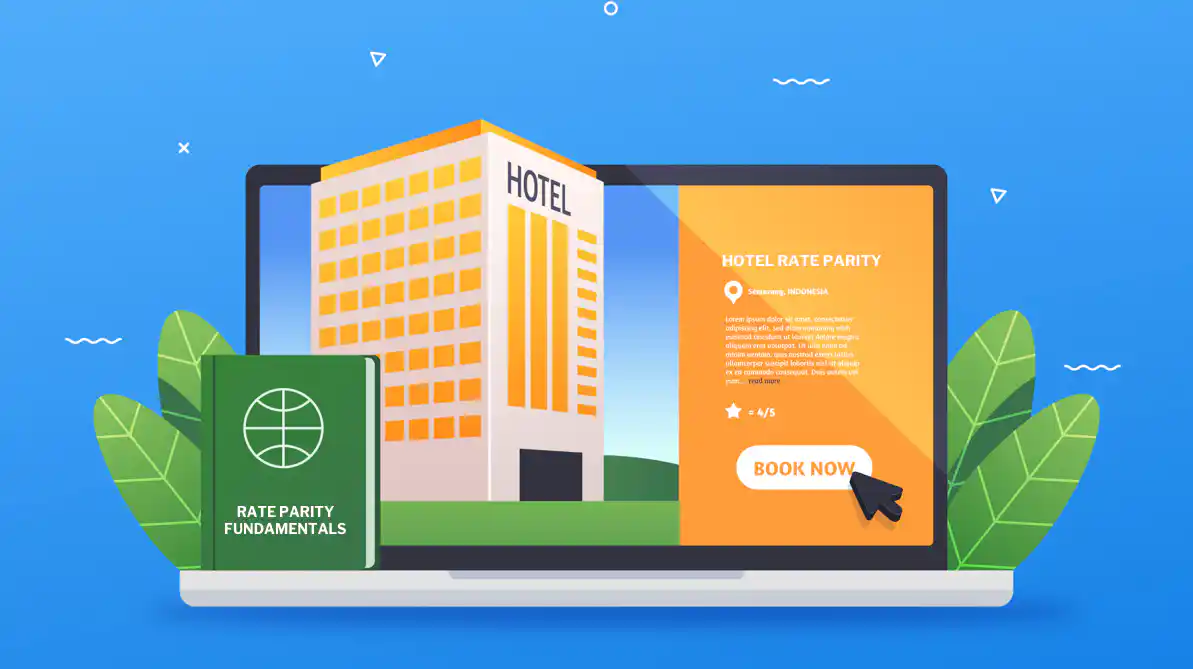 If you've sold rooms through online travel agencies, chances are you've received a stern email from at least one of those channels alerting you about some rooms at your hotel available on a competitor OTA or on your hotel's booking engine at a lower rate.  OTAs like Expedia often lock hotels into a guarantee that they will never offer a lower price on other channels - including their own!
Maybe the email to your revenue management team said you were "in breach of rate parity clauses," but what does hotel rate parity really mean? If you want to get the most out of your third-party distribution partnerships while still driving direct reservations, you'll need to understand the ins and outs of rate parity to be able to maximize both sources of business. In this article, we'll explain exactly what rate parity means, how it impacts your channel management strategy, why it matters, and how you can continue to build your direct channel while maintaining a good standing on the OTAs.
What is Hotel Rate Parity and Why Does it Matter?
"Rate parity" in the hotel industry refers to the practice of selling equal rates across different distribution channels. For example, if your hotel is selling a $299 rate on New Year's Eve on your own website and on Expedia and Booking.com for the same room type, then you're in parity. On the flip side, if your own website has a $249 rate while Expedia and Booking.com have a $299 rate for the same room type, then you're not in parity.  Rate parity is at the core of any hotel's online distribution strategy and impacts both online travel agents and metasearch engines.
A savvy hotelier might think that selling a cheaper rate on their own website is an excellent strategic decision, so why is maintaining rate parity a big deal? If you leverage third-party channels to sell inventory, then rate parity matters. Online travel agencies, like Booking.com and Expedia, ask for rate parity in their contracts. If you work with these major channels, then you've signed contracts that state that you will make your lowest rates available to them.
The OTAs use rate parity (or lack thereof) as a tool to organize hotel listings in the search results. Hotels that are out of parity can face penalties - like lower placement and decreased visibility in the search results - if the OTA finds lower rates on other channels, including on your own hotel website. However, rate parity rules may not last too much longer. After legal challenges in Europe, some OTAs in certain regions can no longer ask for rate parity, but it's still a requirement for hoteliers in the United States.
What Are Some Challenges of Hotel Rate Parity?
Rate parity puts your hotel's website and OTAs on an equal playing field, from a pricing perspective. For guests looking at price alone, there isn't a clear advantage to booking direct, and OTAs often offer perks like points or elite status. Furthermore, OTAs have big marketing budgets, and guests will likely go to an OTA first or click on an OTA from a Google search instead of your hotel's own site.
Although OTAs ask for rate parity, they don't always play by their own rules. OTAs are known to play with their commission rates or markups, sometimes reducing their commission percentage to sell a lower rate - which can undercut the rates you sell on your hotel's website. This practice is frustrating for hoteliers, and it can be difficult to force OTAs to remove your hotel from campaigns like this.
Another challenge of maintaining rate parity is that you might receive a parity alert about a cheaper rate at your hotel that's available on an OTA you've never heard of. Many wholesalers sell inventory to lesser known OTAs, who then add a small markup to the wholesale rates, resulting in lower rates appearing on public sites. These companies can be hard to contact and reluctant to change or remove the rate.
In these instances, rates are truly out of parity, but sometimes hotels get flagged for rates out of parity when they're actually in parity. Many hotels use dynamic pricing strategies, which means their rates fluctuate constantly, and if one site experiences a lag in rate updates, that site could pick up a parity "violation" which is really just a technical delay. Still, the OTAs' automated systems can penalize your listing in the search results if such issues happen frequently.
Whether intentional or not, selling different rates across different channels can cause guests to question whether they're getting a good value. Besides wanting to stay on the OTAs' good sides, many hotels practice rate parity to maintain a consistent brand image and value proposition across all channels.
Rate parity, or disparity in the case of the hotel industry, is the difference between prices quoted on a hotel's branded website versus the prices quoted by an online travel agent such as Booking.com.
When online travel agents first appeared on the scene, they were considered a promising new channel for hotel brands seeking to offload excess inventory in the off-season or reach customers through new and different advertising. However, as OTAs have become more popular, many hotel owners no longer see this relationship as a win-win: mostly due to parity issues.
There are two main scenarios where rate parity gets thrown off, mainly due to the way the hotel ecosystem has evolved to account for online travel agents. Here's a snapshot of what the current booking marketplace looks like: 

"The Rate Parity Playbook" by TravelClick (source)
Hotels, wholesalers, search engines, and OTAs are the main players in the "parity landscape." As OTAs capture more and more market share, each relationship is impacted financially.
Contracted OTAs, those agents that work directly in a commissionable or direct net merchant agreement with a hotel, cause parity problems usually through technical issues. For example, tax miscalculations or other outdated "cached" data can throw off a pricing model despite the OTAs aboveboard commitment to parity with the hotel. Non-contracted OTAs that have a relationship with a wholesaler present a bigger problem. Hotels offer an exclusive "gated" rate to a third party reseller. That reseller turns around and unofficially resells rooms at that gated rate to a party who lists that rate publicly. This forces the hotel to pay a high commission for rooms that sell at a much lower rate, losing tons of profit in the process. 
The problem of rate parity is only becoming more serious. Travelers are constantly comparing rates across channels – especially Millennials and Gen Y, who hold the largest travel market share at 33% of the market. When you consider that 52% of Millennials prefer to book using an online travel agent, the problem becomes clear. 
"Customers are much savvier these days. I had a guest contact us on our website directly to ask, 'Is this the best deal you can give me? We are trying Airbnb as well'. We had that same guest going through Airbnb to see if they could get a lower price, and then they also went to the extended-stay agent. And this customer was actually part of a very big international company; they had a contracted rate with the hotel as well. The guest had all these different ways to contact the hotel and get the best rate possible," says Jennifer Kim, the Director of Revenue Management at Cycas Hospitality.
How Can Hotels Monitor Rate Parity?
Now that we've established why rate parity is important, you may be wondering how to track it. Monitoring rate parity allows you to stay ahead of OTA penalties for parity violations and to catch OTAs if they undercut your own website. Here are a few ways to track rate parity and reduce your risk of rate discrepancies:
Check metasearch channels, like Google Hotels and Tripadvisor, regularly. By entering some random dates on these sites, you can quickly and easily spot-check your OTA channels to ensure they're all selling the same rates.

Use a rate shopper. Apps like Triptease, OTA Insight, or RateGain perform real-time price checks for your hotel across all platforms where you sell rooms. You can configure alerts that will let you know as soon as a date is out of parity.

Be selective about the OTAs and wholesalers you work with. By only working with the most trustworthy partners, you can prevent reselling of your inventory and unauthorized rate manipulation.
How to Solve the Rate Parity Problem
The good news is there tools that hotels can deploy to solve the rate parity problem that arises from working with OTAs. Great rate shopping software should not only deliver real time competitive set intelligence but should also alert hotel owners when there are parity breaches.
Rate shopping software, like Rate360 by TravelClick, shows how your direct competitors are pricing hotels rooms. Additionally, Rate360 highlights channels that violate parity agreements. Hoteliers can use this information to react swiftly to unauthorized resellers, remedy parity discrepancies, and improve profitability by utilizing data that was previously unavailable. Both rate shopping and parity management platforms are easy-to-implement due to how they leverage publicly available data; this means there's no integration with your existing software to work though.
There are many rate shopping tools out there that can map a hotel's rooms, define competitive sets, and deliver reports to improve pricing decisions. In the past, we've highlighted a few of our favorites such as Rate360 which really stands out with it's integrated BI platform and parity monitoring system to give you a full view into the areas of your business that require attention.
Hoteliers can't sleep on solving the threat to hotel profitability posed by working with online travel agents and unauthorized resellers. OTAs are only becoming more popular with travelers looking for the best deal out there. Therefore, it's incumbent on hotels to take charge of their data and lock down pricing parity in their favor.
How Can Hotels Drive Direct Business While Maintaining Rate Parity?
So, if you sell the same rates on your hotel's website as on the OTAs, what's stopping guests from booking on OTAs? The key to driving direct bookings is to be creative; without turning to rate discounts, how can you attract and retain guests through your direct channel? Here are a few ideas:
Offer value-adds on your direct site, like free parking or early check-in, which give guests an extra reason to book directly but don't affect the actual rate. When OTAs scrape room rates on your hotel website during rate parity checks, they only look at the dollar value of your rate, not add-ons like a waived resort fee or F&B credit.

Leverage hospitality industry loyalty programs to provide "fenced rates" and different prices to closed member networks.  This can be hotel brand programs like Marriott Bonvoy or those geared towards independents like The Guestbook.

Target specific segments of guests with private promotions through email marketing or social media. For example, you could reach out to past guests who booked through OTAs and offer a special discount or perk if they book directly for their next stay.

Make the booking process on your direct site as smooth and easy as possible so guests don't encounter technical glitches that make OTAs their only booking option. 

Leverage metasearch sites. Without a direct connection to metasearch channels like Tripadvisor and Google Hotels, your own site will not be visible, and all traffic will end up on OTAs.

Depending on your hotel's room types, you could choose to sell some room types exclusively on your hotel website. However, this strategy comes with the risk that those rooms would get less exposure than they would on OTAs.
With the right rate parity monitoring tools and some creative marketing strategies, your hotel can both maximize visibility on third-party platforms and drive direct bookings.
Still have questions about rate parity? Let us know!