Guest Voice at Marriott: How Does the Program Work?
By Hotel Tech Report
Last updated January 26, 2022
3 min read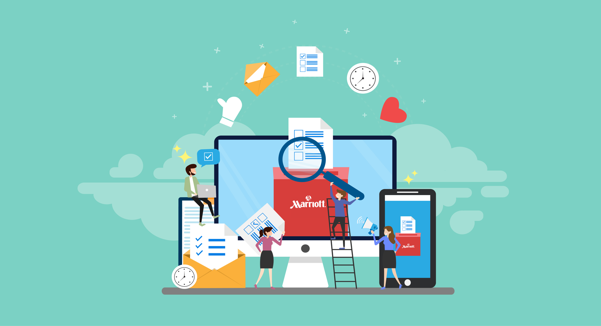 Properties that are part of Marriott International's portfolio of brands consistently rank highly for guest satisfaction. Four brands – JW Marriott, Fairfield Inn & Suites, Marriott Hotels, and Courtyard cracked the top ten customer satisfaction scores for hotels in 2019. Clearly, Marriott has figured out how to understand and meet guest needs in meaningful ways. How are they doing it?
One tool that's proved to be particularly powerful is Marriott guestVoice. This guest feedback tool gives Marriott better guest insights in real time. Here's how guestVoice works – and how you can implement something similar at your property.
What is Marriott guestVoice?
It's a common misconception that guestVoice refers to Marriott's partnership with Alexa for Hospitality where hotel guests can make requests such as concierge services and room service at brands like Aloft Hotels from an Amazon Echo device in their hotel rooms.
Marriott guestVoice is actually a guest feedback program created in partnership with Medallia for Marriott. GuestVoice offers a short, simple guest satisfaction survey to allow travelers to provide their input directly to the property. In addition, guestVoice triangulates social media feedback with survey responses to uncover deeper feedback and insights, giving Marriott properties the tools they need to take actions that will directly improve guest satisfaction scores.
GuestVoice also shares guest feedback above-property, giving the brand a tool to better understand trends and the root causes of both guest dissatisfaction as well as and positive experiences. These insights, when shared across the brand, give Marriott a powerful competitive advantage.
How Does the Guest Voice Work at Marriott?
Online platforms like Amazon in eCommerce and TripAdvisor in the hospitality industry have grown on the back of a customer experience revolution. 100 years ago we only knew what hotel brands or friends told us about a hotel property, service level or guest room. Today we can quickly see what thousands of people like us think about a property whether it's the Motel 6 down the street or the St. Regis.
GuestVoice takes customer feedback and turns it into action items for properties and the brand's development teams.
GuestVoice starts working as soon as the guest departs a hotel. A survey is sent to the guest with a few questions – few being the operative word, as previous Marriott surveys were perceived by guests as too long and burdensome. Questions are framed to be intuitive as possible and specific to Marriott's hotel brand. "It is much more concise and keys in on factors such as how your overall dining experience was and how your overall hotel experience was. If you went to the spa, it asks how that experience was," explains one JW Marriott manager.
Guests were asked to respond to survey questions on a scale of one to 10, and can complete their answers through a mobile device or email without having to create a Marriott account. A guest would fill out the survey, with the results sent immediately to guestVoice.
On property hoteliers and corporate hotel staff are able to see the results of these guest surveys in real-time, accessing reports through any mobile device or desktop. This provided an immediate snapship of where service was breaking down and what needed to be instantly addressed. GuestVoice reduced the time it took for managers to collect and analyze feedback from seven to 10 days to seconds.
GuestVoice also integrates social media feedback to add an extra dimension to real-time reporting of the guest experience. GuestVoice pulls comments from Marriott properties' Twitter and Facebook pages and analyzes the sentiment, incorporating those scores into guest feedback ratings to provide a clear snapshot of what's going on.
The result: Marriott's use of guestVoice revolutionizes its guest service. "We are being much more responsive to [those who provide feedback]. The minute I get a survey and it is flagged at less than a nine, I can log right in, give [the guests] a call or send them an e-mail to find out what's going on," said the JW Marriott manager. "I also have a member of my team that helps me respond to each and every survey—either a handwritten letter or email correspondence thanking them. Of course, if it's a failing survey, we see what we can do to get them back, and they are really shocked when they get a response from me."
How to Improve Guest Feedback at Your Property
Medallia, the technology provider behind guestVoice, offers guest satisfaction tools for hotels of all sizes. Medallia's tools have allowed properties to boost their Net Promoter Score, increase online booking conversions, and help boost employee engagement (thereby reducing turnover costs).
Medallia's guest experience tools give hotels a way to solicit customer feedback from social media, online, email surveys, SMS, and contact centers. They also provide reporting and analytics tools that can help you understand guest data in real-time, and use those insights to make meaningful change at your property. One hotel manager in Omaha, Nebraska reports that "Medallia is a comprehensive Guest Satisfaction Tool and allows users to obtain real time data, comparison stats, graphical representation, text analytics, ability to customise the filters in order to focus on the exact area of improvement."
Medallia provides not only the data, but the means to respond to negative guest reviews easily. Through its platform, hotel managers can engage guests via messaging/SMS to optimize service throughout their stay (and avoid negative feedback altogether). Intuitive dashboards also allow hotel managers to respond to problematic feedback on social media channels in one unified view, as well as coordinate efforts to make things right for guests.
Read verified user reviews of Medallia on Hotel Tech Report and explore other ways to improve guest satisfaction in our guide to Guest Survey Software for Hotels.