Hotel Groups are Using Operations Software to Adapt & Innovate Through Crisis
By Hotel Tech Report
Last updated October 28, 2022
3 min read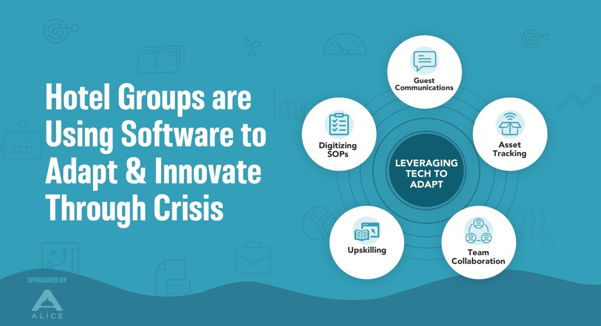 As the pandemic continues to bring uncertainty to the travel industry, we know one thing's certain: technology is a key partner for hotels that want to make creative changes to their operations to not only survive but improve the guest experience (and maybe even the bottom line!) during these trying times.
While today's innovation might be driven by necessity, running a tighter ship will deliver positive change in the long run. Utilizing technology effectively now, with a focus on positive guest experiences and efficient operations, can greatly benefit hotels that choose to take advantage of it for years to come.
To better illustrate how technology provides the "building blocks" for innovation in the hotel space, ALICE Creative Director Sean Cohen spoke with Richard See III from the San Luis Resort properties in Galveston, TX. Richard oversees room operations at the group's three hotels, including the San Luis Resort, Spa & Conference Center, the Hilton Galveston Island Resort, and the Holiday Inn Galveston Beach Resort.
Curious to hear about some real-life examples of using technology to build better guest experiences and more efficient operations? Let's dive in.
Driving Guest Engagement From a Safe Distance
If you want to better engage with guests, your hotel needs to communicate via their preferred method. And for an increasing number of guests, that preferred method is text messaging. We all know how emails can get lost in the shuffle, not to mention how they can come off as spammy, so text messages provide a quick, concise way to get your point across.
A technology partner that supports both text and email communication, such as ALICE, can not only help you communicate important information but also engage with guests in fun ways. At one of Richard's properties, during their annual Halloween pumpkin contest, guests could cast their votes via email or text message. Nearly 130 guests participated - but only 2 submitted votes via email. Text messaging was by far the most effective way to engage. Contests are just the tip of the iceberg; with a reliable communication platform that supports text messages, you can build upon guest relationships in a plethora of creative ways.
Identifying Issues On Property Despite Low Staffing Levels
Does your hotel have a chronic air conditioning problem? Or noise during the night? If you've never heard about issues like these, that doesn't mean they aren't there. Using a technology partner that houses all guest communication can help you uncover issues at your property potentially unknown to management and, once fixed, improve the guest experience.
As Richard says, "Before ALICE, our information was not being captured and processed efficiently. Now if we need to locate an issue, we can simply reference ALICE, the data is there. ALICE allows us to see and solve problems in real-time." Data tracked and exported from a system like ALICE provides the necessary statistics to determine issues that need resolution - and just how prevalent those issues might be. Without a digital record of these guest complaints or interactions, it's nearly impossible to determine the frequency and severity of such issues.
Ensuring Accountability with Less Oversight
Since platforms like ALICE track every interaction, case, and task assignment, employees can hold true accountability and see each case through to completion. When a task or case involves multiple employees or departments, it's easy for things to fall through the cracks. But if the task is housed in a digital platform, visible to the entire team or departments, this extra transparency helps to ensure nothing is missed.
As Richard states, "we love that ALICE emails the original creator of the ticket once the issue has been resolved. That way the team members involved can be certain that the case was completed."
Enabling Employees to Onboard New Skills as Managers Flex Staffing Levels
Technology isn't just a partner in building a more efficient hotel; the right technology platforms can also help you flex staffing levels and employee skills. ALICE's platform, for example, allows internal users to assign tasks to certain departments and employees. At one of Richard's San Luis hotels, the task of placing a room amenity like a "happy birthday" card is typically assigned to the concierge department. However, if any tasks need to be transferred between departments, ALICE makes the transition smooth. Within the ALICE dashboard, any necessary task reassignment is as easy as clicking a button.
Similarly, public area attendants would typically receive task assignments related to keeping the lobby clean, but with less traffic in the lobby and a scaled-down housekeeping team, housekeeping managers would reassign tasks like bringing extra towels up to a room to public area attendants. The entire process was as simple as a few mouse clicks; public area attendants would see these new tasks in their regular task dashboard.
Quickly Pivoting Operating Models and SOPs
During the pandemic, many hotels needed to make tough operational decisions. At Richard's Hilton property, they decided to consolidate their housekeeping staff with the neighboring San Luis Resort. In a typical hotel, without a technology partner, an operational shakeup like this could be a nightmare. But with ALICE in place, the transition at Richard's hotels was actually quite seamless.
He describes: "Using San Luis as our home base, we were able to dispatch tasks and manage both hotels with one housekeeping department. Having ALICE at our disposal made task management much easier because we were able to forward the housekeeping requests from the Hilton property to [the San Luis]. As Hilton guests called down from their rooms, we added the tickets in ALICE, which then alerted staff members at The San Luis next door. [If we didn't have ALICE], an extreme shift like this would have likely been flawed."
Of course, we certainly don't want any hotel to be in the situation of needing to let go of a department, but as Richard's example shows, even in tough spots technology can provide the building blocks your hotel needs to survive.
As we look toward the future of hotel operations, technology is the backbone of exciting trends and ideas that will shape the guest experience going forward. Hotels that embrace technology will be the ones to transform their operations using the high-tech to their full potential - including some creative, out-of-the-box use cases like we've illustrated here.
This content was created collaboratively by ALICE and Hotel Tech Report.