What is a Human Resources Information System (HRIS)?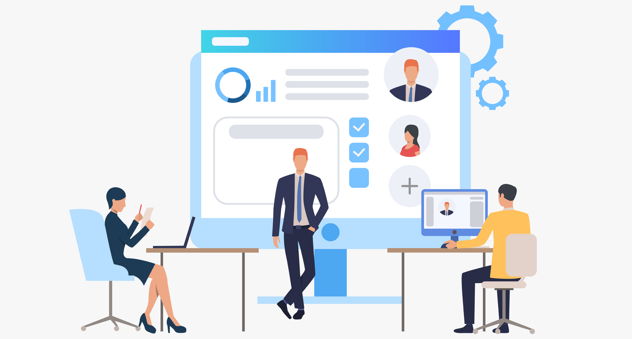 Whether you're a boutique hotel manager or the owner of an expansive resort, your most important resource is your team members. How do you juggle payroll, paperwork, and performance reviews? Just as a PMS organizes everything related to your property operations, HRIS systems streamline your human resources operations, from benefits administration to HR systems reporting. Modern HRIS systems are not just used by HR professionals but are so user friendly today that most have employee self-service software solutions that improve the employee experience.
In this article, we'll introduce you to this important software, explain the features it can offer, and explore the benefits your hotel can realize by implementing it. In just a few minutes, you'll be able to make more informed decisions about your HR organization's technology needs. With the proper technology partner, you can empower your employees to thrive at work and focus on what matters: providing a great guest experience.
HRIS Software or HRMS: What's the Difference?
A human resources information system, or HRIS, goes by many different names. You may also see it referred to as a human resource management system (HRMS), a talent management system (TMS), or a human capital management system (HCM). All of these acronyms stand for the same thing: a system that centralizes your human resources operations. These systems house your employee database, handle payroll, compile performance reviews, run reports and analytics, and more. Human resources staff use the system on a daily basis, while all employees and managers can access a portal as needed to view payroll information, clock in and out, and track their goals.
What Features Does an HRIS Offer?
At a high level, an HRIS helps your human resources team do their jobs better, and it helps employees manage their payroll and performance. But what specific features will you find in an HRIS?
Employee database: An HRIS holds your employee database; you can securely store employee information like birthdays, contact details, start date, compensation, contracts, and more for easy access within the system.

Time tracking: Hourly employees, like housekeeping staff or restaurant servers, can clock in and out via a module in your HRIS. Integrated, digital timesheets decrease the potential for human error and allow you to analyze human resource data to optimize scheduling.

Payroll: Your HRIS can automate the entire payroll process from managing compensation information to disbursing payments.

Benefits: The HRIS makes benefits enrollment easy; employees can sign up or change policies in a self-service portal.

Employee portal: Employees have access to a self-service dashboard in the HRIS where they can view and manage not only benefits, but also payroll or banking information, goals and performance, an employee database, time off requests, internal job openings, and more.

Applicant tracking: Hotels hire frequently, and managing applicants is no easy task. An HRIS can streamline the application process both for the applicant and for your HR team. Some software vendors offer separate applicant tracking systems (ATS), but a comprehensive HRIS will include one.

Onboarding and training: You can centralize the onboarding process for new employees in the HRIS to ensure consistency in every new team member's first few days at your property. Your HRIS can also organize and monitor ongoing training for employees and managers.

Performance management: An HRIS often includes functionality for setting goals, tracking performance, providing feedback, and recording notes from performance reviews.

Reporting: With so much data in one central system, the HRIS provides robust reporting features to help you better understand your employee demographics, scheduling needs, benefits use, and more.
Some leading HRISs, like Workday and Oracle, include all of these features and more. If your hotel has specific HR software needs, you can also find vendors that provide just one or two of these services. For example, Greenhouse and Lever are applicant tracking systems, so they don't provide payroll or benefits to hired employees.
Why Use an HRIS?
It's certainly possible to handle benefits and payroll without an HRIS, but that's not the ideal way to run a human resources organization. Especially in the hospitality industry, where turnover is high and teams are large, an HRIS can deliver efficiency, transparency, and even cost savings. What benefits can you expect when you implement an HRIS?
Automation of recurring tasks and data entry, such as payroll, employee records and contracts, so your HR team can spend time on more important and impactful projects.

More efficient HR operations by offering self-service access to employees. Instead of contacting HR for assistance enrolling in benefits, checking payroll information, or requesting time off, employees can use the self-service portal. Employees will also appreciate having immediate access to these services.

Accuracy across timesheets and payroll by eliminating the chance of human error.

Secure storage for employee and financial information - much more secure than a filing cabinet! Digital storage is also less expensive and more eco-friendly than traditional paper employee files.

Access to employee, tax, and legal documents to ensure compliance. The HRIS can store various forms of employee documentation, certifications, and contact information should you need it at any time.

Clarity into human resource allocation. By analyzing timesheet data, you can optimize scheduling for hourly departments like housekeeping, front desk, and F&B.

Happier employees and higher employee engagement. Through the performance management functionalities, managers can better coach and guide their direct reports toward their career goals, which can reduce turnover.
How Do You Choose the Right HRIS?
Want to bring the benefits of an HRIS into your hotel's HR management process so that you can streamline employee data (and employee benefits) while improving decision making? Deciding to implement an HRIS is a relatively easy decision; deciding which HRIS can be difficult. When deliberating between the various systems available, it's important to keep these criteria in mind:
Cost - how much do you want to spend?

Functionality - which features do you really need?

Customer support - do you want hands-on, 24/7 support from the vendor?

Industry expertise - while you don't necessarily need your HRIS to be fully customizable you'll want to make sure that it's built for the needs of your HR department. Hospitality businesses typically have lots of shift labor and part time workers so you'll want to make sure that any system you choose has worked with hotel businesses before.
With such a broad range of systems on the market, you'll find there is also a wide variety in terms of cost and functionality. If you run a small independent hotel, you probably don't need a system that offers a suite of features for global talent management. On the other hand, if you are deciding which system to implement on a brand or corporate level, then robust reporting tools and support for employees in multiple locations will be crucial. The best way to determine whether an HRIS is right for you is by signing up for a demo or a free trial.
Did we miss any key features or benefits that an HRIS can provide? What systems do you recommend? Let us know!