Why Metasearch Engines Should Be A Priority for Your Hotel
By Vincent Ramelli
Last updated December 02, 2022
5 min read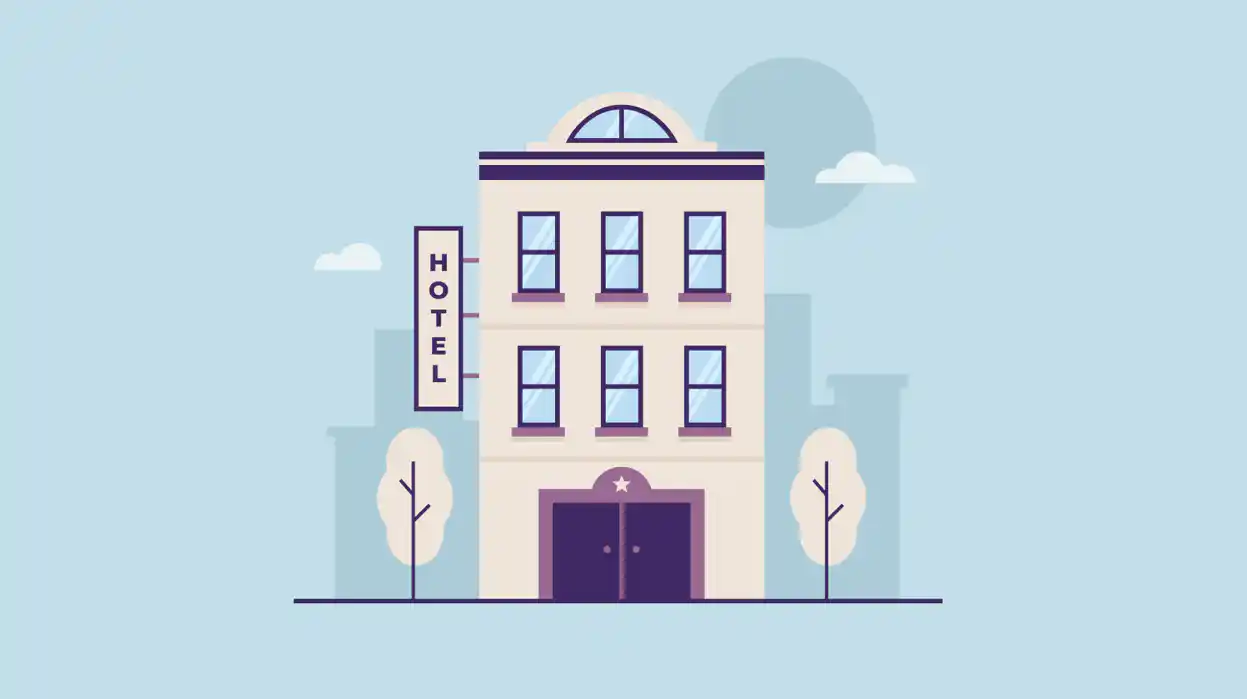 Travel planning logistics is frustrating, and the current booking path is remarkably intricate, with hundreds of touchpoints down the line.
Travelers look at around 150 websites before booking a hotel room and on average, leisure travelers use 7 to 8 apps throughout their search, booking, and in-destination travel experience. The one-stop-shop approach à-la-WeChat we're so desperately trying to replicate in the western world (especially with the recent rise of travel superapps such as Hopper or Uber).
Even though virtually every player in the hotel industry tried to provide the ultimate "connected trip," frictionless and user-friendly for the end-user, we need to face reality: right now, there's not a single solution for all the (ever-growing) travel-related needs in the market. And, probably, there will never be, which is not necessarily bad news for the industry. 
This fragmentation can actually be used to the industry's advantage, making hotels less dependent on oligarchic distribution channels. To a certain extent, lodging is (still) a privileged industry, as operators don't have to put all their eggs in one basket.
KAYAK CEO and Cofounder Steve Hafner has an intriguing view on the topic when he says that "all roads lead to Rome" (with "Rome" being a clever metaphor for a hotel reservation). There are, in fact, hundreds of ways to book a hotel: OTAs, GDSs, Travel Agencies, phone calls, loyalty programs, members-only travel clubs, word-of-mouth, brand.com website …Anyway some roads can get travelers to Rome quicker. One, in particular. And that's metasearch advertising.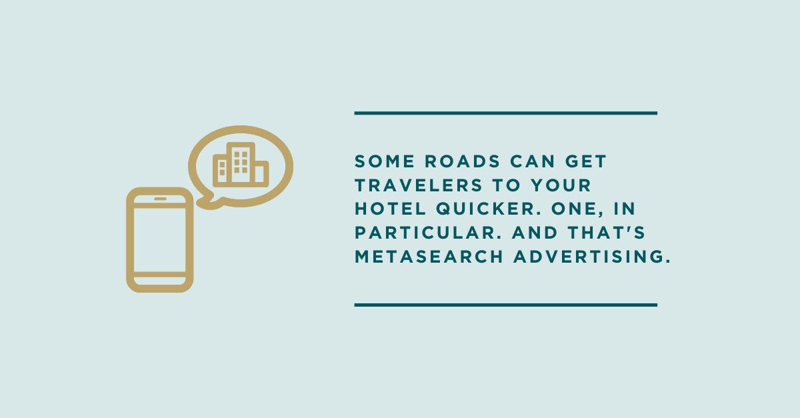 From Search to Meta-Search
First, what's the main difference between a search engine and a metasearch engine? "Classic" search engines (such as Google, Bing, Yahoo, etc.) send out your queries to millions of websites and, in return, offer a page (SERP) with results algorithmically ranked from most to the least relevant. On the other hand, a metasearch engine submits queries to multiple sources and aggregates the results into a list (that's why they are also known as "aggregators"), making the research process way more manageable. And, even though we think of metasearch engines as a relatively new technology, their history can be traced back to the early '90s, with projects such as SearchSavvy, or the most well-known MetaCrawler.

Travelers (and Internet users in general) always want the most comprehensive and complete picture possible when researching online. Still, manually comparing the results of multiple websites/apps is far too time-consuming and confusing. Just to put things into perspective: while researching for this whitepaper, we counted over 300 online travel agencies in operation, from Agoda to Wotif. If you add at least another 300 between wholesalers and bedbanks, it's easy for travelers to get trapped in what American psychologist Barry Schwartz calls the "Paradox of Choice." That is precisely why metasearch engines, in our industry, are such a big deal. Numbers don't lie: over 94% of travelers use metasearch engines when booking their accommodation. It's not just a fancy way to book hotels. At this point, and with this level of fragmentation, it is necessary.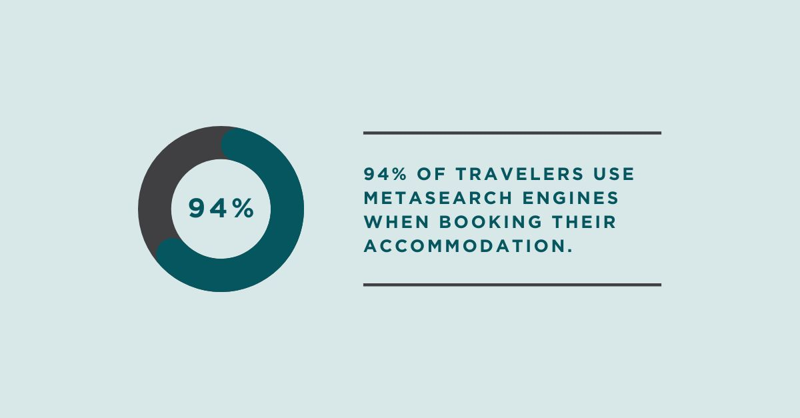 The Best Advertising Tool for Any Property?
And that is why metasearch engines should be at the very top of the list when considering investing in online advertising. Effective non-branded search advertising.
strategies can be pretty complicated to set up, especially for smaller properties without marketing and advertising departments. And, even though these campaigns can (and usually does) help increase brand awareness, it's unlikely that you will receive any last-click-booking from top-funnel, generic queries such as "Best hotel in Paris." It is better for most hotels to focus on branded search ads (aka "brand protection").
However, if possible, metasearch engine hotel advertising is an even more sustainable and risk-free investment.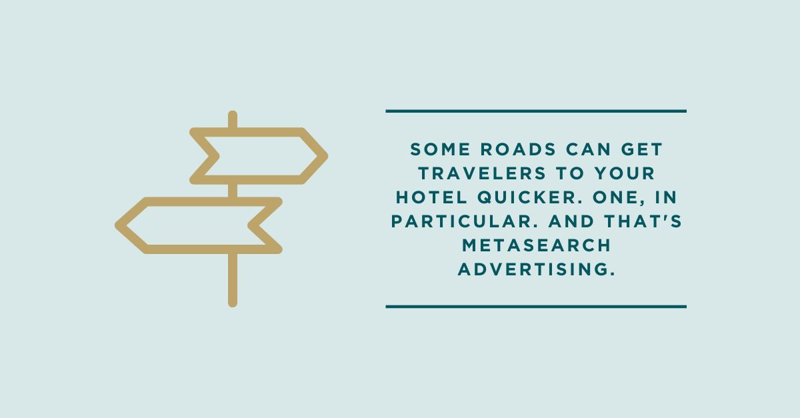 First, unlike classic search engines, metasearch ads only generate an impression if your property is available for the requested dates. If your hotel is sold-out, closed, or undergoing renovation, the ad will simply not appear. So, there's no circumstance where you may target a user who will not be able to find availability.
Second, as metasearch engine advertising is directly connected to your booking engine's ARI, you can dramatically reduce the clicks needed to get to the bottom funnel of the booking journey and also create a sense of urgency and scarcity, unreachable with classic search engine advertising.

Third, metasearch advertising is highly flexible. Most platforms offer multiple bidding options: cost-per-click, cost-per-acquisition, and also pay-per-stay, which allows you to only pay for the guests that actually sleep at your hotel, giving you a chance to reconcile due commissions for no-show or canceled reservations, precisely as you would do on Booking.com or Expedia. The latter approach is, therefore, and by all means, an additional distribution channel, one with lower commission costs than your average OTA (to the point that some industry experts are starting to discuss if metasearch advertising should be managed by revenue managers rather than marketing managers).
Beyond Revenue-Shifting
Most metasearch engines also offer top-funnel advertising possibilities, such as Google Property Promotion Ads, Tripadvisor's Sponsored Placements, and trivago's Sponsored Listings. These allow properties to put their hotel in a more prominent position within the listings of the metasearch ecosystem and increase their visibility during the first stages of the booking journey. Instead of being triggered by your hotel brand, these results appear whenever users search for accommodation at a specific destination.
It has often been debated whether metasearch engines could generate additional revenue rather than just shifting the existing demand from channels with higher acquisition costs (such as OTAs or wholesalers) to channels with lower acquisition costs (brand.com). And, if overall, these ads primarily function as a brand protection technique, the commission approach makes it evident once and for all that metasearch engines also have the power to influence the users' decision BEFORE they start proactively searching for your brand.
For new properties or hotels that went through a significant renovation and want to rebrand themselves, metasearch engines can also work as awareness campaigns, pretty much as classic display ads do, so it's not only about conversion.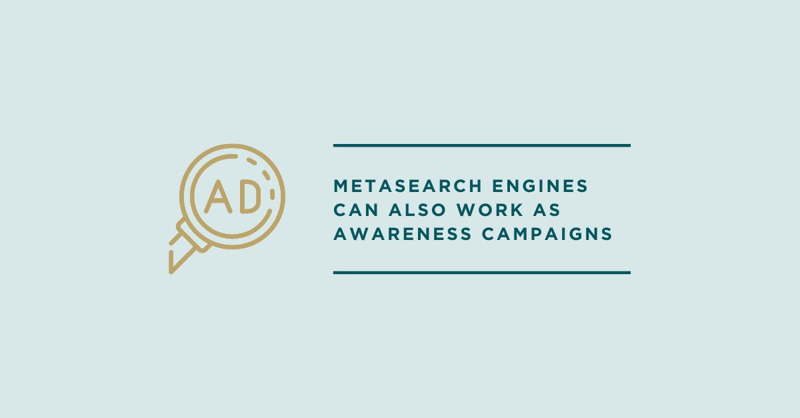 Plug & Play Granularity
Whatever the approach, metasearch ads leave much space to experiment. Some properties will benefit from a CPC approach. Hotels can also pick a plug&play, pay-per-stay approach, launch the campaign and, basically, forget about it. From a fancy five-star in downtown Manhattan to a small seasonal hostel in a remote location, virtually any property can advertise on metasearch engines with the certainty of getting satisfactory ROAS. CPC is probably the right way to go if you're looking for fine-tuneable, granular campaigns aiming for a higher return on investment. Most metasearch engines provide the option to bid differently based on several variables (geographic, market, check-in date, length of stay, day of the week, booking window, etc.), making it a perfect tool in the hands of a skilled revenue or marketing manager. 
Suppose you, on the other hand, are more inclined to use metasearch as a distribution channel. In that case, CPA or PPS is the way to go, with the extra advantage that, as mentioned above, PPS commission is net of cancellations and no-shows, and commission is only due AFTER the guest checks out. As a third option, hotels can also use a hybrid, mixed approach, with some markets running in CPC, some in CPA, and some others in PPS, to maximize both ROI and brand exposure.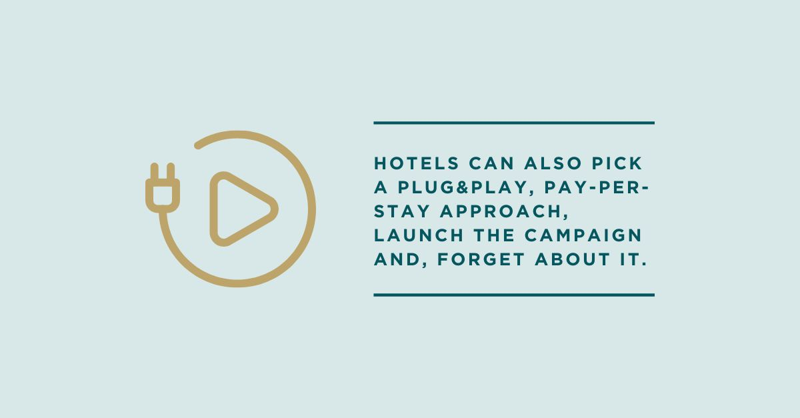 Extra Benefits of Metasearch Advertising
Another often under-discussed perk of metasearch engine advertising is that as reservations coming from these channels are, to all extent, "direct" bookings, hotels receive (and own) their guest information. Rather than getting anonymous alias email addresses (such as [email protected]), hotels have the opportunity to directly market, up/cross-sell and keep in touch with their guests during the whole travel cycle.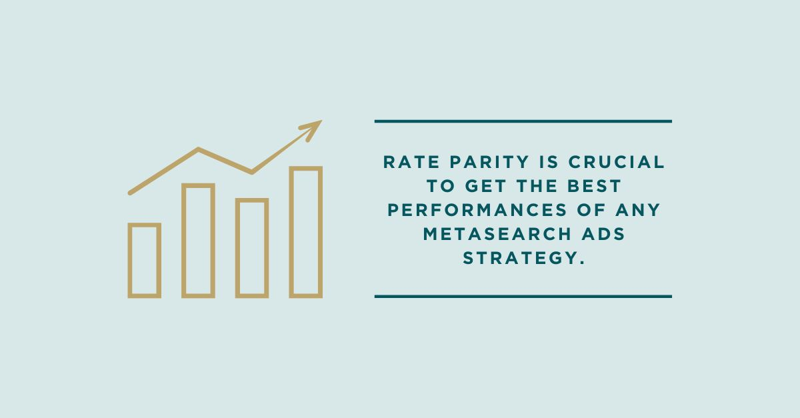 Setting the Right KPIs
Metasearch ads are (mostly) bottom-funnel campaigns, so it makes sense to look at conversion as the primary KPI. However, properties should not overfocus on ROI only and keep a healthy balance between revenue and impressions generated. Generally, metasearch campaigns should have an impression rate of as close to 100%, especially in the primary markets from which properties get business. If you go below that figure, increasing the commission/CPC and ensuring the brand has enough visibility is advisable, even if this means slightly increasing the cost per acquisition.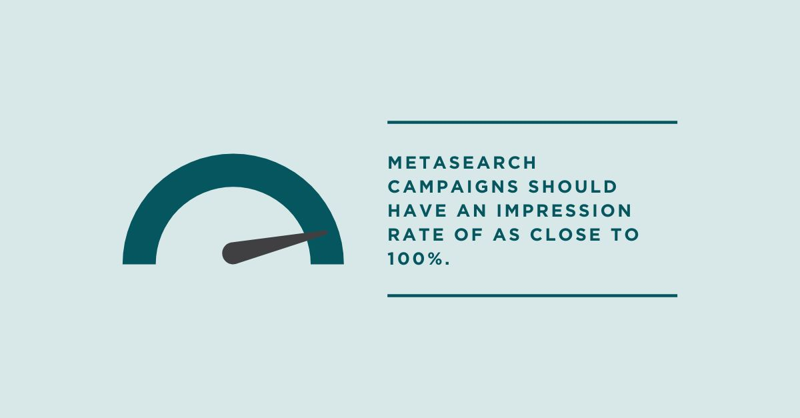 Conclusion
Every metasearch has a slightly different approach, but it's critical  to maintain brand visibility on most (if not all) of them. Moreover, some metasearch engines have more traction in specific markets, offering a great way to enter new, unexploited markets, otherwise left untapped.

Finally, the learning curve to successfully advertise on metasearch engines is pretty short, as these ads tend to be remarkably easy to manage, even for people with little or no experience in campaign management.

The bottom line is that there is no real excuse not to include metasearch advertising in your marketing arsenal.

And if it's true that all roads lead to Rome, the most comfortable route you can take is called the "metasearch 101."
1 Who looks at 150 sites before booking a hotel? About 5 percent of travelers, study says - https://skift.com/2012/11/15/five-percent-of-travelers-will-search-over-150-sites-before-booking-a-hotel-says-study/
2 Stats: Nearly Two-Thirds of Travelers Rely on Mobile Apps During Trip - https://www.travelagentcentral.com/running-your-business/stats-nearly-two-thirds-travelers-rely-mobile-apps-during-trip
3 EyeforTravel: Online Travel Insights -  https://eyefortravelblog.blogspot.com/2018/11/94-of-travel-consumers-compare-hotel.html