The 20 Best Online Travel Agencies in 2023
By Jordan Hollander
Last updated November 29, 2022
7 min read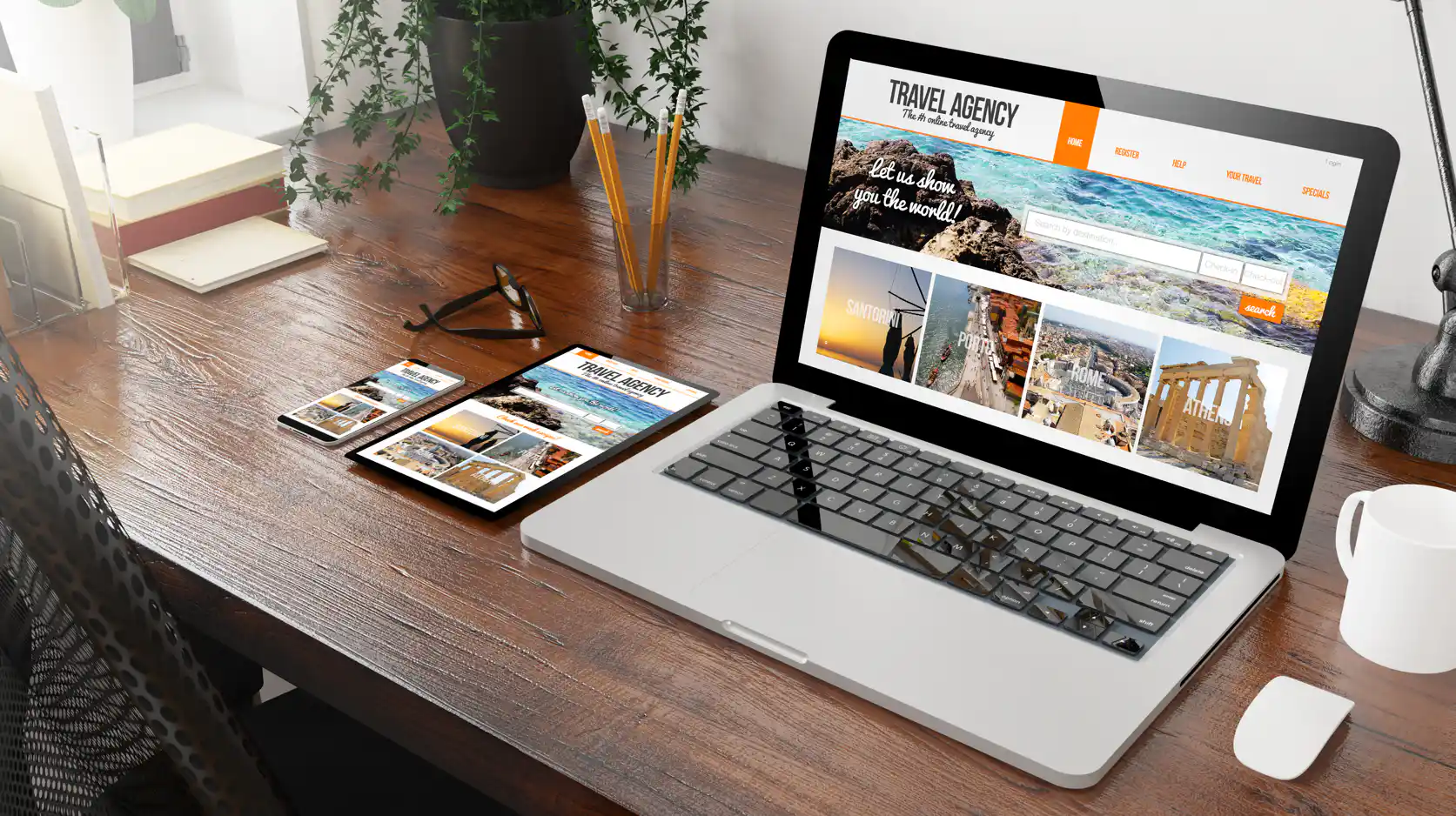 Online travel agents have become an integral part of many travelers' "search and book" routine. It used to be so much more tedious to book travel, requiring a phone call or an in-person visit to a physical travel agent. Now, travelers can self serve all the way from research to booking. 
If you're like most travelers, you've used an OTA without really thinking much about it.  The website works well, with lots of choices and a relatively smooth booking experience. But if you've ever wondered what an OTA actually is, how OTAs make money, why travelers like you use OTAs and what the biggest OTAs are, then this is your place.  We've compiled some of travelers' most frequently asked questions around OTAs and answered them all in one place. Let's get curious!
What's an OTA?
"OTA" stands for Online Travel Agency, which is a travel agency whose primary presence is on digital channels. Consumers can use a website and/or mobile device to search and book travel -- all without the traditional "gatekeeper" travel agent. OTAs connect to the full breadth of travel providers, giving travelers access to all of the inventory that they may want for their next trip.  Online travel agents are the travel industry's largest source of bookings and often use package deals including airfare and hotels or special offers like flash sales to drive more bookings to airline and hotel partners.  These massive travel websites like Booking and Expedia have millions of monthly visitors.
Large hotel groups (like Hilton and the like) have been consolidating and building new subbrands, which means that they have a lower reliance on OTAs; travelers can find many types of accommodations on the global brands' own websites. Yet, many independent hotels rely entirely on OTAs to drive their bookings as they don't have a booking engine of their own. Either way, OTAs have a breadth and depth of travel inventory that covers all segments, geographies and groups of travelers.
It's also important to understand what ARE NOT online travel agencies.  Metasearch engines like TripAdvisor and Google Flights, for example, are not OTAs.  Having said that, Booking.com (formerly Priceline.com) does own metasearch player Kayak so there are some overlaps (although with different brands).  In the United States Expedia is the dominant player while in Europe it is Booking.com.
How do OTAs make money?
Most OTAs make money by taking a commission per booking, which is anywhere from 5% to upwards of 25%. The actual commission rate is negotiated on a brand by brand, property by property basis. In general, larger hotels and bigger brands with many properties use their leverage to negotiate lower rates. So when you book that boutique hotel on an OTA, it's likely that they are paying more on commission than the name brand Hotel down the street. 
Most OTAs also make money through advertising, in which hotels pay to be prominently placed above organic results in relevant traveler searches. This model, which is also used by metasearch sites (see What is metasearch? for more), is generally on a pay-per-click basis.
Why do travelers use OTAs?
Over a fifth of travelers say they use OTAs to book all or part of their travel. And OTAs (and their metasearch cousins, often owned by major OTA groups) remain popular among all age groups. 
OTAs are positioned across many touchpoints throughout the customer journey.
Why is that?
At the highest level, there are three main reasons why many travelers book their trips on an OTA:
Choice. Online travel agencies are a "one stop shop" for all things travel. From flights and hotels to short-term rentals, cars and vacation packages, you can pretty much find any type of product that you want on an OTA. 
Price. OTAs have done an excellent job of developing a perception of value -- even though they aren't always the lowest price or the best value. The real value here lies in comparison shopping. It's easy to compare options on an OTA and that type of information is very valuable to consumers.
Convenience. OTAs are the Everything Store for Travel, available on any device. It's a convenient place to book your car rental, hotel and flights in a single reservation. It's so much easier to deal with that single point of contact --  especially when things go wrong and you need help. Rather than calling multiple numbers to puzzle together a new itinerary, you only have to call one number to get it done.
Now let's assume and to get a bit more of a granular and geeky view into what consumers want from OTAs. A recent research report from Jul 2020 asked this very question in its title, Why do people purchase from online travel agencies (see geeky graph below). While it was based on a limited sample size of users from a budget hotel brand, the results suggest that travelers use OTAs due to a perception of greater trust, safety and quality:
Hygiene. Travelers want to be assured of the relative cleanliness of the service or product. By using a reputable online travel agency, travelers have an expectation of a  certain level of quality.  The attributes of the brand make a big difference in the perception of quality.
Privacy and security. Privacy and security are also important. And, just like hygiene, Travelers have a certain level of trust in the OTA brand to deliver a quality experience that won't expose them to privacy breaches or physical harm.
Reviews. Social proof has a major impact on why travelers use OTAs. A feeling that others had a good experience goes a long way in pulling more consumers into the OTA ecosystem.
What are the drawbacks of OTAs?
There are also some disadvantages of using OTAs, which travelers must be aware of. For one, travelers often are lured by low prices on many online travel agencies. Yet, once they try to book, they find out that the price includes hidden fees or added restrictions that wouldn't be found by booking directly with an airline or hotel. 
Niche OTAs, which can pop up seemingly overnight, often hide the true cost of a trip during a given search to entice consumers to click through. The worst actors will actually appear to offer the lowest price all the way through to booking.  However, once you check-in to their flight or hotel, you may discover unexpected fees. All of a sudden, that "steal" of a price actually becomes more expensive than it would have been book direct.
Examples of these tactics periodically pop up, such as when one online travel agency was accused of using improper charges and bait-and-switch fares. The tactic can mislead consumers, who see an OTA as the cheapest option in search results and thus click through to book.
Another major drawback is customer support. Not all OTAs are created equal on this front. Especially when it comes to regional ones, travelers often face less-than-ideal support.  For the average trip, when everything goes well, this is far less of an issue. It's when things go wrong that support matters greatly. No one wants to be stranded without anyone to help! 
This can be exacerbated during disruptions come out when travel suppliers prioritize direct workers over others. When booking directly with a hotel or airline, travelers will deal directly with the company for any issues that arise. 
So it's not always cut-and-dry that an OTA will be able to provide you better or more effective support than a travel company --  and in some cases (especially with more niche/regional OTAs) there's spotty support that can cause more frustration than the price savings.
What are the 20 top online travel agencies?
Expedia brands,
When choosing where to book, most consumers opt for one of the top OTAs: Booking Holdings and Expedia Group. That's not really difficult to do, as these two companies own the bulk of online bookings. With many brands that span categories and regions, Expedia and Booking have all corners of the globe and all travel niches covered:
Expedia Group
In addition to its namesake OTA Expedia.com, which sells all categories of travel to a global audience, the company operates sites that span hotels, ground transportation, cruises, vacation rentals, metasearch and business travel.
Hotels.com. Expedia's hotel-focused OTA is most well-known for its generous and straightforward loyalty program, which rewards a free night for every 10 nights booked on the platform.
Vrbo. Short-term rentals are the core of the Vrbo offering, which recently merged with HomeAway to become Expedia's main destination for vacation rentals.
Egencia. Corporate travel managers use Egencia to support their business travel needs. With self-service options for travelers and compliance tools for managers, the focus is on savings and ease-of-use.
trivago. The "trivago guy" became a worldwide sensation after appearing in commercials without a belt. The hotel metasearch platform provides hotel price comparisons across its 55 localized sites.
Orbitz. This OTA has a strong focus on North America, where travelers can search flights, hotels & travel bundles. Orbitz for Business is the OTA's corporate travel arm. CheapTickets. As a subsidiary of Orbitz, Cheaptickets is for discounted hotels, flights, local events, travel bundles and cruises. The site's Vacation Value Finder assists travelers in finding the best deals.
Travelocity. The Roaming Gnome has been one of the most successful marketing campaigns in travel. The OTA is also known for its Price Match Guarantee, where it will match any price from a competitor.
Hotwire. This is an opaque deal site specifically for hotels. Travelers can see star rating and cost for their search dates, and then make non-refundable reservations based on an overview of the hotel's category.
Wotif. The Wotif portfolio includes Wotif and LastMinute, which offers flights, hotels, packages and last-minute deals to travelers based mostly in Australia and New Zealand. ebookers. This regional OTA serves travelers primarily from the UK, as well as around Europe. Travelers can search and book flights, hotels, car rentals,  activities and packages.
CarRentals.com. Travelers can book rental cars from the major brand names, as well as smaller regional outfits. The niche OTA covers 29,000 locations in 197 countries.
Expedia Cruises. The cruise arm of Expedia Group gives consumers the control and flexibility to book cruises, which can be more complex than typical travel. There are also a chain of retail outlets, so cruises can get expert assistance face-to-face.
Booking Holdings
Headquartered in Amsterdam, Booking Holdings is best known for its flagship brand Booking.com, which sells all types of travel to a global audience in 43 languages. The global conglomerate also operates niche websites serving specific segments in travel and hospitality.
Priceline. This OTA is focused primarily on North America and is known for its discounts and deals. The latest is Pricebreakers, a semi-opaque shopping option that shows travelers three hotels, one of which will be assigned after booking.
Agoda. This OTA is strong in Asia, offering over 2 million hotels, homes, resorts and hostels across the continent. It also sells flights. Kayak. Kayak is a metasearch price comparison tool for flights, accmmodations, packages, and rental cars. Kayak has 60 localized sites in over 24 languages.
Cheapflights. The brand promise is right there in the name: this is the place to find cheap flights. The site is actually a subsidiary of Kayak and applies its parent company's metasearch model to flights.
Momondo. Another subsidiary of kayak, this site is a flight fare and travel search aggregator. Travelers can find and compare prices for flights, hotels, rental cars and package deals. RentalCars.com. This Booking platform for rental cars has options in 160 countries, as well as nillions of verified reviews to inform travelers.
OpenTable. Booking's push into the full traveler journey led it to acquire OpenTable, the world's largest restaurant reservation platform. It exists as a standalone brand, where diners can make reservations online at restaurants worldwide.
Airbnb
The dominant short-term rental player now also offers boutique hotels on its platform. And while the pandemic has shifted its vision somewhat, the platform is now an OTA that competes directly.
Ctrip
Until recently, Ctrip was focused primarily on Asia. This changed with the purchase of Trip.com, which gave it a global footprint on major North American and European markets.
Google Hotels
Okay, so technically this is not an OTA as the business model is strictly "pay for performance." But Google Hotels is the elephant in the room: a major competitor from the dominant search engine where the vast majority begin their travel searches. It's mere presence changes the calculus for OTAs worldwide. That's not to say that these sites are perfect, or that there aren't local alternatives. Verified reviews aren't always the most positive (see some here) -- but at least with the major companies, travelers are more likely to get responsive support and accurate pricing, with less likelihood of being scammed or otherwise misled. For a full list, check out our list of the top hotel booking sites for 2022.