How Hotel Owners Can Benefit from Mobile Tech Tools
By Nikolai Kronborg
Last updated May 11, 2022
2 min read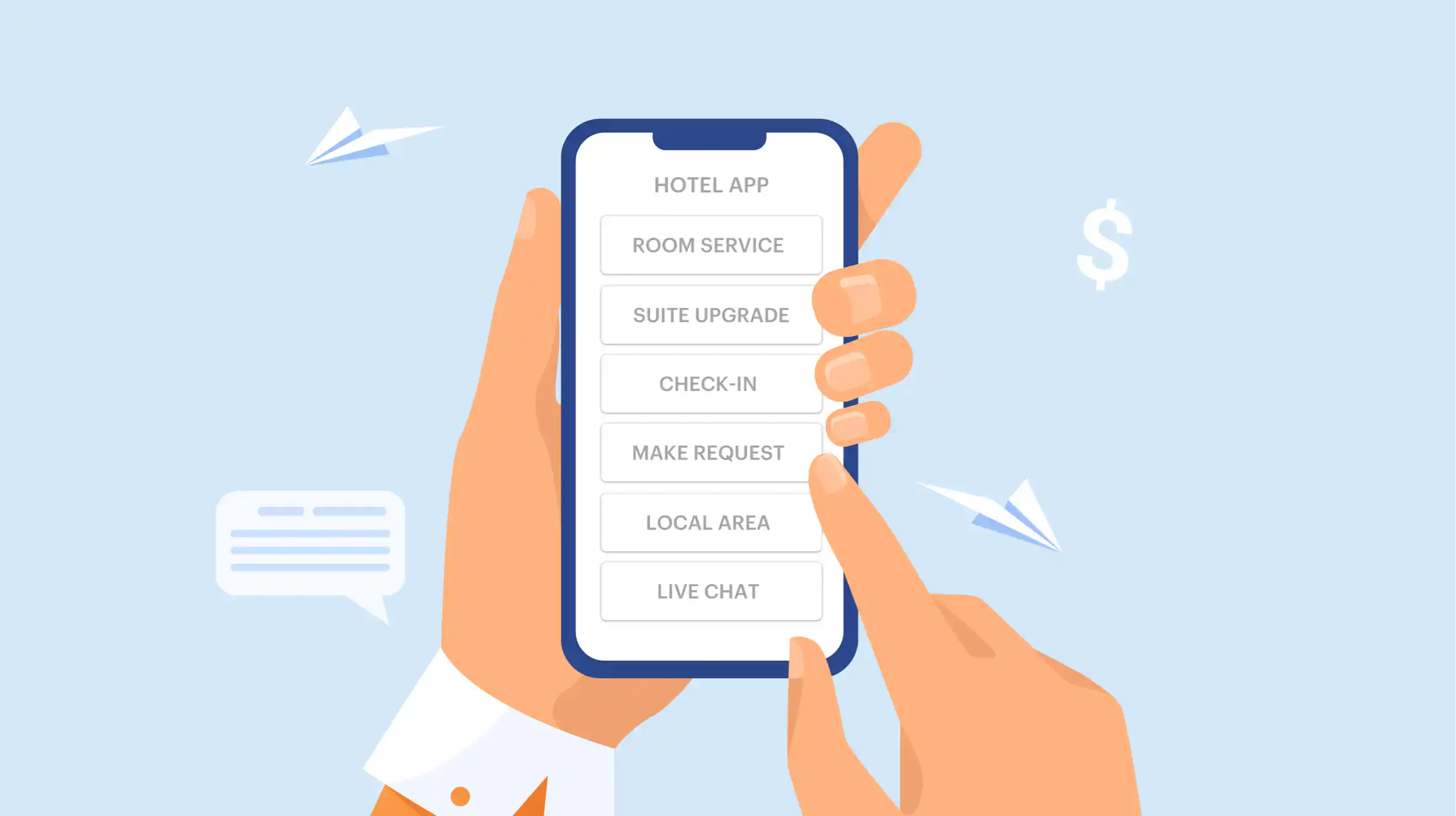 Firstly, mobile services allow hotels to improve their operational efficiency. Mobile digitalization facilitates the automation of tasks that otherwise have to be performed manually by hotel staff. These can be eliminated by having guests do it themselves in advance (e.g. fill in the information, registration card, check-in and out, online payment, choose and allocate rooms, chat, book spa, dinner, or golf reservations, etc). Besides requiring fewer human resources from the hotel that could be spared or employed in other higher-value tasks, the best part of this self-administrated service is that by transferring the tasks to the guests, it further improves their experience and satisfaction. Mobile digitalization gives freedom for guests to find their own convenience.
Connect with guests on-the-go and extend the relationship beyond the duration of the stay
Secondly, mobile services lead to a more customer-focused service and create a more personalized and on-premise accessible experience. For instance, more than 50% of American leisure travelers would use an app to add extras on-the-go during their hotel stays. Mobile services also help to maintain long-term relationships and two-way communication anytime during the guest's journey and better manage loyalty programs.
Optimizes the value per guest and targets their specific needs
In turn, this widens the opportunity to target guests' specific needs, hence allowing hotels to focus their strategy on the optimization of each guest's value. Mobile apps have an additional advantage, they work as direct channels to guests by integrating with customer support and feedback systems, as well as with broader online review platforms.
Lastly, mobile apps can potentially capture late bookers. Over 70% of same-day hotel reservations are made on smartphones, thus, an optimized mobile experience can be the key to unlocking the value of late bookers,- and re-bookings.
What are guests really expecting from mobile hospitality?
Guests want pre-arrival check-in and avoid reception queues. A study conducted by Ipsos and Aeroguest asked guests what characteristics they would value the most in their hotel experiences. We found out that Wi-fi and breakfast are essentials for every stay and in most cases could be deal-breakers. However, if we look into what mobile hospitably can add to the stay, then the best experience includes being able to check in earlier, check out later and cut these two steps shorter by avoiding queues and crowds in the reception, thus supporting a more convenient and contactless hotel stay. These are also the top two benefits that both business travelers and tech-savvy hotel guests are hoping their hotels will make available.
QUESTION: CHOOSE THE MOST IMPORTANT FEATURES OF MOBILE HOSPITALITY (the size of the picture is proportional to the utility level. Only 11 features are shown, total utility sums to 100%)
Guests are willing to pay to select their own room
Having a room with a view and being able to select a specific room within the desired room type is also among the most valued features.
This capability directly addresses another aspect that this study found guests to be unsatisfied with their hotel experiences.
"When I book a room, I want to know what I am getting"
This feature breaks the uncertainty factor and provides the choice and transparency needed when evaluating which hotel room to pick. Guests will know if the room meets their needs, where it is located, what view it has from the window, and if the requested extras have been acknowledged.
This is another feature that mobile hospitality providers such as AeroGuest support, but not all hotels, web services, and apps give this opportunity to guests,- it is very difficult to build and has to be two-way integrated to multiple PMS across the world.
An even more relevant aspect though, is that hotel guests are willing to pay to select their own room. 42% of hotel guests and almost 60% of business travelers would be likely or very likely to pay for choosing a specific room, and these would be willing to pay, on average, an extra 7% of the room price to choose their ideal room.
QUESTION: HOW LIKELY WOULD YOU BE TO PAY EXTRA FOR CHOOSING A SPECIFIC ROOM BEFORE ARRIVAL?
QUESTION: HOW MUCH WOULD YOU BE LIKELY TO PAY FOR CHOOSING YOU OWN ROOM?
In sum, mobile services not only yield operational efficiencies but also allow to upsell of some completely new services such as room selection and adding extras before and during the stay and to better capture re-booking.